Online Giving for Churches: Inspire Members to Give Their Way
Online giving tools for churches are growing in popularity, as they support church fundraising in ways that traditional tithing hasn't. By incorporating this type of giving, it's easier and more convenient for your congregants to support your church.
Church giving is all about "in context" fundraising. It's important to have tools on hand to set up recurring tithes, collect gifts during church services, fundraise at church events, and more. For that reason, we'll explore the following elements in this article:
By exploring online giving for churches, you can raise a lot more for your congregation and put these gifts to good use. Read on to discover how church giving software can raise your spirits!

Church Donation Software: Share the Digital Collection Plate
As your church prepares to ask for gifts from your congregants, it's important to give them the tools they need to give gifts easily, conveniently and quickly. Much of this can be achieved by using church giving software.
By leveraging church giving software, you'll be able to pass around the "digital collection plate" during services, events, and other instances when your congregation is gathered together. With the tools they need to give whenever and wherever they are, your congregants will be encouraged to give more frequently.
There are several types of church donation software solutions to consider. These include:
Tithing Software
Tithing software can be used to collect gifts via your church's website. This software should allow you to create custom giving forms for your church so that you can gather the information you need and even match the look of the form to your church's colors and logo.
Another great feature of tithing software is recurring donations. Recurring donations allow your congregants to choose to give on a regular basis, which they can manage through their own accounts. Tithing software can help grow your revenue stream because you'll retain more support from congregants who give due to its ease and convenience.
On-Site Giving for Churches
Have you missed out on contributions from congregants because they didn't carry cash or checks? This is where offering on-site giving for churches comes into play. By offering a giving kiosk or app (more on giving apps below!) at services, congregants who wouldn't have been able to give can now do so.
Giving kiosks allow you to accept credit or debit cards, which makes giving easier for everyone involved. You can also create a custom interface that aligns with your church's identity. While you'll need to pay a monthly fee and cover the transaction fees, the number of gifts you receive through your giving kiosk will grow due to the convenience with which anyone can use it.
Mobile Giving for Churches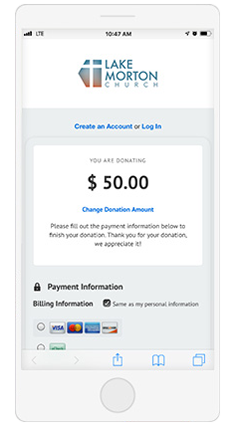 Another type of church giving software is mobile giving. Through mobile giving, congregants don't have to be at services or at your events in order to give. In fact, they can give whenever, or wherever, the inspiration to give strikes!
There are a few forms of mobile giving your church can use, including text giving and mobile-optimized giving forms.
Text giving allows congregants to give directly via text, whether they text a keyword to your predetermined number or have the amount added to their phone bill. In addition to that, by making your online giving forms mobile-optimized, you'll also appeal to a wider range of congregants who are likely on their phones all the time.
Mobile giving tools like text giving will typically have a monthly fee, as well as a transaction fee, but because congregants can give so easily via their own mobile devices, you'll be able to make up for a lot of the initial investment.
Church Giving Apps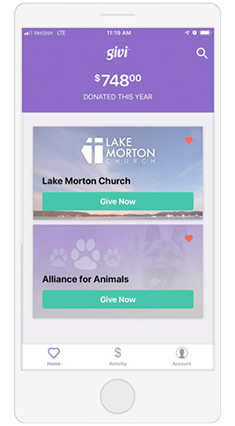 As your church explores mobile giving platforms, consider leveraging a church giving app. A church giving app makes it easy for congregants to give as soon as they're inspired to do so.
Congregants can set up giving accounts, download the app, and use it as a digital collection plate. Rather than trying to remember to bring cash or a check to Sunday services, your church giving app will allow your congregants to give instantly from their seats, set up recurring gifts, or give any time they feel like showing support.

Church Event Management Software: Host Unforgettable Events for Your Community
While making giving easy for your congregants is important, you should also consider how you can structure giving at your church events. Raising money for your church through events is essential, but you need to make giving during these events as seamless as possible.
There are a few ways you can leverage church event management software to do just that. These include:
Church Event Registration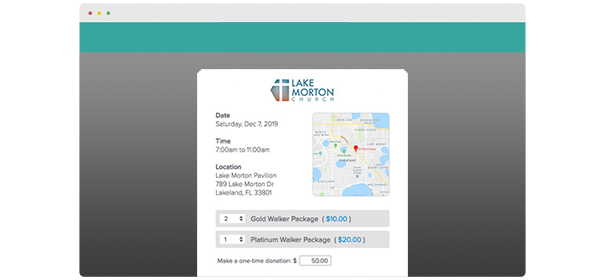 When it comes to planning your church's next event, your registration process should be smooth and seamless. Be sure to leverage easy-to-use registration tools that will, in turn, boost attendance for your events.
Using this church event management software, you can create custom registration forms that track the data you need to learn more about your congregation. This includes custom fields like food and beverage preferences, special requests, and more.
When you plan an event that is catered to your congregation, they will feel valued and you'll be able to forge deeper connections with your members.
Automated Event Management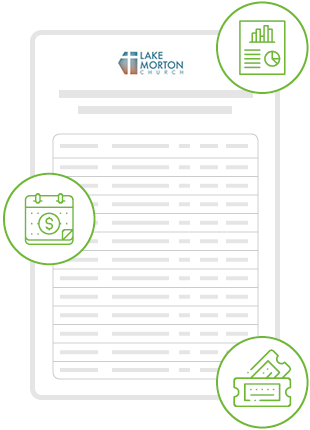 Automating your event management for your church's events can save you time and resources, as well as streamline operations. Rather than spending time on manual tracking, you'll be able to automatically track registration, attendance, and other important metrics to plan your next event effectively.
For example, you can access real-time registration data with standard reports and export event data into your church management software.
Why not try it out for yourself? Host some great church fundraisers and leverage automated event management software to track everything you need!
Peer-to-Peer Fundraising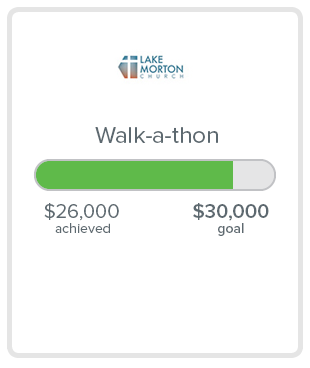 Peer-to-peer fundraising is a great way to raise more for your church by leveraging your congregants' personal networks. During a peer-to-peer fundraiser, members will raise money on your church's behalf via personal online fundraising pages.
Choose a peer-to-peer fundraising tool that makes it easy to create custom campaigns for different events, such as walk-a-thons and other fundraisers. From there, your congregants can promote their pages and your big event to raise the money your church needs!
Even more, the amount of outreach you can achieve will far outweigh the monthly and transactional costs.
Church Auction Software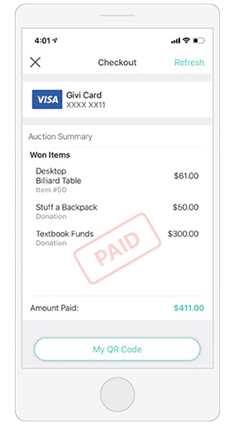 Has your church considered hosting an auction? Whether you've hosted several or are just starting out, it's important to think about leveraging church auction software to manage your event.
By incorporating church auction software into your event, you can get rid of messy paper bids, confusing registration, and long checkout lines. Your congregants will be able to easily keep an eye on their bids via a mobile app and make additional gifts if they choose to do so.
Collect popular auction items for churches from local businesses and congregants to help support the event.

Church Management Software: Connect with Members & Grow Your Congregation
While church donation software is incredibly effective and important to leverage, it's easy to overlook another element that's equally important: your data.
Your data will help you retain congregants and boost giving for your church. But how can you leverage this type of data?
By choosing church giving software that integrates with your membership management platform, you'll be able to collect data from your members as they give. For example, consider the following church management software solutions that integrate with Qgiv.

FellowshipOne
FellowshipOne is a church management software solution that can help you understand your church's membership with information right at your fingertips. Using this church management software, you can manage your member data with a suite of tools that allows for many tasks to be automated and accessible online.
FellowshipOne integrates with Qgiv's church giving software, which means that as your congregants give to your church, their information will seamlessly flow into FellowshipOne's membership management platform.

Church Community Builder
Church Community Builder is a church management software solution that allows you to view every area of a church member's involvement with your congregation, from giving to volunteering and event attendance.
Through Church Community Builder's integration with Qgiv, congregant information will transfer seamlessly as they give to your church, which will allow you to build out their profiles, understand their habits, and raise what you need effectively.

Choose Qgiv's Church Giving Software
Through Qgiv's church giving software, you can give your members an easy and convenient way to give gifts to your church. With its quick, convenient giving options, recurring gifts, and member accounts, Qgiv can solve many of the issues you may run into with online gifts, event registration, and more.
Explore the ways these churches have used Qgiv:
Arizona State University's Catholic Newman Center

The Catholic Newman Center raised upwards of $47,000 using Qgiv's platform in the first eight months after they opened their new on-campus facility at Arizona State University. $8,000 was raised in the first month alone using Qgiv's giving kiosk.
After implementing the online and giving kiosk platforms, the organization saw a substantial increase in weekly tithes and recurring donations.
"Qgiv provided us with the means to reach out to the young people we serve. Our young members are part of a generation that relies on credit cards, making the traditional passing of the plate an increasingly inefficient way for us to raise funds. We are committed to offering our community every opportunity possible to invest and become part of our mission, which is why it has been so gratifying to see people frequently giving via the Qgiv kiosk and online portal."

– James Timberlake, Development Director for the Catholic Newman Center at ASU
St. Mark's Cathedral of Shreveport

St. Mark's Cathedral of Shreveport has leveraged Qgiv's online donation and recurring donation tools.
"We selected Qgiv because it was easy to use and cost effective. We knew exactly what we were getting before we signed up and it took no time at all to set up our service. Our parishioners say making their pledges online is easy and that they no longer have to worry about missing a payment. Our Qgiv experience has been marvelous; there have truly not been any issues since we started the service."

– Roxanne Kazimer, Development Contractor of St. Mark's Cathedral
Christ Church Shrewsbury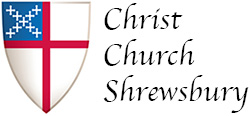 Christ Church Shrewsbury leverages Qgiv's online donation tools and content management system to gather contributions from its members.
"It is easy to use and to manage changes. Best of all is the support that Qgiv provided during pre-sales and continues to do so post-sales. The most valuable feature to us is the immediate donation notification and the rapid transfer of funds to the church's account. I would definitely recommend Qgiv to others."

– Robert M. Kelly, Jr., Parish Historian of Christ Church Shrewsbury
St. Patrick Catholic Community

The St. Patrick Catholic Community leverages Qgiv's custom branding capabilities and giving kiosk and has since seen a steady increase in use.
"Qgiv allows me to create and manage our giving programs right from my computer. It's easy. And, whenever I have a question or something comes up that I don't understand, their Customer Service reps are quick to provide an answer or solution. We're happy. You will be too."

– Dan Minton, Coordinator of Stewardship & Development at St. Patrick Catholic Community

Online giving for churches is growing, and leveraging this can help you receive more of what you need to serve your congregation. From tithing software to church event management, there are many ways you can improve your tithing process.
If you're looking for more information about church giving strategies, check out the additional resources below: