Hurricanes are, unfortunately, a natural disaster our home state of Florida knows all too well. Hurricane Michael was definitely one our state didn't expect, with 155 MPH winds making it a category 4 hurricane. Seeing the devastation in the panhandle breaks our hearts. Fortunately, there are already lots of organizations stepping in to lend a hand and help recover and repair. If you're in need of assistance or looking to help in any way, we've compiled a few resources for you here:
United Way
United Way created the United Way Hurricane Michael Recovery Fund that supports all communities impacted by the storm. You can utilize their text-to-give option by texting MICHAEL to 898-211. United Way Worldwide also reinforced its free 24/7 hotline service, 2-1-1, to assist those that were in the path of the hurricane. You can visit the link below to donate or learn more.
United Way Hurricane Michael Recovery Fund
American Logistics Aid Network
Lets face it, when a natural disaster strikes, thinking about logistics is stressful. Luckily, organizations like the American Logistics Aid Network exist to help your community with an impressive network of resources after a natural disaster. Broken down by the states affected, ALAN provides a list of crisis clean-up options as well as power outage information based on area.
American Logistics Aid Network Website
Pensacola Humane Society
If you're on Facebook, check out this post from the Pensacola Humane Society. They've combined forces with Escambia Co. Animal Shelter to transport animals to safety and take care of them post-storm. If you have any questions or if you're an animal shelter that needs immediate assistance, contact the Pensacola Humane Society at (850) 432-4250 or Escambia Co. Animal Shelter at (850) 595-3075.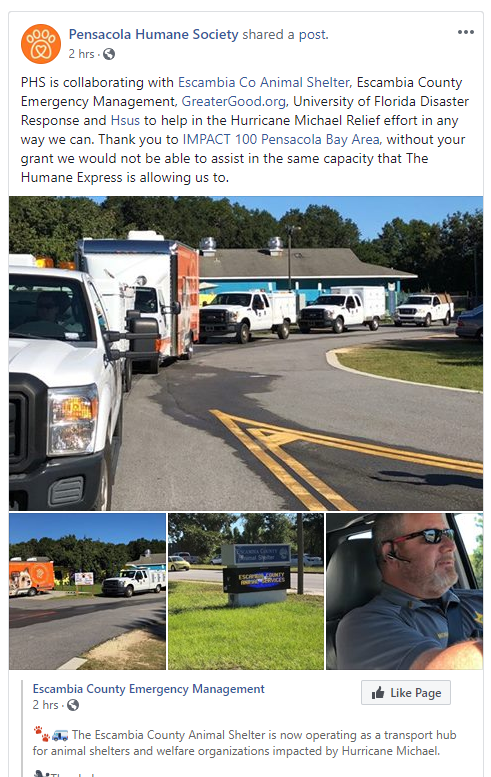 Rock by the Sea
Rock by the Sea organizes music festivals and events where they raise money to assist charities who provide direct services to those in need. They're currently collecting donations to help those impacted by Hurricane Michael. Check out the link below to donate.
Rock by The Sea's Hurricane Michael Fund
For an in-depth list, check out the New York Times list of resources: