G2's Fall 2021 Report has been released and Qgiv has once again received numerous awards based on verified client reviews and feedback!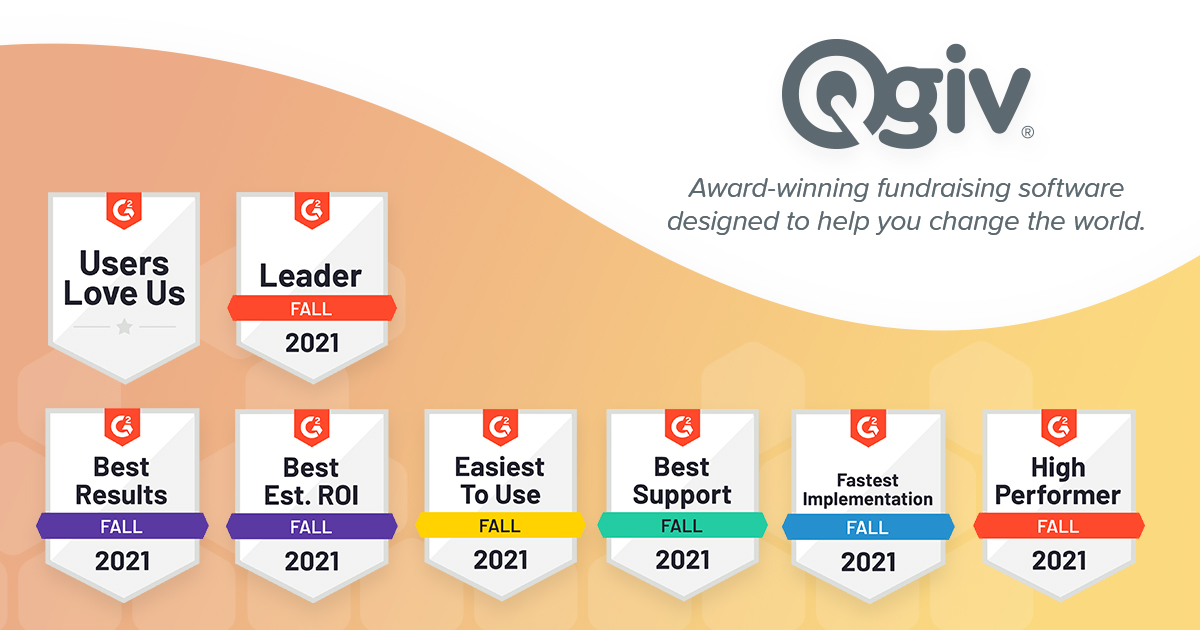 This fall Qgiv has received the following awards from G2:
Best Results (overall award for the third consecutive year). G2's Best Results Index is calculated based on return on investment and how likely a nonprofit is to recommend Qgiv to a friend.
Best Support (overall, small business, and mid-market). The Support Index category is calculated based on quality of support and ease of doing business with Qgiv.
Best ROI. The ROI index is calculated based on the time taken for a product to achieve a return on investment and the time it takes for the product to go live
Easiest to Use. The Easiest to Use index is awarded to the highest Ease of Use-rated product within the fundraising technology category.
Fastest Implementation. The Fastest Implementation product in the Implementation Index had the shortest go-live time in its category
Leader (overall and mid-market).
Momentum Leader. The Momentum award is based on a company's year-over-year growth in number of employees, web and social growth, and G2 reviews.
High Performer. The High Performer index is calculated based on the number of high customer satisfaction scores a company receives in relation to their market presence scores.
"We're incredibly honored by this distinction and appreciate our clients for once again recognizing Qgiv as a fundraising technology leader," said Todd Baylis, CEO and Co-Founder of Qgiv, Inc.
"From our Product team's commitment to designing easy-to-use fundraising technology, all the way to our Customer Experience team's dedication to live and unlimited support, we continuously strive to deliver high quality fundraising software that empowers our nonprofit clients."
Thank you to all of our incredible clients who left us reviews on G2! To read our reviews on G2, or to read the full press release, click the links below.