Reports, Data, and Statistics
When all your fundraising data is in one place, it's easy to make quick, well-informed decisions! You'll discover new donor behavior trends, predict which of your donors might be at risk, compare donation form performance, and uncover critical event and campaign data.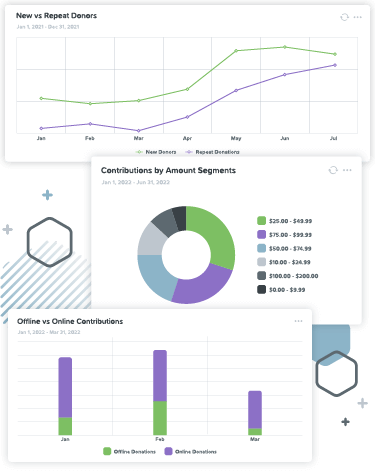 Streamline donation and event reconciliation "automagically"
Save time and get the answers you need with pre-built and custom reports
Make your board members smile with easy-to-share campaign results
Create strategies for your next event or campaign based on behavior trends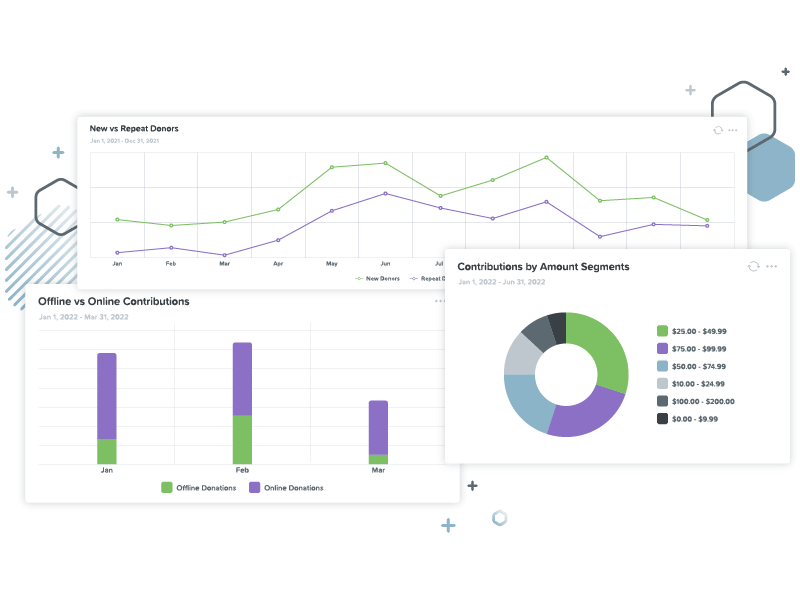 You'll Love These Reporting Features
Quickly view the data that matters most to you with customizable fundraising dashboards and custom reports. Save your favorite views and learn how your campaigns are performing, all within minutes!
Learn how donors are giving to you, whether it's from a desktop, mobile device, or via text
View total contributions processed over time
See real-time donation activities across your campaigns
Display the exact data you want by adding, deleting, or rearranging data insights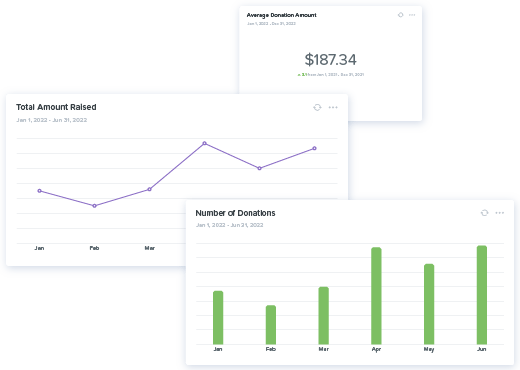 Multiply your impact with predictive insights into your donor's giving behaviors.
Personalize the experience for your donors with Smart Amounts
Tap into your donor's giving behaviors to make better, data-backed decisions
Gain insights in your fundraising performance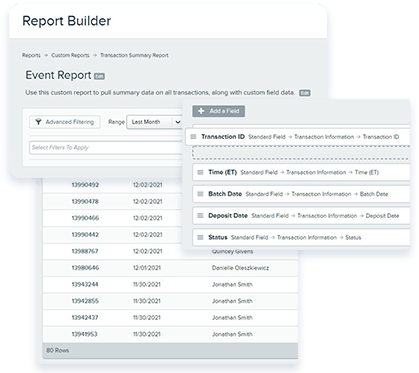 Help a donor out. Keeping track of individual receipts for charitable giving can be messy and time-consuming for busy donors. Make it easy by sending a donor summary!
Automatically send donor summaries with a full itemized list of each donation or event registration a donor made during a certain period
Quickly filter, sort, and send an email containing a donor summary to one, several, or all of your donors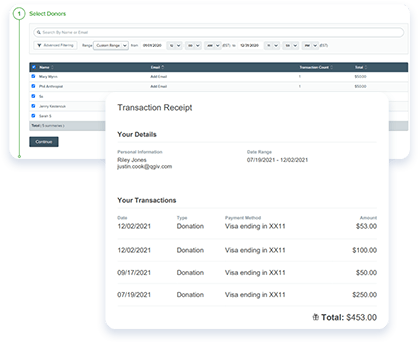 Donor stats… stat! Track important fundraising data to help measure the effectiveness of your campaigns, better retain donors, and see what types of giving are performing best — all right from your dashboard.
Track new, lapsed, and at-risk donors
Easily see donor retention and attrition rates
Understand donor lifetime value and the makeup of one-time vs. recurring donors
Gauge which segments prefer to give certain amounts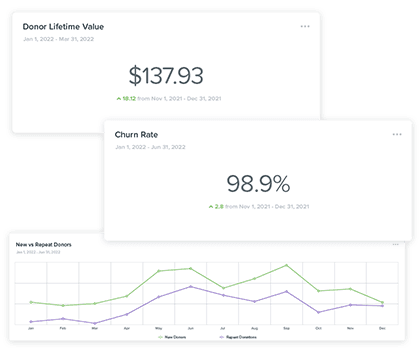 Offline Donations + Registrations
Let's take this offline. The Qgiv Virtual Terminal provides a convenient way to enter cash or check donations made onsite at your organization, at events, or when you receive them via mail.
Record cash and check donations
Track multiple offline donations or registrations by uploading them in batches
Sync offline donations to your fundraising dashboard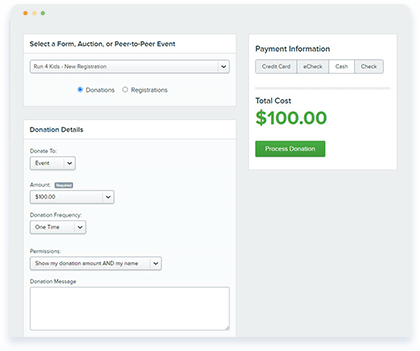 Sometimes comparison is a good thing! Easily see which of your donation forms performs the best and compare differences applied to each.
Understand the details of your form that move donors to give
Apply your findings easily to your next campaign with a form cloning tool
Run A/B tests with multiple versions of forms sent in email appeals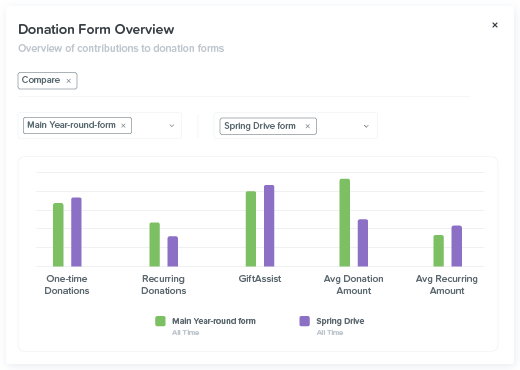 Detailed reports, integrations, and statistics to help improve your campaigns
Automate Your Processes
Avoid hours of manual data entry and reporting
Valuable Donor Insights
Custom reports, advanced statistics, and interactive dashboards
Refine and Report
Test the success of different language, images, and amounts to find what works
Get the Whole Picture
See online and offline donations in one place for a complete view of your campaign
Customer-Driven Development
Many of our enhancements are based on feedback from clients just like you
We'll Train You (and Your Staff)
Our award-winning customer experience team will train you, your staff, and your volunteers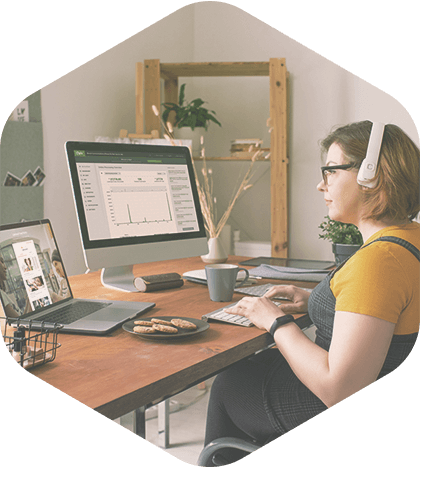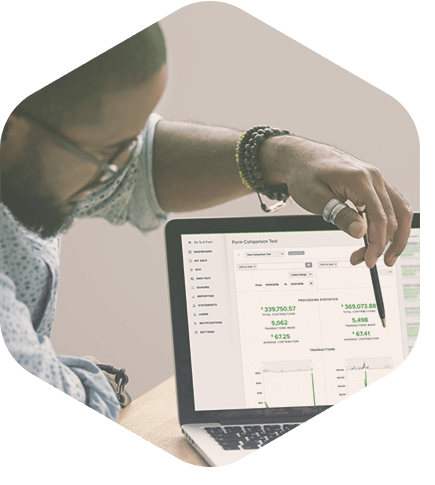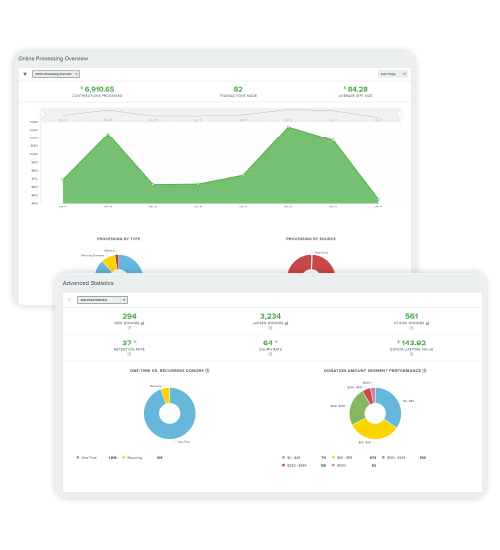 Save hours of manual data entry and $$ on resources
Collecting, tracking, and understanding your donor base has never been easier. Gain insights into your donors' giving patterns with advanced statistics, interactive dashboards, and in-depth custom reports.
Data tools help you pull invaluable data to better understand, manage, and target your donor base
Eliminate manual data entry so you can focus more time on your donors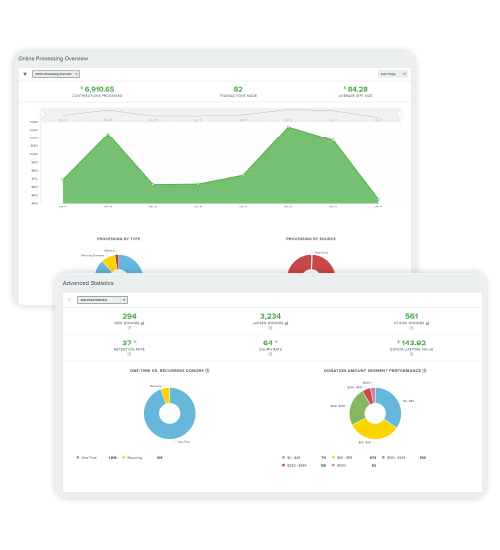 3 Reasons Why Fundraisers Love Qgiv
SEE MORE CUSTOMER STORIES
MAKE DATA-DRIVEN DECISIONS
Lily Meyer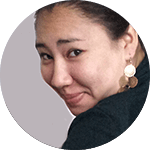 Qgiv has become a part of how we set goals and benchmarks, as well as draw up plans for better events. Having it to use has improved the ways we budget our costs and plan for engagement.
Read More >

GAIN QUICK INSIGHTS
Susan Copeland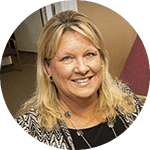 We use Qgiv the most for our Stepping Out for Education event to manage registration and collect $1 votes cast for our dancers.

It's so easy to run reports and get up-to-date numbers in real time—it's wonderful!
Read More >

ENRICHED DATA INTEGRITY
Cindy Edwards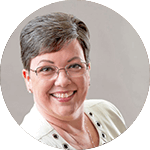 Qgiv helped the Jacksonville-Onslow Council for the Arts accept donations online. As a nonprofit, accurate record keeping is a must.

Qgiv's reports ensure our records are always verifiable. The installation was easy and their support team was awesome.
Read More >

Free Support, No Long-Term Contracts, and No Hidden Fees
Free Support,
No Long-Term Contracts,
and No Hidden Fees
Try Qgiv's fundraising tools without the risk! If you don't love them, you don't have to keep them.
Giving Essentials
Includes unlimited events, donation forms, integrations, and data insights.
3.95% + $0.30
PER TRANSACTION