Who they are


Minds Matter Southern California supports students in their sophomore, junior, and senior years. Their program offers a unique combination of mentoring support, group instruction, and social-emotional learning. The organization provides students with the resources and guidance needed to gain admission, enroll, and succeed at rigorous four-year colleges. Support continues during college with internships, professional skill-building, and access to their alumni platform.
Minds Matter Southern California is dedicated to helping students unleash their talent and potential, nurturing them to become not just college graduates, but leaders who can help shine the light for future generations.
What they did
Minds Matter Southern California created donation forms that include impact statements that indicate what giving at each level supports. This is a great strategy for inspiring prospective donors to give more in order to accomplish a specific goal. In the case of Minds Matter Southern California, the form's different giving levels were geared toward helping students prepare for college. The top giving level of $2,500 dollars covered a laptop, travel expenses, school supplies, and more for students entering college.
Other giving levels supported similar objectives of helping young adults transition to college. Because the people at Minds Matter Southern California know that not all of the students they mentor will have the finances to attend college independently, they created giving levels that made it possible for students to receive laptops and other crucial items needed to find success in college. Their priority is removing some of the common barriers to attending college that many young people face.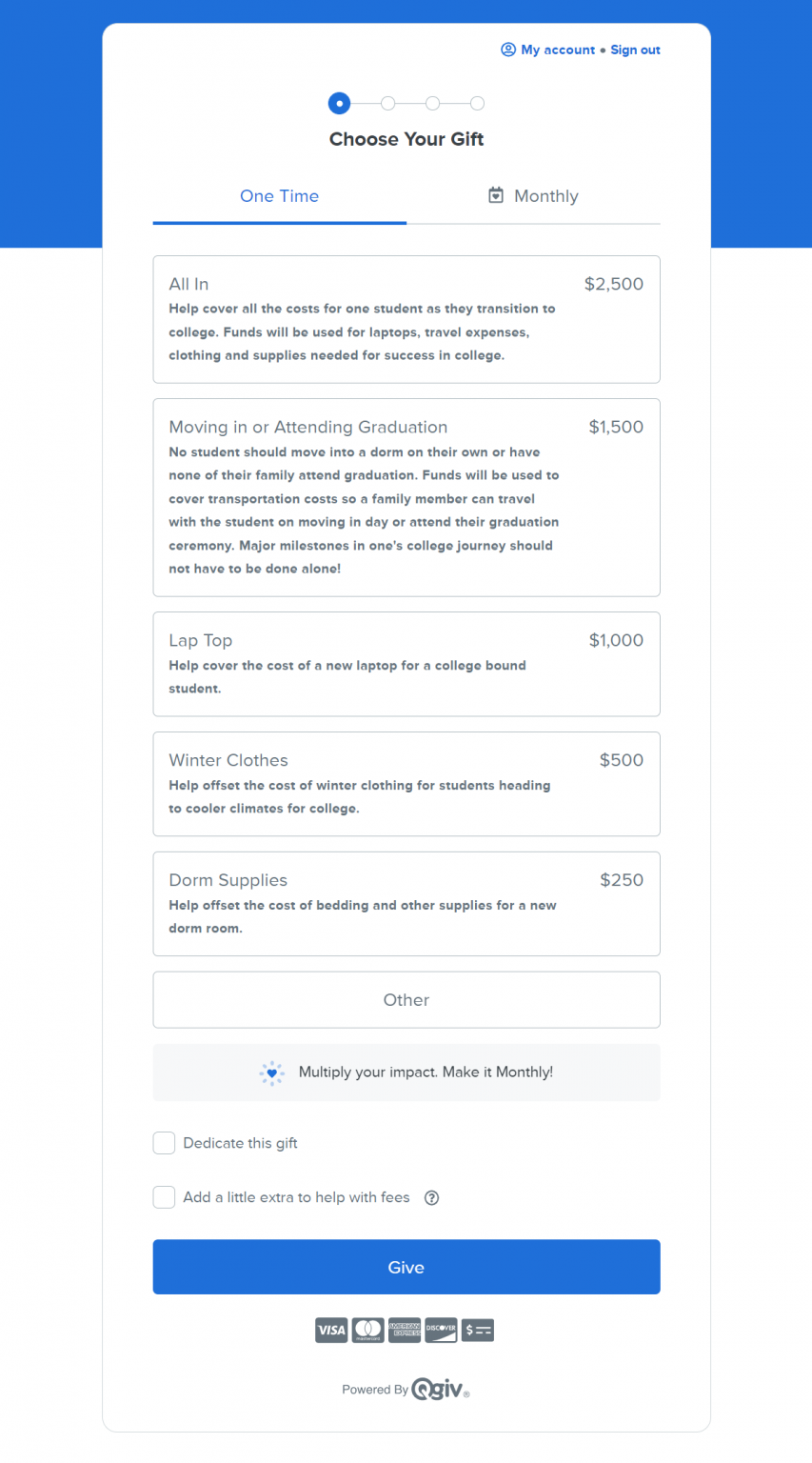 What you can do
To emulate the success of Minds Matter Southern California, think about what giving at each giving level supports at your own organization and include these impact statements on your own online donation forms. If you support shelter animals, for instance, what does $1,000 accomplish for the animals in your care? Is a $250 donation enough to offset the cost of adoption fees? These are just a couple of examples of how you could use giving levels to inspire donors to accomplish something good for your nonprofit organization.
To pair a giving level to a specific outcome, you first have to look at your expenses. What is your nonprofit spending its money on and what is it achieving when it spends that money? Then, take those costs and add them to your donation form as a giving amount.
Be sure to explain what is accomplished when your donors give those specific amounts. If you have huge expenses, try to break it down to more manageable chunks. Your entire monthly pet food budget, for example, could be broken down into the cost to feed one animal in your shelter's care for one month instead of trying to get someone to pay for every animal to eat for the entire month.
You have to keep in mind what your donors can afford to reasonably give when establishing your different giving levels on your donation form. Once you've decided on your reasonable giving amounts and you know what giving at each level will accomplish, set those giving levels, include impact statements on your donation form, and watch as donors choose to make a difference.