With every gift, event registration, and staff interaction, your donors are sharing fundraising data that can make your annual fundraising strategy more successful. But collecting donor data isn't enough. You have to put it to good use! Here are 4 ways you can use your fundraising data to raise more in 2021.
1. Determine year-over-year performance trends
It's important for nonprofits to understand where they stand in comparison to previous years. Your fundraising data is the key to determining whether you're growing or stagnating. Comparing year-over-year fundraising performance can clue you in to what's working for you and what isn't.
Qgiv users can compare year-over-year fundraising results from the online processing overview. We've made the process super simple. Just log in to your Qgiv account and select "Online Processing Overview" from the dropdown menu on your Dashboard (if it isn't on this view already). You can easily adjust the range to compare your performance from year to year.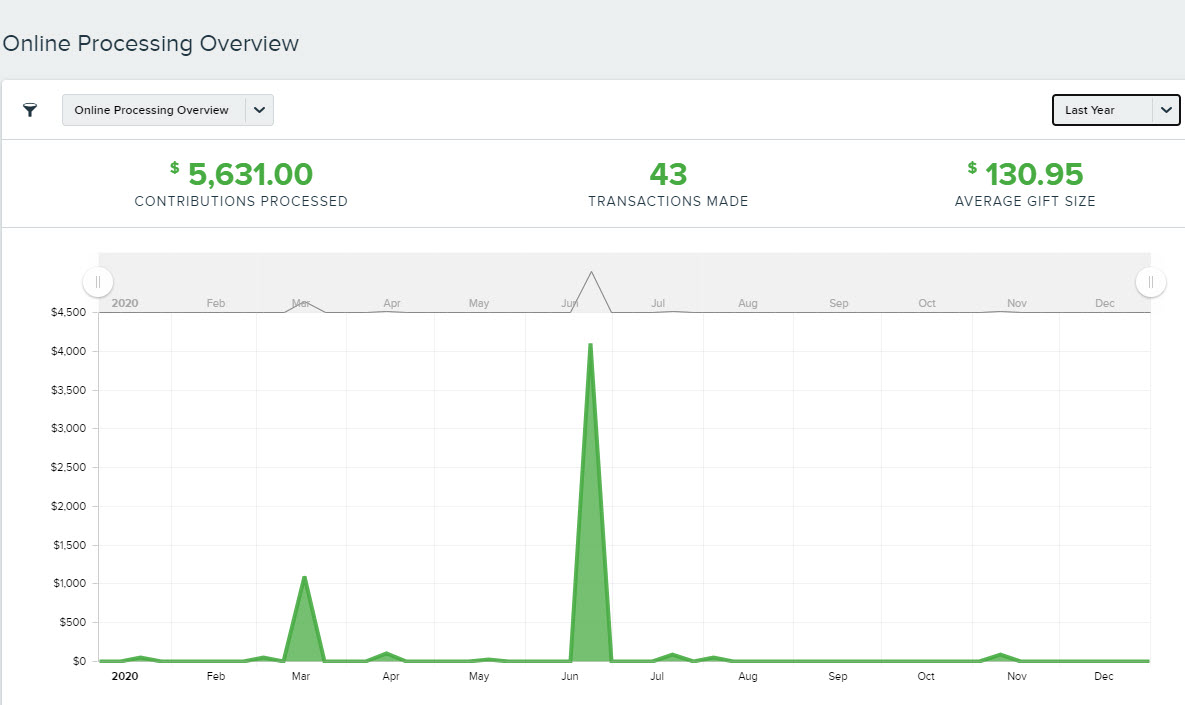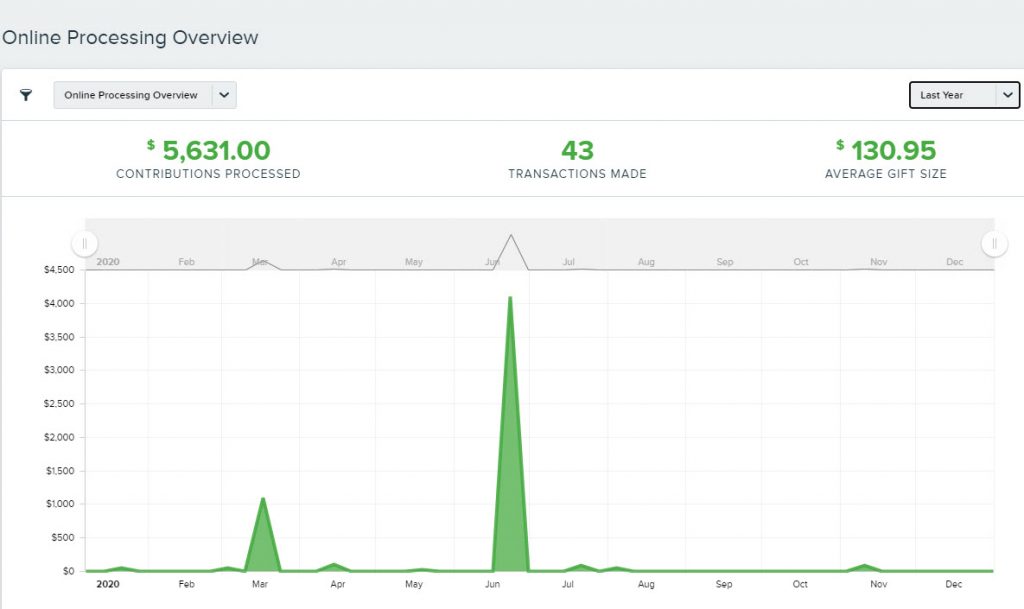 How non-Qgiv users can compare year-over-year fundraising performance
For non-Qgiv users, this process can be a little tricky. You'll need to sit down with your accounting department and ask them to pull the fundraising numbers from the most recently completed fiscal year and the fiscal year (or years) before that. Then you'll need to determine all sources of revenue fundraisers were responsible for bringing in and compare these figures across the two years.
You'll likely see growth in some areas and decreases in others. Don't worry; that's normal! Seeing where you've lost ground can inform the new fiscal year's fundraising strategy. Make a plan to win support back for that fundraising area. This can mean launching a matching gift campaign or revamping an event that lost participants. It could also be an indicator that it's time to change up your website and online donation forms.
What you obviously don't want to discover is a general downward trend in all funding areas. If this happens, it's crucial to find out why you're losing supporters. Was it due to outside factors? Do you have a new competitor in your industry? Or has something about the public's perception of your nonprofit changed? Identify the problem and work to address it as part of your fundraising strategy.
2. Determine what works and what doesn't
How much your donors give, which restrictions they give to, and how they choose to donate can shed a lot of light on what's working at your organization and what isn't. If your nonprofit uses different online donation forms for each of your restrictions or fundraising campaigns, take a look at how donors interacted with your forms. Chances are, some forms performed better than others. Fundraising events can be compared in the same way!
Use Qgiv's form comparison tool to compare your donation forms and event pages against one another to determine what worked and what turned donors away.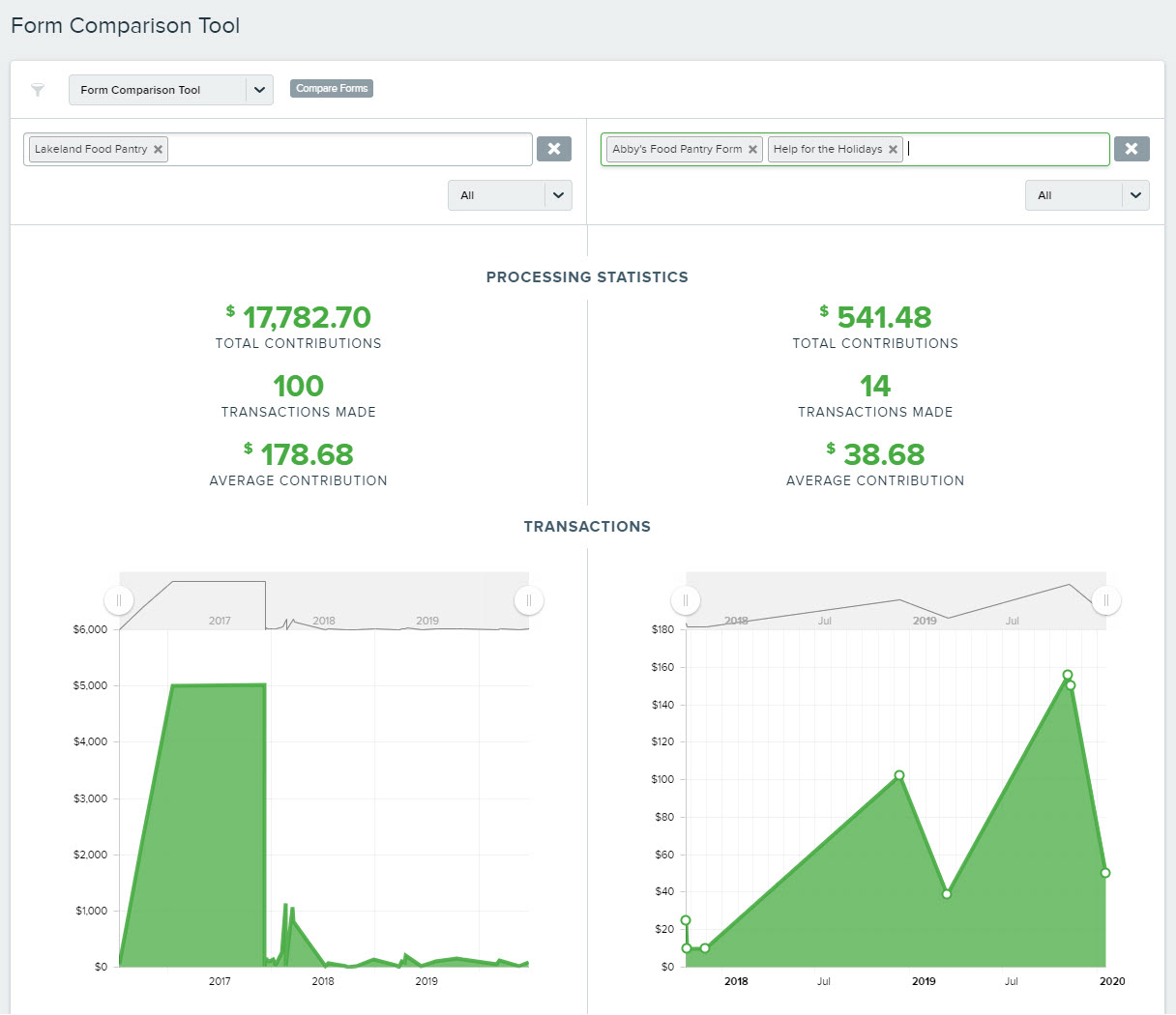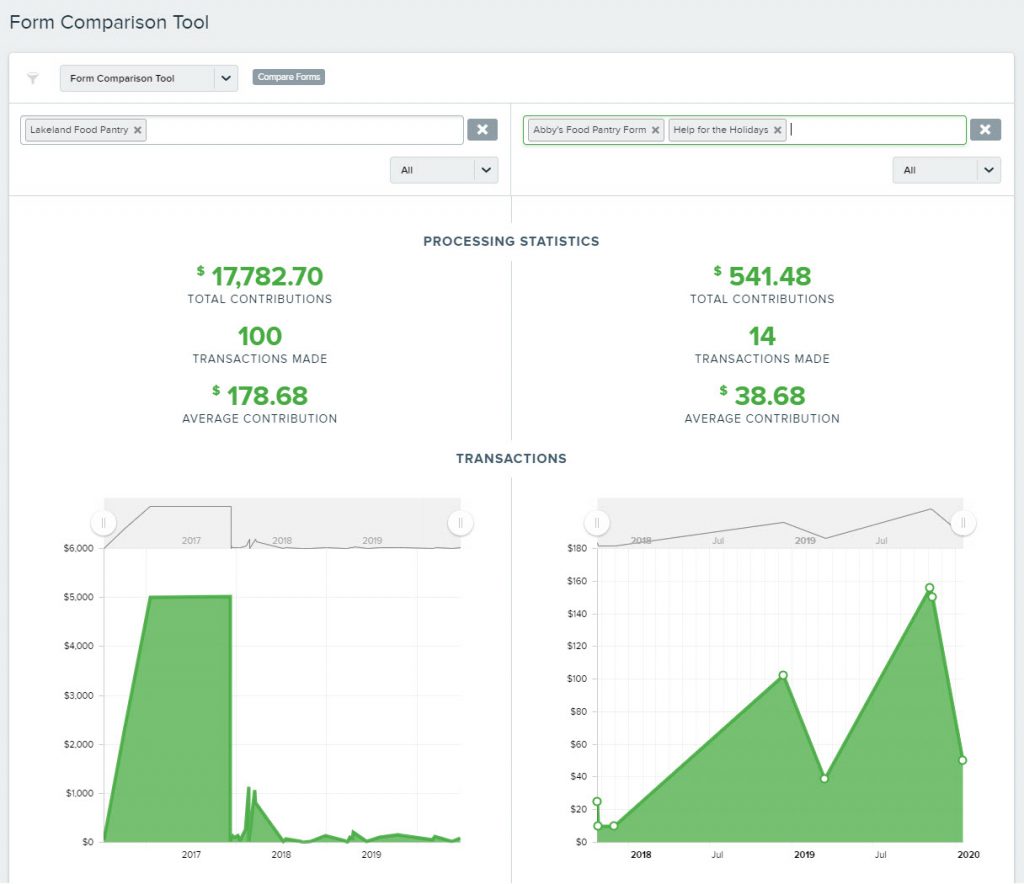 Then, use that insight to refine your fundraising strategy and give donors more of what they want.
You can compare forms to learn whether a recent design change helped or hurt your fundraising or to determine which appeal-specific forms were successful and which came up short. You can also compare your fundraising events to learn which kinds of activities increased donations and participation.
If you're not a Qgiv user, gauging the performance of your donation forms can be trickier, but it's still worth doing! It may require some manual number crunching. Hopefully you can pull the donor data from your CRM and compare overall fundraising performance against the numbers from accounting.
Then, you can use this fundraising data to create a strategy based on what you learned about your supporters.
3. Use your donor data for targeted appeals
How can you make your fundraising data work for you in your fundraising campaigns? Put what you know about your donors to good use! Your donor data can do more than help you gauge your performance. With proper data management, you can quickly determine a donor's giving preferences, capacity to give, and even if they work for an employer with a matching gift policy. Proper donor management also includes discarding old data and updating your records regularly. You can learn more about that here. You can use these insights from your fundraising data to segment your donors and send targeted appeals to the right audience. Check out this post for three ways data will help you launch more successful fundraising campaigns.
How do you get your data moving? By building integrations. Qgiv offers integrations with top fundraising software to make your data actionable.
Email integrations
Want to send an email appeal to donors most likely to give to a matching gift campaign? Export your matching gift donor data from Qgiv to an email service provider.


Matching gifts integrations
Speaking of matching gifts, we integrate with leading matching gift companies, HEPdata and Double the Donation.


CRM integrations
Want to pair giving information with other donor data in your CRM to determine the best supporters for your capital campaign? Qgiv integrates with several CRMs designed for nonprofits.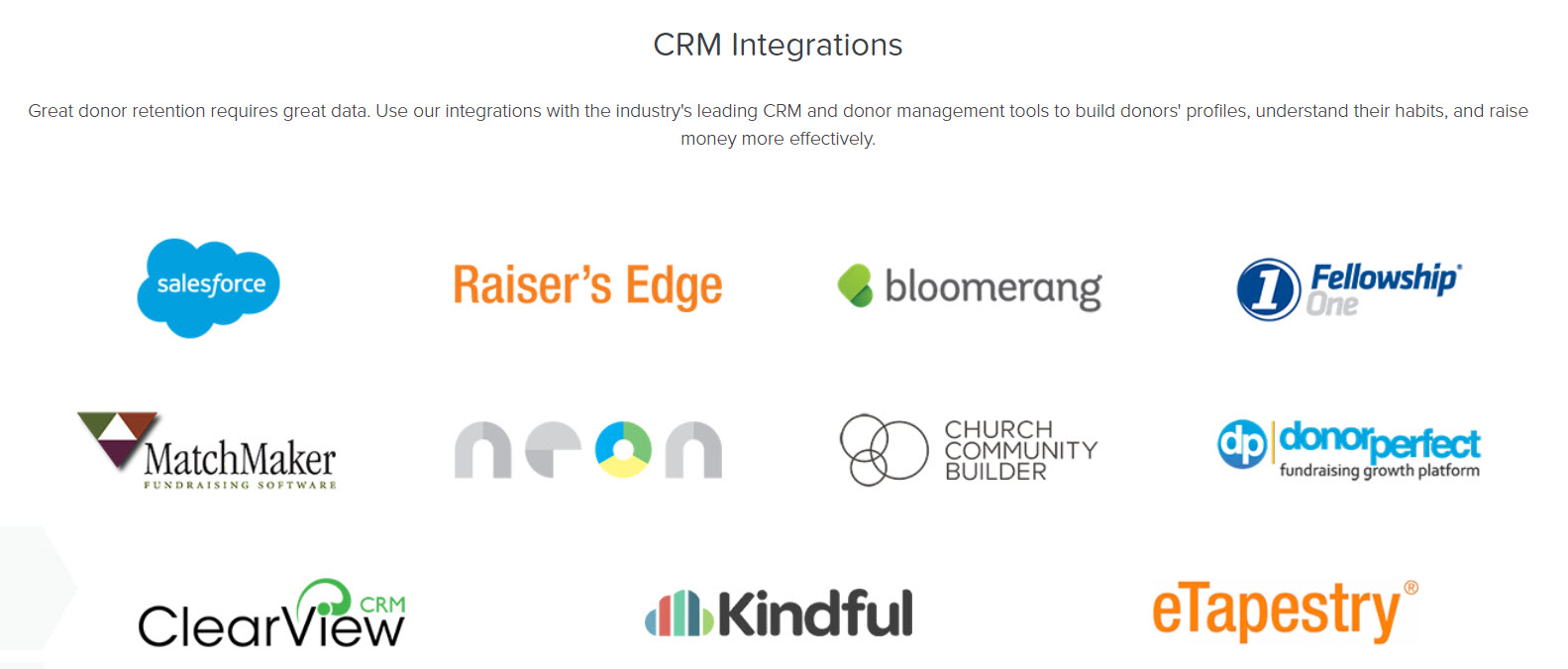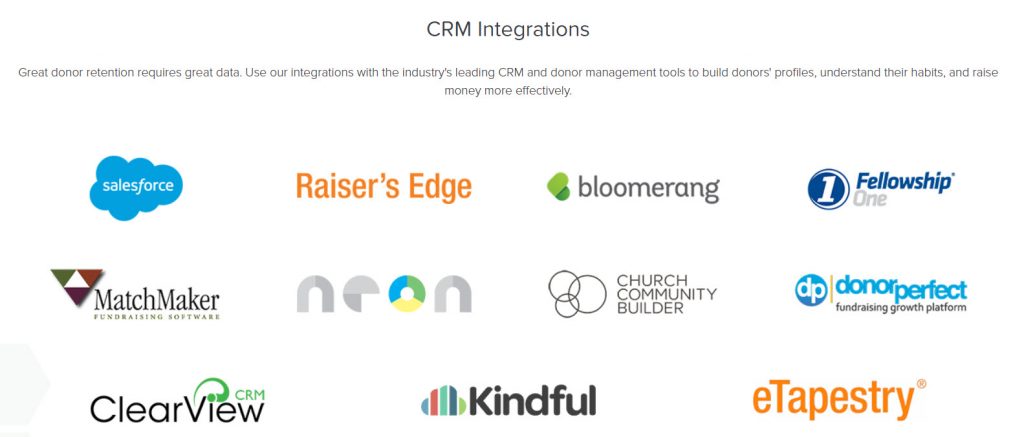 Does your accounting department need your fundraising data to reconcile incoming revenue? Qgiv integrations with QuickBooks Online. With Qgiv you can send your data almost anywhere! Especially if you use a custom integration with Zapier to take your data to the software you use.
Accounting software and other integrations


Not a Qgiv user? You can still make your data work for you if you have CRM software and good donor management skills. Your donors produce a lot of data, so it can be hard to capture it all. If you're able to track which restricted funds donors give to, how much they give, and where they work, you can use that data to determine how to maximize your fundraising appeals. How? By sending donors appeals that are most relevant to them!
For instance, when I worked for a nonprofit hospice organization, we had several restrictions donors could give to. We tracked their giving histories in Raiser's Edge then queried which donors gave to which restrictions. We built our appeal strategy around where donors were investing in our organization so they'd receive appeals for the causes they've shown us they cared about.
4. Grow relationships with donors
Finally, and perhaps most importantly, show your donors you know them. After every interaction with a donor, take notes and add them to your donor management software. Get to know your donors' reasons for giving, their likes and dislikes, and information on their friends and family. Your donor data is a great stewardship tool.
When donors feel like you know and care about them, they stick around longer!
Show donors you've been paying attention by using your fundraising data to:
Personalize email and direct mail appeals
Mention their giving history in handwritten thank-you notes
Call them or send a card on their birthday
Ask about their family using family members' names during donor meetings
Using a donor's fundraising data in a personable way shows them that you have their best interests in mind and don't see them as walking ATMs. This can go a long way in building lasting relationships with your donors.
How do you maintain this information about your donors? Enter your notes into your CRM after every meeting or phone call. Taking good notes and promptly entering them into the system when you get back to the office is a good data management practice that major gifts officers and other fundraising professionals can use to deepen connections with donors. The stronger that connection becomes, the easier it becomes to retain those donors.
Conclusion
Your fundraising data provides a great deal of information you can use to refine your annual fundraising strategy. Use your data to compare your performance year-over-year and determine whether you're growing your fundraising or if you've lost momentum. Check out this interview with Dan Bough, Qgiv's lead data engineer, for best practice tips for getting the most from your fundraising data.
Then, compare the performance of your events and forms to determine what's working and what needs improvement.
With data management and accurate donor data, you can craft targeted appeals that get better responses and earn more money. The key is making your donor data portable and segmenting donors into targeted lists for your fundraising campaigns.
Lastly, use your fundraising data to grow your relationships with your donors. Their donor data says a lot about them and with every interaction you learn more. Show donors you notice them to keep them giving longer.
Do you want to make more data-driven decisions about your fundraising strategy? Qgiv's Data package makes it easy to collect fundraising data and make it actionable with first-class integrations with leading nonprofit software providers. Request a demo to see how you can make your donor data do more.