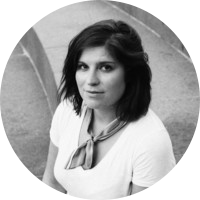 This is a guest post from Grace Miller over at Campaign Monitor. Grace is passionate about using the power of words and storytelling to help brands connect with customers. She writes about digital marketing, email, health, and wellness. Find her on socials @agwrites.
Staying in touch with your donors is essential when it comes to earning donations and converting one-time donors into loyal, recurring givers. That's why nonprofits should know where their donors are and the ways they like to connect with you.
So, when we asked nonprofits which channels they thought their donors preferred when it came time to stay engaged, we thought nonprofits would have the data to tell them exactly what they needed to know.
But it turns out nonprofits may not have enough insight into donor preferences.
While nonprofits thought donors preferred to hear from them on Facebook more than through any other channel, donors disagreed. In our survey of over 1,000 donors, respondents told us they prefer email to stay up to date with their favorite organizations.
But that doesn't mean Facebook isn't important. Facebook was actually the second most popular response in our survey, though connecting through social media isn't as straightforward as it used to be.
Read on to discover our top tips on how you can connect with your donors where you'll be the most effective, according to actual donors: email and Facebook.
Donors' #1 preferred channel: email
Donors put a lot of stock in email: Nearly 42% of our respondents said they prefer to hear from a nonprofit through an email from the organization. Furthermore, 20.5% said an email from the organization would inspire donors to give again. See the rest of this report here.
Clearly, email is an important tool for nonprofits, and it's worth investing the time and resources to do it right.
Luckily for nonprofits, you can assume your audience uses email, regardless of their age (unlike Facebook or other social media platforms). Whether your demographic skews young or not so young, donors will most likely have at least one email address they check daily.
But most nonprofit marketers wear multiple hats, and email can be intimidating. Trust us, it doesn't have to be.
The keys to making email work for you is integrating the data you need to learn the most about your subscribers and establish automatic journeys that'll do the work for you—or, at least, most of it.
Here are our tips to making email work for you:
Automate
The best way to make email seamless and efficient is to set up key automatic journeys. Setting up these journeys takes some time upfront, but then you'll be able to let automation do the work for you. You'll just have to monitor the results and make small tweaks here and there in order to see major results without having to spend much time at all.
You've probably received similar journeys yourself, like when you sign up for a new email subscription and receive a welcome email or two. Obviously, no marketer is sitting at their desk monitoring the email subscription and firing off welcome emails to every individual who signs up.
Automatic journeys allow you to send precisely the information your subscribers need, at exactly the right moment. For instance, a welcome email allows you to tell your newest subscribers how they can get involved, any major campaigns you're running, how donations are used, etc.
This email from End Slavery Tennessee explains all the opportunities for new volunteers to get involved: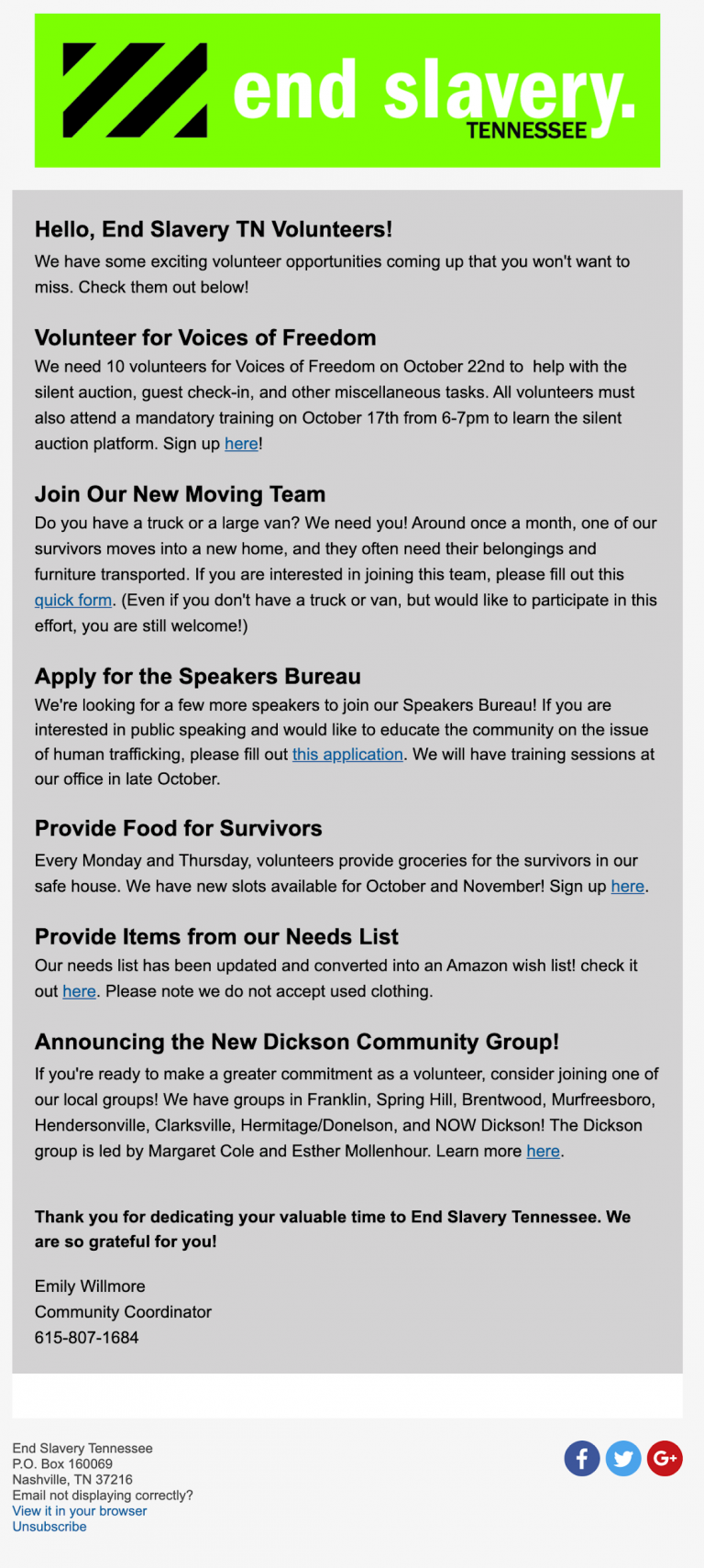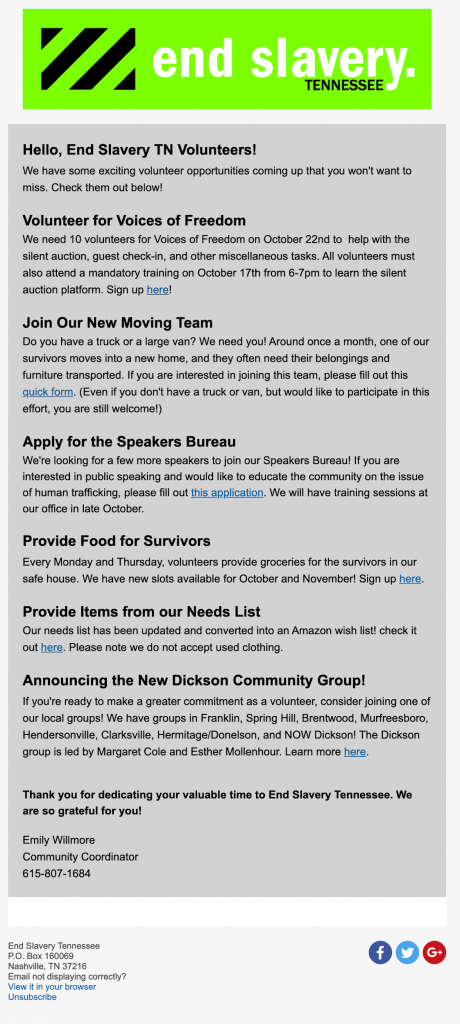 Discover what motivates your specific audience to convert and then add more of that content into your emails for your best results.
Integrate
Your emails are only as good as your data. Lucky for you, most ESPs—including Campaign Monitor—work with some of the best fundraising platforms out there, like Qgiv. These integrations will pull in pertinent data and use that information to make sure the right people get the right message from you.
You wouldn't want to send someone who just gave to your cause an email with the main CTA to "Donate now." Instead, you'll see better results to send recent donors an email that says thank you and asks them to share your campaign with their network.
Having the right integrations means having the most informative information at your fingertips. This data will allow you to automate campaigns with more depth, ultimately saving you time while resulting in better results down the line.
Personalize and segment
Deploying effective personalization and segmentation comes down to having the right integrations and using the right data. Everyone is busy and everyone has a crowded inbox. If you want to stand out, you need to ensure your emails are relevant and timely with every send.
That doesn't have to be time-consuming. Instead, use your integrations to segment your subscriber list by relevant information—such as donation size, time since last donation, involvement with your organization, etc.—and then send personalized emails that relate to each segment.
This tells your subscribers that you're paying attention to how they interact and get involved with your cause, which will lead to greater involvement and loyalty over time. It also tells them you respect their time. They'll appreciate that the messages you send are about them and that you've made them and their needs a priority.
For instance, if a donor is most engaged with certain causes—in this example, the recipient donates to organizations focused on empowering females—you'll see greater results from similar organizations or campaigns: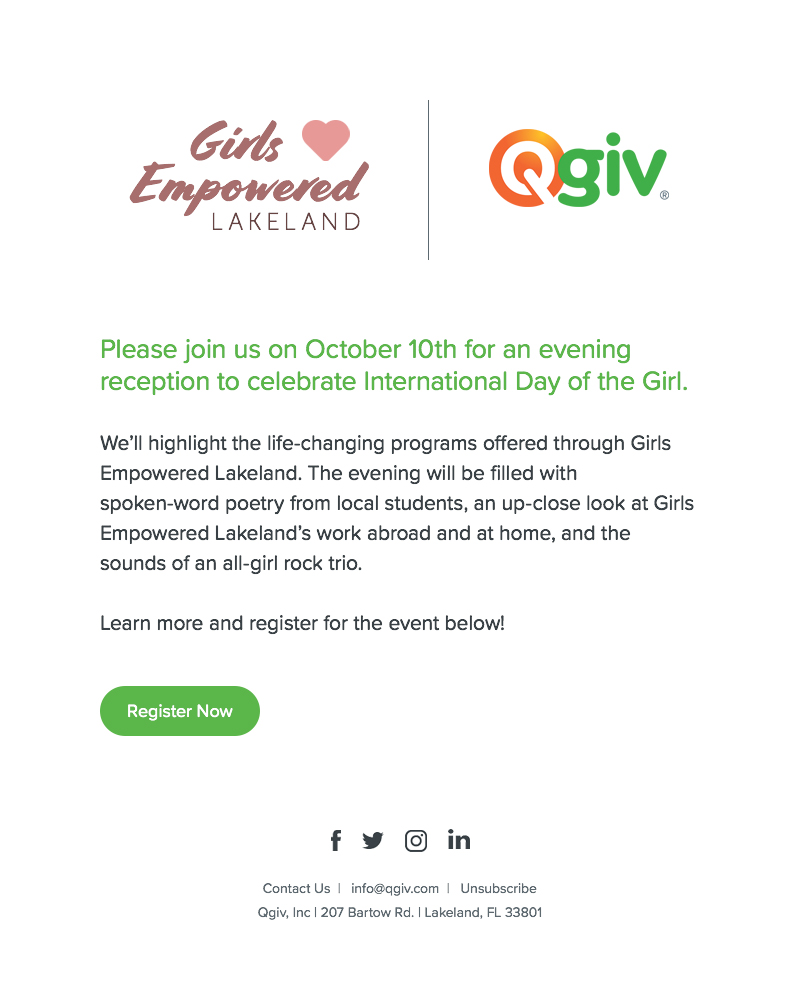 Ultimately, email works because it opens up a dialogue between you and your biggest fans in a way that's genuine and authentic. Your donors don't want to feel like they're being sold on something. Instead, present them with an authentic narrative of your cause and how your nonprofit leads the way toward change.
Donors' #2 preferred channel: Facebook
Connecting with followers on Facebook isn't as simple as it used to be. Due to shifting algorithms and growing regulation, you'll need to consider how many of your followers are actually seeing your messages when you post in order to determine what message and what frequency make the most sense for your nonprofit.
But there are ways you can encourage your followers to see what you're posting and recruit them to get involved sharing and helping you spread your reach. Facebook is a great channel for creating and utilizing brand ambassadors to help your cause gain a greater audience.
Here are a few tips that'll help you connect successfully on Facebook.
Specific and measurable goals
Because you can buy ads on Facebook as well as post to your own page, it's important to understand your goals for the platform before you post. If you want to keep people up to date, posting updates and adding images can be enough to get the word out to your followers.
However, if you're trying to reach a new audience, you might want to consider buying ads or running a campaign that encourages followers to share your posts. Because Facebook limits the number of people who see your posts, you might end up spending more on ads than you meant to in order to see an impact from the channel. Be sure that you know what you want to achieve and how much it's going to cost you and plan accordingly before launching into any spend.
Whatever you decide to do, you'll need to have a clear goal in order to decide which path will get you there in the most efficient way.
Peer-to-peer fundraising and sharing
One of the greatest things to come out of Facebook recently is Facebook Fundraisers, which makes it simple for your followers to begin their own fundraising campaign on your behalf.
In fact, peer-to-peer fundraising is an increasingly effective way for nonprofits to get followers not only involved, but, more importantly, personally invested in your fundraising efforts.
Make sure your followers are aware of Facebook Fundraisers by sharing your followers' campaigns and encouraging others to get involved. Sharing this user-generated content (UGC) reinforces the community you've created, bonded over shared goals and values.
Ultimately, donors admit that Facebook is a great tool for staying connected with your audience. Remember, Facebook—much like email—opens a dialogue between your organization and your supporters. It's important to post and share, but don't forget that the platform is all about being engaged and connecting with your followers, so share their posts and respond to your followers whenever you can.
Wrap up
Nonprofits thought donors would prefer Facebook to any other channels of communication, but they didn't quite get there. While Facebook is an important channel for donors, they prefer email above all others.
Email allows you to personalize communication and segment subscribers for maximum efficiency, which makes it a win for you. Similarly, email gives your subscribers some control over what you can send them, which is a win for them too. Thus, email is a win-win for both donors and nonprofits.
While Facebook can be tricky—you'll have to do some research on your audience and keep an eye on your insights to ensure you aren't wasting precious resources—it's still a place where donors go to look for updates from your nonprofit. You can update followers on what you're doing, how they can get involved, and how their donations are being spent, all in one place.
Facebook can also be less intrusive than other channels: When you post natively, you allow your followers to decide how often they check your page and hear from you.
No channel can reach all of your audience at once, however. That's why you should integrate your efforts to ensure your campaigns are their most effective. Take advantage of integrations offered through Qgiv and Campaign Monitor to incorporate the data you need, right where you need it the most.
Want to know what other surprising information we learned? Download our nonprofit marketing research guide now.