One-time gifts are great. There's no denying that. But recurring gifts are even better. Not only do weekly or monthly gifts make it possible for donors to give more during their lifetimes, they also improve donor retention and create a regular revenue stream to sustain crucial programs. Colleges and universities have a huge supporter base. By incentivizing monthly giving for alumni and other donors, you can dramatically grow your school's fundraising. Use the following tips to make your supporters want to make recurring gifts to your organization.
Make setting up a monthly gift easy
Have you heard the adage, "if at first you don't succeed try, try again?" While that strategy may work as a motivator when someone's learning a new skill, your donors aren't likely to adopt this mantra when trying to make a recurring donation. Giving to a nonprofit organization should be quick and painless. Likewise, setting up and paying a monthly gift should be just as easy!
Evaluate your online donation form. Does it have an option for monthly giving or is it set up for one-time donations only? If a donor can make a recurring gift, do they have donation amount and payment frequency options? Will your donor be charged automatically for the duration of their gift or will they have to return to your site to make each gift manually? If your donation form has a labor-intensive recurring giving process, it's time to make a change.
Your donation form should be set up to allow for recurring giving. But that's just the start. Give donors choices of recurring gift amounts (and preferably a field to enter their own amount). Do the same with recurring frequency. When your donors enter payment information, be sure that there is a system in place to automatically charge the donor when their next gift is due. There should be no additional work needed on the donor's part after they set up the original recurring donation. A great example of making it easy to make a monthly gift is Central Arizona College's giving form, which has its own recurring giving tab.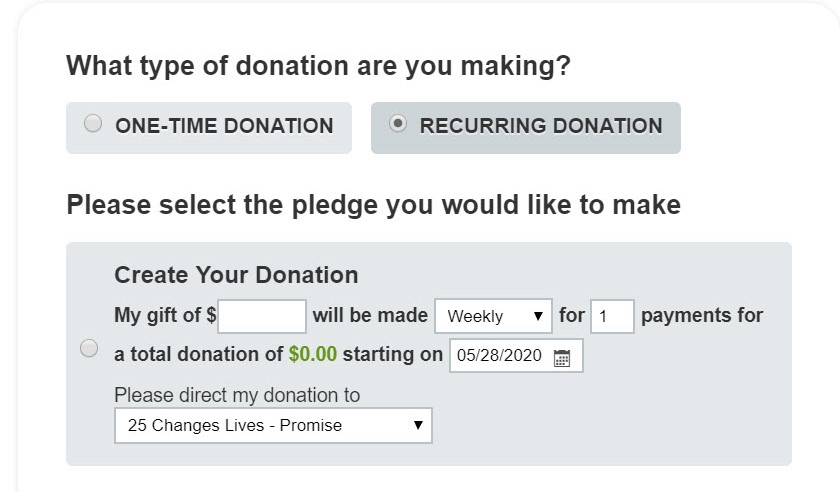 Make managing monthly giving easy
Just like setting up their recurring gift, managing monthly giving should be easy for donors, too. Your donor may need to pause payments, change payment methods, cancel a gift, or even extend their giving throughout the life of their recurring gift. Empower your donors to manage their recurring donation. One easy way to accomplish this is with donor accounts.
When it comes to recurring donations, donors need the ability to manage their payments and update payment methods. For instance, if a donor's credit card expires before their monthly giving pledge is set to end, you'll stop receiving gifts unless the payment method is updated. Rather than having donors provide you this information over the phone or via email (which poses a huge security risk), let them do it themselves over a secure internet connection.
If your online giving software has the option, enable donor accounts for monthly giving. Be sure to let donors know they can create donor accounts, set up monthly gifts while logged into the account, and teach them how to manage their gifts within their donor account. It may be helpful to create simple, visual tutorials for donors and send these as conditional content on recurring gift receipts.
Establish monthly giving societies
Making monthly giving easy is just one piece of the puzzle when it comes to incentivizing monthly gifts. Colleges and universities can take incentives even further by offering other tangible benefits to setting up recurring gifts. Offer donors membership into exclusive giving societies. These donor societies should come with unique benefits for those who give a certain amount each year.
Choose benefits that will entice donors to join and stay on as members. Consider giving members complimentary access to exclusive on campus events, create members only merchandise, and show appreciation for members with a visible plaque, art installation, or naming opportunity that members can show to family and friends.
Set a meaningful price tag on membership and offer to accept monthly payments throughout the year to pay those membership dues. This encourages donors who otherwise wouldn't be able to join with a single lump sum payment. Apply their monthly giving toward their annual membership dues for being part of the event. Conversely, you could make a monthly giving program and automatically treat monthly donors as members of an exclusive giving society.
California State University San Marcos created a giving society called the President's Circle. Donors can join by creating a monthly giving pledge and applying their funds to their President's Circle membership dues.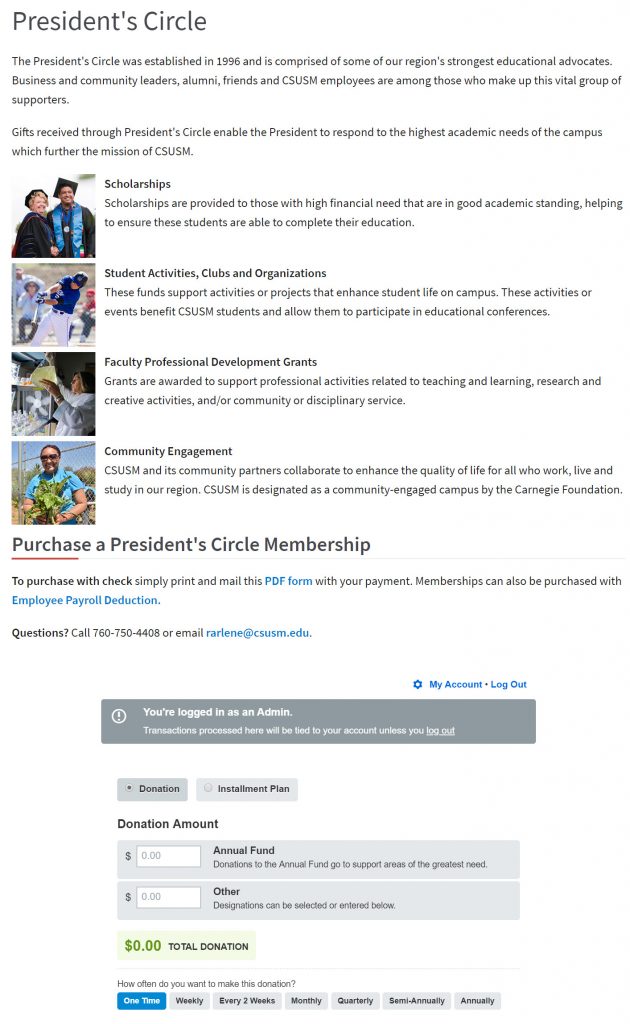 Giving societies are great for donor retention. You're making it possible for donors to come together and meet like-minded people who share their values. Not only are you providing donors social proof that supporting your school is a good thing, you're helping them make friends and connections they'll value. To remain in contact with members of your giving society, donors are willing to keep giving to remain part of the group.
Alcorn State University incentivized alumni giving during their $1 Million Brave Strong Challenge by listing donors who met the challenge on their website and creating personalized plaques for those who met the challege.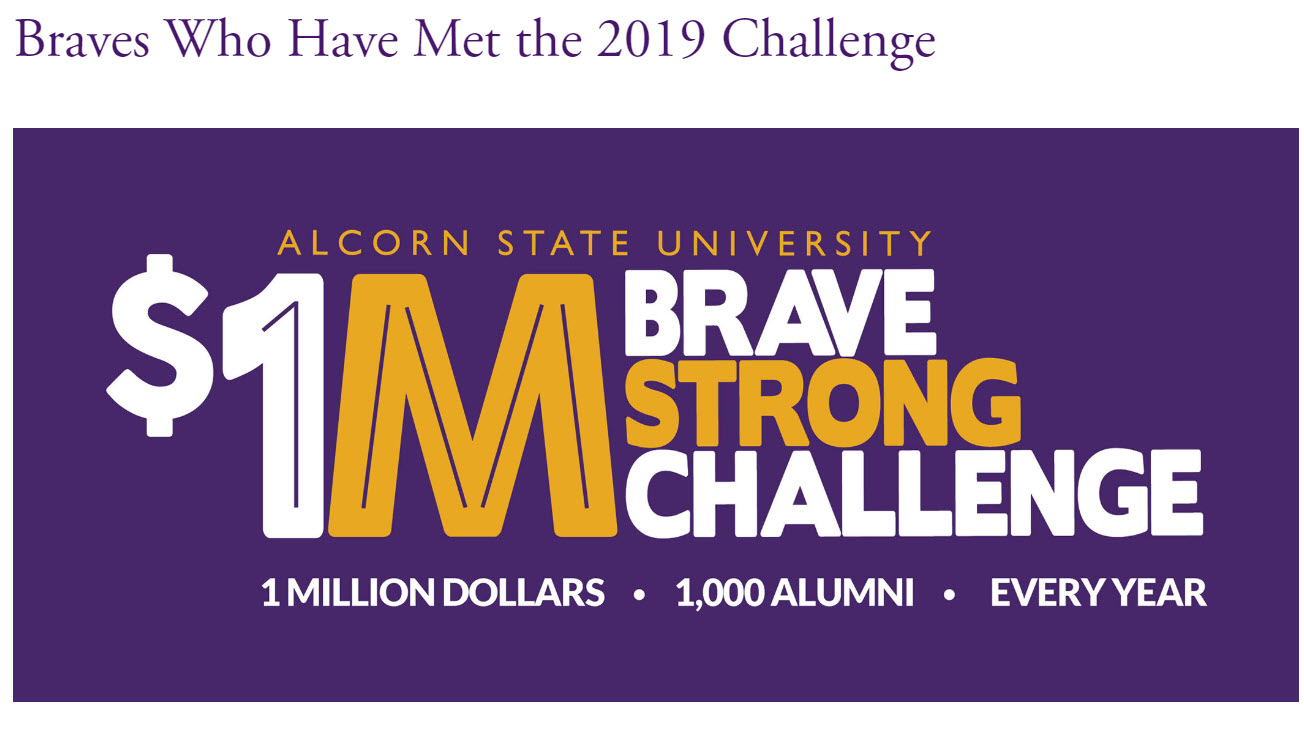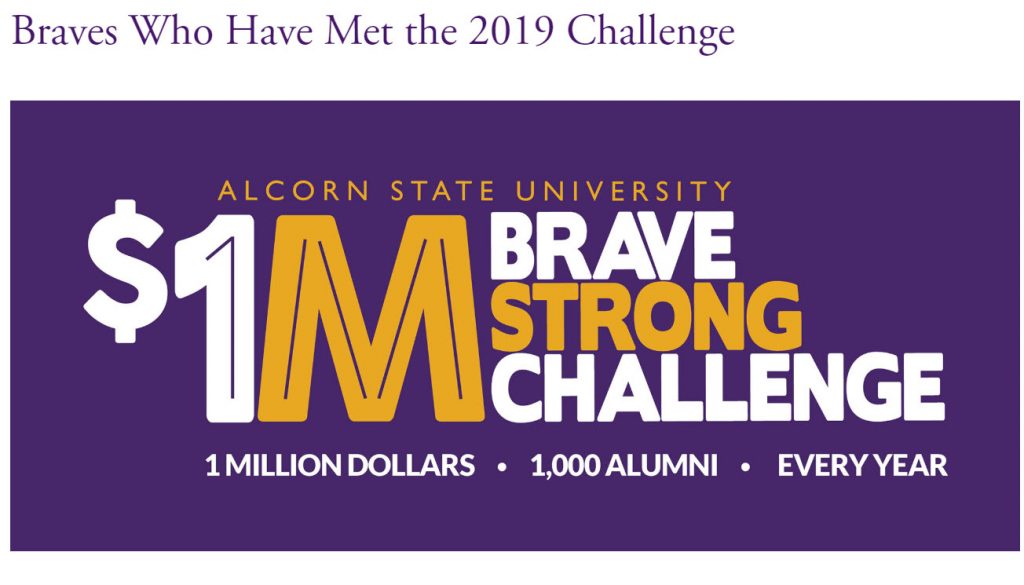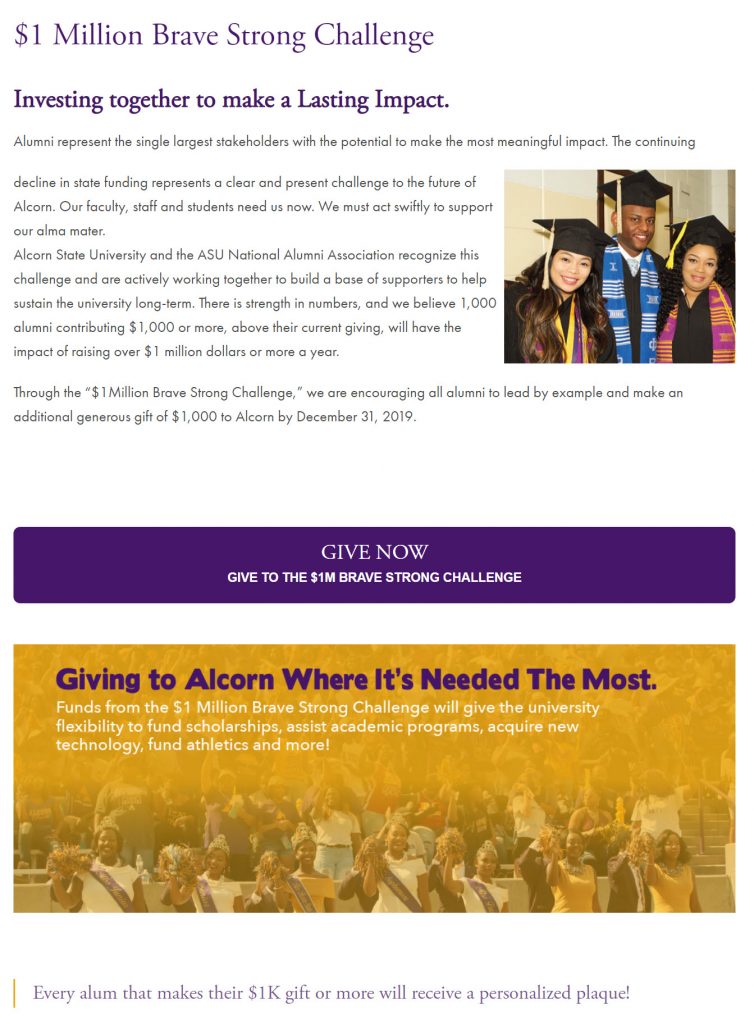 Show the impact of monthly giving
Your college or university should be able to demonstrate the impact monthly giving has on your organization. Prepare a report for monthly donors that shows what monthly gifts accomplished throughout the course of the year. How many scholarships were paid for due to monthly donations? What programs did monthly gifts fund? What was the total value of recurring gifts for the year? How many different recurring gifts did the college receive?
Providing this data to monthly donors shows them how much of a difference their gift made. Granted, you're including their monthly giving with other donors' recurring gifts, but that just proves the power of giving repeated gifts rather than one-time donations. As time passes, hopefully you're able to show donors the number of monthly gifts rising as more donors support your school with monthly giving.
You can personalize the report for each monthly donor by providing an annual donor summary. This summary should show their annual giving amount. You can also show the projected value of their monthly giving if the donor continues giving. Show the value of their continued giving at five years (and possibly include a ten-year projection for younger alumni donors). Help your donors visualize the impact their gifts have over the course of their affiliation with your institution. This may inspire them to continue giving monthly.
Be sure to show gratitude while you're showing impact. Not only do you want to show donors they're making a difference, you want them to know you're appreciative, too.
Conclusion
Colleges and universities have huge networks of supporters. Increase the giving power of your donors by incentivizing monthly giving. Recurring gifts increase overall lifetime giving for donors, so it's imperative you're making the process of signing up for a monthly gift easy. You'll also want to ensure your donors can easily manage their monthly giving. Build on these incentives by adding additional benefits in the form of on campus recognition, invitations to special events, and exclusive school merchandise for monthly giving society members. As your fiscal year ends, show your recurring donors the value of monthly gifts at your organization. Above all, let your donors know you value them and appreciate all they've done to support the school.