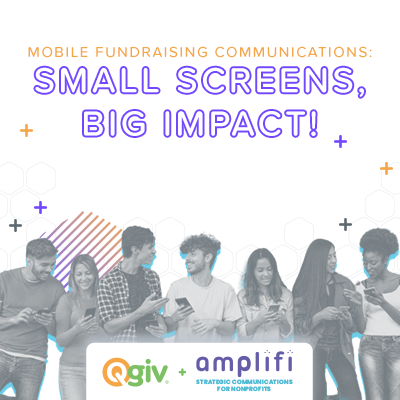 Reach donors where they are with mobile fundraising
In this day and age, a mobile fundraising strategy is mandatory for nonprofit organizations. The majority of emails, nonprofit websites, and social media posts are viewed on a mobile device. Ensuring that your outbound messages are mobile friendly will help increase accessibility and access to your organization! In addition to creating a mobile friendly experience for your supporters, outbound texts have the power to help you get your message in front of even more people! For instance, did you know that text messages have a 98% open rate? That's more than 75% better than the open rates of emails. The best part? With texts, those messages have a 97% chance to be opened within fifteen minutes of delivery.
Download the Mobile Fundraising Field Guide we created in partnership with amplifi for helpful tips to incorporate mobile fundraising into your fundraising strategy. You'll receive tips to make your website, emails, social media, and more ready for mobile devices.