Who they are:
California School of the Arts – San Gabriel Valley (CSArts-SGV) is a public charter school that provides a creative, challenging, and nurturing environment offering bright and talented students a rigorous college-preparatory education and pre-professional arts conservatory training. CSArts-SGV is a tuition-free, donation-dependent program made possible through a unique public-private partnership with the Duarte Unified School District. The school's unique culture and innovative curriculum allows its students to grow and thrive as artist scholars and to develop their confidence and talents.

What they did:
CSArts-SGV held an exciting gala for their 2023 fundraiser called Fanfare in the French Quarter, which featured a cocktail reception, three-course dinner, virtual and live auction, and an incredible performance by CSArts-SGV students and a special guest artist!
California School of the Arts – San Gabriel Valley ensured registrants were engaged with their event by creating incredible sponsorship packages and by choosing an exciting event theme!
Creative Sponsorship Opportunities
CSArts-SGV gave their sponsors truly unique amenities based on their sponsorship level. Their top sponsorship allowed 12 guests to attend the gala at a front and center table and two of these lucky guests were allowed an overnight stay at the executive suite where the event was held! The jazz table sponsorship also received champagne and premium wine service throughout the event and were provided a special take-home gift. This generous sponsor was also given four premier tickets to an exciting end-of-year performance, CSArts-SGV's Season Finale. Visual recognition was also given to the Jazz Table Sponsor in the event program, on signage, and on the event webpage.
The opportunities that the Jazz Table Sponsor received were truly above and beyond and enticing to potential sponsors!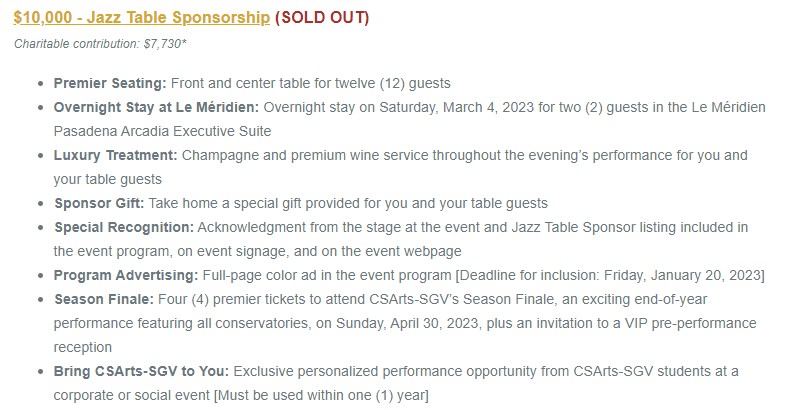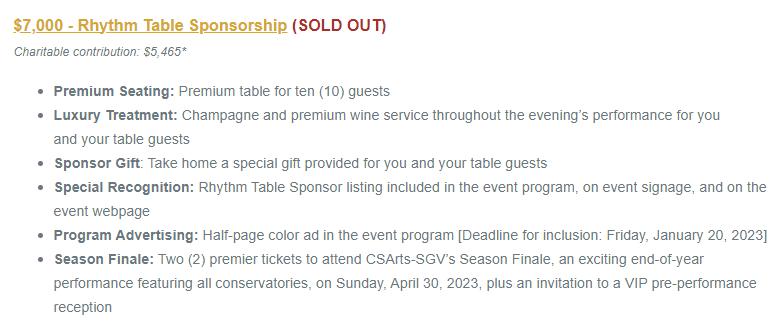 Engaging and Exciting Event Theme
"Laissez les bons temps rouler" is a Cajun French saying often heard in New Orleans, meaning "let the good times roll." The good times were felt throughout this event donation page!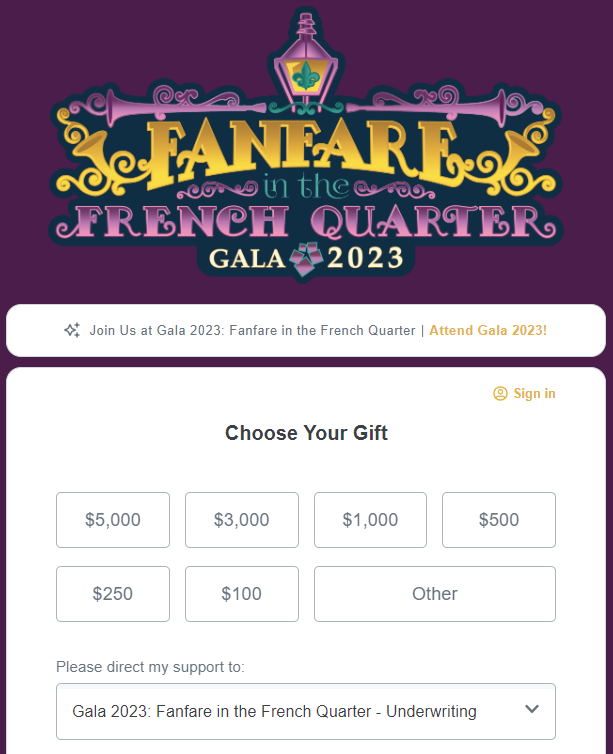 It is fun, colorful, and engaging to sponsors, attendees, and donors! Upon loading the donation page, guests of CSArts-SGV are greeted with a bright yellow and purple logo, echoing the traditional colors seen at Mardi Gras. The logo has details of horns, flambeaux carries, and French Cajun details.
The exciting French Quarter theme does not stop there! CSArts-SGV continues with well-themed sponsorship titles. Titles for their sponsorship tables include the Jazz Table, the Rhythm Table, and the Blues Table.
It is clear from this initial event form that the CSArts-SGV's 2023 Gala, Fanfare in the French Quarter, will be filled with good times and plenty of funds raised for their incredible work and mission!
What you can do:
Offer Creative and Innovative Sponsorship Opportunities
Offering creative and innovative sponsorship opportunities is a great way to engage your potential sponsors! Instead of using basic sponsorship level names, such as gold, silver, and bronze, use more creative descriptors. CSArts-SGV used Jazz, Rhythm, and Blues which mimicked their event theme. Look at your fundraising event theme, or themes of your organization's mission, to find tiered and unique sponsorship levels. This could require some brainstorming so reach out to your board or volunteers for creative ideas!
After you have established your creative naming opportunities, create unique opportunities that correlate. CSArts-SGV offered their sponsors an overnight stay in an executive suite and wine service throughout the event. Brainstorm ideas for your organization and your fundraising event! Ensuring that your organization has unique sponsorship opportunities will ensure your sponsorship ask stands out. Sponsors will be more likely to sponsor your event if they are offered a unique and exciting opportunity with their sponsorship!
Engage Attendees with an Exciting Theme
Ensure that your event attendees are met with a clear theme upon arrival to your registration form. Your registration form is a great way to make a first impression on your attendees and get them excited about your upcoming event! CSArts-SGV did this by picking a fun event that has national recognition, Mardi Gras, and then ensured their form supported the theme with their use of color and a creative logo.
Your registration page is a chance to get creative and have fun! Customize the features on your event page to reflect your upcoming fundraising event. Exciting ways you can enhance your event registration form are to include a special logo, follow a color scheme, include images and copy, and add branding that is on theme with your upcoming fundraising event.
Be sure to also level up your automated email reply! After an attendee registers, they will receive an automatically generated confirmation email. Ensure when your registrants receive that email they are also met with a well-branded and on theme thank you message!
What's Next?
Not a Qgiv client but want to learn more about online donation forms? Request a demo today or give us a call at 888.855.9595.