Colleges and universities offer their students career opportunities in many fields that are dependent upon earning degrees and developing job skills that are only available from these institutions. But as the costs of providing education, housing, and other resources to students rise, tuition costs have risen with them. This has led to increased scrutiny and criticism of public and private universities in recent years.
In fact, in a study conducted by the Pew Research Center in August 2019, a majority of Americans polled on their views reported feeling higher education in America was going in the wrong direction. The reasoning behind this feeling for most respondents concerned high tuition costs. Undoubtedly, this opinion potentially hampers the efforts of collegiate fundraisers to reach their goals. How can colleges and universities combat this and restore faith in their financial management? By being transparent and showing what tuition and donations fund.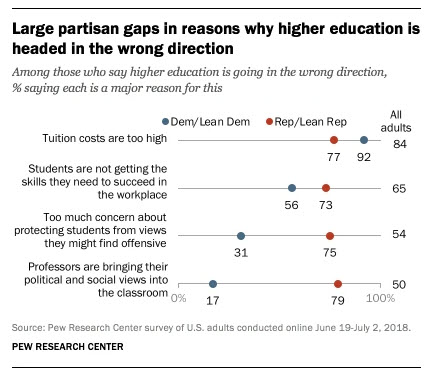 Jump to:
Make annual reports public
This one is pretty straight forward—share your annual report on your website… and make it easy to find!
Your annual report is your chance to set the record straight when it comes to accounting for all the costs incurred while providing a valuable service to students. Many people underestimate the cost of materials, food, etc., required to keep students safe, healthy, and fed—not to mention costs associated with educating them! A truthful, accurate report comparing the costs of keeping the lights on versus the amount collected from tuition and donations, can act as a real eye opener for those who may be losing faith in the financial management of college and universities.
Show donor impact in communications
When reaching out to alumni and donors, take a moment to thank donors and share the impact these gifts have made in the lives of students. Don't make every piece of communication an ask! As a rule of thumb, make sure you're thanking donors, reporting on their impact and offering ways for them to engage with you that don't involve donating, and repeating the process!
Ask, thank, report, repeat…and make sure you've sprinkled engagement on top for a little extra flavor!
Did donations help you start a new program? Construct a new building? Provide needed scholarship funds for deserving students struggling to afford tuition? These are the impact statements that inspire donors and alumni to make gifts.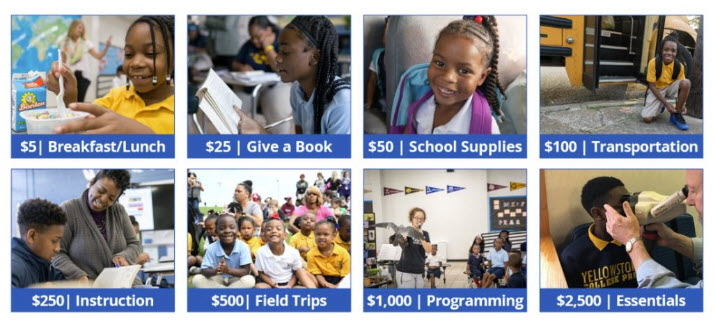 Impact statements can also be added to donation forms if certain gift sizes correspond with specific funding needs. Check out this article for inspiration on how to add impact statements directly to the gift amount buttons on your donation forms.
Yellowstone Academy, the nonprofit school featured in the article above, also does a great job using video to show impact. Colleges and universities can also take advantage of this medium to clearly illustrate where funding is directed and its impact. Videos are highly portable. They can be played from a laptop during a donor meeting or fundraising event, uploaded to social media, and embedded on the university website. Video impact statements are easy to share and often are better than a well-worded article for showing positive outcomes that come from tuition and contributions from supporters.
Ultimately, expressing gratitude goes further than taking a defensive stance against unfavorable opinions regarding higher education. Reinforce your fiscal responsibility by highlighting what your school spends its money on. Highlight student stories (especially scholarship recipients who could not afford higher education without the support of donors).
Create a newsletter for donors and alumni
A publicly available newsletter that updates donors and alumni on a regular basis serves as a great place to show how donations, tuition, and grant funds improve the college and create better opportunities for current students.
Sharing innovative improvements, positive student outcomes, and unveiling new programs, structures, and classes of interest to those opting in to receive your newsletter will give your audience a better idea of your institution's funding needs and current priorities.
Transparency also means giving insight to supporters regarding how your university plans to stay relevant and grow into the future. A newsletter listing future plans for the university helps donors and alumni anticipate funding needs before fundraising begins. Spelling out what new projects are on the horizon and what they'll cost helps justify tuition increases. Explaining future plans also lets supporters anticipate your fundraising campaigns.
Conclusion
With tuition costs a major concern for a majority of Americans, focusing on transparency is a must to earn trust. Added transparency may also help with retaining current supporters.
Prepare an annual report showing donation uses and make it accessible from the organization's website.
Reaffirm the importance of donations by being especially transparent in donor communications.
Send out regular thank-yous that show the impact of donations.
Use video to highlight positive student outcomes and new programs, classes, and buildings made possible by donors.
Create a resource, like a newsletter, to keep interested parties in the loop about all aspects of the college.
Explain future plans and set expectations early for funding needed to make your goals happen.
Being transparent shows commitment to fiscal responsibility and what's best for students attending your school. Your fundraising success likely depends on it.