"Using Qgiv made it easy and quick to accept donations electronically — which is critical to a modern campaign. We loved how easy it was to set up, and how we were guided step by step through the process. Follow-up and support were great, too. We were able to customize the Qgiv setup, both for what we needed to properly receive and report donations, and for the look and feel. Being able to quickly generate code to drop into our web site as well as activate it on Facebook were big plusses too. And the text-to-give feature was simple to get going and nice to have. On the back end, the reporting and transaction information was great. It was easy to login and see where we were at any time, and to look at the information any way we needed. Plus, we had notifications set up to keep us up to date in real time. The cost to do all this was surprisingly reasonable and Qgiv did much of the heavy lifting so we could focus on getting the candidate's message out to the voters."
Feature Favorites

Chuck McDanal
Campaign Manager

Billy Townsend for School Board District 1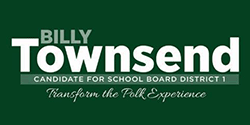 www.billytownsend.com
Raising more money has never been easier.
We'll give you a one-on-one tour of Qgiv and show you how simple fundraising can be.
Get Started Today