On April 16-18, 2023, 3,600+ fundraising professionals descended on New Orleans, LA for AFP ICON's 63rd annual conference, the largest turnout in six years. Development officers, executive directors, event planners, consultants, and emerging leaders came together to discuss fundraising trends, donor retention, DEI (diverse, equitable, and inclusive workplace) strategies, and so much more. Here are our top takeaways and a glimpse of the inspiration attendees experienced onsite.
To scale and succeed, you must understand your data
In a session titled Visualizing Data for Prospect Identification and Donor Metrics, Joe Stabb, PhD, TE, APR, ACUE and Emily Marcason-Tolmie, MA, MFA, shared insights on how to bring your data to life with visuals that help your stakeholders understand what's happening in your donor database, even when it's not something they want to hear. They defined data visualization as the representation of information in the form of a chart, diagram, or picture. This method makes complex concepts easier for your stakeholders to understand and makes it easier to have more informed discussions on the next steps your organization should take. In order for your nonprofit to scale and succeed, you must understand your data, and often the best outcomes come from challenges within the data.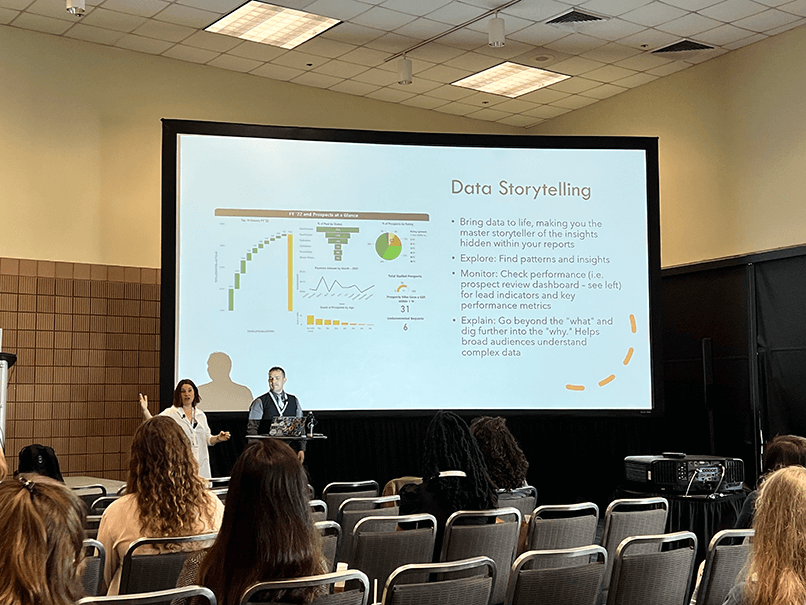 It can often be difficult to know where to start with your data. There are so many avenues you can go down when you dig in, and it can be easy to get lost down a rabbit hole you didn't intend to go down. Emily and Joe recommend to begin with planning before you ever look at your data. "Map out the story you need to tell. Storyboarding can help you understand the full picture of what you want to show and what the most important aspect is to focus on."
Data-driven philanthropy is based on fact and not on a gut feeling. The most successful campaigns begin with research. Collecting and maintaining good data is key to this. Implement procedures to asess metrics. Track successes and failures to inform future strategy.
"Be intimate with your data. Know your data in and out," says Emily. Data storytelling is about bringing your data to life in three simple steps:
Explore: find patterns and insights
Monitor: check performance (leading indicators and key performance indicators)
Explain: go beyond the what and dig further into the why.
Make this an everyday habit so that you become the master storyteller of the insights within your reports and help a broad audience understand complex data.
Use the right messaging in your donor journey
Jen Shang, PhD, Co-Founder, and Co-Director of the Institute for Sustainable Philanthropy and the world's only philanthropic psychologist, shared findings from her and Adrian Sargeant's, PhD, research on Using Love Languages to Build Donor Identity and Wellbeing from the Bloomerang booth inside the AFP Exchange.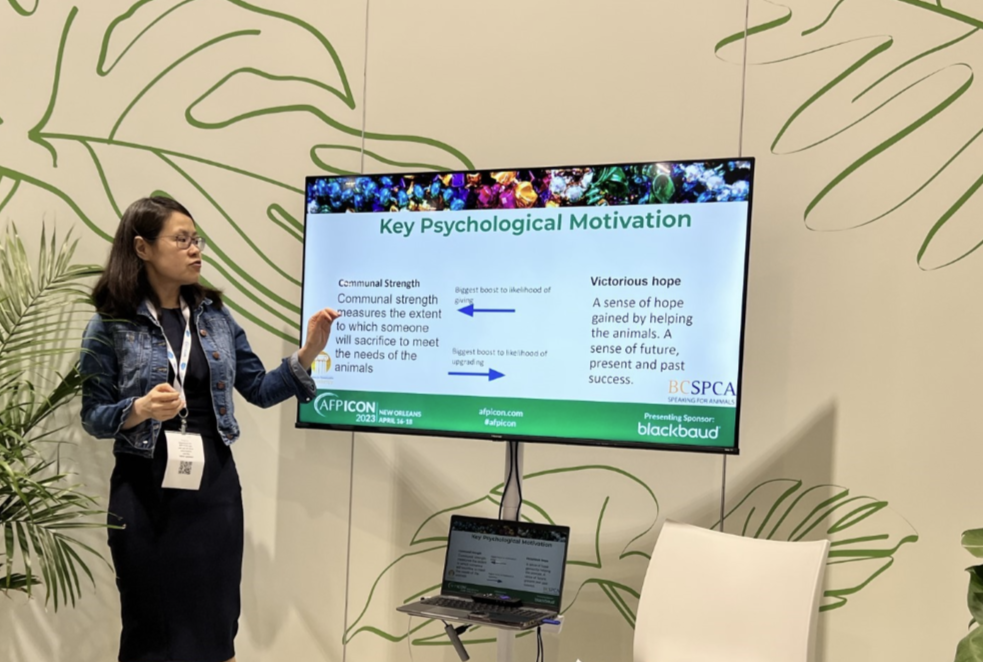 In their research project "Exploring the Love Language of Fundraising," Jen and Adrian are uncovering how often the nonprofit sector focuses on money within their messaging – "Your gift can" or "Thank you for your donation" – which establishes a transactional relationship with them. When you focus on what makes a donor feel good, you create more long-term donor relationships, bringing them together in a community around your cause. The outcome? Increased satisfaction, retention, and dollars raised because donors felt more positive about their giving experience.
They also uncovered how "It's not about how we talk to them. It's about how we hear and nurture them." It's a conversation. When you use a donor's love language the first thing you see is verbal feedback, not dollars. This could be a simple response to an email. The dollars will come later in their donor journey.
For more information on their study, visit the Institute for Sustainable Philanthropy.
Build your pipeline of future donors with peer-to-peer fundraising
Melaina Chromy of Qgiv teamed up with David Hawa of IRUSA in a session titled Build Bridges with Peer-to-Peer Fundraising: How to Connect Supporters with Your Mission for Long-Term Fundraising Success. Generation X, Millennials, and Generation Z all share an interest in engaging with organizations through peer-to-peer fundraising. These generations, especially Gen Z, center their identities with the impact they are making on the world and are advocates for the causes they support. With the largest transfer of wealth upon us, peer-to-peer fundraising is a great strategy to prospect and engage these generations.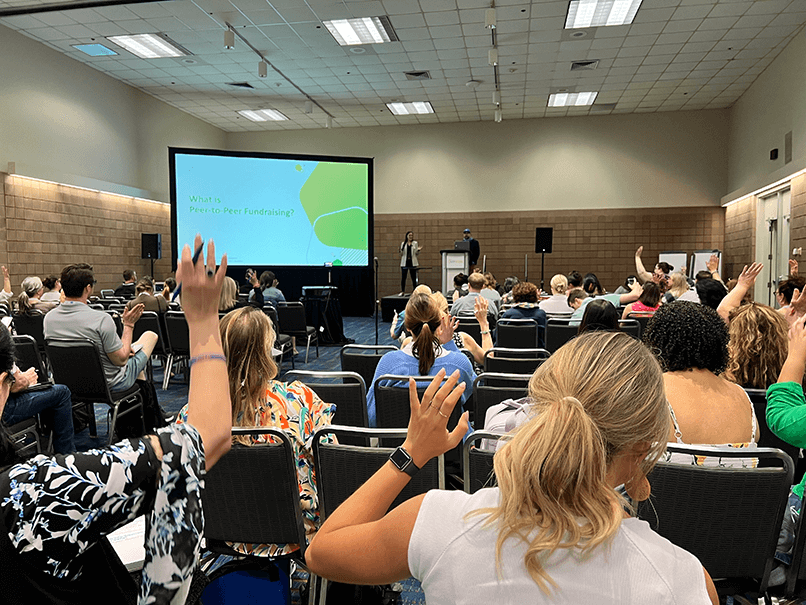 David shared that for IRUSA, their peer-to-peer initiatives weren't just about fundraising, they were also about attracting new donors. They saw successes through implementing a variety of event types to engage a wider audience and recommended setting goals low to help increase participation. One private school set a reasonable goal of $4,000 to help raise relief funds for the earthquakes in Syria. Through their efforts they ended up raising $45,000 and counting—a great example of how Gen Z can successfully fundraise and be engaged by a cause! Another participant from the Greatest Generation achieved tremendous success through her campaign. She used her network to attract hundreds of new donations. David advised not to underestimate your supporters and the power of their networks. Your least likely supporters may end up being your greatest advocates.
Melaina went on to share that "peer-to-peer is a great strategy to acquire new donors and acquire long-term supporters for your organization—even potential major donors." You must look at your peer-to-peer strategies as a donor funnel and implement messaging and communication throughout their journey. "Reiterate their impact, celebrate their success, and say thank you every step of the way."
There are many options for peer-to-peer fundraising you can use:
Contests
Challenges
Crowdfunding
DIY fundraising
A-thons (walk, bowl, etc.)
Network fundraising
Virtual storefront
Giving days
If you are a smaller organization, DIY fundraising is a great, low-cost way to start and then scale to a larger event-based fundraiser like a walk-a-thon.
Emerging trends in social media have the ability to impact your organization's social media presence
In the session Current Trends in Social Media: What Do We Pay For & What Should We Ignore, Julia Campbell covered three emerging trends within social media: Platforms shifting to a subscription model, increased focus on data privacy and security, and increased regulation and scrutiny of social media companies.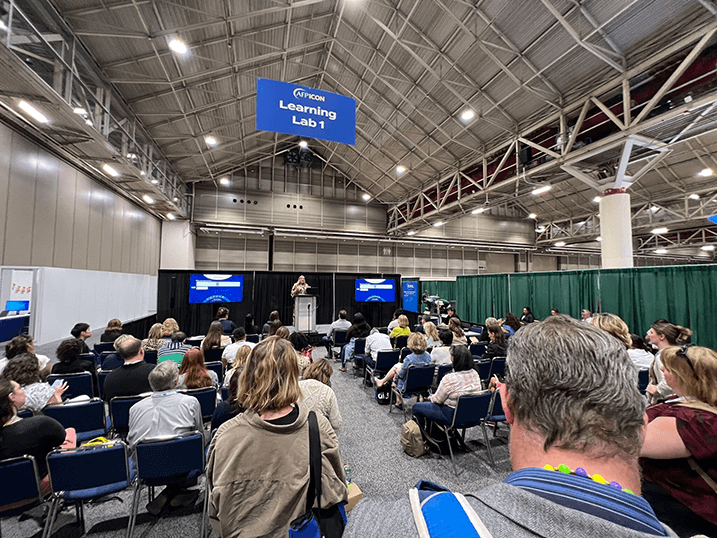 X Premium (formerly Twitter Blue) is one of the first major social media subscription models that has emerged within the last year. Following this trend, Meta has introduced Meta Verified. Meta Verified will grant users a blue tick for $14.99 per month on iOS and Android devices, or $11.99 per month on the website. This verification subscription is especially beneficial for creators and individual influencers—organizations cannot acquire the Meta Verified badge.  
According to Julia Campbell, "It's important to weigh the pros and cons of subscription-based verification for your nonprofit. Unless you rely on an individual that's connected to your brand, or works for your nonprofit as an influencer, Meta verified is something that will have little impact on your nonprofit right now."
The next trend we're seeing is an increased focus on data privacy. This is great for us as social media and internet users, but as advertisers it makes it harder for us to target our audience. Increased data privacy can impact social media ads' effectiveness and reduce an ad's ability to effectively target who we want it to.
Lastly, social media platforms are facing increased scrutiny and regulation. Montana is the first state in the United States to implement a TikTok ban and Congress is actively exploring a national ban. There are several lawmakers across the US that are exploring restricting social media access to minors. Utah passed legislation banning minors (individuals under 18) from using social media platforms unless their parents have provided consent.
"If you rely on social media to build an engaged community and connect with your supporters, these regulations could very well impact you," said Julia Campbell.
To learn more about emerging social media trends, visit Julia Campbell's website.
Networking and Inspiration
Outside of the sessions, the conference was riddled with networking opportunities. The AFP Exchange hosted vendors from all facets of fundraising, donor management systems, consultants, email systems, and more. The room was buzzing with conversations and new innovative solutions to help fundraisers be more efficient and effective.

Countless receptions were hosted across the city for affinity groups and chapters. Fundraisers made new connections, rekindled old friendships, and found new inspiration and fundraising ideas from the conversations they had outside of the conference walls.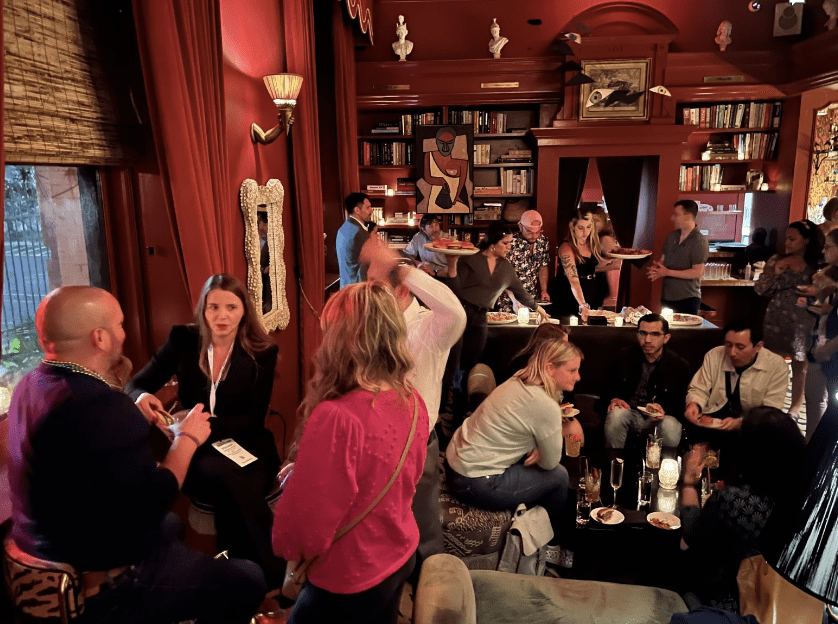 AFP ICON also hosted two inspirational general sessions. Attendees had the opportunity to hear from Misty Copeland and Birgit Smith Burton, founder of AADO and the first African American woman to be voted chair of the AFP Global Board. Birgit interviewed Misty on the challenges she faced throughout her childhood, and her journey to become the first African American Female Principal Dancer with the prestigious American Ballet Theatre. She faced tremendous isolation, often being the only person of color in the room. Through the support of her local Boys and Girls Club, she found a safe haven and a dance class which ignited the start of her career. She now gives back through her work with various charitable organizations to diversify the artform and make arts education available to all children, not just some children.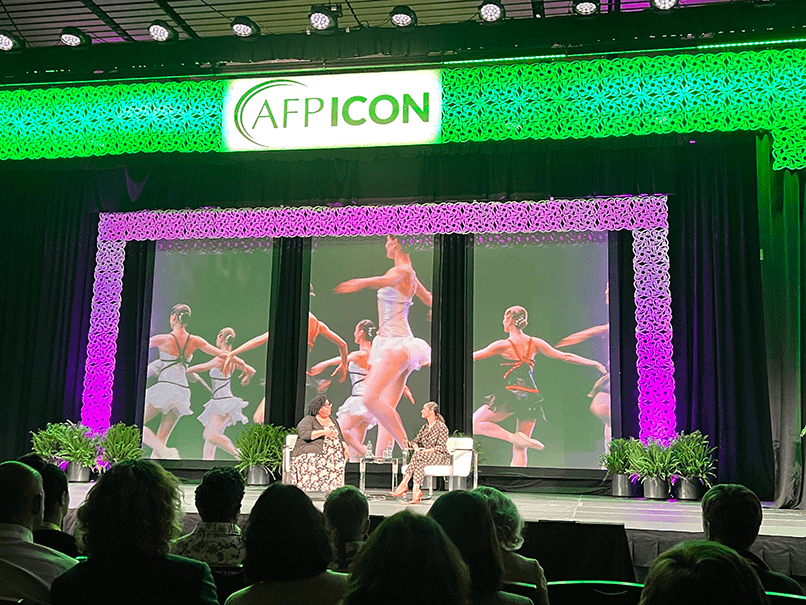 As the conference came to a close, Emeril Lagasse joined the stage in an interview with Cherian Koshy, CFRE, CAP, and Vice Chair of professional development on the AFP Global Board. He spoke about the evolution of his career and the mentorship that he experienced along the way. He now oversees countless award-winning restaurants and devotes his work to giving back to underserved communities. His advice to the audience, "Everyday you can learn a little more. You can learn something from everybody."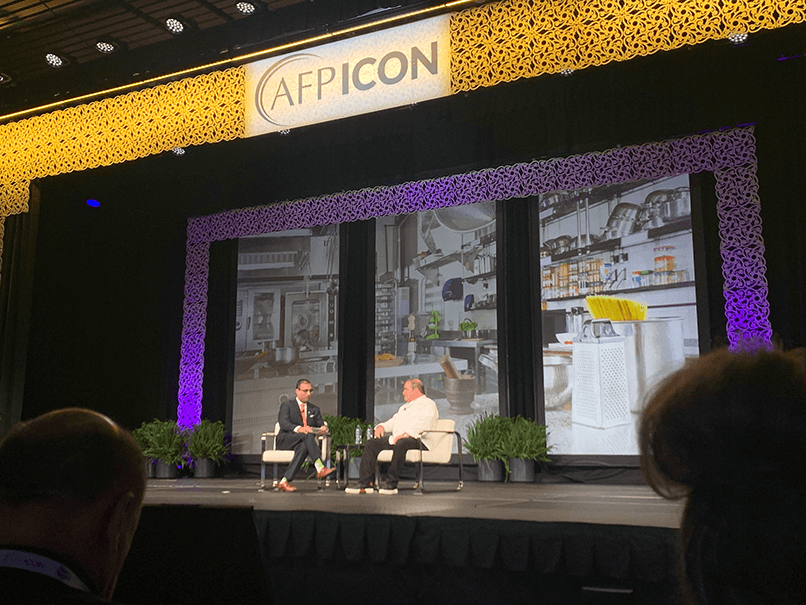 Mike Geiger, MBA, CPA, President and Chief Executive Officer of AFP announced in his closing remarks that 3,642 attendees joined this year's ICON event, with half attending for the very first time. He shared more about AFP IDEA and their commitment to the principles of inclusion, diversity, equity and access (IDEA) in the fundraising profession, the philanthropic sector, and society. Members of the AFP team highlighted the programs and sponsorships they've implemented in support of this work, and future work to be done.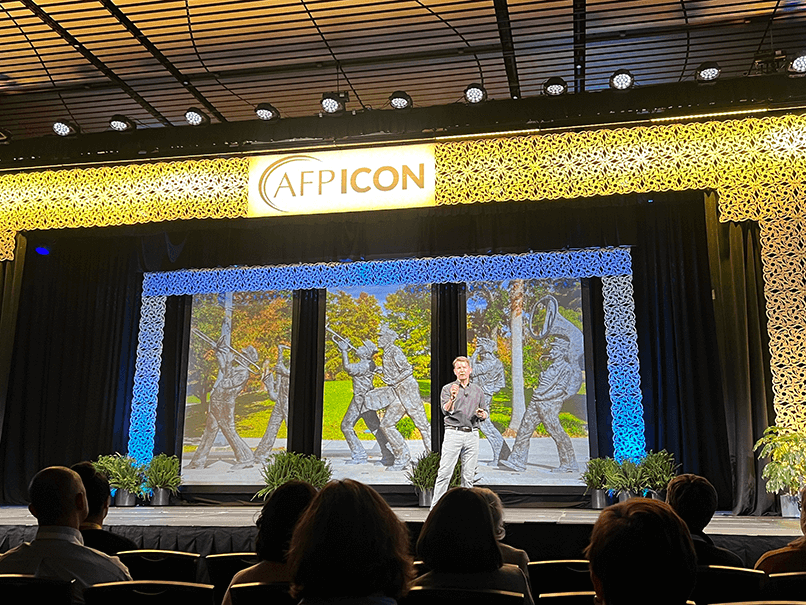 Conclusion
The Qgiv Team had a blast attending AFP ICON this year and connecting with other mission-minded individuals. Hearing from different nonprofit leaders and fundraising professionals left us feeling inspired and refreshed for the work we do—helping changemakers like you! We're already looking forward to next year's AFP ICON in Toronto, Canada April 7-9.
Keep an eye on AFP Global's website for more information about AFP ICON 2024 or head here if you're interested in speaking at AFP ICON 2024.
For more fundraising inspiration, templates, and tactics, subscribe to our fundraising resources