Who they are
The Daraja Education Fund operates in support of Daraja Academy, a boarding school for girls located in Kenya. Their goal is to educate and empower girls from poverty to become community leaders. By educating girls from around the country, the staff of Daraja Academy work to lift women out of poverty, help them achieve economic self-sufficiency, and act as champions of equality.
The idea for the academy formed in 2006 and they welcomed their first graduating class in 2009. Since then, Daraja Academy has helped over 100 girls complete their secondary education and the academy has ranked in the top 10% of private secondary schools in Kenya. They recently expanded their program to create a transitional program providing professional skills to students during the gap year between graduation from high school and matriculation into college. They've opened this program up to local schools in the community as well as Daraja Academy graduates.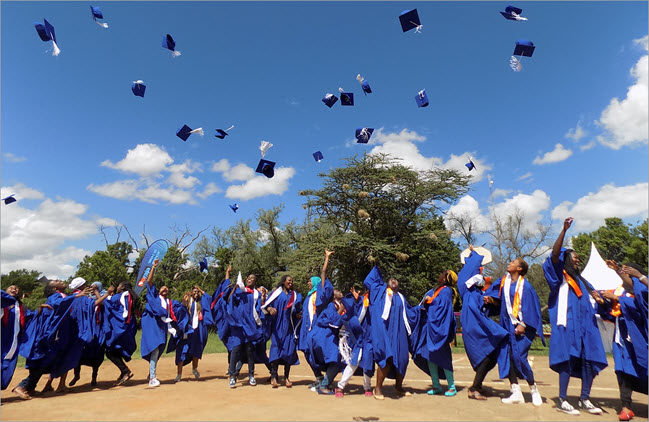 What they did
Daraja Academy hosted a Race for Daraja event that paired event participants in the United States with a student from the Daraja Academy in Kenya. Both the event participants and the students pledged to race twelve kilometers in whichever method they preferred before May 31st. Participants received a picture of the student with whom they were racing. They then put together a fundraising page in the organization's peer-to-peer event that shared whom they were running for and why they supported Daraja Academy.
Showing participants the person they helped inspired participants to try their hardest to fundraise and showed their donors why they should support the participant's fundraiser.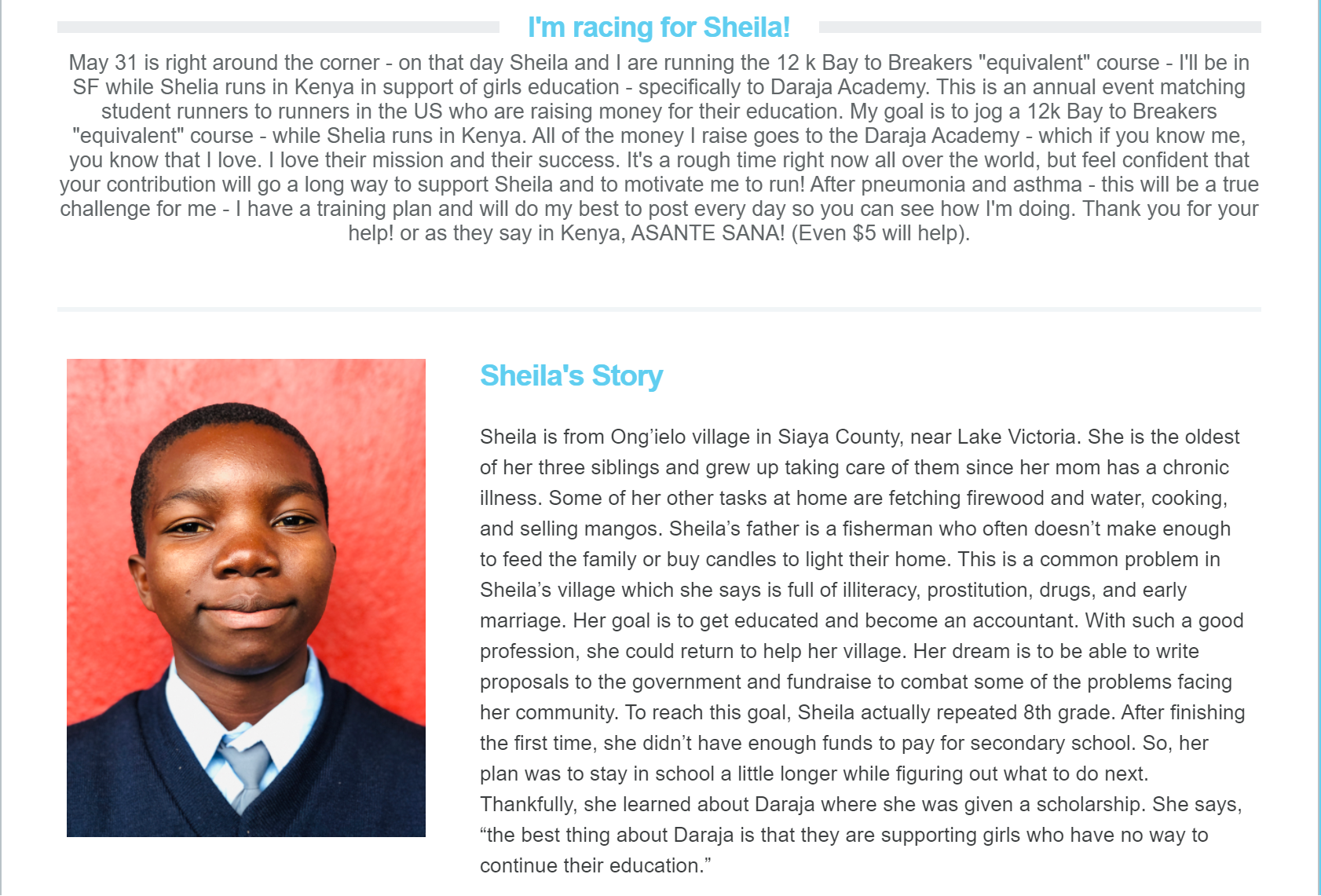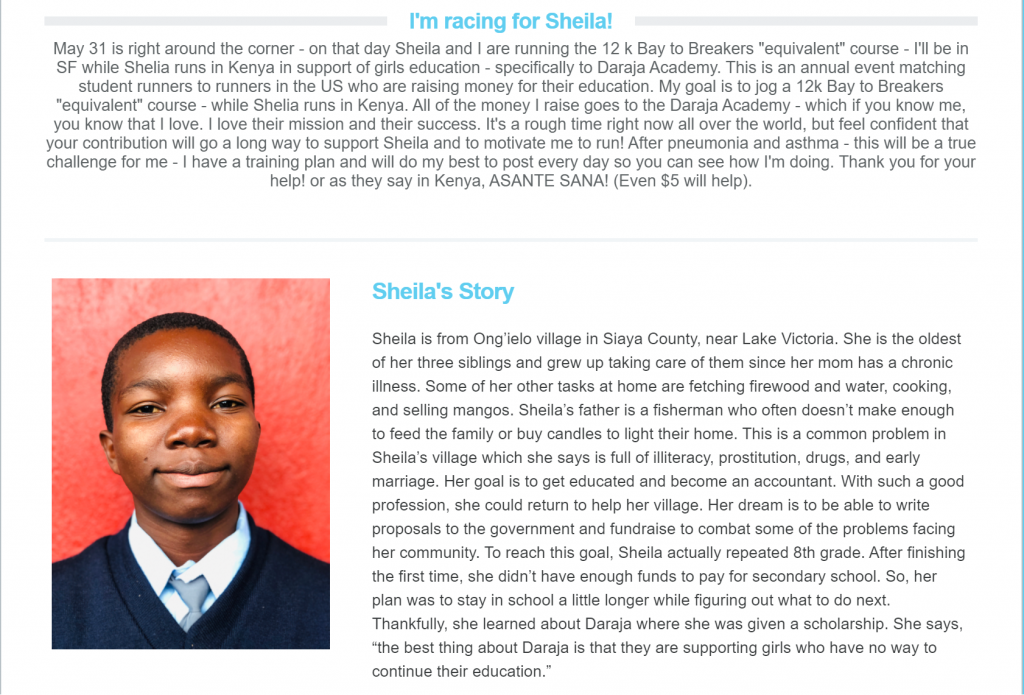 Putting actual faces with names of students benefiting from the event inspired racers to not only complete their race but to fundraise along the way. By making the cause personal and bridging the gap between girls in Kenya and fundraisers in the United States, Daraja Academy was able to help donors see these girls as real people with real stories who need their help.
This strategy helped Daraja Academy exceed its $85,000 fundraising goal. Participants raised more than $91,000 in support of their cause!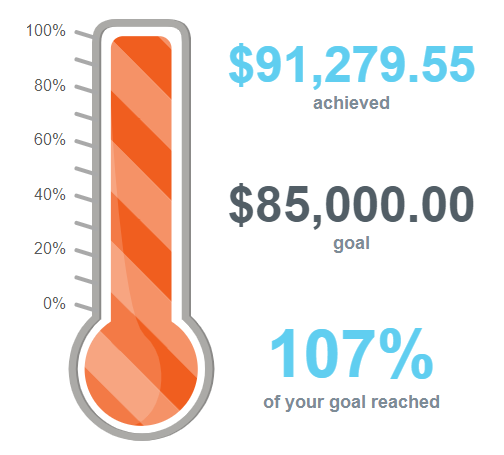 What you can do
Create a personal connection through images
The next time your organization hosts an event or fundraising campaign, make a personal connection between your supporters and those you serve. This makes the funds raised more meaningful, and it shows your donors what their gifts support.
There are other benefits to making this personal connection! Sharing a picture of who or what your event participant is helping is a big motivator to actively fundraise. People don't want to let each other down, especially if they're helping a teammate accomplish a goal.
Use visual storytelling to inspire donors
Visual storytelling through photos of your constituents encourages other to give, as well. We're visual creatures, and pictures create an immediate connection, especially when you share details about who or what is in the photo. The picture puts a face to the cause and makes a personal connection between those you serve and those donating to a participant's fundraiser.
Make goals feel attainable
Lastly, making that personal connection helps make the problem your nonprofit is trying to solve more manageable. If supporters feel like the odds are against them, many will give up. That's why making your supporters' goal attainable is more effective! Instead of raising funds to support the education of 115 girls, Daraja Academy set a participant goal of helping one girl receive an education. When the goal is placed within reach, your supporters will work hard to reach it!