The John Wesley Community Health Institute was founded in 1960 by physicians in Los Angeles County to support and augment patient care, education, and research at the John Wesley facility. When the facility was demolished in 1979, the organization changed its focus from medical research to providing medical services and patient education with a focus on community-based health education and support programs.
The agency's current mission is to improve the health and wellness of underserved segments of Los Angeles County through the direct provision or coordination of health care, health education services and research. They achieve this mission through a variety of activities, including medical outreach and referrals for medical care, HIV services, and drug treatment; health education; psychosocial assessment and intervention; primary medical care; family planning services; and research.
They hold an annual benefit dinner and dance to raise funds to support their mission. This year, they used Qgiv's Mobile Suite to accept donations and pledges from supporters in addition to using card readers and collecting cash donations at the event. To ensure that their text fundraising tools effectively served their event, the John Wesley Community Health Institute included instructions and an example text donation on their event page.


That information wasn't only displayed at the event! Both event guests and supporters who couldn't attend had access to these instructions on the event website. The instructions were placed just below the header and above a recent activity feed and the event's fundraising thermometer. The activity feed displayed text fundraising donation messages and the thermometer inspired visitors to the event website to contribute and help the organization reach its goal.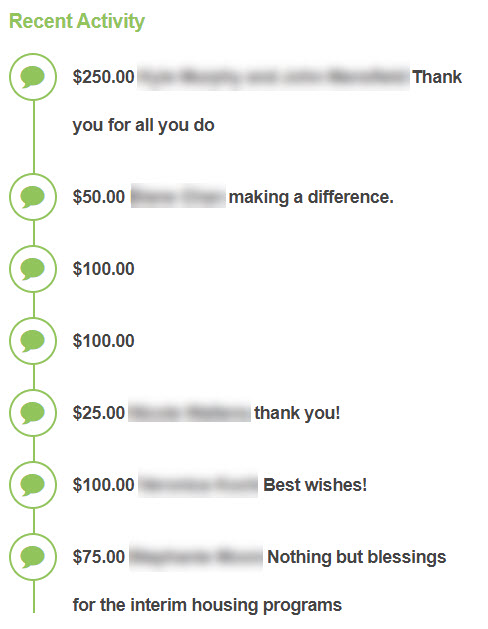 The event raised more than $6,500 with many of the pledges fulfilled through text fundraising. This event's text fundraising campaign was successful because the organization understood that not every guest would bring their checkbook, but almost every guest was likely to bring their smartphone. Between dinner, dancing, and (undoubtedly) some selfie opportunities, guests were able to text a keyword and pledge a donation from their phones.
How your nonprofit can achieve text fundraising success
Your nonprofit can emulate John Wesley Community Health Institute's fundraising success with Qgiv's Mobile Suite. To be most successful, be sure to set up a short, simple keyword and tie it to your event. Make instructions clear and easy to find. Then, inspire guests to give by including a recent activity feed and fundraising thermometer. These event widgets show your supporters the progress they make toward your event fundraising goal and lets them include a public message with their gift.
Want more information on Qgiv's text fundraising tools? Visit our text fundraising product page or request a demo to see it in action!