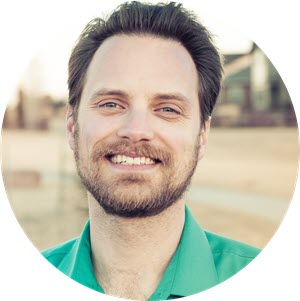 Chris Barlow is the Director of Beeline, and masterfully puts his two youngest boys down for naps every day. Expecting to work in a cause-focused career or ministry when he grew up, he was surprised to discover a passion for business. Five years ago, he came full-circle and has been happily working with nonprofits ever since. Beeline helps align your mission and fundraising through marketing that serves.
It's not news that the Google Ad Grants program provides $10,000 per month of free advertising for nonprofits. The program has been in existence 2003.
The problem is that a lot of people get into the program, try to run some campaigns, and never get any meaningful results. For many organizations, Ad Grants feels like a poor investment of their time.
To succeed, all you need is the right approach, which requires an understanding of both what Ad Grants can do and what your organization can do.
What can success with Google Ad Grants look like? With $120,000 worth of ads per year you can:
Bring tens of thousands of new people to your site
Grow your donor email list by thousands of new people
Find new volunteers
Increase donations for events and campaigns
Increase virtual event attendance
We will get into what the best approach is, but first, you need to know how to land the grant!
Can you get into the Google Ad Grants program?
If these kinds of results could be valuable to you, here are two questions you need to answer:
Are you eligible?
Will the program work for you?
If you follow this free checklist (download now, no opt in required) – How to Get into Google Ad Grants – you'll be able to apply for and get into the program in days!
To sum up, if you are a 501c3 and not a government entity, hospital/medical group, or school/university/academic institution, you're eligible to get in.
Perhaps more importantly than whether knowing you are eligible, you need to know if Google Ad Grants could get good results for your nonprofit.
Take this short quiz to find out!
If the program could be valuable for you, you need to have some assets in place:
a good website that can turn visitors into subscribers (potential volunteers, donors, etc.)
helpful content so visitors see how you can help them or read stories about your mission
a plan for how you will build relationships with people through digital channels (website, email, social media, etc.)
knowledge and experience, time to learn, or a budget to hire an expert, to run a successful campaign
Let's spend the rest of this article looking at strategies to get amazing results from the Ad Grants program.
2 Strategies to Get Amazing Results from Google Ad Grants
There are a lot of ways an organization can make use of Google Ad Grants; here we'll look at the top two:
Strategy 1: Finding New Donors
Rather than trying to find new donors by targeting generic keywords like "donate," "giving," or "GivingTuesday," you need to attract people to your organization from a very different angle.
People don't often turn to Google to find nonprofits to support. They turn to Google with curiosity, questions, and problems; they seek distractions, ideas, and solutions for the challenges they face.
Instead of trying to use advertising to put yourself in front of donors, use ads to help potential donors where they are by meeting their needs. To sum this up:
If you serve people, you will attract them to you. So, make serving donors part of your mission!
The best way to figure out how to serve donors is to deeply understand these three questions:
Who are your donors (especially their problems and needs)?
What are your areas of expertise, especially as it relates to your donors?
Where do your areas of expertise overlap with your donors' needs?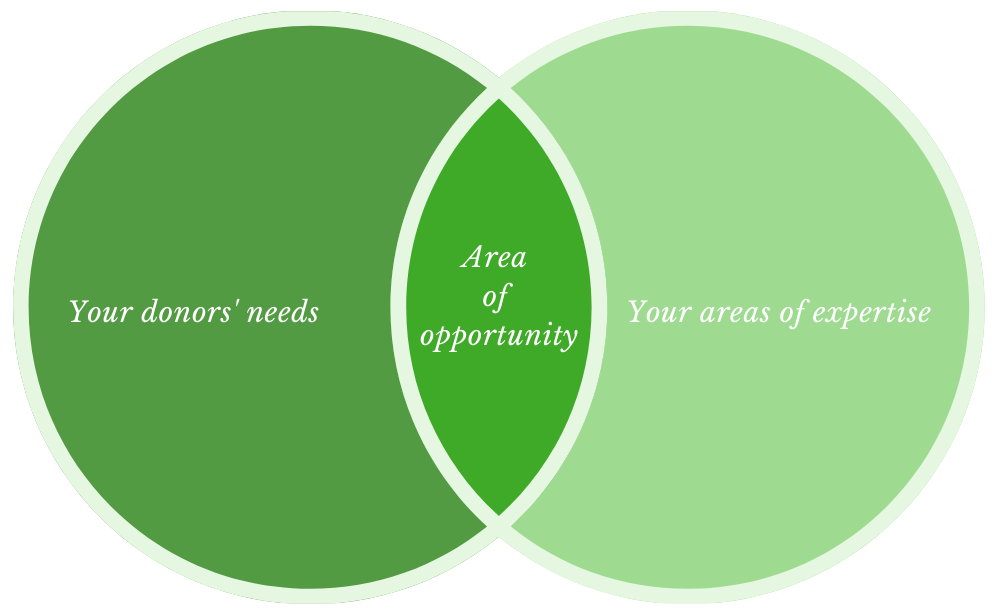 Once you understand these things, you can create resources to serve your audience and Ad Grants will be an effective tool to target keywords related to their curiosity, questions, and problems, allowing you to point to resources you've made to help them.
If you haven't done it yet, take the quiz and grab the 3-step checklist to start applying.
Strategy 2: Finding New Volunteers
Although there are many reasons people could be interested in volunteering with your organization, for Google Ad Grants there are three reasons that are most helpful for us to consider:
People who can or want to give time instead of (or in addition to) financial support
People seeking fun or enriching experiences (like being docent at a museum or helping the homeless)
People who want valuable experience for their career / resume
For all three reasons, you can use the strategy for finding new donors shared above; after they become subscribers and by building a relationship with them through email, you can segment those who are interested in volunteering.
For the people seeking fun or enriching experiences, your ads can highlight opportunities available at your organization. Consider your volunteer persona—the kind of people who have a natural interest in your work and who have the time to serve. Understand why they are interested, and this will help you in your keyword targeting.
For the third and final reason, remember what these people are most interested in: valuable experience for their career. While you can't call every volunteer position an "internship," every long-term volunteer can put this service on their resume. Knowing this, you can target people using relevant career-motivated keywords.
Further Opportunities
There are other ways Ad Grants can be of value to your nonprofit, including: branding, improving your targeting for other advertising campaigns, and bringing in more donors and awareness for a specific fundraising campaign. Regardless of your goal, Google's program is one of the best out there to help you expand your mission and fundraising efforts.
If you want to learn more about keeping the donors you do have, check out Qgiv's guide to donor retention, and then sign up for a free webinar with fundraising expert Steven Shattuck, the Chief Engagement Officer at our partner, Bloomerang!