With the growth of technology, many resources can help your organization be more efficient while saving time and money. Using ChatGPT prompts for nonprofits can help your organization create fundraising letters and other resources quickly and can be used to help you raise more money throughout the fundraising cycle.
What is ChatGPT?
ChatGPT is a chatbot created by OpenAI that generates text communications based on the prompts given by a user. The AI creates better results with the more details you provide to it, such as format, length, and subject. With over 100 million users, ChatGPT learns more information and writing styles to provide superior responses.
How can nonprofits use ChatGPT?
Your organization can use ChatGPT for many different uses, and it's just one tool that is changing the future of fundraising. The AI can help you research and brainstorm, or it can even write copy for you. To get the most out of ChatGPT, you need to be as specific as possible without sharing sensitive information. Include your organization's name, your particular campaign's name, and the impact your campaign will have on your community.
While ChatGPT is a great starting point, you still need to edit and review everything written by AI to guarantee the accuracy of information, double-check grammar, and add a personal touch. Don't use ChatGPT for anything that includes sensitive information from you or your donors, and don't use it for anything that requires accurate and up-to-date information without an in-depth review. The AI can't distinguish between reliable and unreliable sources and takes time to learn new data.
ChatGPT Benefits
ChatGPT prompts for nonprofits have multiple benefits. They can:
Save time. Writing from scratch is time consuming, but ChatGPT starts the process for you.
Kickstart brainstorming. ChatGPT develops ideas for you to launch off of to help your organization host more creative campaigns.
Conduct research. Not everyone knows where to start when researching a new topic, but ChatGPT can give you a clearer picture of what to look up.
Prompts for ChatGPT
Remember, ChatGPT prompts will produce better results by providing the AI with more specific details. Add any extra information you can when using ChatGPT prompts improve your emails and appeals.
Fundraising appeal letters
Fundraising appeal letters can be time-consuming for your staff to write. Instead, use a ChatGPT prompt for your nonprofit to create a template for each campaign and have your staff focus on editing instead of creating it from scratch. Add in more personal touches and stories specific to your organization after the AI creates your base template. Try this prompt:
"Write a fundraising appeal under 500 words for [Your Organization] for [Insert Campaign] to [Donor Segment]. Donations help [Describe Donation Impact]."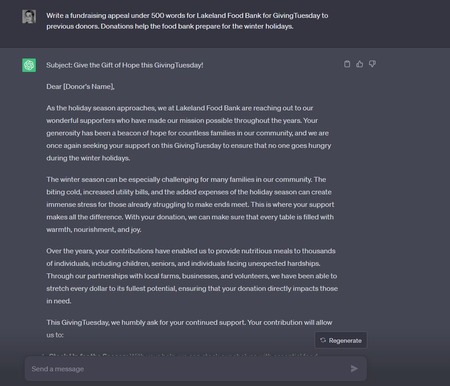 Fundraising emails
Similar to fundraising letters, the process for creating your fundraising emails for an email campaign can be kickstarted by using a ChatGPT prompt. Encourage the AI to use an urgent tone to motivate your donors. Once your template is created, add photos, videos, and links to make your emails more visual for your donors. Use this prompt:
"Write an urgent-sounding fundraising email under 300 words for [Your Organization] to [Donor Segment]. Focus on the difference the donor can make when they give to [Your Organization]."
Newsletters
Newsletters are a great way to keep your donors updated on what your organization is doing and what events are coming up. Add specific event and campaign details in the spaces provided by the AI and add images as needed. Create a newsletter template to send to your donors using this prompt:
"Create an email newsletter template under 500 words to provide updates on [Your Organization] from [Your Name]."
Donor appreciation email
Thank-you emails are an important part of the donor lifecycle and are often automatically sent from your fundraising platform. Use ChatGPT prompts to create a template to input into your donation page settings and send a personalized email showing your donors how much you appreciate them. Try this prompt:
"Write a donor appreciation email under 300 words to [Specific Donor Segment] for [Your Organization] [Event Name] fundraising event. [Describe Donation Impact]."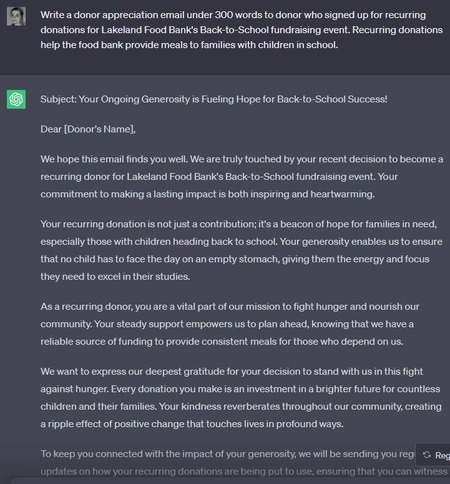 Donor appreciation letter
For larger donations, you may want to send your appreciation with a letter through direct mail, and you can use ChatGPT to help you draft these acknowledgments. Even if you decide to handwrite the physical letter, the AI can help you organize your thoughts and phrasing before you put it on paper, saving you time. Use this prompt for donor appreciation letters:
"Write a thank-you letter under 250 words to major donors of [Your Organization]. Explain how [Donation Impacts Cause]."
Fundraising social media posts
Social media platforms have different audiences and different limitations on what you can post. With ChatGPT prompts, you can quickly create multiple social media posts that will follow each platform's rules without constantly thinking about different character limits and best practices. The AI will even include emojis and hashtags for you to use.
For X (formerly Twitter), use this prompt:
"Write a tweet asking for donations for [Your Organization]."
For Facebook, try this prompt:
"Write a short Facebook post to raise money for [Your Organization]."
For LinkedIn, consider this prompt:
"Write a short LinkedIn post explaining the importance of [Your Cause]."
Social media appreciation posts
Besides fundraising posts, you can also use ChatGPT prompts to create appreciation posts for your donors. Thanking your donors is one of the best ways to retain them over time. Public appreciation offers a double benefit because it also shows others why they should support your cause. Try this prompt to create an appreciation post for social media:
"Write a Facebook post thanking donors for their support of [Your Campaign] and how their support impacts [Your Cause]."
Impact posts
People want to see what they're supporting with their money, and social media is great for sharing success stories about the people your organization helps. These stories also help you post more regularly on social media, keeping your content fresh and consistent, which boosts your audience reach on most platforms. Consider this prompt:
"Write a social media post about how money from [Your Campaign] helped [Person Helped] by [Impact]."
Nonprofit blog posts
Blog posts help you establish your nonprofit as an authority within your cause and increase traffic to your website through SEO. However, not every organization has the staff or time available to research, write, and edit multiple blog posts within a month. ChatGPT can create a first draft of a blog post for your staff to review and edit without needing to spend as much time on the writing and researching phases of creating a blog post. Use this ChatGPT prompt:
"Write a blog post around 800 words about [Your Organization] [Specific Project]. Explain the benefits of [Specific Project]."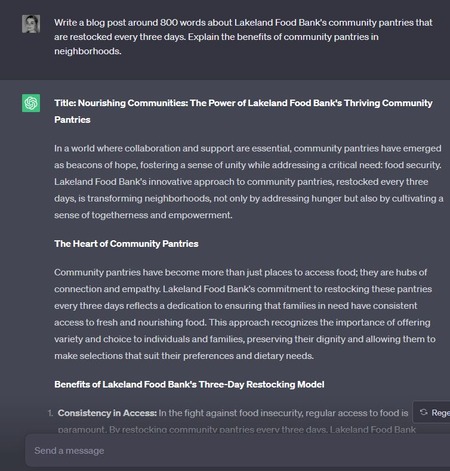 Website copy
Creating a good website is a stressful task, especially for those new to website building. Make the process easier by having ChatGPT write your web page copy. From your short blurbs on your homepage about your mission to your "About Us" page, your website copy can be generated by providing ChatGPT with a bit of background information on your organization. Remember, the more details you can supply, the more accurate the AI will be. Consider these prompts:
"Write a short blurb about [Your Organization's Mission]."
"Write a couple of paragraphs about how [Your Organization] founded in [Your Founding Date] helps [Your Cause]."
Volunteer recruitment
Recruiting volunteers requires a lot of background work from your organization. Not only do you need to create advertisements to find your volunteers, but you also need to create training materials to onboard your volunteers and help them learn more about your nonprofit. ChatGPT can help you create both the initial ad for volunteers and all the resources you need to train them. Try these ChatGPT prompts:
"Write a short advertisement requesting volunteers for [Your Organization] to fulfill [Volunteer Duties] during [Your Event or Volunteer Day]."
"Write instructions for volunteers explaining [Your Organization's Mission], [Volunteer Duties], and [What to Bring]."
Peer-to-peer event page copy
Each of your events will have their own web pages that require specialized copy to encourage your supporters' participation. Besides the main event page, you can also create copy for an FAQ page for your peer-to-peer event to prepare your participants with the information they need. Use this prompt for your main peer-to-peer page:
"Write a blurb under 150 words for [Your Organization] [Event Name] peer-to-peer event page."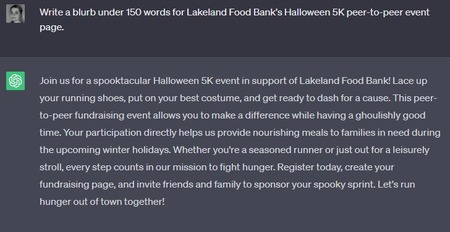 Or use this prompt to help create your peer-to-peer FAQ page:
"What are some common questions participants have for [Your Cause] peer-to-peer events?"
Fundraising ideas
When you've been fundraising for a long time, the same old fundraising events can feel stale, but brainstorming for new ideas can feel overwhelming with all the long lists that fill Google searches. ChatGPT can give you a list of ideas that you can further research and break down until you get a unique event for your organization. Try this prompt:
"Make a list of unique fundraising ideas for [Your Cause] for [Time of Year or Holiday]."
Privacy note
Putting sensitive information or confidential data into ChatGPT increases your risk of data breaches and endangers you and your donors. Follow your organization's security protocols regarding sensitive information when using ChatGPT to keep your nonprofit and your supporters safe.
Final Thoughts
ChatGPT prompts for nonprofits can be a great resource for saving time if used responsibly. Use prompts to create marketing copy, fundraising ideas, and more! Just remember to be specific and not to use any confidential information. At Qgiv, we are continuing our efforts to bring more machine learning and AI to our platform to help nonprofits raise more, including an AI-powered Fundraising Content Assistant for peer-to-peer email campaigns.