ChatGPT and fundraising may not be two things you'd think would go together, but the combination works better than you'd expect. You've probably seen action movies or read sci-fi books about artificial intelligence being used to help humans. For most nonprofit professionals, AI seems like a far-off fictional concept, bound to sci-fi adventures that we watch or read. But ChatGPT has made AI an incredibly accessible and easy-to-use tool for anyone with an internet connection.
Since its launch in November of 2022, ChatGPT has gained over 100 million users. In fact, the AI gained over one million users in just five days after it launched! The text AI is quickly growing, and nonprofits can benefit from ChatGPT's features.
So what's all the hype about? And can you or your team benefit from using ChatGPT? Keep reading to learn more about ChatGPT and four ways you can use the AI's tools to make your job easier.
What is ChatGPT?
ChatGPT is a writing AI that was created to mimic human conversation. The GPT of ChatGPT stands for generative pre-trained transformer, which is a group of language models trained to generate human-like text developed by OpenAI. To use ChatGPT, all you have to do is create an account and then ask a detailed question for the AI to generate a response to. ChatGPT is free to use, but you can update to a ChatGPT Plus account for $20 a month. Chat GPT Plus offers faster and priority access to new features.
ChatGPT has some limitations though. Since the AI pulls information directly from the internet, the accuracy is reliant on the sources across the web. You cannot use ChatGPT without your own research to validate the information that the AI produces. While you can use it to give you a head start on your research, do not become dependent on what ChatGPT produces. The AI may also have trouble producing long-form content and create grammatical errors. Be sure to double check any work created by ChatGPT.
Security is another issue when it comes to ChatGPT and fundraising. One best practice for ChatGPT is to never share any personally identifiable information or financial details about your organization. Whenever you're using an unfamiliar online tool, look up where the tool stores its information and what the privacy policy is regarding information sharing. It's important for both the safety of your organization and that of your supporters.
How can I use ChatGPT?
1. ChatGPT can be used to help you write fundraising appeals
Constantly writing fundraising appeals can get you stuck in a repetitive cycle after a while. Writer's block happens to the best of us, and if you're stuck writing an appeal or could benefit from a preliminary draft being written for you, ChatGPT can be a great help. Having a place to kickstart the process makes writing a bit less of a daunting task.
The best way to use ChatGPT for fundraising appeals is to input as many details as you can regarding your appeal. For example, "Create a fundraising letter appeal for Happy Pups Animal Shelter. The goal is to raise $15,000. Donations will help the shelter expand their kennel space so they can house more animals waiting for their forever home." The more information you can give the AI, the better it can produce content.
Using what ChatGPT generates can be used as a starting point for your appeal and can speed up your process and get your appeal out to donors faster. You will need to make sure all of the information that's generated is accurate and that the appeal matches your organization's voice and tone. Branding is vital to nonprofits, and ChatGPT can't replace that. And of course, don't forget personalization! Leave room at the top of your appeal to insert your prospect or donor's name or other personalized details to make your supporters feel properly appreciated.
2. ChatGPT can help you retain donors by writing donor thank-yous and thank-you receipts
Appeals aren't the only way to merge ChatGPT and fundraising. Thanking your donors, especially within the first 48 hours after a donation, is a great way to show appreciation for their support. Something many nonprofits struggle with is making time for donor thank yous. Donor acquisition can be up to 5 times more costly than donor retention—so spending time creating donor retention materials is a great use of your time. Having retention material ready to go will save your organization time and money. And the good news is that ChatGPT can help!
Once again, be specific when you ask ChatGPT to produce something for your nonprofit. Provide information on the donor's impact and the difference they've been able to make. If applicable, ask ChatGPT to include information about a specific program the donor's generosity has helped. Use examples that show your supporters as the heroes of your cause. Just like with your fundraising appeals, leave room to add personalized touches for your donors to feel valued.
You can ask ChatGPT to create a thank you phone script for your volunteers, create an email thank you template, thank you messaging for a specific campaign you've run, and more! ChatGPT can create a thank you script for any occasion, guaranteeing your donors are acknowledged for their generosity.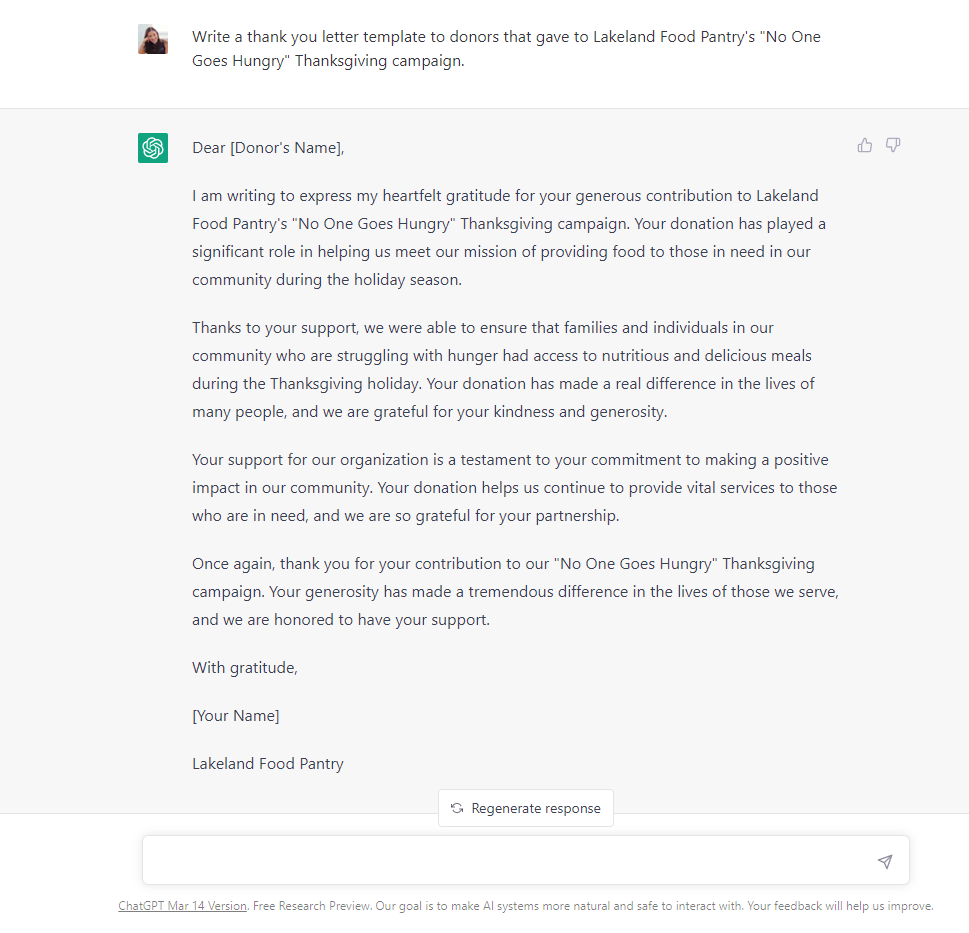 3. ChatGPT can create resources for your volunteers and peer-to-peer fundraisers
Sometimes, fundraising requires your organization to create resources for volunteers or participants. Creating these resources can take a lot of time for your nonprofit. Whether it's volunteer manuals or fundraising how-to documents, you can use ChatGPT to create these materials for you!
For your volunteers, ChatGPT can create:
Volunteer applications
Volunteer manuals
Pamphlets about your organization
Messages to your volunteers
You can easily send your volunteers updates on an upcoming event, instructions for volunteering, and thank-you notes by using ChatGPT to create a template for you. But these resources aren't limited to volunteers!
For your peer-to-peer fundraisers ChatGPT can generate:
Fundraising email templates
Social media post templates for participants to use
A phone script for your peer-to-peer fundraisers
General instructions for your peer-to-peer participants
These templates can be used for future campaigns that your organization hosts, or you can use ChatGPT to create a new template for each fundraiser. Using ChatGPT to create these materials will free up your time for all the other parts that go into creating a great fundraiser.


4. ChatGPT can help you strategize and come up with new fundraising ideas
While providing ChatGPT detailed prompts can provide your organization templates and resources, there are other ways to use the AI. Another great way to meld ChatGPT and fundraising is to ask ChatGPT a multitude of open-ended questions to help you generate new fundraising and event ideas. Using ChatGPT as a way to brainstorm ideas can help your organization host unique fundraisers for your supporters.
Besides general fundraising ideas, you can use the AI to find information for a successful campaign. When it comes to fundraising strategy, ChatGPT can be used to research a particular issue, recommend donor segments for your appeals, and even perform income research with its latest data. While this information needs to be double checked for accuracy, ChatGPT increases efficiency when initiating research. Utilize ChatGPT when planning your event to start your research and speed up the first steps to hosting a fantastic fundraiser.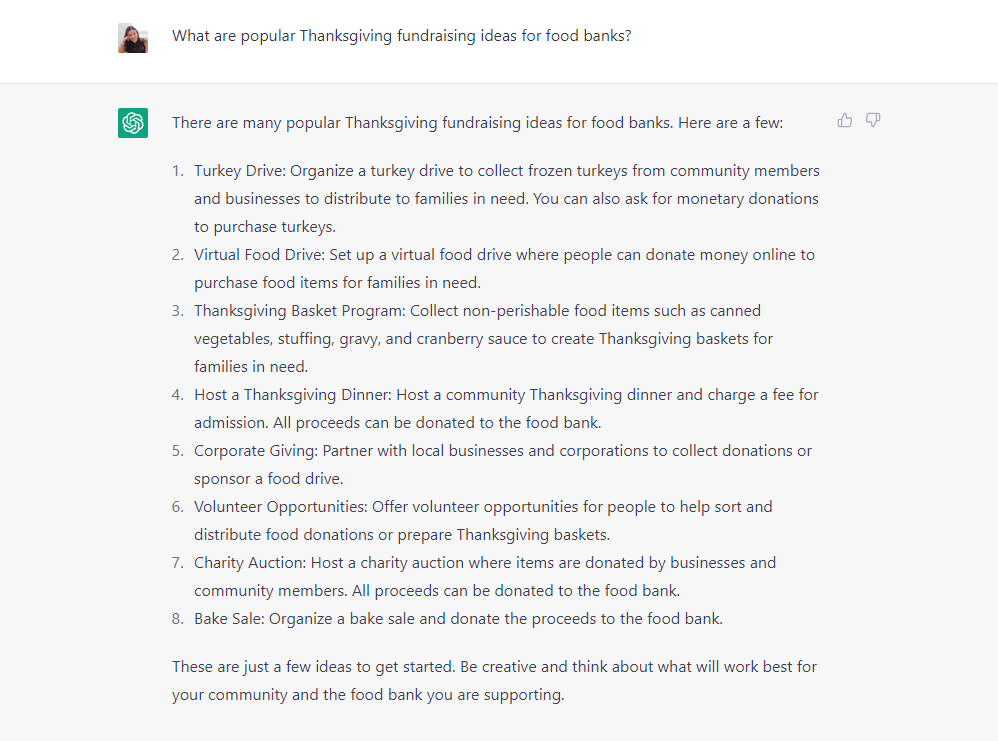 Conclusion
AI can be an incredible tool for your nonprofit. ChatGPT and fundraising can work closely together to save your organization some time. That way, you can focus on the most important part of your campaign: fundraising! While ChatGPT has its limitations, using it can help your organization be more efficient when hosting fundraising campaigns. AI is just another way technology can increase your fundraising potential.