One of the main draws of peer-to-peer fundraising is that it expands your network of fundraisers beyond your organization's staff. For that reason, peer-to-peer events depend on fundraisers who are dedicated to your cause and good at fundraising. To ensure your peer-to-peer event is a success, you need to prepare your participants to fundraise better.
Adding an FAQ page to your event site is a great way to share important information about peer-to-peer fundraising and the event as a whole. In this article, we'll look at the value of FAQ pages and share some ideas for what to include.
What are the benefits of adding an FAQ page to your event?
There are several benefits to adding an FAQ page to your event. You can use your FAQ page to instruct donors how to raise crucial funds on your behalf, you can provide them with answers to their fundraising and event questions in one convenient location, and you can use the information on your FAQ page to encourage discouraged or would-be supporters to fundraise on your behalf.
How do I direct customers to the FAQ page?
The first concern you should have is how to get your FAQ page viewed and utilized by your supporters. Make it a visible tab on your event page to ensure that people can easily find your event FAQ page. It should be a part of your event website's navigation and be easy to access.
How do I structure an FAQ page?
The easiest way to structure your FAQ page is to generate a short, numbered list of pointers/tips. Start by asking a question that you think your supporters may have about your event. Then, answer each question you come up with for your FAQ page.
What questions should be on an FAQ page?
You're most likely going to receive questions about the event itself, so be sure to provide answers to basic questions about your fundraising event. Then, you're likely to receive fundraising questions as well. Be sure to make it easy for participants to access your fundraising resources by putting answers to common fundraising questions on the FAQ page and including links to relevant fundraising resources that you'd like to share with fundraising participants.
Why are FAQs important?
From start to finish, your focus should be on hosting a great peer-to-peer event or campaign. So if you have to answer the same questions over and over again, you're wasting time and mental resources.
That's where a Frequently Asked Questions page comes in. Answering some of your most commonly-asked questions in one place frees you up to work on other tasks. Plus, an FAQ can help both fundraisers and non-fundraising event attendees, so you may want to include two sections of FAQs for different readers.
If you've held this event before, you may already know what questions and answers you need to include. If not, we've got you covered with some examples.
FAQs for Participants
Your FAQs for participants should focus on fundraising best practices and how to raise money for your organization. Some of these questions and answers may be more "philosophical," while others will be logistical.
Why/how does peer-to-peer fundraising work? If your supporters are new to peer-to-peer fundraising, this may be a good opportunity to explain the value of an expanded fundraising network. Remind them that potential donors take recommendations from friends and family more seriously and encourage them to tap into their connections. For more on what peer-to-peer fundraising is and how it works, check out our Peer-to-Peer Fundraising Ultimate Guide.
What are peer-to-peer fundraising best practices? There are lots of tips you could share here. Donating to the campaign, making appeals personal, and joining a team are all good ways for fundraisers to encourage more gifts. For more best practices for participants, check out this Fundraising Tip Sheet.
What are the goals of the event/campaign? Here's where you should explain what you're trying to achieve. Participants (and donors) want to know how their contributions will make a difference, so try to make your goals as tangible as possible.
The above questions and answers are important so participants understand why they should participate in your event, but don't forget to include logistical questions and answers as well. Include answers to questions such as:
Who can I contact if I need help?
How much should participants try to raise?
Are there any fundraising prizes or other perks for participating?
How can I drop off checks/cash donations?
Finally, you can use this space to provide some resources to fundraisers.
How do I personalize my fundraising page? If you're using Qgiv for your peer-to-peer fundraising, every fundraiser will get a personal fundraising page. Since personalized appeals are more successful, encourage your fundraisers to customize their pages and provide resources on how to do that!
How can I convince donors to give? Speaking of resources, try to provide as much as you can to help participants craft their appeals. Fact sheets about your organization will help them explain your mission to potential donors. High-quality images will help them customize their fundraising pages and create engaging social posts. And templates will help them figure out what to say to ask for donations and how to say it.
How can I raise $X00? It's good to spell out an easy way for your fundraising participants to raise a specific amount of money for your cause. The Red Cross, for example, has a peer-to-peer FAQ question asking how participants can raise $600, which is enough to help a family facing a crisis. Suggestions include giving $20 yourself, asking your significant other to donate $25, asking three close family members to give $40 each, asking a close friend for $50 or two close friends for $25 each, asking five coworkers for $10 each, and more. The result? An easy way to quickly raise $600 for your cause. You can easily replicate this model on your FAQ page to encourage your participants to set an ambitious fundraising goal and actually reach it.
If you don't want to put all these resources on your public-facing FAQ page, you can upload them to the Resources section of the Qgiv peer-to-peer fundraising center.
Looking for more participant resources?
FAQs for the Overall Event
If your event is open to non-fundraisers, having an FAQ section about the event as a whole will help attendees. Your overall event FAQs will likely pertain to event information and logistics. Here are some questions to include:
How much does the event cost, and what does the registration process like? Make sure to include information about refunds here in case participants need to drop out of your event for any reason.
How can I make a donation? Bonus points for adding a link to your donation form here.
Who can participate? This is important if your event allows both fundraising and non-fundraising participants and if you allow families, kids, and pets.
Is there any kind of necessary paperwork for participation? Events that have a physical component, such as a race, may require a liability waiver or some other paperwork. Include that information here and links to any forms participants need to fill out so attendees know what to expect.
Is there a dress code? If your event is formal or requires special gear, make sure attendees are aware.
When and how will I check in on the day of the event? Having a clear check-in process will alleviate a lot of stress the day– of!
Where will I park on the day of the event? You may also want to include directions to the event venue and any additional information attendees may need to find the location.
What happens if it rains (for outdoor events)? Have a contingency plan in place and share it with your attendees. If you have text fundraising for your organization, that's a great way to alert attendees to last-minute changes of time or venue.
Who can I contact with more questions (before and the day of)? Let's be honest, even if you have the most comprehensive FAQ page ever, attendees and participants will have questions. Make sure you give them a way to contact you.
Any other logistical information you need to share. Every event is unique, so there are certainly some aspects of your event we haven't covered here. Think about any other logistical information you want attendees to be aware of and include it in your FAQs.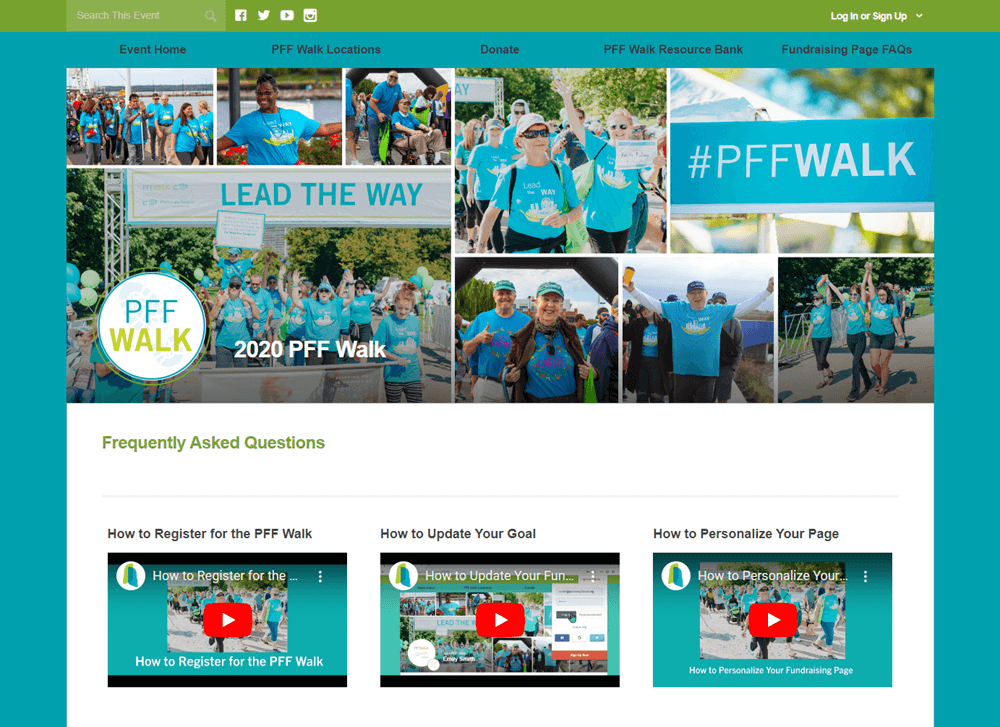 Final Thoughts
It's a lot of work to put on a peer-to-peer event. You have many demands on your time and energy as you prepare fundraisers to help make your event successful. Make it a little easier on yourself by adding an FAQ page to your event site. By answering all of your Frequently Asked Questions in one place, you'll find more time to focus on other things and enjoy the fruits of your labor.