Peer-to-peer fundraising is an incredible opportunity to leverage your supporters' personal networks and increase the reach of your campaign. This strategy involves recruiting supporters to fundraise on your behalf.
When your volunteer fundraisers reach out to their friends and family members, they're building on established relationships. Donors are more likely to give when they know the person who's doing the asking This social aspect makes it a powerful way to boost visibility in your community and raise money for your programs!
Peer-to-peer fundraising is a great way to raise money and build your donor base, but the type of platform you use also has a major impact on your campaign's performance
To help you find the best tools for your campaign, we've compiled a list of our top picks for peer-to-peer fundraising platforms:
Let's break down each platform!
---

Qgiv | Best Peer-to-Peer Fundraising Platform
Platform Overview
Built entirely with you and your participants in mind, Qgiv's comprehensive peer-to-peer platform empowers nonprofit, faith-based, and political organizations to raise more with custom donation pages.
Peer-to-peer pages can be customized to your nonprofit, as well as to each of your volunteers. Participants can customize their pages, share their stories, and upload photos to their page. This way, each individual's network of family and friends can see exactly why your campaign matters to the volunteer.
Let's take a look at some of Qgiv's unique benefits:
Game elements keep the participants engaged. We've created fun features to gamify the fundraising experience. This encourages active engagement, as it facilitates a friendly, competitive environment. These features include leaderboards, fundraising thermometers, and fundraising badges.
Social integrations to spread awareness. Have access to written templates for social posts, schedule posts in advance, and let supporters easily share pages.
Selling merchandise is easy. Qgiv's platform offers a storefront feature that can track your inventory. This is a handy way to raise more money and give your participants and donors a way to show off their enthusiasm for your cause.
Event management tools to keep you on track. Keep track of your fundraising event in a centralized, convenient location. In fact, you can manage your fundraising participants and their teams, track progress, monitor fundraising activities, and send emails to targeted groups of participants.
Text fundraising options. Qgiv built their peer-to-peer pages to be mobile friendly and offers a text fundraising feature for their peer-to-peer platform.
Custom emails. Keep donors engaged and excited with automated custom emails! Before your event, build encouraging emails targeted at different supporter segments.
Qgiv knows exactly what your nonprofit might need to maximize your peer-to-peer fundraising efforts.
When to Consider This Peer-to-Peer Fundraising Platform
Qgiv's platform is perfect for mid-sized or large nonprofits hosting a peer-to-peer event or campaign.
Qgiv's custom walkthroughs train supporters to create a unique, beautiful page that tells their personal story. This user-friendly service includes drag-and-drop design tools, which means it eliminates the need for knowledge of CSS or HTML.
How Much Does This Platform Cost?
Qgiv's peer-to-peer platform includes peer-to-peer events, the online storefront, and access to all their year-round fundraising tools.
We have multiple packages and payment plans, so check out our pricing here to learn more.
Then, you can find the plan that best fits your nonprofit.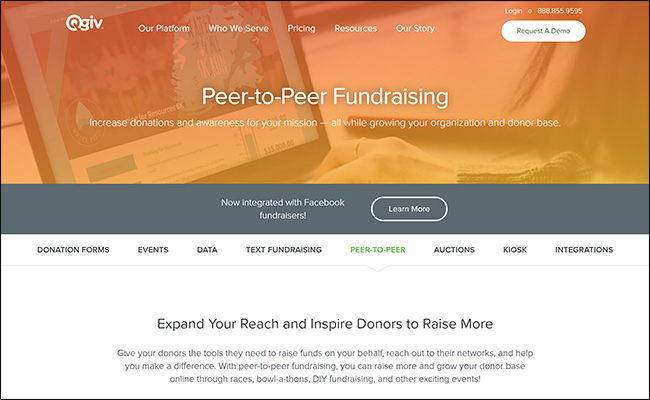 ---

Bloomerang | Constituent Relationship Manager
Platform Overview
With Bloomerang, a powerful CRM system, you can start to get to know your donors more and communicate more effectively.
Using an interactive dashboard, review your donor retention rate and suggestions from Bloomerang for improvement. You can also use this dashboard to track your current campaign's success and easily build a "to-do" list to better manage your project and various tasks.
Though Bloomerang doesn't have its own peer-to-peer platform, it does have an integration with Qgiv that automatically updates your CRM with your peer-to-peer supporters' activity.
When to Consider This Peer-to-Peer Fundraising Platform
If your nonprofit is conducting multiple fundraising campaigns or has a significant variety of donation streams, using Bloomerang can help differentiate donations and other transactions based on date, amount, campaign, fund, and more.
Additionally, if you want to further engage donors past your peer-to-peer campaign, track your campaign transactions in Bloomerang to gain a comprehensive view of your donors' engagements. This way, you can analyze, segment, and communicate with constituents to turn them into lifelong supporters.
How Much Does This Platform Cost?
Bloomerang's platform is priced based on how many donors you currently engage with. To find out where your nonprofit falls on its pricing plans, check out their pricing page.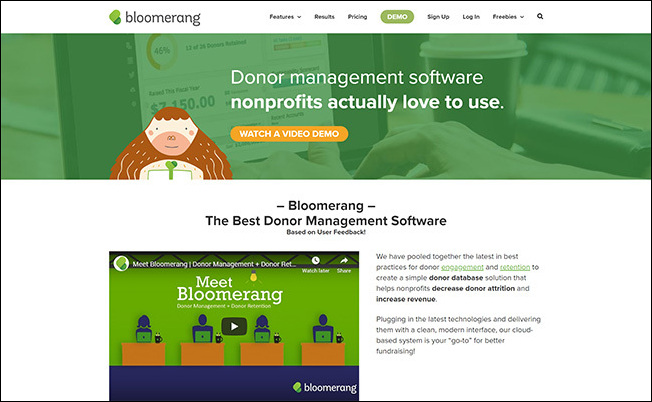 ---

DonorPerfect | Constituent Relationship Manager
Platform Overview
All nonprofits should have a dependable donor database or constituent relationship management (CRM) system. DonorPerfect can keep track of all your donors and constituents easily, giving you a comprehensive view of donor engagements and automated email acknowledgments.
Though not exactly a peer-to-peer fundraising platform, DonorPerfect is an effective CRM system that your nonprofit can use alongside your peer-to-peer efforts. DonorPerfect seamlessly integrates with Qgiv to automatically store and organize donor's gift information from your peer-to-peer campaigns.
When to Consider This Peer-to-Peer Fundraising Platform
DonorPerfect doesn't just effectively collect and centralize your donor fundraising data, it can also produce effective reports. As your peer-to-peer campaign progresses, use DonorPerfect to determine how successful your campaign is.
Additionally, if your peer-to-peer campaign is in conjunction with a live event, you can collect in-person donations with a handheld kiosk.
How Much Does This Platform Cost?
DonorPerfect's platform depends on your nonprofit's size and needs, so if you're interested in utilizing this CRM for your peer-to-peer campaign, get a price quote from their website.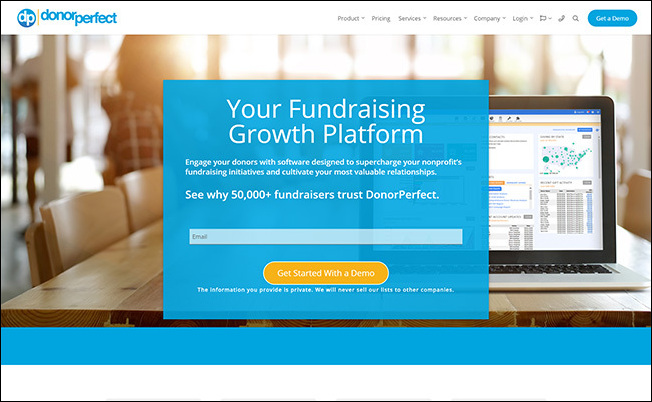 ---

Platform Overview
Double the Donation is not a peer-to-peer fundraising platform per se, but it is a tool to use side-by-side with your peer-to-peer fundraising platform.
Double the Donation's matching gift software helps organizations find money they never even knew was available to them.
Using their matching gifts database, users can search their company's name to find out if they offer any corporate giving programs. If the program exists, Double the Donation provides the parameters for the corporate giving program.
When to Consider This Peer-to-Peer Fundraising Platform
This platform can be used in conjunction with your peer-to-peer fundraising efforts to increase the donation amounts given by your supporters. Even if just one of your donors is matching gift eligible, your fundraising revenue will still increase considerably!
Have your volunteers embed the searchable database directly into their peer-to-peer fundraising page or ask volunteers to advertise it themselves. This way, donors can conveniently search for their employer without much effort.
If your nonprofit is on the larger side, a matching gift automation tool like Double the Donation's 360MatchPro might be more helpful. Market matching gifts on your peer-to-peer fundraising pages and automatically reach out specifically to those who qualify! Once someone donates to your cause, 360MatchPro will automatically determine if they're using a corporate email address from a matching-gift-eligible company.
Additionally, Double the Donation has an integration with Qgiv that can help streamline the entire peer-to-peer campaign process.
How Much Does This Platform Cost?
Double the Donation's software has a basic plan as well as 360MatchPro for larger organizations. Learn more about their pricing here.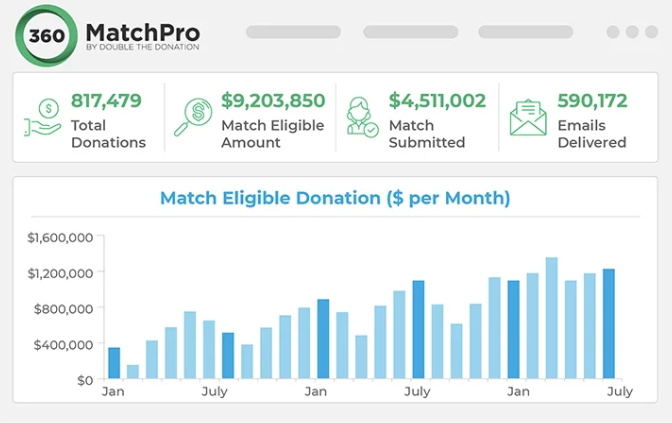 ---

NeonCRM | Constituent Relationship Management
Platform Overview
NeonCRM's primary focus is donor management, but it can be used alongside your peer-to-peer solution. With NeonCRM, your nonprofit can take advantage of a capable cloud-based solution.
After investing in NeonCRM, your nonprofit organization can maximize fundraising by effectively tracking donor data and using that data to build donor relationships. And with its connection to Qgiv, you can easily track and nurture your volunteer fundraisers and host a successful peer-to-peer campaign.
When to Consider This Peer-to-Peer Fundraising Platform
You need a capable CRM system to serve as the foundation for your campaign, and NeonCRM can help. Create profiles for each of your volunteer fundraisers to get a better sense of your network of supporters and gain a comprehensive view of every one of your fundraising efforts.
How Much Does This Platform Cost?
Neon offers packages to suit nonprofits no matter how developed their solutions are. Learn more about the various pricing plans here.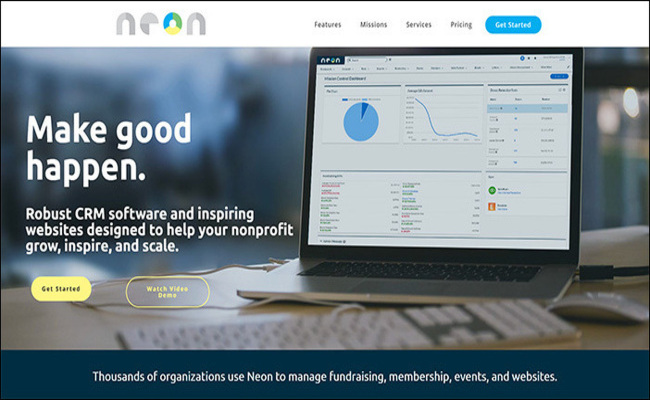 ---

MatchMaker, an Arreva Software | Online Fundraising Software
Platform Overview
MatchMaker, originally a fundraising tool for smaller organizations, was acquired by Arreva to offer a more comprehensive solution for larger nonprofits. Arreva's MatchMaker can create targeted campaign pages for each peer-to-peer fundraiser. This way, your mission can better reach supporters.
Offer your volunteer fundraisers convenient social sharing options so they can either share through email or post links to your various pages on Facebook, Twitter, or more.
When to Consider This Peer-to-Peer Fundraising Platform
The great thing about Arreva's MatchMaker platform is how new donors are automatically integrated into your database. Peer-to-peer campaigns can attract a lot of new donors and Arreva works hard to ensure that you can easily follow up and develop those relationships.
How Much Does This Platform Cost?
With MatchMaker, an Arreva software, your nonprofit can increase fundraising. Contact them on their website to learn more.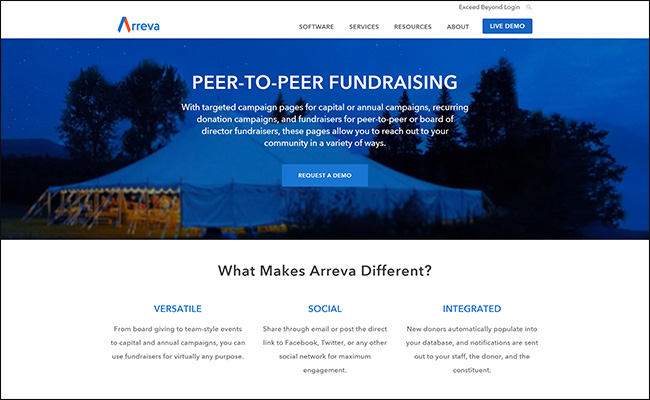 ---
Additional Resources