Peer-to-peer fundraising is a fundraising strategy employed by nonprofit organizations and individuals alike that makes use of existing social networks to raise money for a cause.
We'll cover a lot here: what peer-to-peer fundraising is, how to get started, why software is so important, and how Qgiv can help your nonprofit run an awesome peer-to-peer fundraising campaign. Or, if you're just brushing up your skills, you can use this handy navigation table to jump to a specific section.
If you're ready to learn more about how peer-to-peer fundraising can support your nonprofit's fundraising efforts, read on!
---
Peer-to-Peer Fundraising: The Basics
It works like this: an individual fundraiser sets up a personalized fundraising page to accept donations, explains their connection to the cause, and then shares it among their friends and family online! Peer-to-peer fundraising is the perfect way for nonprofits to get their supporters more involved in the fundraising process, as well as expand their social circles beyond their own capacity.
Who can use peer-to-peer fundraising?

Everyone can use peer-to-peer fundraising! When individuals raise money for themselves or their families, like to pay for medical expenses or adoption fees, it's generally called crowdfunding, but it relies on the same principle as nonprofit peer-to-peer fundraising.
Individuals and organizations alike can benefit from harnessing inter-personal connections to raise money for an important cause.
Take your fundraising to the next level with our incredible Fundraising Bootcamp! These emails are chock full of the info you need to raise more funds. Join the
Free Fundraising Bootcamp
!
Why does peer-to-peer fundraising work?
Nonprofits love peer-to-peer fundraising campaigns because they are a cost-effective way to encourage donors to engage in fundraising in an organic way —through relying on their own relationships. It's also easy to integrate with other online fundraising platforms, making peer-to-peer events a smart investment.
Peer-to-peer fundraising can strengthen your nonprofit's relationships with its donors, too, because:
Your donors get to own their involvement by customizing their donation page to reflect their own relationship with your mission.
Your staff and your donors get to build stronger interpersonal relationships by working together as peers.
Your donors feel more connected to your nonprofit after personally advocating and raising money for it!

Donors love to participate in peer-to-peer fundraisers for their favorite organizations because it gives them the chance to take a proactive role in supporting the organization, as well as show their friends and family what the organization's mission means to them personally.
When is a good time to use peer-to-peer fundraising?
Part of the beauty of peer-to-peer fundraising is its versatility, but it really shines when nonprofits use it to make the most of their fundraising campaign timelines. Some of the most common timing strategies for fundraising campaigns are:
Time-based campaigns. Since your organization only has a certain amount of time to raise the money, peer-to-peer fundraising can help strengthen any online marketing strategies and help rally donor support to your cause.
Rolling campaigns. Because these campaigns don't have a set end date, peer-to-peer fundraising can help your nonprofit keep the campaign at the front of supporters' minds via your peer-to-peer fundraisers' pages, even between big events.
Giving Days. Giving days, like #GivingTuesday, are mini 24-hour campaigns that challenge donors to raise as much money as they can during that day. Peer-to-peer fundraising makes sharing the campaign easy, and the sense of urgency inspires friends to donate.

Peer-to-peer fundraising is also a great strategy to increase anticipation and 'hype' in the lead-up to an event, especially competitions or physically engaging events. These types of events work well  because friends and family are not only supporting the nonprofit, but supporting the individual who participates in the competition.
For more ways to involve peer-to-peer fundraising in your nonprofit's efforts, check out our guide to over 65 awesome fundraising ideas and events.
---
Getting Started with Peer-to-Peer Fundraising
Any peer-to-peer fundraising campaign involves work from both your organization and your individual fundraisers. To get you started, we've broken all key parts of the planning and execution into 5 simple steps.
Step 1: Define your campaign.
Once you've made up your mind to run a peer-to-peer fundraising campaign, you and your team have to ask yourselves some questions:
What's the financial goal of this campaign?
What type of campaign is this—rolling or time-based?
What is the central theme or mission of this campaign?
After you've decided on the foundations for the campaign, it's time to rally the troops and make sure that your fundraisers are prepared and educated on how the campaign works, what your goals are, and how to use the fundraising software.
Qgiv's tip: use what you've decided on in the planning process to help design your donation page later! Include a short paragraph and stunning visuals to make your point.

Step 2: Facilitate donation pages.
Before your campaign starts, your organization should help each fundraising design their own donation page and test that it works on all devices.
Make sure that your fundraisers have everything that they need to successfully share their donation pages, like social sharing buttons, post templates, and ways to sign up to be a volunteer or purchase merchandise.
Qgiv's tip: encourage your fundraisers to use custom headers to personalize their pages and best describe their connection to your organization's mission.

Step 3: Start fundraising!
Once your fundraising campaign is in full swing, make sure you're staying in contact with your fundraisers and keeping them motivated and on track by:
Sharing frequent campaign updates, so they can see the progress being made.
Acknowledging and thanking fundraisers who have made the biggest strides towards your goals.
Commenting on and sharing your fundraisers' posts.
Encourage your fundraisers to play to their strengths, whether those are a strong and engaged social media following or a close connection with locals in your community.
Qgiv's tip: Use bright and high-quality images in your social media posts to grab the attention of viewers.

Step 4: Build relationships with your donors.
As donations begin to come in, you'll need to keep track of your fundraisers' efforts and collect new donor data by:
Syncing new donor information to your CRM.
Updating existing donor database records.
Linking donation and interaction history with supporter profiles.
Running a peer-to-peer campaign will help you form deeper relationships with your donors and fundraisers, but only if you stay engaged and communicative with your supporters through the process.
Saying thank-you is one of the most important ways to build relationships with donors, so make sure that both your fundraisers and your organization are showing gratitude to those who have donated!
Qgiv's tip: Encourage participants to stay involved by bringing in a little bit of friendly competition with leaderboards and badges.

Step 5: Recognize your peer-to-peer fundraisers.
Your peer-to-peer fundraising campaign wouldn't be possible without the strength and support of your fundraisers. Make sure that you maintain strong relationships with them by thanking each and every one of them with a personal note, email, or phone call.
Don't forget that you can use your end-of-campaign event as a place to celebrate and recognize them in person! Give them a shout-out and let them know just how much your organization appreciated their help.
Qgiv's tip: offer suggested gift sizes on your donation forms to take the guesswork out of picking the 'right' amount for donors. Make it as easy as possible to fulfill their philanthropic impulses!

Examples of Successful Campaigns
Two of the most successful campaigns of 2018 were the Big Brothers Big Sisters Bowl for Kids peer-to-peer fundraising campaign and the Pikes Peak Humane Society 'Pawtoberfest' peer-to-peer fundraising campaign. Let's take a look at their fundraising pages to see what made them so successful.
As you can see from the donation page, this fundraising campaign from the Pikes Peak Humane Society was part of the lead-up to their 2018 Pawtoberfest event. There are a few special things that make this campaign so successful:
The different colors and weights of fonts add visual excitement to the chunk of text detailing their cause and the event. This draws a visitor's eye to it, and encourages them to read the text.
The header image is brightly colored and includes an adorable logo with a puppy's face. Then, the important information is rendered in large text, so that the visitor knows what, where, and when the fundraising event is.
The campaign page uses a fundraising thermometer and an event leaderboard to create a sense of friendly competition between fundraisers, as well as a sense of accountability for donors. When they see how close the campaign is to reaching its goal, they're encouraged to donate more.
Now let's take a look at another successful campaign.
In this campaign, the Big Brothers Big Sisters team focused on the good that they do in their community by matching kids with mentors. Then, once their page's visitors understand and appreciate their mission, they invite them to donate to the campaign, register for the event, or both!
They thank their sponsor, Guaranty Bank, in a prominent place to display their appreciation for the bank's support. They also included a way for new donors to be publicly recognized as they donate. The "Our Newest Participants" section is a fun, engaging way to make everyone, regardless of donation size, feel the organization's appreciation. The "Recent Activity" timeline does the same thing.
How to Market Your Peer-to-Peer Fundraising Campaign
Once you've collected your trusted team of fundraisers and prepared them to share their passion for your mission with their friends and family, how can you make sure they effectively spread the message about your campaign?
Email. Because almost everyone has an email account (or maybe two or three!), email is one of the most effective methods of asking for donations during a peer-to-peer fundraising campaign. Your nonprofit can easily provide your fundraisers with templates to send out to their friends.
Social media. Thanks to platforms such as Twitter, Facebook, and Instagram, posts can go viral in a matter of hours. Sharing peer-to-peer donation pages on social media platforms is a great way to bring them to the attention of your fundraisers' friends and family. Encourage them to share pictures and videos, along with your pages, to pique interest.
Traditional marketing. Even with the popularity of the internet, nothing can beat good old traditional marketing tactics. Direct mail, print advertisements, and even face-to-face solicitations are perfect for donors who aren't online or prefer a more personal interaction.

There's no limit to the ways your fundraisers can spread the news about your campaign!
Take your fundraising to the next level with our incredible Fundraising Bootcamp! These emails are chock full of the info you need to raise more funds. Join the
Free Fundraising Bootcamp
!
---
Using Peer-to-Peer Fundraising Software
What is peer-to-peer fundraising software?
Peer-to-peer fundraising is simple in concept, but can get pretty involved rather quickly, especially when your nonprofit has more than a handful of individuals fundraising for the campaign. So how can your nonprofit stay on top of things, without sacrificing individuality?
Comprehensive peer-to-peer fundraising software allows you to track your campaign's progress, gain insight into donor data, sell merchandise, and build event registration into each page.

Features and Benefits of Peer-to-Peer Fundraising Platforms
Using a dedicated peer-to-peer fundraising platform to support your campaign can streamline your fundraising process by providing features such as:
Easy customization of donation pages.
Social sharing buttons.
Online merchandise storefront.
Fundraising badges, thermometers, and leaderboards.
By including all of these features in one package, peer-to-peer fundraising software makes it easy for your nonprofit to run the most efficient and effective campaign it can.
There are many benefits of using this kind of software to plan and execute your fundraising campaign, but the top three are:
It streamlines the processes of page creation, donation processing, receipt sending, and following up, so that donors are never left waiting for their receipt or thank-you note.
Branding your customized donation pages to your organization's standards helps your nonprofit build name recognition, and it also establishes trust that the fundraisers are indeed helping your nonprofit and not being scammed.
Software can help your fundraisers expand their social reach and influence through easy social sharing, post templates, and well-designed and mobile-optimized pages.
Peer-to-peer fundraising software can ensure that your team and your fundraisers have all the tools they need to run a successful campaign.
---
How Qgiv Can Help Your Peer-to-Peer Fundraising Campaign
When you partner with Qgiv for a peer-to-peer fundraising campaign, you're not just getting our software (although it is pretty awesome!). You're also getting our ongoing help.
We'll train your team to use the software, step by step.
We'll help your nonprofit grow by scaling our software to your organization's needs and adapting as you change.
You'll have our ongoing support through your campaign, whether you need to troubleshoot an issue, ask a question, or try something new.
Our Customer Experience team can help your organization take advantage of all the features that our peer-to-peer fundraising software offers, from the planning period to the final thank-yous.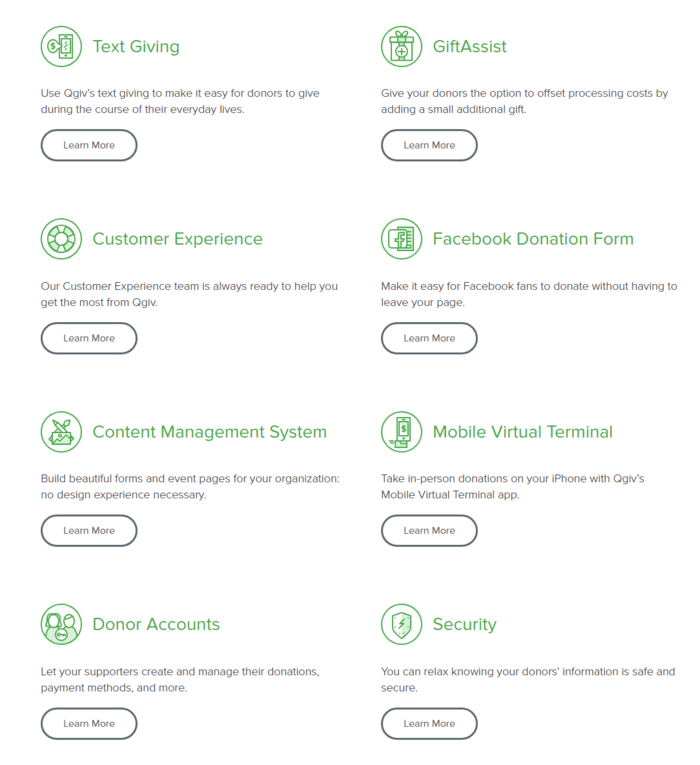 Remember the highly successful peer-to-peer examples that we showed you earlier? Yep, you guessed it — they were powered by Qgiv. Thousands of nonprofits have trusted Qgiv to run their peer-to-peer fundraising campaigns, and you can read some of their testimonies here.
Peer-to-peer fundraising software can ensure that your campaign gets off the ground quickly, and helps your community come together to raise money for a good cause.
---
Now that you're an expert on running a peer-to-peer fundraising campaign, check out some of these awesome additional resources to take your campaigns to the next level.