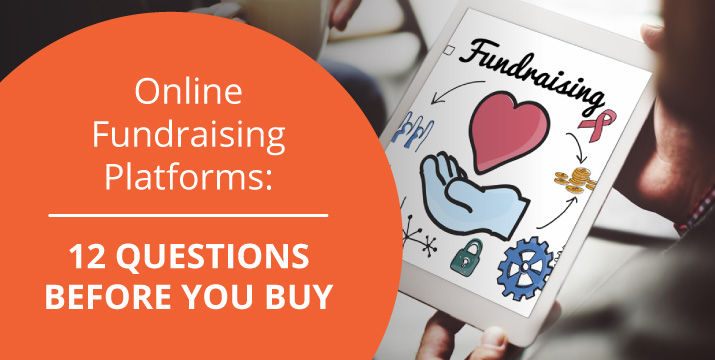 Whether your nonprofit is small and just starting out, large and established, or somewhere in between, the process of researching and choosing an online fundraising platform is one that requires considerable thought.
What if you pick a platform and your donors don't respond to it? What if it breaks and you have no live support? What happens when the price of the tool suddenly skyrockets?
All of these questions are completely understandable and are worth considering when a nonprofit of any size is looking to expand their fundraising efforts with the help of an online fundraising platform.
Before we dive into the twelve questions you should ask before investing in an online fundraising platform, we've put together our recommendations for fundraising platforms you can use to raise significant funds for your nonprofit organization.
1. Qgiv
The most robust of the options that we'll be covering in this article is Qgiv. Qgiv's fundraising platform provides a wealth of tools nonprofit organizations can use to raise significant funds for their cause.
Qgiv has basic donation forms that make giving donations online a simple process that donors can complete in one step or a couple of steps based on the type of donation form you use.
Qgiv also offers event forms for simple events so you can easily collect registrations and donations toward fundraising events that you're hosting.
Speaking of fundraising events, Qgiv also offers a peer-to-peer platform that empowers your supporters to raise funds on your behalf. This can be a great way to fundraise and find new donors to support your cause.
Qgiv makes auction fundraisers easy as well by empowering bidders to ditch pen and paper and bid live on silent auction items online instead, either on the web or with the Qgiv auction app, Givi.
Lastly, Qgiv enables nonprofit organizations to reach donors where they are— on their phones! With Qgiv's text fundraising tools, organizations can send outbound texts to ask for donations from supporters or establish text-based keywords to make one-time gifts or recurring payments easier for donors.
With these tools, nonprofit organizations have raised more than three billion dollars collectively since Qgiv's founding in 2007.
2. Bloomerang
Bloomerang has a fundraising platform that is attached to the Bloomerang CRM. It makes it easy to accept donations and manage donor records instantly within the Bloomerang system.
While not as robust as Qgiv's tools, Bloomerang offers a lot of options with its fundraising platform, including online donation forms, text-to-donate tools, peer-to-peer and crowdfunding tools, and the ability to sell event tickets for fundraising events.
3. DonorPerfect
Our last option for fundraising platforms is DonorPerfect. Like Bloomerang, it offers a CRM that makes it easy to seamlessly create donor records when supporters make a donation on their platform. They offer single-step and multi-step donation forms for nonprofits to use but don't offer a peer-to-peer or events option for nonprofit organizations. That said, their forms are highly customizable, like Bloomerang and Qgiv, and can be a perfect way to raise crucial funds via your nonprofit's website.
Check out the 12 essential questions your nonprofit should ask before investing in an online fundraising platform:
Let's break down each point in more detail.
See how Qgiv can help you with your fundraising campaign! Request Demo

1. What is the purpose of your online fundraising platform?
This question has a seemingly simple answer: obviously, you'll be using your online fundraising software to receive donations via the internet.
However, your organization can better understand your nonprofit's specific needs if you take the time to flesh out your goals for the platform.
For example, are you primarily hoping to attract new donors or shift your current donor base to an online channel?
Each of these goals may require different features. To reach new donors, an organization may prioritize a platform with robust marketing and communications features, while an organization seeking to engage current donors may want a platform with an in-depth stewardship calendar feature.
This example illustrates the diverse possibilities of having your fundraising platform online.
After all, you can also use your platform to:
Gather additional donor information.
Help donors set up recurring donations.
Allow supporters to find out more about your organization.
Engage donors through online channels.
That's why it's important that organizations set clear goals in advance so that they can find a platform that best fulfills its intended purpose.
Takeaway: Determine your organization's specific needs and goals so that you can select the most appropriate platform.

2. What kind of online fundraising platform do you need?
Depending on your organization's needs, you should determine what kind of fundraising platform works best for your overall strategy.
For example, your nonprofit may choose between these fundraising platforms or use a combination:
The most basic and perhaps most popular platforms help you create branded donation pages for your nonprofit's website.
These donation pages allow your organization to solicit gifts on online channels. Though gifts may be specified for specific campaigns, an online donation page usually collects donations for the annual fund.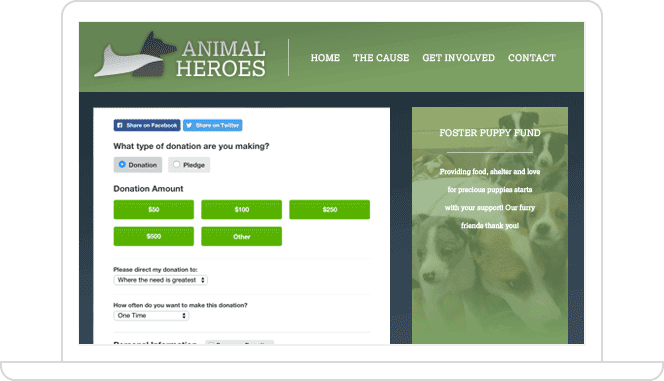 Crowdfunding
Nonprofits can create crowdfunding campaigns on third-party platforms to fund a specific, urgent need within their organization.
A crowdfunding campaign is timed, and progress toward the goal is usually tracked through a fundraising thermometer. Crowdfunding campaigns generally see small or mid-sized donations from a lot of individual donors.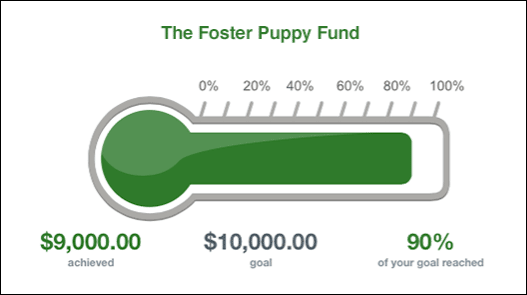 Peer-to-peer fundraising platforms allow individual supporters to create donation pages on behalf of your nonprofit.
Though each page can be branded to your organization, the supporter has the opportunity to customize the page to reflect their personal connection to your cause. When supporters solicit donations through their pages, the funds are transferred directly to your nonprofit.
Each of these platforms offer different potential benefits to your organization. The one that you choose should be based upon your organization's general fundraising strategy.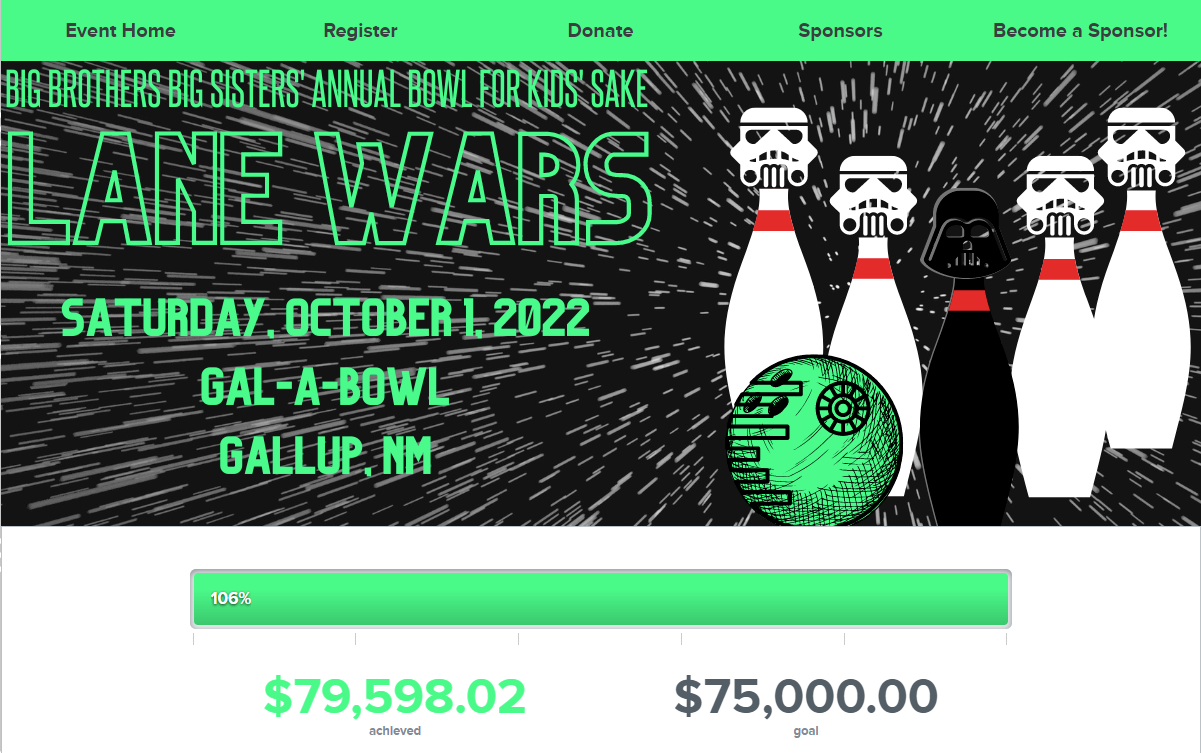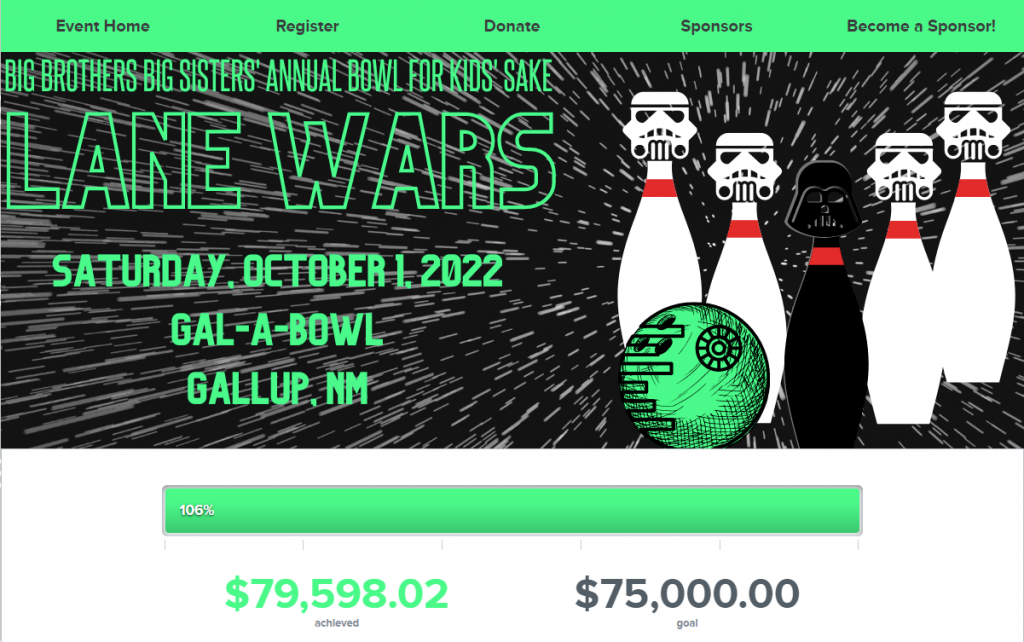 Matching gift software
Matching gifts are a crucial part of corporate philanthropy programs. Companies that have these programs will financially match their employees' donations to nonprofit organizations. Whether your nonprofit is large or small, the right matching gift software can help boost your donation revenue.
You'll start with a matching gift database. By including and promoting a matching gift database on your donation page, donors can check to see if they're eligible for a match by their employer! All you have to do is remind them to check as soon as they begin the donation process. The matching gift software will then provide them with an easy search tool right on your donation page.
Matching gifts can provide a permanent boost to your online fundraising activities. If you're a larger nonprofit, try using automated matching gift software, which can automatically remind and guide your donors through the whole process and drive matches to completion. This is done based on identifiers such as your donor's work email address, which reveals whether their employer has a corporate matching gift program.
An auction fundraising event is a great opportunity to engage supporters and raise money for your mission. A dedicated auction platform is key to increasing bids and auction revenue.
With effective auction software, you no longer have to deal with paper bids, a confusing registration process, and long lines for attendees to receive their items. Instead, you can manage the entire auction experience from your online platform, better engaging attendees and collecting key data.
Consider an online auction platform that also provides participants with a mobile bidding app. This gives them an easy and convenient place to manage their bids, explore items, receive real-time notifications, and streamline the checkout process. Best of all, mobile app users can participate from anywhere—even from the comforts of their own couch.
With 81% of Americans owning smartphones, it only makes sense that text fundraising and other mobile-based engagements are growing in popularity. That's why it's so important for nonprofits to have a mobile suite of fundraising tools as a part of their online fundraising platform.
Additionally, a dedicated mobile fundraising suite ensures that supporters can conveniently give through text. All they need is to text a custom keyword and amount to your text-to-donate number. Supporters can even make pledges and complete their gifts later. Additionally, outbound text capabilities allow nonprofits to send reminders and announce other exciting events and projects.
Takeaway: Online donation pages, crowdfunding, peer-to-peer fundraising, matching gifts, auctions, and mobile fundraising can all offer different benefits to a nonprofit. Knowing which platform and tools can best suit your needs will be essential to the success of your online efforts.

3. What is your nonprofit's budget?
Setting a budget is an important consideration for any organization that is looking to boost its fundraising efforts.
You wouldn't want to host a gala that ends up costing more than the donations you bring in, and you shouldn't make an investment in an online platform if you don't think your donors are willing to make contributions online.
Having said that, online giving is steadily on the rise. Donors enjoy the ease of giving on a laptop, desktop, smartphone, or tablet because it's so convenient. Since fundraising strategies are rapidly adopting online channels, the question becomes not if, but when.
When you purchase a fundraising platform, what costs do you need to take into consideration?
The base price of the online fundraising software.
Additional features.
Training and IT support.
The platform's size (i.e. some prices may depend on the amount of users the platform can support).
Payment processing fees.
Because online platforms can vary in cost even when they're from the same provider, it's important to get a quote from the provider and talk through any additional costs that may crop up.
The better your nonprofit can anticipate these expenses, the less likely you'll be to accumulate additional, unanticipated costs that you can't afford.
Takeaway: Calculate the costs and benefits before purchasing a fundraising platform and be sure to consider additional costs that can occur apart from the platform's base price.

4. What is the setup process for the online fundraising platform?
Have you ever bought a piece of furniture, let's say a dining room table, that you had to assemble yourself? You open the box and lay out all the parts, only to discover that the directions are completely unreadable.
A complicated setup process for an online platform is about as useful as those illegible furniture instructions.
Accepting donations online should be easy and seamless for your donors, so why shouldn't the setup process for that tool be just as straightforward for your nonprofit?
To determine how involved the setup process will be, the best thing you can do is contact the provider.
Ask them these targeted questions:
Will we have the opportunity for in-person training, or will it take place over a series of webinars or written instructions?
How many team members can access training at once?
What kind of technical knowledge does my nonprofit need to set up this platform?
What kind of consultation services do you offer? Will we need to hire a third-party consultant?
Will your company assess the difficulty of the setup process in advance?
With these questions, you can gain a better sense of how user-friendly your platform will be. While some platforms will be intuitive during the setup process, others may be more comprehensive, requiring a stronger effort on the backend.
If you find that you still want help learning the new platform, you can hire a consulting firm. Consulting firms that focus on nonprofit software can go beyond just teaching you the basics and can help you use the platform in a way that will maximize its potential instead.
Even though some platforms might be easy enough to learn on your own, seeking the help of a consulting firm can help you build a strategy that focuses on using your new platform.
Takeaway: To ensure a simple, streamlined setup process, ask your provider what kind of training and support they can offer.


5. Is the online fundraising platform customizable?
Your nonprofit is unlike any other. While you may be doing similar work to other organizations, your staff, the people you serve, and the communities you change are what sets you apart.
It's important that your organization creates a stand-out donation page that will inspire donors to give.
After all, if donors recognize your nonprofit in your donation page, they'll be more likely to trust your online giving channels (just imagine how you'd feel giving to an unbranded donation page!). As such, your organization will receive more online donations simply because your donors recognize you!
For example, if you're using an online fundraising tool like PayPal, your customization is going to be limited. Without enough branding, donors will get confused about who is receiving their money and potentially decide not to give.
At the very least, you need to purchase an online fundraising tool that enables you to add your logo and color scheme to make the donation form match your brand. Luckily, there are a plethora of online donation vendors with features to make your forms unique.
In fact, if you're in the market for an online donation tool that's like PayPal but with more nonprofit-specific features, check out this list of Paypal alternatives!
One of the most aesthetically important components of a fundraising platform is its ability to be customized to your nonprofit's brand.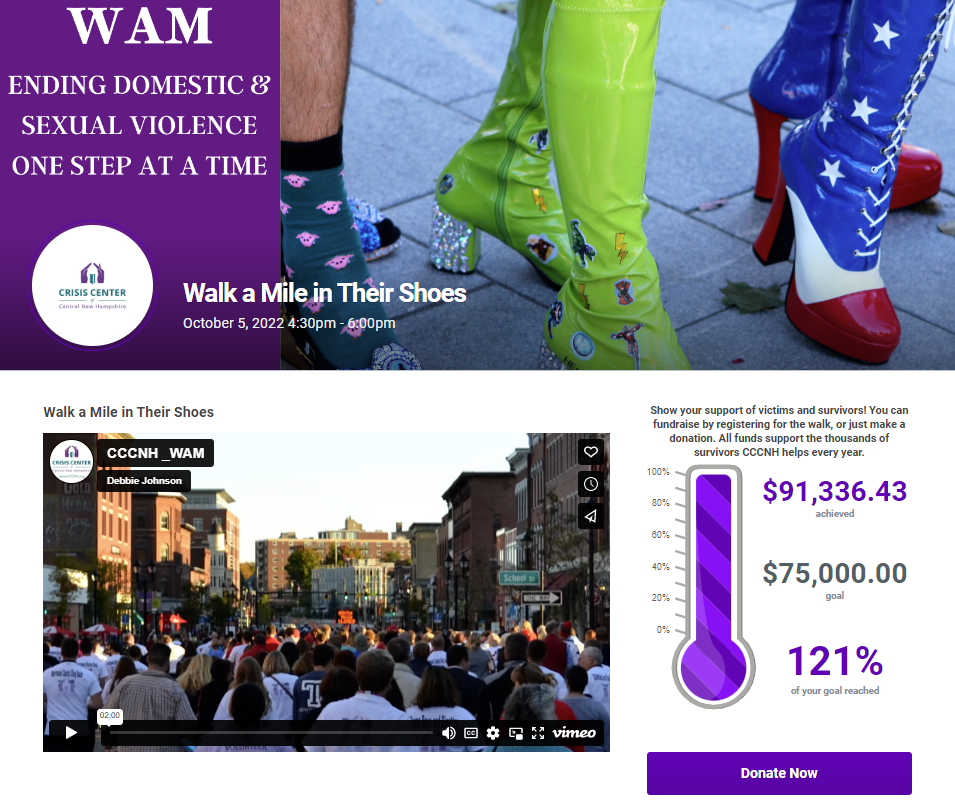 Each platform will vary, but you should ensure that whatever you're purchasing allows you to:
Brand your donation forms with your nonprofit's name, logo, and colors.
Upload pictures or videos.
Display your mission statement.
Customize your giving tiers.
Additionally, you'll need to determine whether your nonprofit can create templates for individual fundraisers so you can maintain control over peer-to-peer campaigns.
Takeaway: Your nonprofit's online fundraising platform should be customizable to suit your nonprofit's needs.

6. Can your nonprofit change the platform if needed?
Just as your online fundraising resource should be customizable, it should also be flexible.
Your platform should be able to adapt to the changes that you need to make. For instance, your online platform should be flexible enough to accommodate any new fundraisers you decided to launch, like a:
Capital Campaign – These large-scale fundraisers need many large and small contributions. You need a platform that can adapt to a campaign that could last a few years.
Peer-to-Peer Fundraising Campaign – With peer-to-peer campaigns, your donors create their own fundraising pages to raise money on your behalf. You should look for a platform that has enough flexibility for you to host multiple fundraising pages.
Mobile Campaign – Mobile fundraising avenues like text-to-give and mobile donation forms are on the rise! Since supporters always have their phones handy, giving has become even more accessible. Choose a platform that stays current on these mobile giving channels.
Donors want to know that the contributions they make are going to the causes that they care about. When your nonprofit has the ability to change your online donation tool when you need to, you ensure that donors know where their funds are going.
Plus, it's important to stay up to date as technology changes and more fundraising advancements are made.
Cloud-based fundraising platforms will often update automatically with the latest software developments.
You can determine your provider's relative flexibility by asking them directly.
Other indicators of a versatile platform include:
Multiple product packages that can easily be upgraded.
Platforms with room for growth (i.e. don't choose a platform that only allows for 3 administrators when you'll need 5).
A variety of features and integrations that can cover an array of fundraising strategies.
Preparing for changes in advance can ease the process when it actually comes time to make those changes. You don't want to put your nonprofit's growth on hold because of a limited online fundraising platform!
Takeaway: Your nonprofit should be able to alter your online fundraising strategy as your organization evolves, so select a platform that can accommodate changes.

7. Is the online fundraising platform PCI compliant?
PCI compliance is crucial for any nonprofit that accepts donations via credit card.
PCI compliance is a set of requirements that ensure that all entities accepting payments or donations via credit cards are processing, storing, and transmitting that credit card information in a secure environment.
PCI compliance ensures that your donors' sensitive payment information is safe and sound.
You wouldn't trust a store's website that didn't have the proper PCI compliance certification, so why should your donors use an online donation tool that doesn't have the security they expect and deserve?
Plus, your organization can be fined if you don't follow these important guidelines! A trustworthy fundraising platform will take care of the legalities for you so your donation page is compliant and your nonprofit can rest assured that donations are safe.
Takeaway: Keep your donors' credit card information safe by choosing an online platform that is compliant with PCI industry standards.

8. Is the online fundraising platform mobile and tablet responsive?
More and more donors are making their contributions on the go, and online resources are 20% more useful than direct mail campaigns.
Make sure that your nonprofit's online fundraising tool is responsive on a smartphone or tablet as well as on a desktop or laptop.
An effective platform should automatically construct your online pages into a mobile-friendly format — no coding required!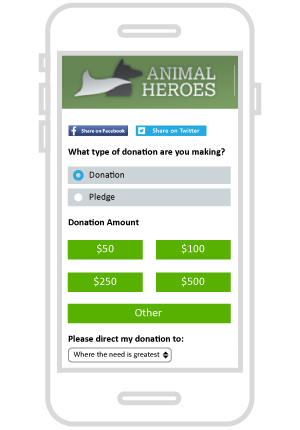 It's important to know that some platforms may claim to be mobile responsive but lack important formatting features. If an online page simply loads as-is on a phone screen, for example, it can't truly be said to be mobile-friendly.
To better understand what mobile responsive platforms should offer your organization, look for these important characteristics:
The page does not have to be resized when it loads (i.e. the donor doesn't have to zoom in or out).
Data fields and buttons are large and easy to click.
The page loads in less than 3 seconds.
Images and text are vertically aligned.
Following these guidelines can help you identify the online fundraising software that will offer you the best mobile formatting. Take a look at the mobile-optimized platform below to get a great example:
The flexibility of giving on mobile devices will appeal to donors of all ages, whether it's because they're busy and need a convenient platform, or because they've grown up with technology in the palms of their hands!
A mobile-optimized form will allow donors to easily select a donation amount without having to re-adjust the size of their screen!
Takeaway: Allow your donors to give whenever they want, however they want, with a mobile and tablet responsive donation tool.


9. What types of payments does the online fundraising platform accept?
How frustrating would it be if you went to pay for your groceries, and the cashier told you they only take one type of credit card?
Even if you had that specific credit card, it would be extremely inconvenient for other customers who prefer to use different forms of payment. In fact, it might even prevent customers from following through with their purchases.
The same goes for your nonprofit's fundraising platform. Not only is it important that your organization takes several types of cards, but it should also offer diverse payment options.
These options may include:
Credit card processing. Your online donation form should accept a variety of major credit and debit cards. Donors simply have to type their card information and billing address into relevant data fields to give! This method is extremely popular and convenient for donors on-the-go, especially as people are carrying cash less and less.
Direct debit processing. In this payment method, a donor can type in their bank account information, and funds will be deposited directly to your nonprofit without processing fees! Direct debit works well for recurring donors, who want to set up a donation on a regular basis.
Takeaway: An online platform that accepts a lot of payment options can open online donating to more donors and allow your supporters to choose the payment methods that they most prefer.


10. What type of support will your nonprofit need?
Nothing is perfect, and your nonprofit's online fundraising platform won't be either. Even software can break, encounter errors, and inexplicably stop working.
What kind of support will your nonprofit need when something goes wrong with your online donation tool?
If you have a dedicated IT staff, they might be able to fix the issue, but if it's a larger problem, you will have to get in touch with your vendor to resolve it.
You don't want to be put on hold and have to go through various customer support menus before you can reach a human voice. Who knows how many contributions you could be missing out on in that amount of time?
That's why it's vital that you choose a vendor that is:
Easy to contact.
Frequently and readily available.
Quick and responsive.
Attentive to your needs.
Some platforms will also charge your organization for additional IT support, so it's important to weigh that factor into your budget.
For minor issues, support might take the form of timely email responses or troubleshooting articles on the software vendor's website.
Assess your current situation and research accordingly.
Takeaway: Make sure that the vendor you choose is able to handle your support needs.


11. What kind of integrations does the platform offer?
The best online platform for your organization will be one that's compatible with the software you already have or that offers integrations that can help your nonprofit grow.
For example, it's important to consider how your platform will integrate with your nonprofit CRM. A streamlined integration process will transfer your donor data automatically, which can save your organization time, money, and resources.
And don't forget about your matching gifts strategy—if you're already using a matching gifts database, you want to make sure that your new online fundraising platform can integrate with that software on your donation pages.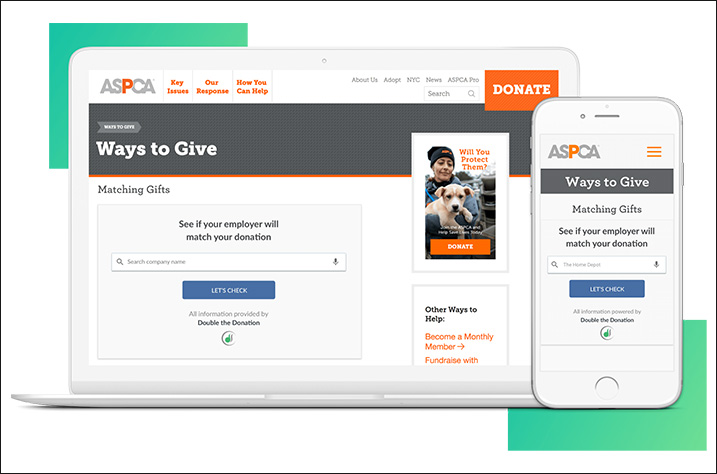 The more comprehensive your online fundraising software, the more centralized your various campaign tasks will be.
It's much easier to gain a big picture of who your donors are when all of your donor data is contained in one place. Centralization and integration allow you to use the information you have to craft an informed fundraising strategy and reach your donors most effectively.
If you start off with a donor management database that offers a variety of integration options like Bloomerang, you'll be more able to easily and intuitively flow your data between your new online fundraising platform and your existing database.
Takeaway: A fundraising platform that provides your organization with the integrations and the tools you need will help you run much more efficient and cost-effective campaigns.

12. What are the reviews?
Let's return to our furniture example from a few questions back. Imagine that instead of wandering in the store and selecting a table, you decided to do some research and look at online reviews of the item.
The reviews might have told you that, while the table looks nice, the assembly instructions are illegible and don't help with assembling the piece. Those reviews could've saved you hours of hassle!
Just like reading product reviews helps you make a more informed decision when it comes to consumer products, reviews of an online donation tool should be looked at as well!
Before taking the leap and investing in an online donation tool, make sure you take a look at what other customers have said about it.
To access reviews, your nonprofit can:
Ask your vendor for testimonials or references.
Check product comparison resources.
Search public reviews or forums for the product.
If previous or current customers have had issues with setup or have found the tool to be lacking in the support area, perhaps your nonprofit should do a little more research.
Takeaway: Do substantial research before investing in an online fundraising software.
---
It's important to put the time into searching for the right online fundraising platform as it has the potential to boost your fundraising efforts. Use these questions to help you find the perfect online fundraising software for your needs.
For more fundraising resources, check out these useful articles: