In the age of digital fundraising, having robust and flexible online donation tools is a must.
When you let your supporters make contributions online, you're opening up a world of donation opportunities for them. Introduce them to channels like online donation pages, mobile giving options, peer-to-peer and crowdfunding platforms, and more!
Convenient, fast, and secure, online donations are essential for any successful nonprofit. But in order to accept online gifts, you need to select the right online donation tools.
There are a number of viable options for online giving, but some providers stand out from the crowd. In this guide, we'll review the top online donation tools to help you find the right fit. Follow along from the top, or skip to the one that interests you most:
Are you ready to get started? Let's go through our favorites!
---

1. Qgiv | Best Online Donation Tool
Overview of this online donation tool
Qgiv provides simple, powerful donation pages for nonprofit organizations. With the Qgiv platform, you can customize your pages to match your website completely. When you have a professional, branded donation page, donors are more likely to trust that their payments are secure and actually submit their gift.
In addition to donation pages, Qgiv offers a full set of fundraising tools that can expand your efforts and push your fundraising to the next level. From peer-to-peer software to mobile giving, Qgiv supplies your organization with all the tools you need to raise more money and engage donors in convenient yet exciting ways.
Our favorite features
Because Qgiv is specifically designed for nonprofits, our products are tailored to meet your organization's needs and assist you in all fundraising aspects.
Our online donation tools are comprehensive and forward-thinking, with features including:
Online event registration.
Mobile-optimized donation pages.
Peer-to-peer pages and gamification tools.
Recurring giving options.
Mobile giving kiosks for on-site giving.
Integrated merchandise sales.
Text fundraising.
Auction software and a mobile bidding app.
Custom report building.
Integration with CRMs, email marketing tools, etc.
And even more!
In short, Qgiv has thought of almost everything to make sure your fundraising is simple, streamlined, and successful—from start to finish.
The price tag for this online donation tool
Qgiv's price model is as straightforward as it can be. Because we have so many different capabilities to fit various needs, there are a couple of different pricing plans you can pick from.
Additional products or features, such as mobile card readers or peer-to-peer software, can easily be added to the baseline software for an additional fee. You can check out our full product set and prices right here.
Takeaway
Qgiv's products are the perfect online donation solution for nonprofit organizations. Learn more about our tools and start accepting online donations with Qgiv today!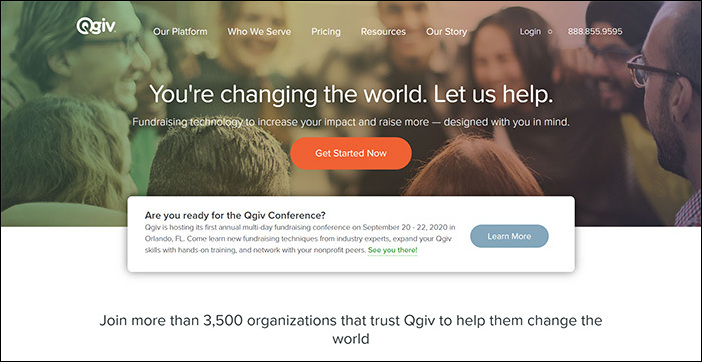 ---

2. Bloomerang | Best Online Donation Tool and Donor Database
Overview of this online donation tool
As a lightweight CRM platform, Bloomerang contains a full suite of tools that can seriously boost both your fundraising campaigns and internal operations. With powerful database tools and communications features, Bloomerang helps you get everything done in one place.
Best of all, your data is centralized! Pull directly from it as you plan and conduct new projects, leading to smarter, more adaptive decision-making.
Focused on helping nonprofits increase donor engagement and retention, Bloomerang is the best CRM solution for organizations that don't need a huge, enterprise-level solution.
Our favorite features
Bloomerang is a powerful tool for nonprofit organizations because all of its tools work together perfectly to streamline operations.
Its CRM features include:
Smart reporting
Interactive dashboards
Engagement trackers
While it's online donation tools include:
Email design platform
Website integrations
Customized online giving forms
Accept donations and track all your important data in one place!
The price tag for this online donation tool
Unlike many similar software solutions targeted towards large organizations, Bloomerang offers a simple and straightforward pricing structure. Check out their pricing page to learn more!
Takeaway
Never underestimate the power of keeping your data close to your fundraising tools! Bloomerang is the perfect online donation tool to keep you organized and boost campaign results organically.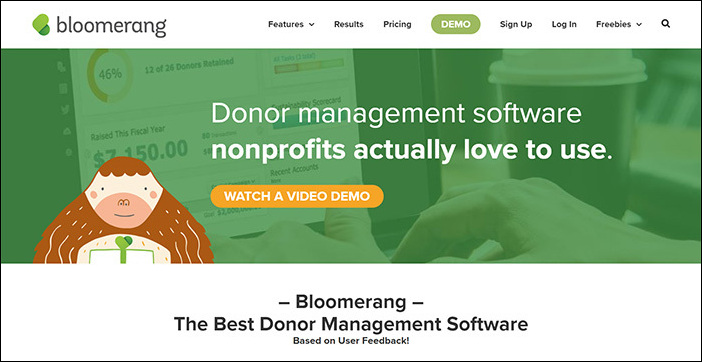 ---

3. DonorPerfect | Best for Fundraising Growth
Overview of this online donation tool
For a top fundraising growth platform, DonorPerfect can engage your donors, power your campaigns, and grow your relationships. Equip your fundraising team with DonorPerfect's online fundraising tools like their customizable online forms, integrated payment service, and reporting & data analytics.
Aside from raising funds for your cause, DonorPerfect also has engagement capabilities to keep donors supporting your cause. Segment your donors into groups for more targeted marketing and configure your email tool to keep up constant contact.
From there, you can also create fundraising events to engage your donors in person! Effectively process event tickets and increase fundraising overall.
Our favorite features
DonorPerfect offers a pretty comprehensive solution that can meet most of your fundraising needs. Here are some of its key features:
Online donation forms
Integrated payment processing
Email marketing tool
Mobile app
Event registration
Report builder and resource of standard reports
DonorPerfect keeps your important supporters in mind and helps you increase funds!
The price tag for this online donation tool
DonorPerfect provides multiple packages to meet any nonprofit's unique mission, budget, and size. Take a look at their pricing guide here.
Takeaway
DonorPerfect elevates your entire fundraising solution so you can engage your donors better. To learn more about how DonorPerfect can help your nonprofit, check out their homepage!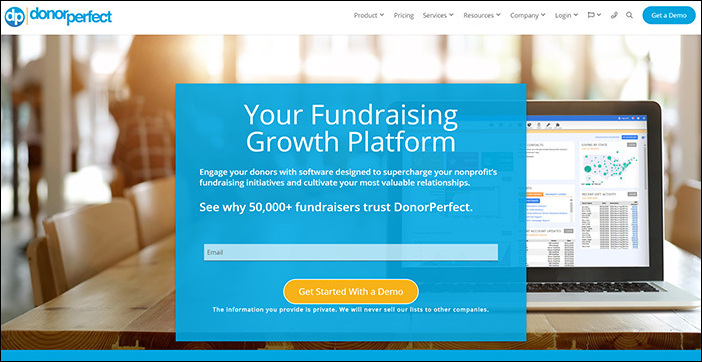 ---
4. Double the Donation | Best for Matching Gifts
Overview of this online donation tool
Harnessing the power of online giving and maximizing that potential, Double the Donation offers nonprofits a comprehensive matching gift solution.
Double the Donation takes advantage of corporate matching gift programs to help you raise more money. Matching gift programs describe a corporate program where employers will match an employee's gift to a charitable organization. Depending on the match level and various guidelines, your nonprofit can double or even triple their funds!
Through this platform, you'll be able to collect extra donations with little extra effort! Both donors and fundraising staff can take advantage of Double the Donation's corporate philanthropy database.
Our favorite features
Double the Donation provides nonprofits with a widget that allows donors to search for their employer in a matching gift database and thus, determine their eligibility. Plus, this widget can embed into other online donation tools like your forms and your website.
For a more powerful solution better suited for larger nonprofits, Double the Donation also has a matching gift automation tool called 360MatchPro.
360MatchPro screens your donors and sends the appropriate matching gift materials to the eligible donors for you. Increase fundraising with very little work!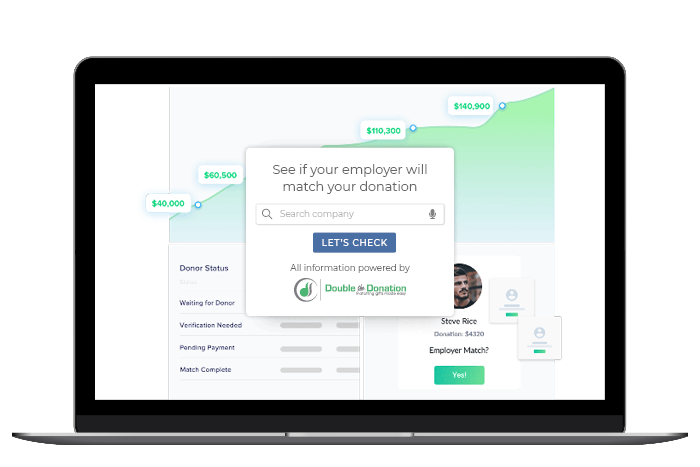 The price tag for this online donation tool
Double the Donation offers a basic premium solution and then the 360MatchPro solution. For more details on the pricing, check out their pricing page here.
Takeaway
Double the Donation is an easy way to raise extra money for your cause. Learn more about matching gifts with Double the Donation today!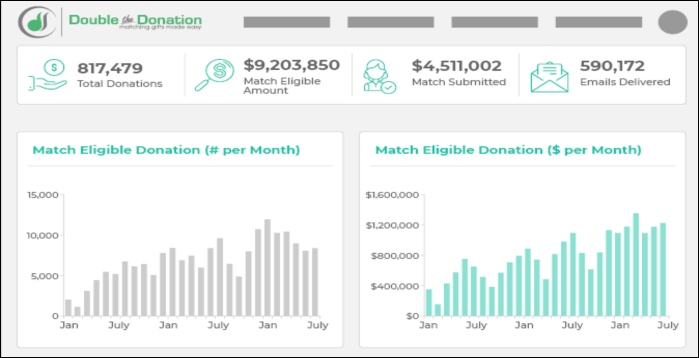 ---

5. NeonCRM | Best Cloud-based Online Donation Tool
Overview of this online donation tool
NeonCRM is a popular tool that nonprofits can use if they're looking for a cloud-based solution. Great for nonprofits of any size or in any sector, NeonCRM helps professionals manage donors, host events, and more!
Learn how to maximize fundraising with a capable online donation tool that can process both one-time and recurring donations. Additionally, you can easily build donor relationships and track donor data, follow up on pledges, and set up tasks in order to connect with prospects and make solicitations.
Our favorite features
The best part about Neon is that all of your data flows into its cloud-based solution. This way, you have all the information you need in order to successfully engage these donors. With NeonCRM, you can:
Automate communications for better marketing
Produce over 50 automatic reports
Create donor profiles
Ensure all your forms are mobile-friendly and branded
Take advantage of NeonCRM and develop your donor relationships.
The price tag for this online donation tool
NeonCRM offers solutions for nonprofits with a wide range of budgets. Check out their pricing page for what might be best for you.
Takeaway
NeonCRM is a great way to keep track of your donors, process online gifts, and help you raise more money. Learn more about NeonCRM here!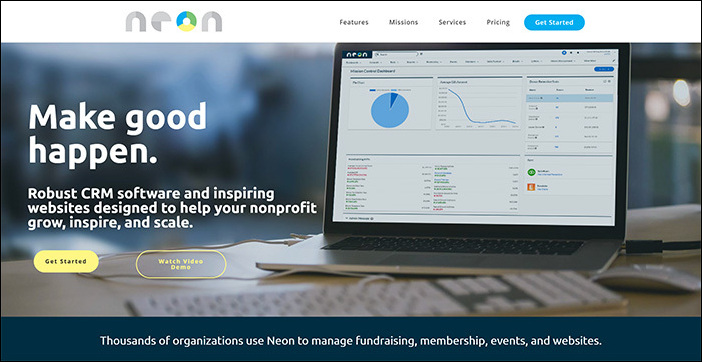 ---

6. MatchMaker, An Arreva Software | Best for Donor Relationships
Overview of this online donation tool
MatchMaker was originally a solution for small to medium nonprofit organizations to meet basic fundraising needs. When Arreva, another online fundraising and donation software, acquired Matchmaker, it was an opportunity to offer MatchMaker's capabilities to even larger nonprofits.
With Arreva's MatchMaker, your nonprofit can easily communicate your mission to donors and increase overall fundraising. You can access all of your fundraising processes from one centralized location. This means you can manage your peer-to-peer campaign, event registration process, volunteer registration, and more from one place!
Our favorite features
One of the best features of Arreva's MatchMaker is its flexible online donation features. You can easily add options for recurring donations, memorial and honorary gifts, and referral information.
Further, you can let donors pick where their money is going (if you have multiple campaigns) and keep all processes automated and captured in one place.
The price tag for this online donation tool
Arreva's pricing plan is based on your nonprofit's budget and which services you're looking for.
Takeaway
With Arreva's MatchMaker, your nonprofit can access solutions to fundraising and donor relationship management! Check out their homepage here.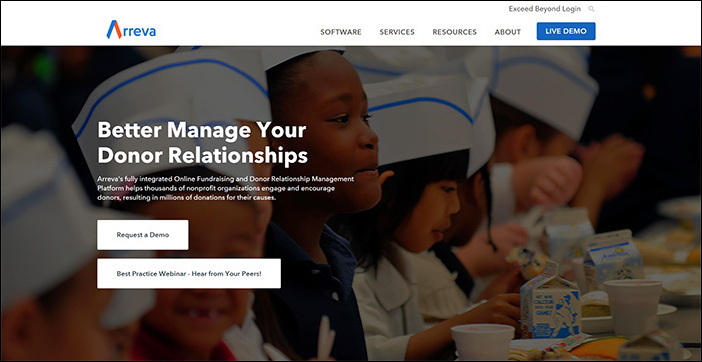 ---

7. DonorSearch | Best for Prospect Research and Wealth Screening
Overview of this online donation tool
DonorSearch is a top prospect research and wealth screening tool that can help your nonprofit identify high impact donors. By screening your entire donor database and comparing it against the nation's number one philanthropic database, DonorSearch provides insight into your most important supporters.
When your nonprofit takes advantage of DonorSearch, you can not only develop relationships with your major donors but improve fundraising in other ways. DonorSearch can help identify those who might be matching gift eligible, potential annual fund donors, and potential planned gift donors.
Many organizations take advantage of DonorSearch to learn more about their donors. Increase fundraising with DonorSearch now!
Our favorite features
DonorSearch is unique in that it screens your donors for both philanthropic indicators and wealth metrics. Other tools might just focus on one of these sections, but to truly understand donors, you need both.
This way, you can get a better sense of a donor's affinity to give (how likely they are to donate) and capacity to give (how much they can donate).
The price tag for this online donation tool
DonorSearch's price depends on how large your donor database is and the scope of the project you're doing.
Takeaway
It's always good practice to learn more about your donors and develop those relationships. With DonorSearch, get access to the most insightful data and increase fundraising. Check out their homepage here.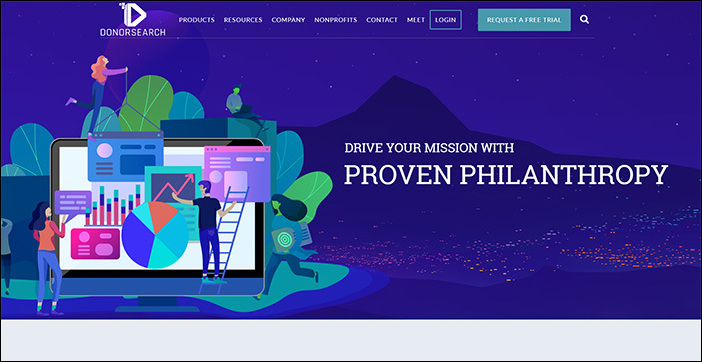 ---
Finding the perfect online donation platform depends heavily on your needs and goals as an organization.
Your software should provide you with all the tools you need to successfully collect donations online and meet your fundraising goals.
For more information on online giving, take a look at these additional resources:
Peer-to-Peer Fundraising Guide. Empower your donors and learn more about peer-to-peer fundraising in our comprehensive guide.
Text-to-Give vs Text-to-Donate Guide. Text Fundraising is a unique and convenient way to raise money during events and all other sorts of fundraising occasions. Learn which platform is right for you in our complete guide.
Donation Receipts. No matter how you collect donations online, it's important to give donors receipts. This way, they can claim deductions on their tax returns. We answer 6 common donation receipt questions in this article.