In the age of digital fundraising, accepting online donations is a must.
When you enable your supporters to make contributions online, you're opening up a world of donation opportunities for them through channels like online donation pages, mobile giving, peer-to-peer and crowdfunding platforms, and more.
Convenient, fast, and secure, online donations are essential for the successful nonprofit. But in order to accept online gifts, you'll need to select the right online donation platform.
There are a number of viable options for online giving, but some providers stand out from the crowd. Here, we'll go over the best online donation tools in detail to help you find the right fit for you.
Let's go through our favorites! 

1. Qgiv
Overview
If you're a nonprofit looking to maximize your fundraising potential with an online donation platform, look no further.
Qgiv provides simple, powerful donation pages for nonprofit organizations. Through our platform, you'll be able to customize your pages to match your website completely. When you have a professional, branded donation page, your donors will be more likely to trust that their payments are secure (and complete the donation process!).
In addition to donation pages, Qgiv also offers a full set of fundraising products that push your fundraising to the next level. From peer-to-peer software to mobile giving, Qgiv can supply your organization with all the tools you need to raise more money and engage donors in convenient, exciting ways.
Our Favorite Features
Because Qgiv is specifically designed for nonprofits, our products are tailored to meet your organization's needs and assist you in every aspect of fundraising.
Our tools are comprehensive and forward-thinking, with features including:
Online event registration.
Mobile-optimized donation pages.
Peer-to-peer pages and gamification tools.
Recurring giving options.
Mobile giving kiosks for on-site giving.
Integrated merchandise sales.
Text giving.
And even more!
In short, Qgiv has thought of almost everything to make sure your fundraising is simple, streamlined, and successful—from start to finish.
The Price Tag
QGiv's price model is as straightforward as can be. Our tools cost $49 per month, with a transaction fee of 3.95% + $.39 (merchant fees included).
Additional products or features, such as mobile card readers or peer-to-peer software, can easily be added on for an additional fee. You can check out our full product set and prices right here.
Takeaway
Qgiv's products are the perfect online fundraising solution for nonprofit organizations. Learn more about our comprehensive product set and get started accepting online donations with Qgiv today!

---

2. Double the Donation
Overview
Harnessing the power of online giving and maximizing that potential, Double the Donation offers nonprofits matching gift tools.
Double the Donation makes it to surpass your fundraising goals with matching gifts, which are corporate programs that allow for employers to match their employees' donations to nonprofit organizations. Through this platform, you'll be able collect extra donations with little extra effort!
Double the Donation will even help you market matching gifts and send appropriate content to eligible donors to encourage them to submit their matching gift requests.
Our Favorite Features
Double the Donation provides nonprofits with a widget that allows donors to search for their employer in a matching gift database and thus, determine their eligibility!
Plus, this widget is embeddable on your donation forms and your website.
The Price Tag
Double the Donation's basic plan runs at $299 a year and their premium plan runs at $499 a year.
Takeaway
Double the Donation is an easy way to raise extra money for your cause. Learn more about matching gifts with Double the Donation today!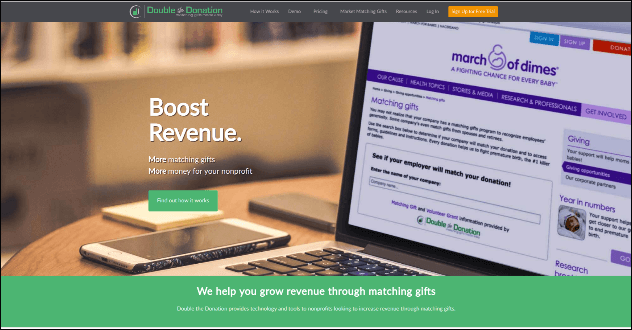 ---

3. Fundly
Overview
For user-friendly crowdfunding, Fundly is hard to beat. Anyone can use Fundly to fund personal projects or raise money for charitable causes. 
Fundly provides fundraisers with custom campaign pages, complete with space for your photos, videos, and even a crowdfunding blog to keep your supporters updated with your fundraising progress. You can easily spread the word about your campaign thanks to Fundly's simple social tools, including social media integration and other fun, easy-to-use features.
Plus, Fundly operates on a "Keep It All" fundraising model. That means you keep all the money you raise, no deadlines required. Fundly is dedicated to making sure your campaign is successful, so you don't have to worry about the clock running out!
Our Favorite Features
Fundly understands that mobile capability is a huge aspect of online fundraising. Therefore, this online donation platform ensures that all campaign pages look stellar on small screens, including smartphones and tablets. Plus, you'll have access to Fundly's free crowdfunding app, where you can build and promote your page no matter where you are.
If you choose to raise money with Fundly, their team will do everything to ensure you meet your fundraising goals. Not only is their customer support team one of the best around, but they also offer a multitude of free resources, including ideas to raise even more during your campaign.
The Price Tag
There's no initial cost to start your Fundly campaign. Fundly charges a 4.9% platform fee in addition to a payment processing fee of 2.9% + $.30 per transaction.
Takeaway
Fundly is the go-to online fundraising tool for individuals. To learn more about their awesome features and get started with your own campaign, check out Fundly today!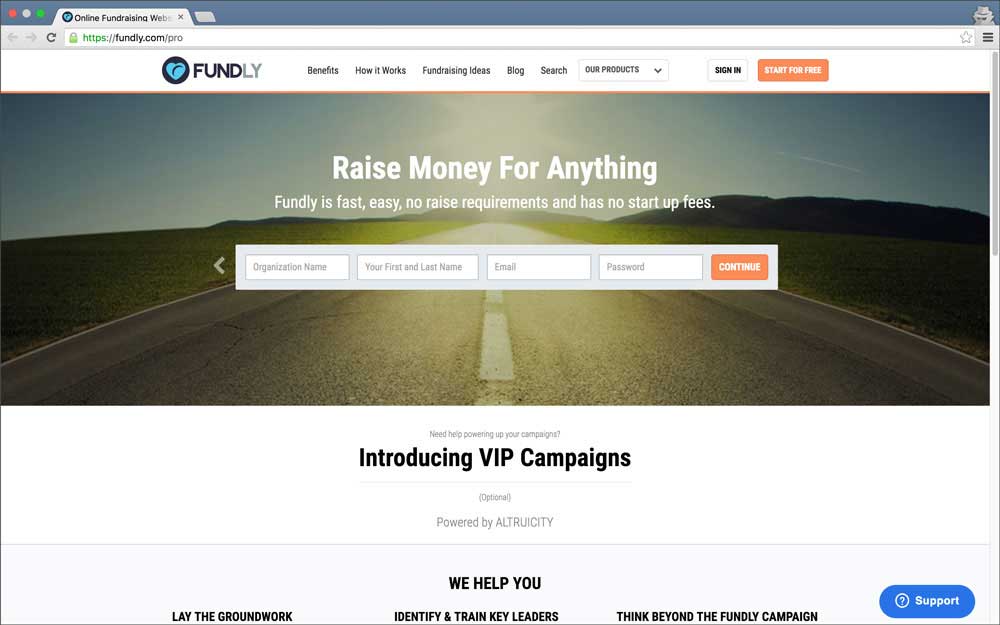 ---

4. Bloomerang
Overview
If your small or mid-size nonprofit is looking for a way to boost efficiency and fundraising potential all around, Bloomerang is your best bet!
As a lightweight CRM platform, Bloomerang contains a full suite of tools that can seriously boost both your campaigns and your internal operations. Powerful database tools plus online giving and communications features help you get everything done in one place. Best of all, you can pull directly from your data as you plan and conduct your new projects, leading to smarter, more adaptive decision-making.
Focused on helping nonprofits increase donor engagement and retention, Bloomerang is the best CRM software choice for organizations that don't need a huge, enterprise-level solution.
Our Favorite Features
Bloomerang is such a powerful tool for nonprofit organizations because all of its tools work together perfectly to streamline your operations and fundraising.
Its CRM features include smart reporting, interactive dashboards, and engagement trackers to keep your database tidy and useful. Fundraising tools like an email design platform, website integrations, and social media listening work alongside customized online giving forms. Accept donations and track all your important data in one place!
The Price Tag
Unlike many similar software solutions targeted towards large organizations, Bloomerang offers a simple and straightforward pricing structure. Their first pricing level starts at just $99/month and allows you to manage up to 1,000 donor records.
Takeaway
Never underestimate the power of keeping your data close to your fundraising tools! Bloomerang is the perfect solution to keep you organized and boost campaign results organically.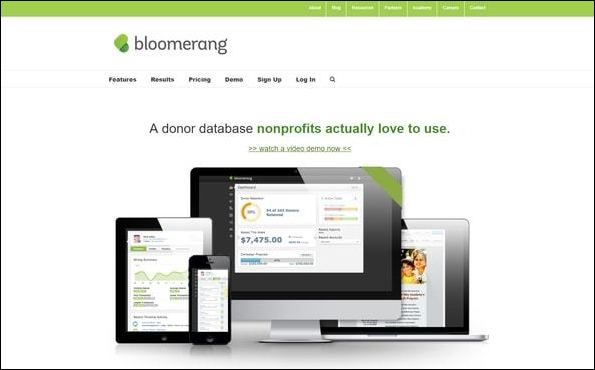 ---

5. DonorsChoose
Overview
On a mission to "bring the public to public schools," DonorsChoose enables teachers to request funding for classroom supplies, technology, or other needed items and experiences for their students.
Educators can start projects by setting up custom campaign pages, sharing their stories, posting photos and videos, and describing their needs in detail, including number of students affected and the school's level of poverty.
Because this online donation platform is designed with classrooms in mind, project-starters must request specific items and costs rather than setting a general goal. When supporters donate, they can choose exactly where their money goes.
And, because DonorsChoose takes care of all purchasing and shipping, there's no question that classrooms get exactly what they need.
Our Favorite Features
DonorsChoose has established a tight-knit community of educators and their students, and their team is seriously dedicated to each project's success. Every project is vetted and screened to ensure that the community standards are met.
When you post your project, you'll have up to 4 months to meet your fundraising goals. If you don't meet this deadline, the contributions you've received can be redirected to a future campaign. If you do meet you goals, DonorsChoose will handle all purchases and make sure you get your items within 3 weeks of completing your goal! 
The Price Tag
This online donation platform is always 100% free for educators. As a nonprofit themselves, DonorsChoose funds their product fulfillment and shipping (as well as other operational fees) through partnerships and donations.
Takeaway
If you're a public school teacher hoping to add value to your classroom, DonorsChoose can help you meet those goals. Learn how to apply for a project with DonorsChoose!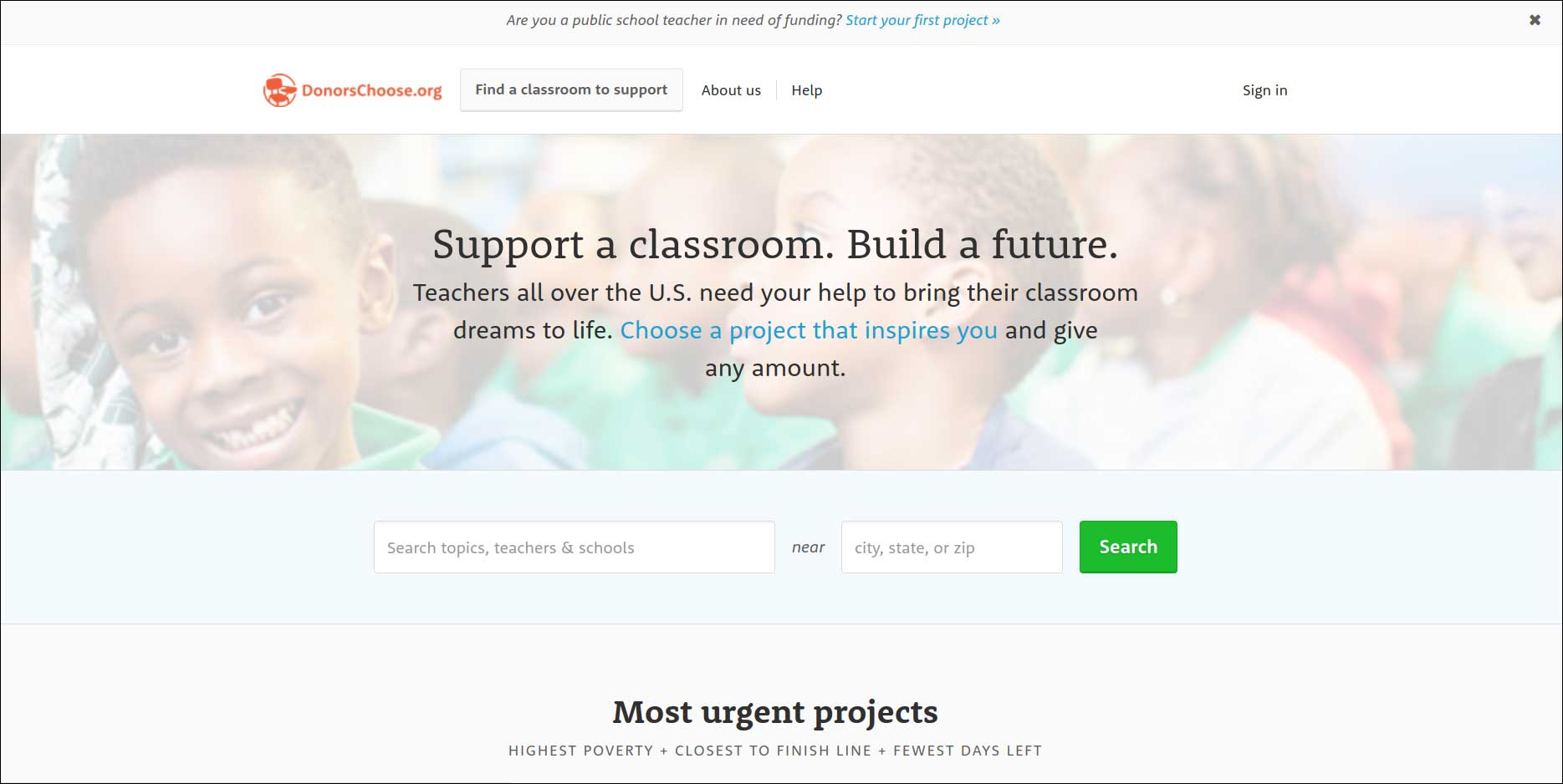 ---

6. Kickstarter
Overview
One of the most popular crowdfunding services for creative projects, Kickstarter enables fundraisers to accept online donations from anyone in the world.
Kickstarter provides personalized campaign pages to help users crowdfund their creative or entrepreneurial projects. You can include photos and videos showcasing your project, as well as write a descriptive campaign story to persuade others to pitch in. Then, promote your project across your networks using Kickstarter's social media tools.
One of Kickstarter's defining features is its "All or Nothing" fundraising model. If fundraisers don't meet their goals, they won't receive any funding. While this model can be intimidating, it can also serve as a great motivator to quickly meet goals within a time crunch.
Our Favorite Features
Kickstarter makes it easy to provide incentives for donors. Fundraisers can create reward opportunities that vary with every level of support so that supporters get something out of participating, too. This platform is a great place to get creative!
Because this online donation platform is intended for creative projects, fundraisers also receive the benefit of sharing their completed projects with a thriving community of fundraisers and donors. Filmmakers, musicians, tech-innovators, and designers can come together to create, promote, and fund projects, bringing their ideas to life.
The Price Tag
For completed projects, Kickstarter charges a 5% platform fee as well as a payment processing fee of 3.% + $.20 per transaction.
Takeaway
Kickstarter has funded tens of thousands of creative projects through the power of online networks. For more information, read more about Kickstarter campaigns.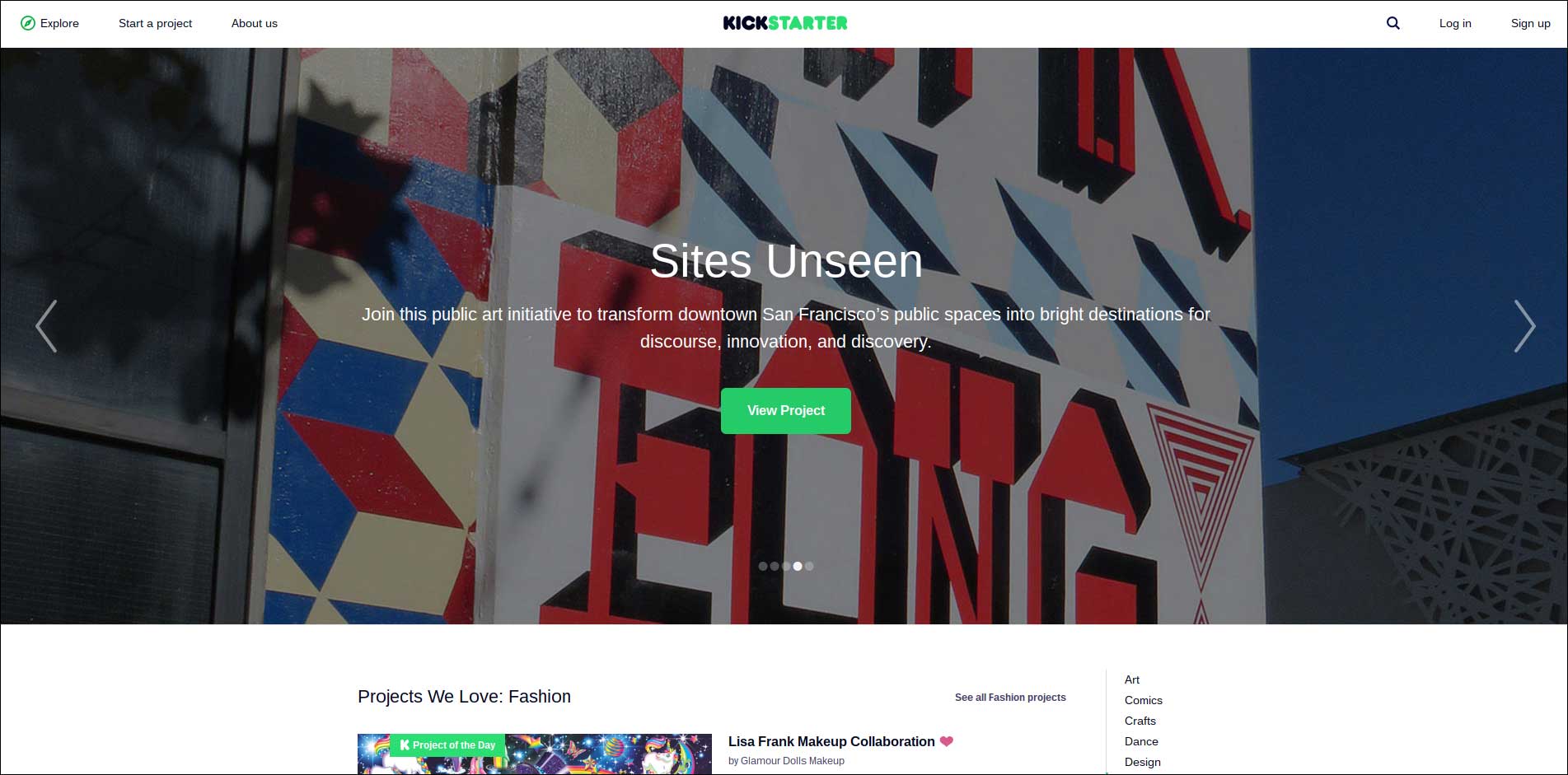 ---

7. Bonfire
Overview
By combining online giving and the classic t-shirt fundraiser, Bonfire adds a creative twist to online fundraising.
Bonfire makes it easy to collect online donations by selling custom t-shirts. Through this platform, you'll be able to create products using their simple design tool.
Your shirts can be as unique as you'd like to promote your event, cause, or organization.
With plenty of products to choose from and expert staff on hand to walk you through the process, your supporters are guaranteed to walk away with apparel they'll love to wear for years to come.
Our Favorite Features
Bonfire offers a diverse array of apparel options including t-shirts, tank tops, sweatshirts, and more!
One Bonfire feature we love is they don't charge until you reach your profit threshold. This means that if a campaign fails to hit its stride, you can head back the the drawing board without worry.
Because this online donation platform understands that t-shirts are just the start of your fundraising efforts, you can choose to accept additional donations on top of your product sales. When you give your donors more ways to donate, they're sure to give even more!
The Price Tag
Individuals, groups, and organizations can all start their Bonfire campaign with no upfront cost.
Bonfire only charges for additional donations made at checkout. They'll deduct an 8% fee for credit card and other administrative expenses. They offer a flat shipping rate of $5 on all U.S. orders!
Takeaway
Bonfire is a creative, fun way to raise money for your project or cause. Learn more about starting a Bonfire campaign today!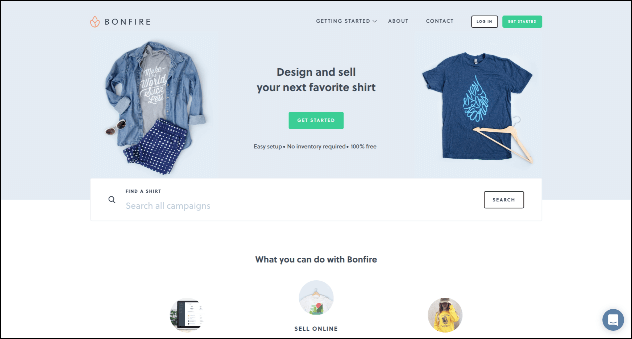 ---

8. Funds2Orgs
Overview
By combining online giving and shoe drives, Funds2Orgs adds an easy and innovative twist to online fundraising.
Funds2Orgs makes it easy to collect donations by collecting used shoes. Through this platform, you'll be able collect gently used and new shoes to turn in for a profit!
All you have to do is call Funds2Orgs when you're ready to host a shoe drive. You'll collect all your shoes, Funds2Orgs will come collect them, and you'll receive your donation check in 2 business days.
Our Favorite Features
Funds2Orgs donates the shoes you collect to micro-entrepreneurs in developing countries, which means as you're raising money to further your cause you're helping other individuals in need, too!
The Price Tag
There are no out-of-pocket fees with Funds2Orgs! You simply collect your shoes, turn them in, and walk away with your check.
Takeaway
Funds2Orgs is an easy way to raise money for your cause without asking your donors for money. Learn more about starting a Funds2Orgs campaign today!
---

9. 360 MatchPro
Overview
360 MatchPro makes the most of your marketing efforts for your matching gifts database.
Not only are you provided a matching gifts database, through which your donors can see their eligibility status for matched gifts from their employers, but it also provides all the marketing tools you need for a successful matching gifts drive. You'll drastically increase your gift size through the best use of these matching gifts opportunities!
360 MatchPro forecasts your potential increases in donations from eligible matching gifts database, leading to more targeted marketing and better financial planning.
Our Favorite Features
With the communication features offered fro 360 MatchPro, you can reach out to donors specifically eligible for matching gifts. Plus, you can reach out to your supporters who have not donated in a while to remind them of their eligibility. With automated emails, it is easier than ever to make these connections!
The Price Tag
Contact 360 MatchPro for a quote today!
Takeaway
360 MatchPro is a great way to forecast, track, and increase your donation amounts. Learn more about 360 Match Pro!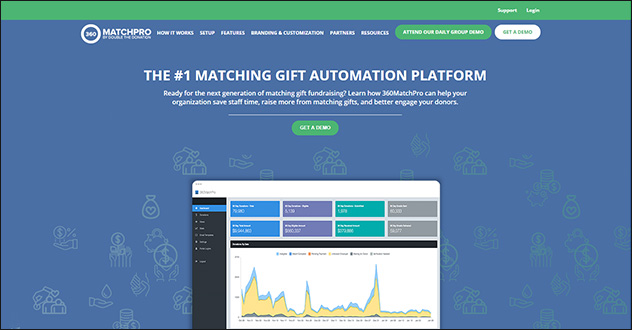 ---
Finding the perfect online donation platform depends heavily on your needs and goals as an individual or organization.
Your software should set you up with all the tools you need to successfully collect donations online and meet your fundraising goals.
For more information on online giving, take a look at these additional resources:
Peer-to-Peer Fundraising Guide. If you want to learn more about peer-to-peer fundraising, check out our comprehensive guide.
Text-to-Give Guide. Text giving is a unique and convenient way to raise money during events and all other sorts of fundraising occasions. Learn more about using text-to-give in our complete guide.
Donation Receipts. No matter how you collect donations online, it's important to give donors receipts so that they can claim deductions on their tax returns. We answer 6 common donation receipt questions in this article.