PayPal is one of the leading payment processors available, serving all types of transactions, whether it's for an online store or a phone app. Some nonprofits depend on PayPal because it's a convenient solution, but also find themselves settling for limited page designs, a complicated giving process, and restricted withdrawal amounts.
Shouldn't you have a payment processor that understands your nonprofit's unique needs?
The truth is that there are more powerful and comprehensive payment tools available that are specifically geared toward nonprofits. These donation tools are designed to understand that everyday credit card transactions aren't the same as donating to a nonprofit. Some nonprofit payment processing tools have even created features like donation buttons and recurring gifts to make the giving process efficient and enjoyable.
If your nonprofit is looking to upgrade your payment processor, consider the following awesome PayPal alternatives before you finalize your decision. Follow along from the top, or skip to the one that interests you the most:
Ready to learn more? Let's begin.

1. Qgiv | Top PayPal Alternative for Overall Nonprofit Fundraising
Platform Overview
Qgiv is a powerful online donation tool that can effectively process gifts for your nonprofit, school, or faith-based organization. Not only can Qgiv safely and securely handle all transactions, but it also lets you customize unlimited donation forms and enable extra features to maximize fundraising.
For instance, Qgiv has these additional capabilities:
Processes recurring gifts at varying frequencies. A great way to increase fundraising is to provide a recurring gift feature. This gives your nonprofit a more consistent form of support and is also easier on the donor— sometimes they want to give more but don't have the immediate funds.
Lets donors offset the processing fee when they choose GiftAssist, ensuring more of the funds go toward your cause.
Provides suggested giving amounts to encourage a gift. Who knows? Maybe the donor will decide to give a little more just because the option is there!
Enables personalized receipts for donors that complete a gift. As soon as the transaction goes through, each donor gets a personalized receipt outlining their gift along with an appreciation email.
The best part is that anyone can use Qgiv's user-friendly interface to create beautifully designed donation pages! Create the best online donation experience and raise more money with Qgiv's powerful online donation tool.
When to Consider This PayPal Alternative
Qgiv can do much more than securely process payments and provide customizable online donation forms. Within Qgiv's system, your nonprofit can:
No matter the type of fundraising campaign or event your nonprofit hosts, Qgiv has the tools you need to process those payments safely and securely.
How Much Does This Platform Cost?
Qgiv has multiple packages and payment plans, perfect to fit nonprofits of any size. To learn more, check out the pricing page here.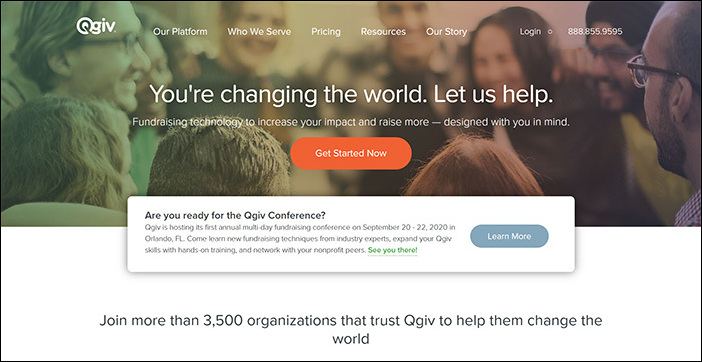 ---

2. Sphere | Top PayPal Alternative for Data Security
Platform Overview
Sphere is leading the evolution of secure integrated payment solutions. With their TrustCommerce Payment Platform, they provide solutions specific to many verticals. They've even partnered with Qgiv to bring a secure solution to nonprofits.
With Sphere's data secure technology, your nonprofit can:
Set up repeating donations
Accept major payments
Process payments from any device, whether it's mobile or desktop
When you invest in Sphere, you'll know your organization's funds are safe.
When to Consider This PayPal Alternative
Having a secure data processor is important now than ever, especially with the update to the California Consumer Privacy Act in January 2020. This was implemented to allow people to control their own data more and better understand which data is being used and for what.
Looking for a more secure solution is always a step in the right direction.
How Much Does This Platform Cost?
Sphere's price depends on a variety of factors, so your best bet is to contact them on their website if you'd like to learn more.
---

3. Bloomerang | Top PayPal Alternative for Donor Management
Platform Overview
Bloomerang is donor management software that helps nonprofits process online donations. With Bloomerang, you can customize online giving forms and embed them on your nonprofit's website.
Using an interactive dashboard, you get a comprehensive look at your donors and your internal processes. With Bloomerang processing all payments securely, you have more time to understand which engagements are going well and which may need improvement.
When to Consider This PayPal Alternative
Bloomerang is great if your nonprofit wants to work on its donor relationships as well as securely process payments. With Bloomerang's donor management tools, you can work on increasing your retention rates and can even access suggestions for improvement.
With such an in-depth look into each of your supporters, Bloomerang helps you measure past engagements and improve them for the future. You can customize a marketing strategy, track its performance, and then adjust— all in real time.
The better your engagements, the more likely your donors will become life-long supporters.
How Much Does This Platform Cost?
Bloomerang offers multiple pricing plans (which can be found here) and even two different options for payment processing plans (which can be found here).
---

4. DonorPerfect | Top PayPal Alternative for Donor Management
Platform Overview
DonorPerfect is an easy-to-use fundraising solution for donor management that can also effectively process gifts. DonorPerfect allows your nonprofit to:
Customize online donation forms
Process recurring gifts
Accept major payment types
Facilitate in-person and over-the-phone giving
DonorPerfect puts your donors first by providing a streamlined and enjoyable experience.
When to Consider This PayPal Alternative
Your nonprofit can use DonorPerfect to better engage donors and truly show them how much their generosity means to your mission. Use its donor engagement tools to reach supporters on multiple channels of communication, while still personalizing all your content.
It's worth it to take the extra step when it comes to your donors. These are the people who help fund your mission and make the actions you take possible. With DonorPerfect's tools, you can set the foundation for future engagement and create long-lasting relationships with donors.
How Much Does This Platform Cost?
Depending on the scope and depth of the solution you need, DonorPerfect offers multiple pricing plans. Check out their pricing guide to learn more.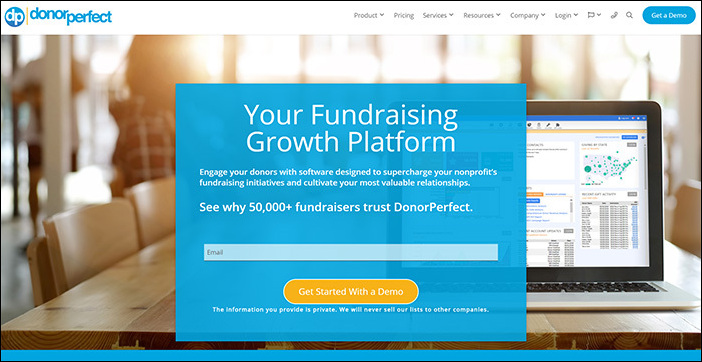 ---

5. Double the Donation | Top PayPal Alternative for Matching Gifts
Platform Overview
Double the Donation is an industry-leading tool and matching gift database that simplifies the matching gift process for both nonprofits and donors. Matching gift programs are a form of corporate philanthropy where a company will match a gift its employees make to eligible organizations.
Nonprofits can either embed Double the Donation's search tool into their online donation form or search their donors' employers themselves. Then, information regarding their employer and its specific matching gift process is outlined.
For larger nonprofits, Double the Donation also offers a more comprehensive solution called 360MatchPro. 360MatchPro is a matching gift automation tool that screens your donor database and sends the appropriate matching gift materials to eligible donors. If eligible donors follow the instructions to submit a matching gift request, you can double (or maybe even triple!) those funds. Increase fundraising with very little work!
When to Consider This PayPal Alternative
If you're rushing to meet a fundraising goal or need to raise funds fast, investing in a matching gift tool like Double the Donation can help tremendously.
According to Double the Donation, an estimated $4-$7 billion goes unclaimed in matching gift funds each year. This is because most donors don't know about this opportunity, let alone if their employer offers it. Imagine how much your nonprofit could be missing out on!
A tool like Double the Donation or 360MatchPro makes it easier to advertise the program and can raise an incredible amount of funds without your donors having to give more.
How Much Does This Platform Cost?
Whether Double the Donation or 360MatchPro is better for your organization depends on many varying factors. Check out their pricing page to learn more.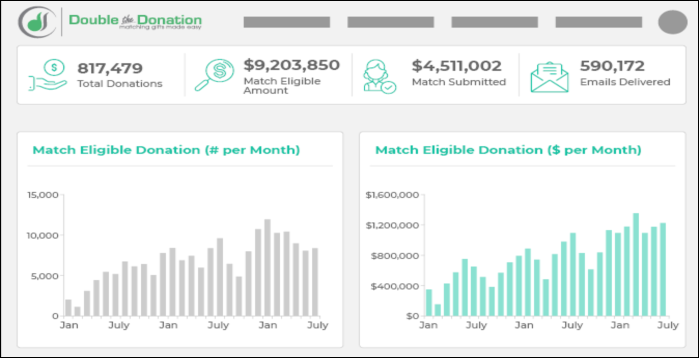 ---

6. Kindful | Top PayPal Alternative for Donor Data Management
Platform Overview
Kindful is a fundraising solution and PayPal alternative for nonprofits that helps collect and manage donor data. The better you can organize your donor data, the easier it is to notice trends, make insights, and improve your relationships with those donors.
Kindful can effectively process online donations with its:
Customized online donation pages that sync to your database
Eye-catching embedded donation buttons
Recurring giving options
Effectively collect donor data and process donations with Kindful!
When to Consider This PayPal Alternative
If your nonprofit is having trouble keeping track of donor data, Kindful can help. With donor management tools like activity tracking and email marketing integrations, you can collect donor data and effectively store it in your database! Kindful can also create insightful reports to help you understand that data.
Kindful's tools do the administrative work for you, letting your fundraising staff analyze donor data and build meaningful, deep relationships.
How Much Does This Platform Cost?
Kindful's platform depends on the size of your nonprofit. Check out this interactive scale to see where your organization falls.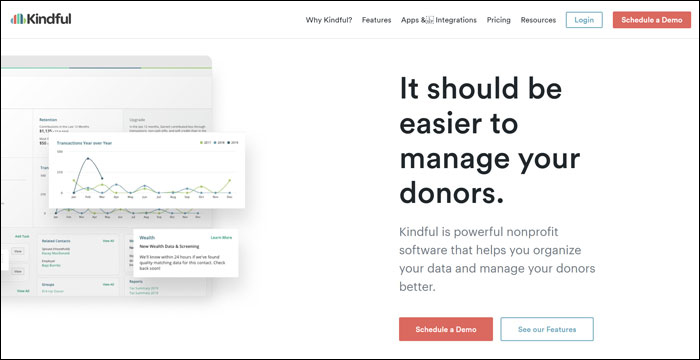 ---

7. MatchMaker, an Arreva Software | Top PayPal Alternative for Pledge Fundraising
Platform Overview
Originally a solution for small to medium organizations, MatchMaker met the basic needs of smaller nonprofits. After partnering with Arreva, another fundraising solution, it expanded its services to help more nonprofits with their fundraising efforts.
With Arreva's MatchMaker, you can effectively increase online donations with its pledge collection tool. In short, pledges allow supporters to make a gift at a later time but can be hard to follow up on. With Arreva's MatchMaker, you can:
Create unlimited pledge forms
Track pledge payments
Have a comprehensive view from your Gifts and Pledges module
Ensure your pledges are processed securely and efficiently!
When to Consider This PayPal Alternative
If you find that you have a hard time following up with pledges or that the details tend to get lost in the shuffle of your daily routines, it can be worth it to invest in a tool that can manage your pledges while also processing those gifts safely.
Arreva's MatchMaker gives you a comprehensive view of all of your revenue, so you can get a sense of which fundraising channels are doing best!
How Much Does This Platform Cost?
Curious to learn more? Check out their pricing here.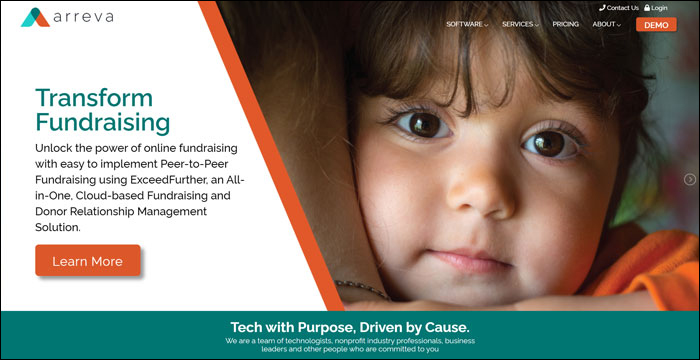 ---

8. DonorsChoose | Top PayPal Alternative for School Fundraising
Platform Overview
DonorsChoose is a school crowdfunding platform that was created by real school teachers from the Bronx. Once you're on the DonorsChoose website, you're met with a bunch of ongoing educational and other school-related projects that you can choose to fund.
The majority of the money— about 95%— goes to support those projects and to provide classroom materials and other resources. Since DonorsChoose handles all the financial processes and purchasing of materials and shipping, you know your project can raise funds safely and securely.
When to Consider This PayPal Alternative
When you post your fundraising project to DonorsChoose, you're immediately exposing it to an audience that is interested in supporting education. Maximize fundraising for any type of educational institution, whether you manage a K-12 school, a college, or a university.
DonorsChoose also heavily prioritizes transparency, so donors know exactly how their gifts are being used.
How Much Does This Platform Cost?
To learn more and get started with DonorsChoose, visit their website.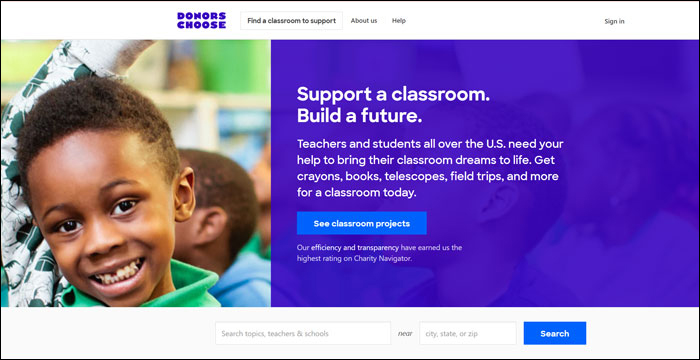 ---

9. Fundly | Top PayPal Alternative for Crowdfunding
Platform Overview
Fundly is a popular crowdfunding platform. Crowdfunding is usually hosted online and on social media platforms, so it's important to ensure that each online gift is submitted safely regardless of its source. With Fundly, you can:
Customize your online donation page with videos and photos to share with your supporters
Ensure your donation page is mobile accessible for those giving on the go
Securely process your funds which are then transferred to you on a withdrawal schedule
With Fundly, you can host your crowdfunding campaign and know that each gift is processed securely.
When to Consider This PayPal Alternative
If you're considering hosting a crowdfunding campaign, Fundly is a great platform for processing those donations. Not only does it help you create the perfect online crowdfunding page, but you can post it directly on the Fundly website for fast exposure to others who are crowdfunding or donating.
From crowdfunding for sports to schools, Fundly can curate the best experience for all and maximize funds!
---
Additional Resources
If you're interested in continuing your research on other nonprofit solutions and effective best practices, check out these resources: