Managing a nonprofit takes patience, hard work, and above all, a lot of organization. From planning peer-to-peer fundraisers to properly marketing your online campaigns, there is an endless number of items on your to-do lists.
Luckily, there's a nonprofit software for every need you encounter. From accounting to fundraising, there's a solution ready to pick up the administrative load weighing you down and help you achieve your fundraising goals!
Check out these top nonprofit software providers:
Read on to learn which software solutions can help your organization run smoothly and more efficiently!
---

1. Qgiv | Best Nonprofit Software
Nonprofit Software Overview
Qgiv's nonprofit software is easy to use and adapts to your organization, meaning the solution grows as you do!
Qgiv offers nonprofits the chance to engage and communicate with donors through powerful donation pages and online event registration. You can raise even more money with Qgiv's peer-to-peer platform, mobile fundraising options, and auction software.
Plus, Qgiv will help your organization focus on making the donation process as easy as possible. Send custom thank-you's and receipts, and use their mobile giving, social sharing, and embeddable widget options, too.
Best Features of this Software for Nonprofits
What's the best part about Qgiv? For one thing, there are absolutely no limits on your online giving software. That means:
Unlimited donation forms
Unlimited simple events
Unlimited users
Unlimited training
Unlimited live support
With Qgiv, there's no need to worry about overextending the features of your software. Your software expands as you and your campaigns do.
Why We Recommend this Nonprofit Software Solution
Invest in software that understands nonprofits and can anticipate your various needs. Qgiv has practically everything any nonprofit could require. From peer-to-peer fundraising solutions to giving kiosks to mobile auction software, Qgiv has your back for fundraising and more!
Pricing
If you're interested in Qgiv's platform, there are a variety of pricing plans you can pick from. Our no long-term contract pricing means you can upgrade and downgrade your plans as needed! Check out our product sets and prices right here.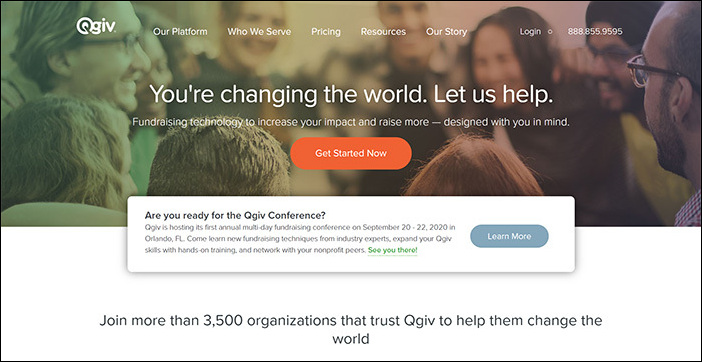 ---

2. Bloomerang | Best Nonprofit Software for Donor Database Management
Nonprofit Software Overview
Bloomerang is a donor management solution whose focus revolves around creating stronger donor retention rates and strategic donor management practices. Pooling together the industry's various best practices, Bloomerang can help nonprofits decrease donor attrition and increase revenue.
Bloomerang uses the latest technologies to present a clean interface and can help your nonprofit enhance donor loyalty and build relationships.
Best Features of this Nonprofit Software
Of the many features that Bloomerang offers, you should absolutely take advantage of:
Interactive dashboards. Review your donor retention rate and track your campaign's success all in one place.
Constituent timelines. Bloomerang's timeline visually represents every interaction at both individual and organizational levels.
Giving summaries. View a constituent's past giving to your organization and their current engagement level.
Smart reports. Create comprehensive reports with just a few clicks!
Bloomerang also integrates with Qgiv's platform. This helps your nonprofit get an even more accurate picture of how your donor base is performing!
Why We Recommend this Nonprofit Software Solution
Unlike other heavy-duty CRMs, Bloomerang doesn't prioritize complicated customization capabilities. Instead, it relies on simple integrations to offer users the functionality they need.
Pricing
Bloomerang's pricing is simple and straightforward and can be reviewed on their pricing page.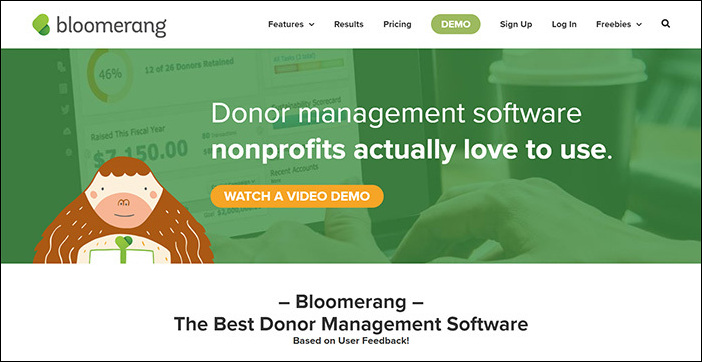 ---

3. DonorPerfect | Best Nonprofit Software for Fundraising Growth
Nonprofit Software Overview
DonorPerfect is a donor management system (CRM) that offers tools to help grow your donor community and build your fundraising capacity.
This solution is completely customizable to the needs of almost any nonprofit. Manage your donor data and raise more money in the most effective way possible.
Best Features of this Nonprofit Software
DonorPerfect offers a variety of great features, including:
Data management
Gift processing
Reporting
Implementation, training, and support
Payment services
Branded online forms
Take advantage of any of these capabilities to empower your nonprofit!
Why We Recommend this Nonprofit Software Solution
DonorPerfect's client services team helps you from the very first day, whether you want to learn a new feature, optimize your database, or just get started.
Your specialist will get to know you and your nonprofit organization in order to determine the next best steps in using the platform.
Pricing
Visit DonorPerfect's pricing page to request a quote tailored to your specific needs.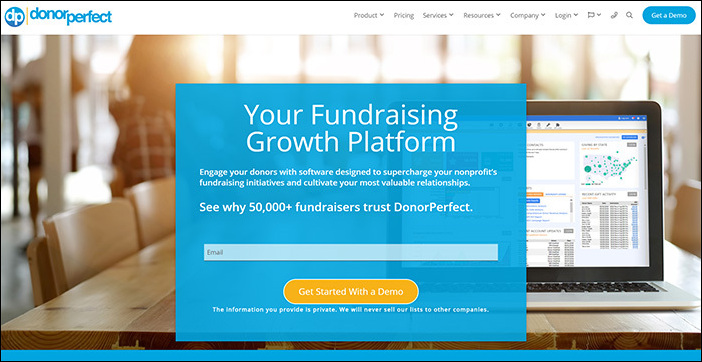 ---

4. NeonCRM | Best Nonprofit Software for Cloud-based Data
Nonprofit Software Overview
NeonCRM, a constituent relationship management system and online nonprofit fundraising solution, helps nonprofits of any size and in any industry. With NeonCRM, you can manage donors, increase fundraising, and even host events.
Process both one-time and recurring donations to ensure you're not wasting any opportunities that come up.
Best Features of this Nonprofit Software Solution
NeonCRM provides flexible solutions to data management with its cloud-based solution. This means that all data is centralized in one place and can be accessed whenever needed.
All your data can seamlessly flow into NeonCRM and help you and your fundraising team:
Automate emails to donors
Create donor profiles
Compile comprehensive reports
With NeonCRM, you'll always have the best data and make the smartest choices.
Why We Recommend this Software for Nonprofits
NeonCRM's solution was built by people who run nonprofits, so you know this tool can anticipate your nonprofit needs. Take advantage of NeonCRM and increase fundraising!
Pricing
NeonCRM has many pricing plans for you to review. Check out their pricing page to get a better understanding and find the best fit for your nonprofit.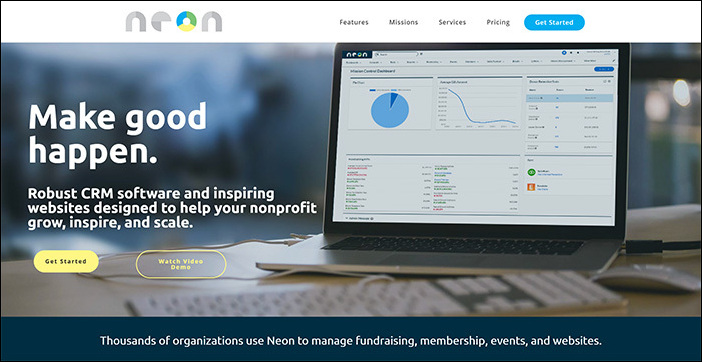 ---

5. Double the Donation | Best Nonprofit Software for Matching Gifts
Nonprofit Software Overview
Double the Donation's nonprofit software strives to help nonprofits maximize their donations through matching gifts.
Matching gifts are a common component of corporate giving programs. Employers implement these programs to showcase their philanthropic side and promote a positive working environment.
Specifically, matching gift programs describe when companies match their employees' donations to eligible nonprofits. Unfortunately, only 1 in 10 eligible donors actually submit their requests. This means that most nonprofits are losing out on available contributions.
Double the Donation is a search tool that helps you and donors quickly find out if someone is matching gift eligible. If they are, Double the Donation will present the guidelines and rules of the employer's specific program if available.
From there the donor can submit their matching gift request and potentially double, or even triple, their original gift!
Best Features of this Nonprofit Software Solution
Double the Donation's software includes a widget you can easily embed on your website or donation form. Their widget helps your donors easily identify their employer's eligibility by typing in the company name.
Additionally, for a more comprehensive solution better suited for larger nonprofits, check out Double the Donation's other tool, 360MatchPro.
360MatchPro will automatically screen your donor base and identify those who are matching gift eligible and send them the appropriate materials. Automate identification across fundraising, drive matches to completion, and create actionable insights with this software.
Why We Recommend this Software for Nonprofits
Double the Donation has worked with scores of nonprofits ranging in size from Ridgefield Library to the Leukemia and Lymphoma Society. From one-man shows to multi-officed organizations, Double the Donation can further any cause and increase matching gifts funds.
Pricing
Double the Donation offers its basic pricing plan and then its more comprehensive 360MatchPro plan. The prices can be found here.
---

6. DonorSearch | Best Nonprofit Software for Wealth Screening
Nonprofit Software Overview
DonorSearch's wealth screening tools are stellar additions for nonprofits interested in donor relationships, retention, and stewardship.
DonorSearch screens your donors in order to determine their giving capacity and giving affinity. This is done by reviewing each donors' wealth status as well as their philanthropic indicators.
With these factors in mind, DonorSearch is extremely accurate in helping nonprofits identify their high impact donors.
Best Features of this Nonprofit Software
DonorSearch not only can help pick out high impact donors from your existing database but even open you up to prospects. With its prospect generator, you can find new prospects who are already interested in your cause. Your results will include individuals who have given to similar causes or has other similar traits with your most loyal supporters.
For instance, if a major donor is often active on Facebook, start focusing your marketing strategy there to attract other like-minded prospects.
Why We Recommend this Nonprofit Software
The more you know your donors, the better you engage with them and take advantage of opportunities. Additionally, your nonprofit can receive unlimited training for your DonorSearch software.
Pricing
Contact DonorSearch for a quote on their wealth screening tools.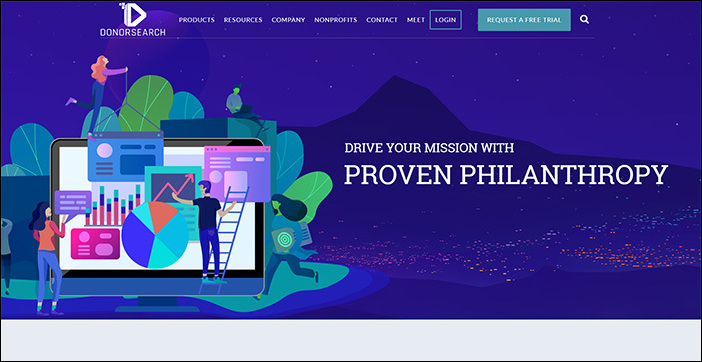 ---

7. Kindful | Best Nonprofit Software for Donor Data
Nonprofit Software Overview
Kindful's nonprofit software helps organizations manage their donor data and grow donor relationships in meaningful ways.
Equipped with their fundraising tools, you can create donation pages, facilitate social fundraisers, and customize donor profiles for each of your supporters.
Best Features of this Software for Nonprofits
Kindful stands out among other nonprofit software with its tracking and reporting features. Kindful understands that when you fully understand your data, you know the best steps to take.
Always know what your most loyal donors are up to with Kindful's activity tracking. From a centralized dashboard, you can see the latest transactions and other activities. With real-time insights, you have easy access to the current donor lifecycle analytics.
Additionally, with both pre-built and custom reports, you're always working with the most updated and comprehensive information.
Why We Recommend this Nonprofit Software
With over $5.6 billion donations tracked and a 97.5 customer satisfaction rate, it's hard to not immediately turn to Kindful. Turn your numbers and metrics into meaningful insights and better understand your donors with Kindful!
Pricing
Kindful's price depends on the size of your nonprofit. Take a look at your nonprofit's current state and use this scale to determine the best price for you.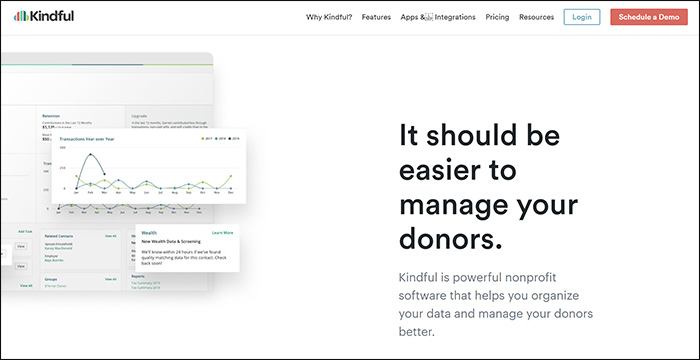 ---

8. MatchMaker, an Arreva Company | Best Nonprofit Software for Donor Relationships
Nonprofit Software Overview
MatchMaker was originally a simple fundraising solution for smaller to mid-size nonprofit organizations. However, after being acquired by Arreva, MatchMaker's unique features are supplementing the larger, more comprehensive solution.
Arreva's MatchMaker works to help nonprofits grow and manage their donor relationships. With a solid and loyal donor database, your nonprofit can more effectively reach their fundraising goal and grow.
Best Features of this Software for Nonprofits
With Arreva's MatchMaker, your nonprofit organization can:
Facilitate peer-to-peer campaigns. Some of your volunteer fundraisers are likely going to be loyal donors so ensure you're providing an enjoyable experience for them.
Manage your volunteer list. If your nonprofit often hosts volunteer opportunities it's a good idea to have a tool to help.
Communicate with donor segments. Make sure you're always sending targeted and personalized content!
Effectively manage and grow your donor relationships with Arreva's MatchMaker!
Why We Recommend this Nonprofit Software
Your donor relationships are in good hands with MatchMaker, an Arreva software. With its flexible online donation options, you're sure to anticipate all of your donors' needs. You can even let donors pick where their gift is going if you have multiple campaigns.
Pricing
Arreva's price is dependent on your nonprofit's size and budget. Check out their pricing page.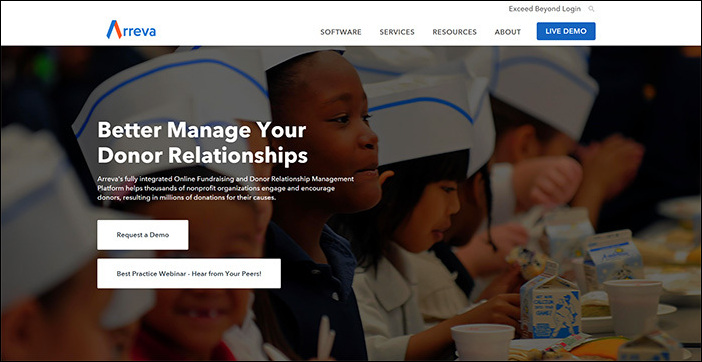 ---

9. Leaderosity | Best Nonprofit Software for Learning Management
Nonprofit Software Overview
Leaderosity by The Nonprofit Leadership Alliance is a learning management system (LMS) built specifically for nonprofit use. Organizations can use this software to expand training, enhance skills, and develop leaders.
This platform is the perfect place for nonprofits to leverage educational resources that enhance their mission while engaging staff, volunteers, community members, or other industry professionals.
Best Features of this Nonprofit Software
Leaderosity offers all of the features necessary for an effective learning management system to engage its users. Some of these amazing features include:
Personalized learning paths. Allow users to work at their own pace and provide updates as to their progress towards goals with engaging learning paths.
Streaming and downloading capabilities. Engage your audience with livestreaming sessions directly through the learning platform. Plus, encourage them to download resources for future reference.
Permission-based access. Give your learners their own permission-based accounts to track their learning progress. Or, offer a single access code for an entire group to gain access to the same content that they need.
Event registrations. Are you hosting a conference or an educational event alongside your learning platform? Ask supporters to register for the event on the same platform where they complete their other learning activities!
Nonprofit Leadership Alliance believes in the Leaderosity platform so much that they use it for their own credential courses as a part of the CNP (Certified Nonprofit Professional) program.
Why We Recommend this Nonprofit Software Solution
Not only is Leaderosity a comprehensive and effective LMS platform, but it's also hosted by a group of nonprofit experts who specialize in nonprofit training activities. The Nonprofit Leadership Alliance team will do all of the heavy lifting on behalf of your organization, making the implementation of this software the easiest part of the process. They'll convert your existing educational materials or help you create new ones depending on your goals.
Pricing
Contact The Nonprofit Leadership Alliance to learn more about their comprehensive LMS platform, Leaderosity.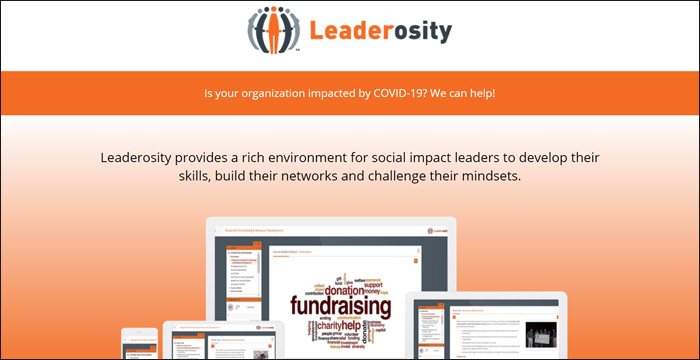 ---
Now that you have our top picks for nonprofit software, your organization will be running more smoothly than ever!
Additional Resources
If you're interested in learning more about improving your nonprofit, check out these resources: