Managing a nonprofit organization takes patience, hard work, and above all, a lot of organization. From managing peer-to-peer fundraisers to properly marketing your organization online, there's an endless number of things on your to-do lists.
Luckily, there's a software solution for every need you encounter. For everything from accounting to fundraising, there's software ready to pick up the administrative load weighing you down.
Check out these top nonprofit software providers:
Read on to learn which software solutions can help your organization run smoothly and more efficiently!
Take your fundraising to the next level with Qgiv's comprehensive suite of nonprofit software. Qgiv offers all the tools your team will ever need to engage donors and raise more funds. See Qgiv in action. You can learn more about Qgiv by
requesting a demo
today.

1. Qgiv – Best Nonprofit Software
Nonprofit Software Overview
Qgiv's nonprofit software is easy to use and adapts to your nonprofit, meaning it grows as you do!
Qgiv offers nonprofits the chance to really engage and recognize their donors with customized and inspirational donation pages.
Plus, Qgiv will help your organization focus on making the donation process as easy as possible. Send custom thank-you's and receipts, and use their mobile giving, social sharing, and embeddable widget options, too.
Best Features of this Software for Nonprofits
We're obviously a little biased… but we do work really hard to make our software the best possible solution for nonprofit fundraisers regardless of their organization's size.
What's the best part about Qgiv? It's hard to pick, but we have to mention there are absolutely no limits on your online giving software. That means:
Unlimited donation forms
Unlimited simple events
Unlimited users
Unlimited training
Unlimited live support
With Qgiv, there's no need to worry about fundraising out of the scope of your software because your software will expand as you and your campaigns do.
Why We Recommend this Nonprofit Software Solution
Qgiv has practically everything any nonprofit could need. From peer-to-peer fundraising solutions to giving kiosks, Qgiv has your back for fundraising and more!
Pricing
Qgiv has multiple packages, so your organization can find the one that suits you best. Our pricing is as follows:
Start: $0/month, 3.95% and 30¢ per transactions
Grow: $49/month, 3.95% and 30¢ per transactions
Mobile Suite: $99/month, 3.95% and 30¢ per transactions
Peer-to-peer: $199/month, 3.95% and 30¢ per transactions, peer-to-peer add 1%
Impact: Contact for rates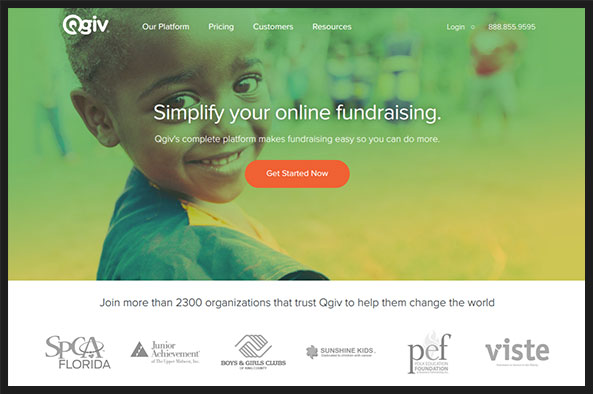 2. Double the Donation – Best Nonprofit Software for Matching Gifts
Nonprofit Software Overview
Double the Donation's nonprofit software strives to help nonprofits maximize their donations through matching gifts.
Matching gifts are part of a corporate program enabling companies to match their employees' donations to eligible nonprofits. Unfortunately, only 1 in 10 eligible donors submits their request to have their donations matched, so nonprofits are losing out on contributions.
Double the Donation identifies eligible donors and then helps them submit their matching gift requests so your organization sees as much profit as possible.
Best Features of this Nonprofit Software Solution
Double the Donation's software includes a widget you can easily insert on your website or donation form. Their widget helps your donors easily identify their employer's eligibility by typing in the company name.
Why We Recommend this Software for Nonprofits
Double the Donation has worked with scores of nonprofits ranging in size from Ridgefield Library to the Leukemia and Lymphoma Society. From one-man shows to multi-officed organizations, Double the Donation holds furthering your cause by means of matching gifts at the top of their priority list.
Pricing
Double the Donation offers two plans so you can find exactly what you're looking for. Their pricing is as follows:
Basic: $299/year
Premium: $499/year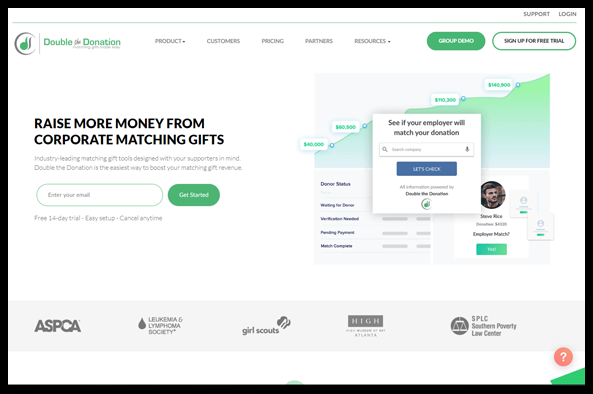 3. DonorSearch – Best Nonprofit Software for Wealth Screening
Nonprofit Software Overview
DonorSearch's wealth screening tools are stellar additions for nonprofits interested in donor relationships, retention, and stewardship.
Advertised as having the "highest accuracy rate in the industry," DonorSearch's data is 70% accurate, which is as accurate as wealth screening data can be without manual verification. On top of that, their specialists will review as many records as your organization needs, bumping their accuracy rate up to 90%.
With great philanthropic reviews, a prospect generator, daily screenings, and more, how can anyone say no to DonorSearch?
Best Features of this Nonprofit Software
Their prospect generator helps increase your donor base by finding new prospects who are already interested in your cause. Your results will include individuals who have given to similar nonprofits or causes.
Why We Recommend this Nonprofit Software
Aside from DonorSearch's success rates, your nonprofit can receive unlimited training for your DonorSearch software.
Pricing
Contact DonorSearch for a quote on their wealth screening tools. Don't forget to try out their free demo with a DonorSearch team member, too!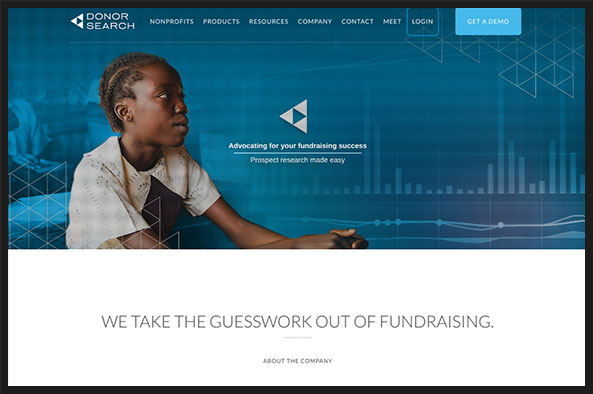 4. Bloomerang – Best Nonprofit Software for Donor Database Management
Nonprofit Software Overview
Bloomerang is a donor management solution whose focus revolves around creating stronger donor retention rates and strategic donor management practices. They have pooled together the industry's various best practices to help nonprofits decrease donor attrition and increase their revenue.
Bloomerang uses the latest technologies to present a clean interface and a cloud-based system and can help your nonprofit enhance its donor loyalty.
Best Features of this Nonprofit Software
Of the many features that Bloomerang offers, you should absolutely take advantage of:
Interactive dashboards. Review your donor retention rate and track your campaign's success.
Constituent timelines. Bloomerang's timeline visually represents all interactions at both individual and organizational levels.
Giving summaries. View a constituent's past giving to your organization, and their current engagement level.
Smart reports. Create comprehensive reports with just a few clicks!
Bloomerang also integrates with Qgiv's platform, which can help your nonprofit get an even more accurate picture of how your donor base is performing!
Why We Recommend this Nonprofit Software Solution
Unlike other heavy-duty CRMs, Bloomerang doesn't prioritize complicated customization capabilities. Instead, it relies on simple integrations to offer users the functionality they need.
Pricing
Bloomerang's pricing is simple and straightforward:
0 – 1,000 records: $99/month
1,001 – 5,000 records: $199/month
5,001 – 15,000 records: $299/month
15,001 – 25,000 records: $399/month
25,001 – 40,000 records: $499/month
Lighter options are also available for smaller nonprofits just starting out.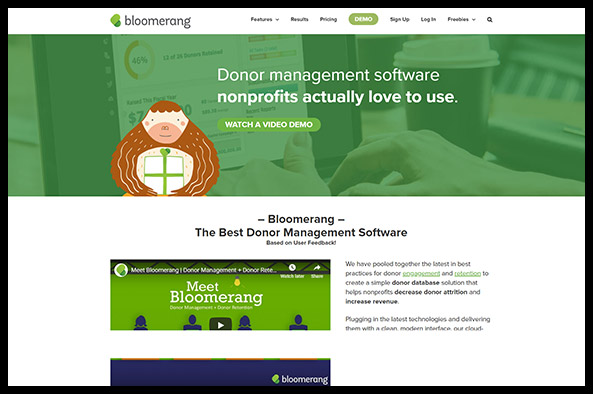 5. DonorPerfect – Best Nonprofit Software for Fundraising Growth
Nonprofit Software Overview
DonorPerfect is a donor management system (CRM) that offers tools to help grow your donor community and build your fundraising capacity.
It's completely customizable to the needs of almost any nonprofit type and allows you to manage your donor data and raise more money in the most effective way possible.
Best Features of this Nonprofit Software
DonorPerfect offers a variety of great features, including:
Data management
Fundraising tools
Gift processing
Reporting
Implementation, training, and support
Payment services
Online forms
Why We Recommend this Nonprofit Software Solution
DonorPerfect's client services team helps you from the very first day, whether you want to learn a new feature, optimize your database, or just get started. Your specialist will get to know you and your organization so they can help you determine your next best steps in using the platform.
Pricing
Visit DonorPerfect's pricing page to request a quote tailored to your specific needs.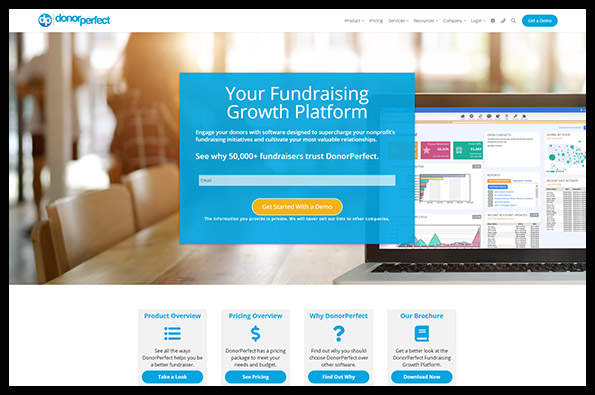 6. ClearView CRM – Best Nonprofit Software for Constituent Relationship Management
Nonprofit Software Overview
ClearView CRM is a cloud-based CRM, fundraising software solution, and donor database. It's easy to use on any device, and gives you the data and tools you need to grow constituent devotion.
Best Features of this Nonprofit Software
Out of all of ClearView CRM's offerings, their constituent relationship management stands out with these great features:
Opportunity management
Activity management
Prospect research
Demographic data
Duplicate resolution
Analytic reporting
Volunteer management
Direct/online communications
Why We Recommend this Nonprofit Software Solution
ClearView CRM is highly customizable and fully integrates with Qgiv's platform. It also offers features like list segmentation and extensive reporting options, which can streamline efficiency for large organizations.
Pricing
Contact ClearView CRM for a quote on their nonprofit software!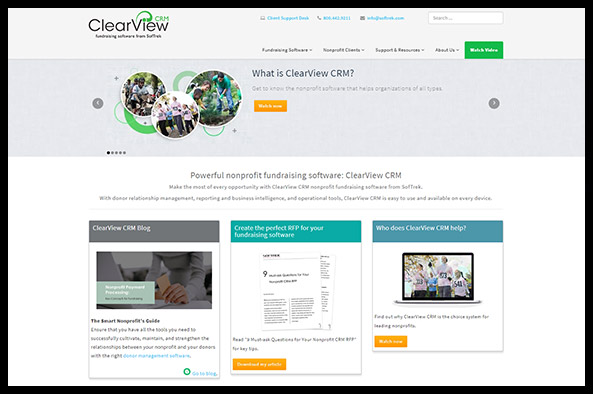 7. Fonteva – Best Nonprofit Software for Event Management
Nonprofit Software Overview
Perfect for nonprofits who are already using Salesforce, Fonteva offers easy-to-use, easy-to-integrate event management software better known as Fonteva Events.
This cloud-based solution was built on Salesforce, so there's no hassle to integrate software solutions. Perfect for any kind of event (multi-day, multi-session, etc.), Fonteva Events can handle your most complex pricing rules for event tickets and your most simple announcements.
It also has an intuitive event setup process that includes registration flows. Manage your speaker, sponsor, vendor, and venue details all in one central location, and connect with Fonteva's 90+ payment processors to find the best fit for your organization.
Best Features of this Nonprofit Software Solution
Fonteva has a list of amazing and crucial features needed to host a stellar event:
Event management. Use Fonteva's event setup wizard and manage exhibitors, sponsorships, venues, speakers, and vendors.
Attendee management. Create and access schedules, attendee agenda builders, and wait-lists.
Advanced registration. Fonteva offers on-the-go registration, an advanced pricing engine, payment processing, ticketing, and more.
Event marketing. Get access to mobile-ready event micro-sites and a customizable form launcher.
eCommerce. Use Fonteva's full revenue accounting, eStore, single shopping cart, order management feature, and online donations capabilities.
Reports and dashboards. With an easy drag and drop report setup, there's nothing your organization can't report on!
Why We Recommend this Software for Nonprofits
Fonteva is used by over 23,000 nonprofit organizations and higher education institutions and is built on Salesforce, making it a perfect fit for nonprofits who already use Salesforce.
Pricing
Contact Fonteva for a quote on their Fonteva Events solution.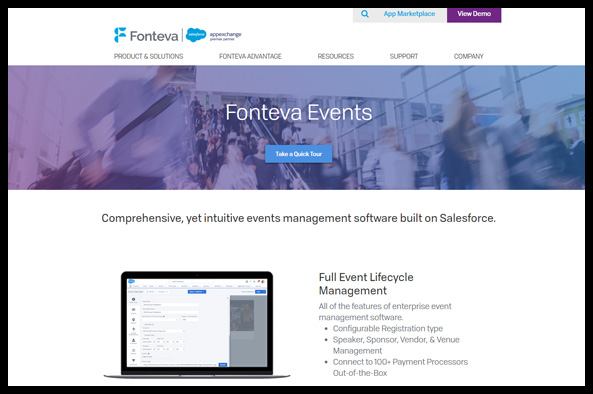 8. 360MatchPro – Best Nonprofit Software for Marketing Matching Gifts
Nonprofit Software Overview
360MatchPro is the ideal nonprofit software for marketing matching gifts across multiple nonprofit channels.
360MatchPro states that they "automate the three essential components of a successful matching gift program," which are automating identification across your fundraising, driving matches to completion, and creating actionable insights with next steps.
Their software helps automate your outreach through triggered email reminders and sends one-off emails for personal approaches.
Best Features of this Software for Nonprofits
360MatchPro wants your nonprofit staff members to spend their time in the most beneficial and efficient manner, which is why they help you identify match opportunities as quickly as possible, update your documentation, and even track new donors!
Why We Recommend this Nonprofit Software
This software focuses on spreading the word about matching gift eligibility. With 360MatchPro, you can easily identify eligible donors through their email domains and configure automated matching gift related messaging for them.
Pricing
Contact 360MatchPro for a quote on their nonprofit software.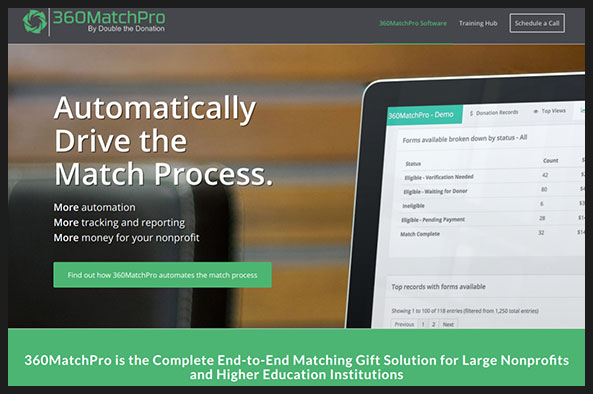 9. Morweb – Best Nonprofit Software for Web Design
Nonprofit Software Overview
Morweb is a content management system built specifically for nonprofits and associations. It offers web design tools, as well as partners with a full-service web design agency.
Best Features of this Nonprofit Software
In addition to online donation tools, event modules, and CRM integration, Morweb offers for your web design:
Easy content updating
Image optimization
Customizable layouts
Simple blogging
Image sliders
Social media integration
SEO tools
Why We Recommend this Nonprofit Software Solution
Morweb is intended for users without a technical or design background. No coding experience is necessary, and you can easily use the drag-and-drop frontend designer. This makes long-term maintenance easier, and nonprofits and associations can use the other built-in features meant for their market, such as online donations.
Pricing
Morweb offers three pricing plans for all organization sizes:
Smaller nonprofits: $99/month
Growing nonprofits: $149/month
More sophisticated websites: $199/month
Morweb also offers bulk pricing for larger organizations.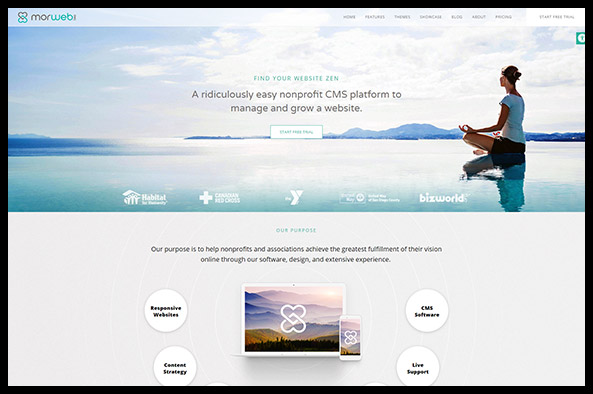 10. Cloudways- Best Nonprofit Software for Cloud Hosting
Company Overview
Cloudways is a Managed Cloud Hosting Platform that takes care of all aspects of hosting the nonprofit websites including security, deployments, and upgrades so that you don't get your hands dirty with all the technical stuff and focus on creating a greater impact.
With Cloudways, you can host your website on any of the top-tier IaaS providers such as Amazon Web Services (AWS), Google Compute Engine (GCE), Digital Ocean (DO), Linode and Vultr.
Best Features
24×7 Caring & Expert Support
Top Five Cloud Providers
1-Click Scaling
Built-in CDN
1-Click Free SSL Certificate Installation
Dedicated Security
1st Migration Free
Why We Recommend Cloudways
Cloudways comes with a powerful feature set, and you can scale hosting resources as your nonprofit organization grows. Their infrastructure is optimized for speed, performance and security.
Pricing
With Cloudways you only pay for what you use. Cloudways' flexible pricing starts at $10/month. For eligible nonprofits, Cloudways offers 20% Off for one year.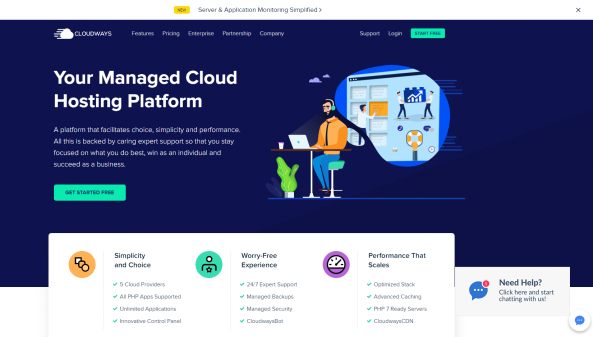 ---
Now that you have our top picks for nonprofit software, your organization will be running more smoothly than ever!
Additional Resources
If you're interested in learning more about improving your nonprofit, check out these resources: