Processing fees are applied to every transaction made online. Unfortunately, that usually also applies to your donations. How can nonprofits pay less in processing fees and keep more of the donations they receive? The answer is using online donation software that includes the option for donors to help offset processing costs. Qgiv clients have this option with Qgiv's GiftAssist tool.
How Qgiv's GiftAssist tool works
GiftAssist works by asking donors to add a small amount on top of the donation they're making, which is calculated according to a set percentage or a flat fee added to their gift. That additional gift helps offset processing fees applied by merchant processors.
Qgiv users can set the GiftAssist rate at up to 6% of the entered donation amount or a flat fee up to $10.00. By offsetting the processing cost, the nonprofit can keep more of the donor's original transaction.
Donors who elect to use the GiftAssist tool to offset processing fees choose to give more to offset the costs of doing business so their donation can make a bigger impact. Here's a closer look at how it works.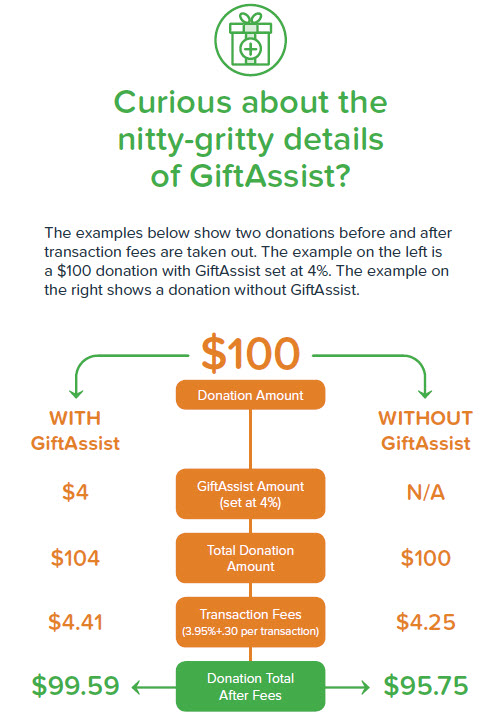 Benefits of Qgiv's GiftAssist tool
GiftAssist is an optional tool available to all Qgiv users at no cost. We strongly encourage nonprofits to enable and use GiftAssist on their donation forms. Why? Because each donor who opts to give a little more with GiftAssist saves your organization money you can use to achieve your goals.
Using Qgiv's GiftAssist tool helps by:
Retaining more of each donation's value for its intended purpose
Encouraging donors to give more so that their gifts go further
More money toward your mission means a greater likelihood of achieving it.
By empowering donors to offset your processing fees, you're giving them the option to ensure their gift makes a larger impact. Knowing that more of their donation is going toward funding crucial services you provide is a great way to keep donors confident in their decision to support you. Donor confidence leads to increased retention and growing gifts.
How to get donors to use GiftAssist
According to Qgiv platform data, over 50% of donors giving on forms that offered a way to offset fees elected to give a little more via GiftAssist.
GiftAssist can be deployed on every Qgiv form and event page. It appears as a checkbox encouraging donors to add a small additional donation to their gift. If you set a flat fee, you can set custom messaging to display that dollar amount. If you set a fee percentage, it will calculate the amount for them and display what the additional fee would be. But how can you ensure donors will adopt GiftAssist? Use these tips to increase use of this tool.
Be transparent
It's not enough to add the GiftAssist tool to your form. Let donors know why you've added it and explain why you've set the additional fee the way you have. By being transparent, you're able to make a persuasive argument for support and assure donors that this second small gift isn't necessary, but optional. Let donors in on how you calculated the fee amount and explain what you hope to achieve by offsetting processing fees.
Explain how GiftAssist helps
Part of being transparent is explaining how GiftAssist helps. You can prove the value of GiftAssist by sharing with donors how much your nonprofit pays on average in processing fees to merchant processors. Explain this is one of the costs of doing business and that some donation funds are taken to pay processing fees instead of helping your mission. The GiftAssist tool adds a small amount to donors' gifts to offset those fees so more of their donation goes to helping those your nonprofit serves.
Show GiftAssist's value
After deploying GiftAssist across your forms, share with donors how much GiftAssist donations have helped. This is as simple as sharing the dollar amount you saved on processing fees for the month. Compare that against the total dollar amount of donations received to show how much more money was applied to programs because of donors going the extra mile. Showing your donors the impact of adding this additional fee can make them more inclined to use GiftAssist regularly.
Conclusion
Don't worry about donors not adopting Qgiv's GiftAssist tool. Many donors are more than willing to add an additional donation to offset processing fees–especially Millennials! The only thing stopping them is the option missing from your forms. The messaging for the GiftAssist tool is fully customizable and Qgiv users can choose the fee % or dollar amount. You're in control over the message you send to your donors and how much you're asking them to add to their donation. Use tools like GiftAssist to start saving on the costs of doing business so more of your donations can go to work benefiting those you serve.
To learn more about the Qgiv fundraising platform (and helpful tools like GiftAssist), contact us to set up a personal tour tailored to your organization's unique needs.