Love them or hate them, Millennials are a compelling generation. Whether they're killing the diamond industry or feuding with their Baby Boomer counterparts, Millennials and their behaviors have dominated headlines and think pieces for years. Say what you will about their spending habits and work styles—Millennials are poised to be a major force for good over the coming years.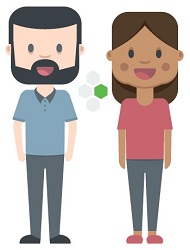 When their Boomer parents pass, Millennials will be the beneficiaries of one of the biggest wealth transfers in American history. They already enthusiastically support nonprofits, and their ability to support them will only grow in the future. How can nonprofits engage Millennial donors now and in the years to come? The secret is in the data! Here's what we found.
If you want to learn more about the other generations we surveyed for the study, you can read about them here:
Giving is immensely important to Millennials
When we asked Millennial donors what motivated their long-term support of specific nonprofits, 23.3% said they wanted to be known for their philanthropy and that giving was an important part of their legacy. 23.3% said they were motivated by having a good relationship with the staff at the nonprofit they chose to support. Many Millennial donors view their philanthropic activities as a central part of their identity, and many of them are motivated to support nonprofits if they have a relationship with the staff at the nonprofits they love.
This tells us two things. One, Millennials are concerned with making an impact on the world and see their philanthropic activity as an important part of their identity. And two, Millennials are invested in the people at a nonprofit more than the nonprofit as an organization.
How to attract Millennial donors
Millennials are the donor group that's most likely to research a nonprofit before they decide to make a gift. 66% of the Millennial respondents to our survey indicated that they look into an organization before donating, so it's important to give them the information they want. The largest percentage of Millennial donors said they prefer to see impact reports from nonprofits (22.4%), and 21.1% indicated that they looked for financial reports. They usually look for that information on a nonprofit's social media channels (26.8%) and in local media (21.8%). If you want to attract Millennial donors, be sure to share stories about how donors' money has made a tangible difference through your nonprofit. Those stories should go both on social media and to your local news outlets! Take a few minutes to post your financials somewhere visible on your website, too. This also helps you appeal to Baby Boomer donors!
As a general rule, Millennials prefer to give digitally. The largest percentage of our Millennial respondents prefer to give via text message or on an app (29.9%) and the next largest preferred to give online (23%). So, once you've gotten your Millennial donors' attention on social media or local news outlets, make it easy to give by text or online. You can do this by periodically including links to your donation form on your social media channels, making it easy to locate your donation button on your website, and have a text-to-donate keyword ready to share in commercials and news stories.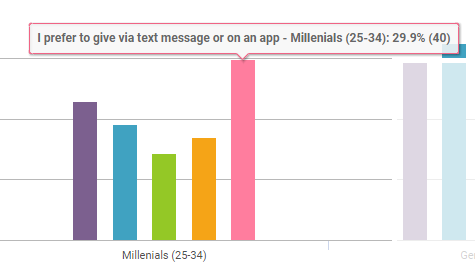 Perhaps because they've embraced social media, Millennials are the generation most likely to donate during Giving Tuesday. 38.3% of Millennial donors indicated that they donated during 2019's Giving Tuesday, and the average Millennial donated to 2-3 different organizations. If you're thinking about participating in an upcoming Giving Tuesday, be sure you spend time sharing your campaign and impact stories on social media!
One more fun thing about Millennials—they're the demographic most likely to give a few extra dollars to offset the processing fees associated with their gift. 63.6% said they would add that money to their gift! Try adding the option for donors to give a little extra to make sure more of their intended gift amount goes to the community and cause they want to support.
How to keep your Millennial donors
Millennials want to know that their gift matters! That's why they're so motivated by seeing impact reports and financial statements—they want to know the money they give makes a real difference. As a matter of fact, feeling like their gift didn't matter was the #1 reason Millennial donors stopped giving to a nonprofit they had supported long term. Other than not being able to afford to continue their support, the next most common answer was that they stopped giving because they no longer felt connected to the mission.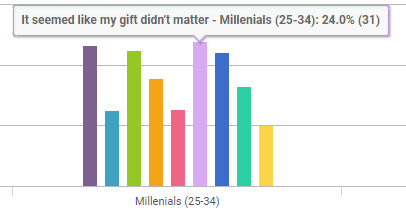 Keep your Millennial donors engaged by sharing updates about what their money accomplished and reinforcing the feelings that inspired them to give to you in the first place. Share success stories, tell them how their support helped improve someone's life, and make them the hero of your story. True to form, your Millennial donors generally prefer to see these updates on social media! They also really appreciate personal telephone calls, so pick up the phone and call someone if you really want to make a positive impression on them. Remember, Millennials are often motivated by having personal relationships with nonprofit staff, so those personal phone calls can be a huge deal. You might also want to try changing the email address you use to send newsletters and email updates to a person's name instead of your organization's name.
Conclusion
Millennials' giving capacity isn't quite as great as their Generation X and Baby Boomer counterparts. But they're still an important demographic who is poised to become even more important in the coming years! Most of this generation is in their 30s, building families, and pursuing careers. They're a passionate group of donors who want to know their giving makes a difference. Connect with them online through social media, show them the impact their gift can make, and make it easy for them to support you digitally. After they give, show them how their gift made a difference and make an effort to keep them emotionally invested in your mission.
Want to learn more about Millennials' and other generations' preferences? Download the complete study!