These days, nearly everyone is on at least one social media platform. Whether they're liking, retweeting, or pinning, social media users are everywhere. 
Social media posts were the #1 drivers of charitable giving for our respondents, and it can't be ignored that Facebook is still the social media giant. Despite declining teenage involvement in recent years, many people still use Facebook to connect with each other, businesses, and nonprofits. 
Your organization can ask for donations in any number of ways and using Facebook to solicit contributions is just one of the tools that your nonprofit should have in its toolbox. 
You'll want to:
Take a look at the following best practices for asking for donations on Facebook!
1. Start with a strong Facebook presence
It's going to be tricky to ask people for donations on Facebook if your organization's page isn't up to par or doesn't have an audience. 
As with any strategy for asking for donations, you'll need to start with those closest to your organization and move outward. Invite the members of your nonprofit team, your donors, volunteers, and organizational leadership, to like your Facebook page to form a solid base. 
Ask those closest to your nonprofit to invite their own friends to like your Facebook page as well, and make sure that you have a way for other individuals to find your Facebook page through other communication channels and on your website.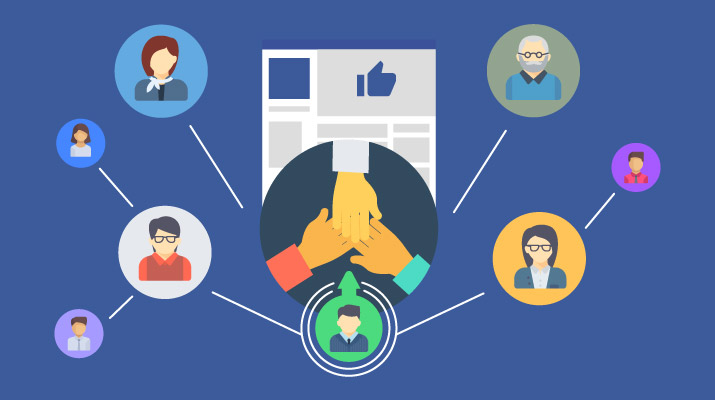 An easy way to do this is to start an awareness campaign. Because Facebook content is inherently shareable, the use of an awareness campaign on Facebook encourages your followers to share a status or post that you create.
This can be an image, a video, or just a status. As long as the information is about your nonprofit and the work you do, the medium can differ. The goal is to get as many people as possible to share the content. This increases your nonprofit's visibility on other people's newsfeeds, resulting in more likes and potentially more donations.
Having a strong Facebook presence is crucial, but it's important to remember that likes don't translate into automatic donations. Posting regular content and engaging with your followers helps cultivate new donors and steward the ones you already have.
2. Post regular content on Facebook
One of the most important steps in Facebook fundraising is to post regular content that encourages your followers to engage with your organization. 
Posting content on Facebook regularly can take a variety of forms. Let's take a look at each of those separately. 
Straightforward Appeals
Let's get this point out of the way first. If you want to raise more money by using Facebook fundraising, you have to ask for donations. Plain and simple. Don't just post "Give us your money," though. 
A good, straightforward appeal incorporates a combination of: 
Visual content (pictures or videos).

 

Links to your donation page or general website.

 

Information about what the donations are going toward.

 

Data about current progress and donations needed to reach a campaign goal (when applicable)

 
Take a look at our example of a Facebook post from Qgiv's peer-to-peer fundraising software: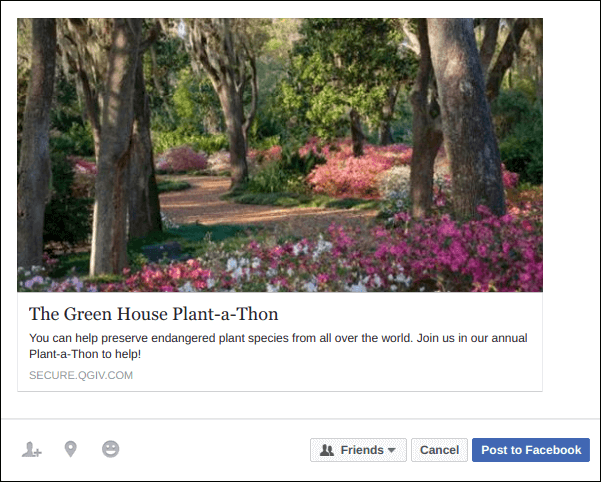 It's important to use visual content in your Facebook posts. You have to find a way to rise above the noise of everyone else's updates, photos, and statuses. Creating eye-catching images and graphics within your appeals will help draw more people to your posts and consequently, to your donation page. 
It's not a good idea to only post appeals on your Facebook page. Followers will quickly tire of your posts if all they see are asks for donations. Instead, vary your content day by day to give followers updates and success stories. 
Thank You Posts
Every once in a while, you should highlight an individual donor or business on Facebook that contributed to your organization. 
Not only does this allow your organization to give a shout out to your loyal supporters, but it also might encourage other followers to make their own contributions. 
Success Stories
If your organization completes a project or hosts a successful event, share that moment with your followers. They'll enjoy seeing the tangible results of other people's donations and will be motivated to make their own contribution. 
For instance, if your organization works to help abandoned animals find a new home, post updates whenever a puppy or kitten is adopted. Not only will the adorable pictures appeal to your followers, but they'll be able to directly see the work you're doing. 
By posting a variety of content on your Facebook page, you'll be able to increase your visibility to followers. By incorporating a mixture of straightforward appeals, thank you posts, success stories, and other types of content, you will capture your followers' interests. This interest can then translate into more donations and successful Facebook fundraising. 
3. Add a donation tab to your Facebook page
While Facebook itself lets registered nonprofits who enroll in Facebook Payments the ability to add a donation button to their page, your nonprofit can have the same function by using Qgiv's donation tab feature! Plus, with Qgiv's donation tab your nonprofit will receive more donor data—making thank yous and analyzing your fundraising results much easier!
With a donation tab, your followers can make contributions right on your Facebook page using the same secure Qgiv donation page that you already have on your website. Catch your donors while they're impacted by your Facebook's compelling photos and videos of your organization hard at work. Your donation tab will encourage them to give and your Facebook form will be right there waiting to collect their donations!
Adding a donation tab to your Facebook page is a good way to encourage donors who want to make a quick contribution. Instead of redirecting them to your online donation page, you can simply ask them to give directly on Facebook. 
Including information about your donation tab in your Facebook posts and donation asks is the key to Facebook fundraising. It will encourage followers to take advantage of this easy giving method. 
While Qgiv's donation tab is the easiest way to incorporate Facebook fundraising into your nonprofit's existing social media, you can also use Facebook's built-in fundraising features. These features make it easy for supporters to fundraise on your behalf. Let's take a look at the steps to creating a fundraiser on Facebook! 
Step 1: Select "Resources & Tools" from the navigation that pops up on the left when you visit your page. 
Step 2: Click on "Raise Money" to begin! 
Step 3: Select "Raise Money" again. 
Step 4: Choose who you're raising money for. 

Step 5: Search for your nonprofit. 
Step 6: Create and publish your first post! 
You can even add a donate now button directly onto your nonprofit's Facebook page in just 3 easy steps:
Choose the "Edit call to action" option on your page.
Under "Choose a Button," select "Donate Now."
Insert the link to your organization's donation form.
Catch your donors while they're impacted by your Facebook's compelling photos and videos of your organization hard at work. Your page will encourage them to give and your Facebook form will be right there waiting to collect their donations! 
Providing donors with the tools to ask for donations on Facebook can help you raise more funds long-term. Plus, donors who are comfortable with social media fundraising are likely to bring huge returns during the peer-to-peer fundraising or crowdfunding campaigns that your nonprofit officially hosts.
Facebook — as we've discussed previously — is a great way to capitalize on your donors' extended networks.  Which is why it's so important that both your organization and your donors are familiar with the fundraising ropes!
4. Track your Facebook insights
Once you've established a presence on Facebook and have implemented the aforementioned best practices, make sure that you're tracking your page's insights.
Some key insights to look into include:
Overview. This will be the landing page in your Facebook insight page. You'll be able to see how many recent likes you have, the reach of your posts, and how many people are interacting with your content with the help of a general graph.

Reach. This will tell you how many people your posts have reached through organic means as well as paid advertisements on Facebook. You'll also be able to look more closely at your likes, comments, and shares over time.
Posts. You can determine when your followers are online as well as which statuses, links, and photos have the best reach, clicks, likes, comments, and shares.
Although keeping track of your insights is not a direct way to ask for donations, it will allow you to determine which of your posts are most effective at reaching your followers, which ones they are engaging with, and when they are responding to those posts.
By following these four best practices for asking for Facebook fundraising, you will be able to grow your donor base and collect more donations with the help of the largest social media platform on the web. Happy asking!
For more help, check out these nine tips for asking for donations.

Additional Resources
To learn even more, check out these resources:
Navigating the Unknown

.

 Looking to build resilience into your fundraising campaign? Check out this report featuring data from nonprofits and donors around the country to help you plan with confidence.

 

Creating a Giving Campaign.

 Creating a giving campaign strategy requires careful planning. Read this guide so you can set your annual giving campaign up for success!

 

Qgiv's Peer-to-Peer Fundraising Guide.

 Social media is one of the best ways to host a successful peer-to-peer fundraiser. Take a look at this guide for helpful tips and pointers.