Want to bring your fundraising to the next level? Enlist in Boot Camp
The new year brings an opportunity to revitalize and refresh your organization's fundraising and supporter engagement strategy. With the continued ups and downs of 2021, this is the perfect time to step back, review your goals, and start planning a giving campaign.
A giving campaign is a multi-channel effort that nonprofit leaders implement to raise money for a focused cause. However, it needs a comprehensive and fleshed out gift solicitation and donor retention strategy in order to be pulled off successfully and bring your nonprofit value.
You should always start any new campaign with key research, so you've come to the right place. This guide will walk through the following:
Let's start off with a simple definition.

 What is a Giving Campaign?
A giving campaign is a focused effort to raise funds for a specific cause in your nonprofit. Giving campaigns span multiple strategies, fundraising ideas, and engagement tactics that leaders implement. This can include different channels to steward donors as well as the tactics you use for solicitation and fundraising.
The most common area where we see giving campaigns is to support a nonprofit's annual fund. (We'll be looking at giving campaigns through the lens of an annual campaign, but they can also be used for capital campaigns or even year-end-giving!)
An annual giving campaign is a multi-faceted and consistent effort to increase the revenue going into your nonprofit's annual fund. In order to sustain an ongoing annual giving campaign, a focus on donor relationships and building loyalty is a must.
This type of campaign is especially important because:
The annual fund supports regular nonprofit operational expenses, including paying staff, paying office rent, investing in key nonprofit tools, and more.
It can increase your donor retention rate. Because of the focus on strengthening donor relationships, annual campaigns also see higher donor retention rates. It's actually much more cost-effective and beneficial to leverage current supporters than to acquire new ones. in fact, the average recurring donor gives 42% more in one year than those who give one-time gifts
Additionally, giving was actually projected to increase by 5.1% in 2021, and that trend could continue into 2022. With your giving campaign strategy fully developed, you can better leverage this philanthropic wave to increase the support to your own annual fund.
Restricted VS. Unrestricted Giving
Because your annual giving campaign can fund a number of different expenses for your nonprofit, many nonprofits will include the ability to donate restricted funds. As a refresh:
Restricted giving empowers the donor to pick the exact avenue to which their funds will go. For example, if they only want to support the salary of your staff, they can choose to do so.
Unrestricted giving automatically funnels the donors' gift to the organization's greatest need at that moment.
It's good practice to offer both options. Sometimes, donors will have a specific need in mind that they want to support. Not having the option for a restricted gift may even impede that initial desire to give, as they may be wary of what the nonprofit will do with their donation.
However, there will also be individuals that aren't quite sure about which project or need they want to support. With unrestricted giving, they know they're funding your organization's current top priority.

Setting Up an Effective Giving Campaign
A truly successful and valuable giving campaign can't be created in just one day. It requires serious consideration, help from your entire team, and preparation for the entire year.
Below is a quick snapshot of what this process might look like. Feel free to use this timeline as a reference to help keep you and your fundraising team on track. Keep reading to dive into each specific step.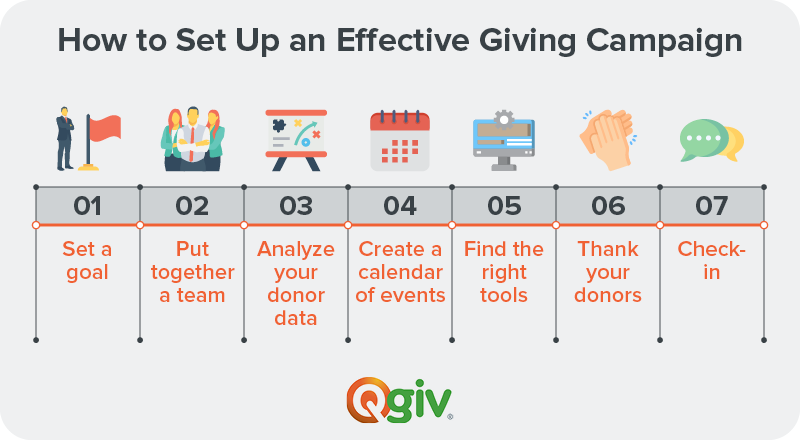 1. Set a Goal for Your Giving Campaign
Before you begin, you need to know the end goal of your giving campaign. Donors want to know exactly how their gifts are helping the organization, so fleshing this out is not only important to guide your campaign but to incentivize supporters and remain transparent.
However, this can be tricky with an annual campaign, especially since your annual fund supports so much of your essential operational costs. For some guidance, practice the SMART method to ensure your goals are achievable:
Specific
Measurable
Achievable
Relevant
Time bound
Additionally, consider breaking down the fundraising goal by project so that donors know where their gift is going. On top of that, break down how you'll receive these gifts. It's helpful to have separate major, mid-range, and lower-level giving goals.
Along with a concrete fundraising goal, your giving campaign should stay focused on developing strong donor relationships. Your fundraising goal can help guide the ways you steward donors to not only solicit gifts, but increase engagement.
2. Put Together Your Team
Your annual campaign is going to be one of the largest ongoing efforts that your nonprofit executes. Having a wide array of staff to help develop the various strategies that go into it's critical to its success.
However, this will likely look different depending on the size of your organization. Smaller nonprofits will usually have under $5 million in expenses, while larger ones can have expenses up to the billions.
For smaller nonprofits, it's likely that the majority of your staff will have their hands on deck. Since giving campaigns depend on many moving parts and outreach strategies, it's beneficial to have your entire team brainstorming and facilitating.
For larger organizations, you'll likely have one dedicated team for your annual fund. These should be experts in marketing, event management, website design, and more.
3. Analyze Your Donor Data
Before you implement your giving campaign strategy, you need to review your past data. Coincidently, the beginning of the year is the perfect time to analyze that data. Make sure to review how many current donors you have, how many recurring donors you have, how many major donors you have, the amount of your average gift, and more.
This data can help you:
 Set more concrete fundraising goals. For instance, using the SMART method you can ensure your goals are achievable. Note your average giving rate and set your goal to increase it by 5 or 10%.
Guide the strategies that you'll implement. If you notice that your recurring donor rate dropped, you might incorporate nudges to give regularly into your donation form. Or, if you see that many people use suggested giving amounts, you might subtly increase that number to incentivize supporters to donate more.
Having an effective fundraising database and management tools is necessary if you want to not only have accurate data to refer to, but also to help you compile reports and gather insights.
4. Create a Calendar of Events
Your giving campaign will span the entire year. In order to keep your staff on track, you need to create a calendar.
This calendar should include all major events and the dates during which strategic actions will take place. For instance, Giving Tuesday or any other "months/days/etc." related to your mission should be on the calendar.
This way, you know exactly when to start planning those events and ensure they go off without a hitch.
5. Find the Right Tools
Modern fundraising means that you'll depend on a vast array of tools and software solutions to automate essential tasks and facilitate your online engagements. The tools you use will likely be based on your giving campaign strategy and goals.
In general, you should find tools that can do the following:
 Text giving. With 96% of Americans now owning a phone of some kind, offering text giving is a great way for supporters to give on the go and when it's convenient for them. Look for tools that can do both text-to-give and text-to-donate.
Peer-to-peer fundraising. This is a great way to expand your existing supporter base. Your peer-to-peer tool should provide each participant with their own branded page to fundraise with.
Auction planning and management. Your online auction tool should allow attendees to bid on items, outbid others, and even check out the items. Make sure you have a mobile auction app as well, so that the experience is engaging across donor preferences.
Mobile-responsive donation pages. Over half of web traffic comes from mobile devices, so nonprofits who don't use mobile-optimized forms are missing opportunities.
Gift Assist describes when the donor agrees to pay the processing fee as a part of their overall donation. This helps reduce costs for your nonprofit and increases fundraising.
Matching gifts to take advantage of all fundraising opportunities. This can help you receive even more funds without having to ask your supporters to give again. You can even embed a searchable matching gift database within your donation page.
Integrations with other fundraising tools and engagement platforms. This ensures that your data remains centralized within your database.
We'll dive deeper into the best tools and solutions that you might use in the next section.
 6. Thank Your Donors
After a gift has been made, it's imperative that you show ample donor appreciation.
Remember, your giving campaign thrives due to meaningful and long-lasting relationships with donors. And, if this is a first-time donor, sending a thank you letter or email is the perfect way to start your engagement off on the right foot. You can even use this as the opportunity to show donors how to set up a weekly gift and become a regular giver.
Not sure how to properly thank your passionate supporters? Don't worry, we even have a dedicated guide to showing your donors love through thank you letters.
 7. Check In
Your job with your giving campaign is continuous throughout the year. To ensure that everything is going to plan, it's crucial that you conduct a monthly and quarterly analysis to ensure that you're staying on top of your goals.
This way, if you aren't garnering the expected results, you still have time to pivot your strategy and increase success for your giving campaign. 

Tools to Help You Rock Your Annual Giving Plan
We discussed this earlier in our "Find the Right Tools" step of creating a giving campaign, but it's worth diving deeper into the exact solutions and platforms that will help your fundraising and engagement efforts.
Your annual campaign will need a comprehensive and integrated fundraising system if you want to accurately track progress, collect key data, and continue to solicit donations. We recommend:
A dedicated fundraising platform. The Qgiv suite offers tools to help with donation forms, peer-to-peer fundraising, text giving, event management, auction management, and even in-person giving apps. With our all-in-one system, each part of your annual campaign is easy to customize and plan out. Create beautiful giving forms and connect with supporters with our effective communication tools to keep donors coming back and build those important relationships.
A constituent relationship management (CRM) system. This is the place where all of your donor and fundraising data will live. Ensure your fundraising platform can easily integrate with your CRM so that all of your data remains centralized and easily accessible. Some great CRMs that can integrate with Qgiv include Salesforce, Raiser's Edge NXT, Bloomerang, Neon, Kindful, and more.
A marketing design platform like Canva to help you create beautiful marketing and outreach materials. The better you can engage and connect with your donors, the more likely you'll retain supporters and build your annual fund.
With the right tools at your disposal, it's much easier to check in on your campaign and track its progress. This way, you know that the data is accurate and reliable and you can better determine which strategy is working and which might need to be altered.
Wrapping Up
To continue your research as you create the perfect giving campaign strategy for this new year, explore these additional resources:
Want to bring your fundraising to the next level? Enlist in Boot Camp