It's nice to talk about fundraising in the abstract and offer up best practices and tips for making the most of your fundraising techniques and tactics. However, sometimes it helps to have some numbers and figures thrown in with the abstractions. The best way to make an effective fundraising strategy for your nonprofit is to utilize data to give you a way to predict how a campaign will go.
Having said that, we've taken a look at some fundraising statistics that we think are very interesting and deserve to be brought to your attention.
General Fundraising Statistics
18% of Americans have said that supporting youth and family causes are most important to them.

12% said animals.
12% said medical research.
11% said education.
7% said disaster relief.
7% said human rights.
6% said the environment.
3% said global health.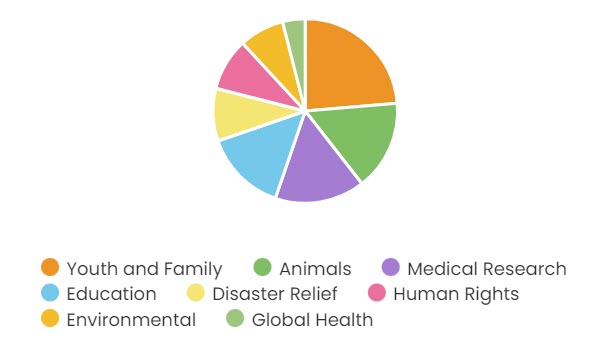 In 2021, donations to religious organizations increased by 5%. Education organizations saw a 2.8% decline of total giving.

27.5% increase of donations to arts, culture, and humanities organizations.
23.5% increase to public-society benefit organizations.
11% increase to environmental and animal organizations
7.7% increase to health organizations.

Men between the ages of 18 and 34 are more likely to make a charitable donation than any other group.
84% of Millennials donated an average of $481 to nonprofits in 2021.
Baby Boomers make up 43% of donations with 72% of Baby Boomers donating annually.
24% of Boomers say they were prompted to give an online donation because of direct mail they received.
The Greatest Generation is the generation most likely to give through direct mail campaigns and donate physical goods.
Direct mail is preferred by 16% of donors.
The average direct mail response rate is 9%.
Oversized envelopes have a 6.6% response rate.

Postcards have a 5.7% response rate.
Letter-sized envelopes have a 4.3% response rate.

Compared to impersonal direct mail, adding a person's name, full color and more sophisticated database information can increase the response rate by up to 500%.
The conversion rate for a combined direct mail and digital ad strategy tends to increase by 28%.
Nearly three out of four young adults are willing to raise money on behalf of an organization that matters to them.
The average American supports 4.5 charities.
Over 56% of Americans gave charitably in 2021.
In 2021, there was a 4.9% increase of donations made by individuals.

3.4% increase in donations made by foundations.
7.3 % decline of donations made through bequests.
23.8% increase of donations made by corporations.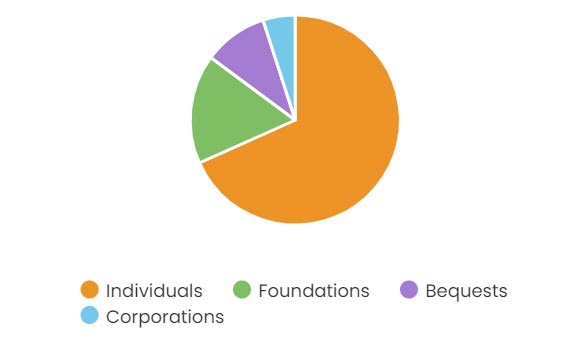 Individuals that earn $25,000 or less donate the largest share (16.6%) of their income to charity.
12% of all giving happens in the last three days of the year.
37% of all giving happens in the last three months of the year.
Monthly donors give 42% more in one year than one-time donors.

77% of nonprofits have a recurring/monthly giving program.

16% of nonprofits use a popup on their donation form to encourage becoming a recurring/monthly donor.
57% of donors participate in a monthly giving program.
46% of nonprofits offer tribute giving, such as memorials and birthdays.
Only 38% of nonprofits utilize a year-round retention strategy for online donors.
In 2021 there was a 6% increase in revenue from membership programs with defined, tangible benefits.
53% of online revenue for cultural nonprofits was from memberships.
There was an 81% year-over-year increase in membership revenue in 2021.
Those who landed on a membership page completed their contribution 14.67% of the time.

Comparatively, 8.97% of those who landed on a fundraising page completed their contribution.

88% of dollars raised comes from 12% of an organization's donors.
Giving increased by 4% in 2021.
Nonprofits process more donations between 10:00 p.m. and 11:00 p.m. EST than any other hour of the day.
Online Donation Statistics
Online donations made up 12% of all donations received by nonprofits earning less than one million dollars per year.
Online giving grew 9% in 2021.
28% of online donations were made using mobile devices.
67% of nonprofits use a CRM to track donations and manage communications with supporters and donors.

54% use an all-in-one CRM and online fundraising software.
46% use a separate CRM software and online fundraising software.

73% is the average adoption of CRMs among sales professionals.
47% of donors over the age of 60 give online.
Online donors aged 55 to 64 are the most generous crowdfunders.
75% of young donors are turned off by out-of-date websites.
Donations made on a branded donation form are, on average, 38% larger than contributions made through a generic PayPal page.
Supporters are nearly 70% more likely to give a second donation if they used a branded page the first time they made a contribution.
Online resources are considered 20% more useful than direct mail when it comes to influencing donors.
57% of people who watch nonprofit videos go on to make a donation.
Donors are 34% more likely to give on responsive websites.
41% of traffic to nonprofit websites came from organic traffic in 2021.
50% of online donation forms offer an option to cover donation processing fees.
94% of nonprofits accept online donations through their website.

91%: Credit card payments
53%: PayPal
44%: Direct debit payments, such as e-checks and bank transfers
7%: Google Pay
6%: Apple Pay
3%: Amazon Pay

Search ads had the best ROI (return on investment) for nonprofits using paid advertising, with an average ROI of $3.72.
For every 1,000 website visitors, a nonprofit raises $612.
Online gifts averages $204
PC $137 per donation.

Internet Explorer $138 per donation.
FireFox $140 per donation.
Chrome $153 per donation.
Safari $168 per donation.
Yahoo $120 per donation.

There was a 10% decrease in the number of donations completed through desktop browsers.
Social Media Fundraising Statistics
87% of nonprofits worldwide use social media.

97% use Facebook Pages
73% use Instagram
60% use X
48% use LinkedIn
45% use YouTube
29% use Pinterest
16% use WhatsApp
5% use TikTok
1% use Snapchat
1% use Twitch.

Since launching Facebook fundraising tools in 2015, Facebook fundraisers have raised more than $3 billion for nonprofits and personal causes.
For nonprofits 3.5% of all online revenue came via Facebook fundraisers.
Social media posts were the #1 drivers of charitable giving in 2020.
There was a 14% increase in revenue from Facebook Fundraisers in 2020.
37% of worldwide nonprofits on Facebook also use Facebook Charitable Giving Tools.

18% of donors worldwide have given through Facebook fundraising tools.

13% using Instagram also use Instagram Charitable Giving Tools.

75% of Instagram users take action, such as visiting a website or making a purchase after looking at an Instagram advertising post.

Only 4% using YouTube also use YouTube Giving Tools

57% of people who watch nonprofit videos go on to make a donation.

55% of people who engage with nonprofits on X end up taking some sort of action. 
On Giving Tuesday, X users send 700% more visitors to donation pages than on a typical day. 
On Giving Tuesday, Facebook sends 29.4% of traffic to donation pages.
81.6% of donors look at your nonprofit website and your social media accounts first for updates on your organization
53% of nonprofits spend money on social media advertising.
59% of Gen Zs are inspired to donate to charity by a post they saw on social media.
Nonprofits increased digital advertising budgets by 19% in 2021.
Many nonprofits see more than a 44% increase of followers on Instagram.
The average ROI on social media ads was $1.05.
Mobile Fundraising Statistics
Around 28% of online contributions are made from mobile devices.
The average conversion rate for online donation pages on mobile devices is 8%.
54% of nonprofit web traffic came from mobile users, with 46% of traffic from users on desktop devices.
19.4% of nonprofit event registrations occur on mobile devices.
Mobile-responsive donation pages yield 34% more donations.
The average gift by mobile users is $79.
10% of donors in the United States and Canada prefer to give via text fundraising.
51% of mobile pledges came from call centers.
49% of mobile donation pledges came from text links.
37% of Millennials who own a smartphone have used it to donate.
Gen Z donors are most likely to respond to texts from charitable organizations.
28.7% of Americans still have a landline.
91% of Americans own a smartphone and look at them around 80 times a day.

Apple iPhones make up 48.7% of smartphone users.

The average text fundraising donation is $107.
90% of text message reminders are read in 3 minutes.
It takes 90 seconds to respond to a text.
Nonprofit text messaging audiences grew by 26% in 2020, the same percentage as in 2019.
Calculate the ROI of text fundraising by using the statistics above. ROI = (Gain of investment – Cost of investment) / Cost of investment

An example with Qgiv's text fundraising package, which is $129/month, and the average text donation amount, $102.65. To achieve a 200% ROI for text fundraising, your nonprofit would need to raise $387.
($387 – $129) / $129 = 2
Email Fundraising Statistics
Email has the highest return on investment of any marketing channel ($36 for every dollar spent!).
For every 1,000 email subscribers, nonprofits had 736 Facebook fans, 229 X followers, and 141 Instagram followers.
16.6% of donors who support from an email are doing so on a mobile device.
Email accounted for 15% of all online revenue.
Open rates for nonprofit emails is around 22%.
Email list size increased by 7% in 2021.
69% of nonprofits publish an email newsletter.

93% use an email marketing service, such as MailChimp or Constant Contact.
7% send their email newsletters via BCC.

37% regularly delete unengaged email subscribers.
25% use email subscribe pop-ups on their website.
27% of nonprofits spend less than $1,000 of their budget on marketing a year.
The average one-time gift from email fundraising is $57. The average monthly gift is $20.
The dollar amount raised by 1,000 fundraising messages sent increased by 35% in 2020.
For every 1,000 fundraising emails sent, nonprofits with under 100,000 email subscribers received $71.

Nonprofits with 100,000–500,000 email subscribers received $36.
Nonprofits with over 500,000 subscribers received $32.

The average response rate for an advocacy email was 1.8%, a 4% increase over the previous year.
Email is the best way to reach Gen Xers with 31% prompted to make online donations.
The average membership email response rate went up by 84%.
79% of fundraising emails do not personalize emails with donor names.
Unique/Corporate/Other email users give an average of $165 per donation.

Gmail users give an average of $143 per donation.
AOL users give an average of $138 per donation.
Hotmail users give an average of $128 per donation.
Fundraising Event Statistics
The mean amount raised per participant on our peer-to-peer platform increased to $418.70 in 2022.
Our peer-to-peer platform hosted 2,130 fundraisers in 2022.
While Baby Boomers are unlikely to engage in peer-to-peer fundraising, other generations are. In fact, 84% of Generation Z is open to becoming a fundraiser on behalf of your organization!
58% of Baby Boomer donors attend fundraising events.

56% of Gen X attend fundraising events.
55% of Millennials attend fundraising events.

56% of donors regularly attend fundraising events.
69.9% of nonprofits plan to include some virtual elements in their fundraisers going forward. 23.7% plan to stick with virtual going forward.
The average fundraising message response rate in 2021 was 0.08%
The average mobile donation pledge for fundraising events is $167.
67% of worldwide donors also choose to volunteer locally.
43% of donors attend or participate in charitable events because of social media.
84% of event fundraising pledges are fulfilled.
"Athon" event fundraisers raise 76% more if they send more than 15 emails.
41% of NGOs have used Facebook to report live.
On average 15-18% of peer-to-peer fundraising campaign donations come directly from Facebook.
Approximately 25% of the adult American population volunteers.
27.8% of women volunteer, while 21.8% of men volunteer.
People spend an average of 52 hours per year volunteering.
71% of Baby Boomers volunteer locally.
Most volunteers in the United States are women between the ages of 35 and 44.
40% of Fortune 500 companies offer volunteer grant programs.
Only 18.3% of volunteers are involved with more than one organization.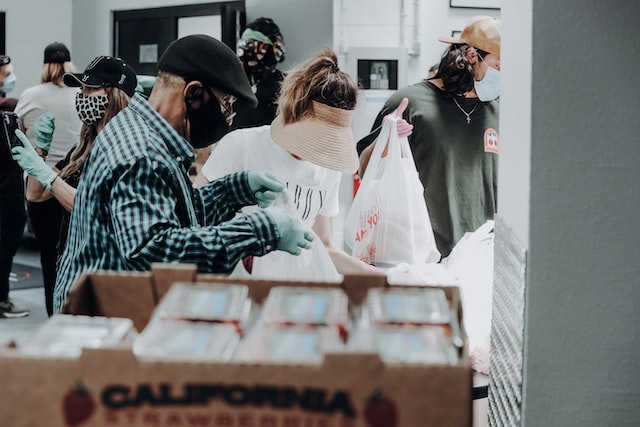 Matching Gifts Statistics
65% of Fortune 500 companies offer a matching gifts program.
An estimated $4 – $7 billion in matching gift funds goes unclaimed per year.
Around $5 billion is raised through workplace giving annually.
Microsoft is the largest contributor of corporate philanthropy.

65% of employees participate in annual giving campaigns.

Millennial donors are most likely to apply for a matching gift.
1 in 3 donors indicate they'd give a larger gift if matching is applied to their donation.
84% of donors say they would be more likely to donate if gift matching is offered.
78% of donors are unaware if their company offers a matching gift program.
There is a 71% increase in response rate and a 51% increase in average donation amount if matching gifts is mentioned in fundraising appeals.
65% of large companies offer a gift matching program.
Matching gift reminder emails have a 53% open rate when sent within 24 hours of donation.
Matching gift automation tools increase matching gift revenue for nonprofits by 61%.
Over $50 million has been invested in the last two years into new CSR startups to help expand matching gifts, volunteer grants, and other corporate giving offerings.
Final Thoughts
Keeping up to date with the latest fundraising research is a great way for your nonprofit to stay ahead and achieve your mission. Combine these fundraising statistics with your donor data to create customized strategy for your organization. If you haven't already, check out Navigating the Unknown and get valuable insights from our most recent study, plus get well-thought-out action steps to help move your nonprofit in the right direction!
Sources