One intention behind publishing the Sustainable Giving Report was to find data, trends, and solutions to some of the biggest challenges that fundraisers encounter today, including the Great Resignation, the economy impacting philanthropy, and more!
The first blog, The Economy's Impact on Philanthropy, detailed how economic instability has changed fundraising. We explored the patterns fundraisers have noticed in the last three years and the strategies they've implemented to overcome these challenges. Our first blog outlined how donors are also impacted by inflation and what their giving habits look like during such a period.
The previous blog, The Wellness of Nonprofit Teams, explored the staffing struggles that nonprofit fundraisers have had to overcome. We asked fundraisers for details about their job satisfaction, workload, and support systems. Donors were asked about their level of concern regarding staff turnover and whether they would continue to donate if a portion went to administrative costs.
Another area the Sustainable Giving Report dove into was Building Streams of Revenue. In this major section, we explored fundraising events, donor retention, and recurring giving. This blog will cover the data and takeaways we gathered about fundraising events. Fundraisers know that events are a wonderful way to raise a large amount of funds and increase awareness of their work. However, they can require a lot of resources, hours of hard work, and dedicated staff and volunteers! So how do fundraising events impact the sustainability of your organization? Keep reading to find out!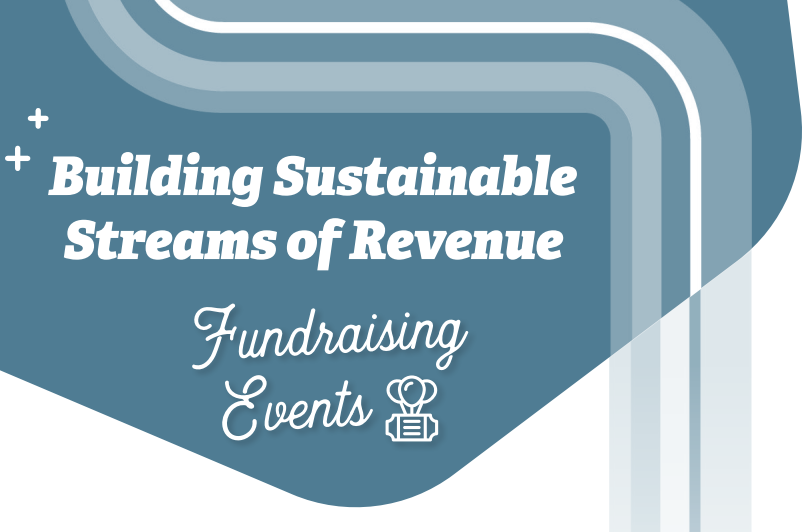 Fundraiser Findings
Questions about events were intended to gauge the sustainability of an organization's event plans and identify if events were helping diversify their revenue. Having a better knowledge of what fundraising events perform well, what events donors engage with, and what can be done to mitigate risk and burnout can lead to more successful (and sustainable!) events. Even though fundraising events can be a lot of work, they provide your nonprofit with the chance to tell your story en masse, connect with your constituent base, and market to a larger audience. Here's what we discovered:
Fundraisers are hosting a lot of fundraising events!
Over 27% of fundraising respondents answered that they are hosting 5 or more fundraising events per year. The most popular event styles were galas, auctions, and peer-to-peer events.
Soliciting sponsorships and offering revenue enhancers to event attendees is a common practice.
It is exciting to see that 95% of fundraisers are soliciting sponsorships at their fundraising events! Over 75% are offering some form of revenue enhancers at their events. For those who might not be familiar, Qgiv defined revenue enhancers as raffles, games of chance, wine pulls, and more.
Fundraisers are split regarding virtual and hybrid options at their fundraising events.
The opinion on hybrid and virtual event offerings was split amongst fundraising respondents. Forty-eight percent of respondents do not offer any virtual or hybrid events to their donors, while 44% do offer a hybrid or virtual fundraising event. Fundraisers believe that their biggest obstacle to hosting virtual and hybrid events is that their donors do not engage virtually.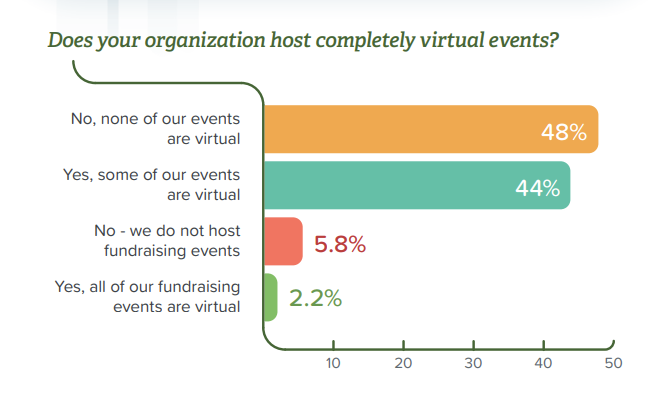 Donor findings
Donors enjoy attending fundraising events!
The most popular types of fundraising events that donors have attended include breakfasts/luncheons, races, sporting events, and auctions.
Donors are engaging with virtual and hybrid events.
Close to 40% of the donors polled have participated in a virtual or hybrid fundraising event in the last year. Over 55% of those donors answered that the hybrid/virtual event exceeded their expectations because of strong storytelling, engaging content, and an excellent auction or raffle. Donors also responded that areas they believed could be improved upon included additional video content and more participant engagement opportunities.
Donors are almost entirely split on the style of events that they prefer to participate in.
The Sustainable Giving Report found that donor event preferences lie all across the map. Thirty-three percent of donors prefer in-person events, 23% prefer virtual, 15% prefer in-person and virtual, and 27% do not participate in fundraising events.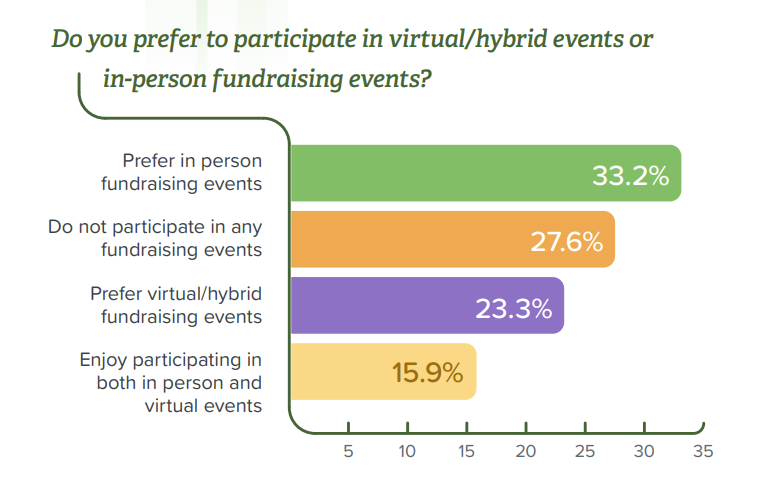 Final thoughts and takeaways for your organization
Now is the time to elevate your annual fundraising events
It is really exciting to see that donors are ready to attend in-person fundraising events once again! Fundraisers have learned many things in the last three years, one being that the pandemic has changed event experiences and the expectations of donors and attendees. Donors are looking for fundraising events that are different and more exciting than the ones they have attended in the past. Immersive, engaging, and entertaining fundraising events that offer donors something special and exciting are the ones that are performing the best.
Solicit sponsorships and offer revenue enhancers at fundraising events.
Fundraising events that are truly sustainable and will be successful for many years to come have one thing in common. Multiple streams of revenue. We encourage fundraisers to continue soliciting for sponsorships and to provide revenue enhancers to attendees. Additional revenue streams for fundraisers to consider including in their next fundraising event are merchandise sales, fund-a-need style auctions, and giving tree wish lists to allow participants additional ways to participate at the event. Offering additional revenue resources reduces dependency on top funding sources.
Consider offering hybrid or virtual fundraising event options
It is important to note donors are interested in a variety of event types, for a variety of reasons! In-person events are not the only style of events that donors prefer. The Sustainable Giving Report found that almost one-quarter of donors responded that they prefer virtual events! Fundraising events in person might not be possible for some donors because of physical, social, or schedule-based limitations. By hosting virtual and hybrid events, you ensure that your events are more accessible to all past and potential donors. The good news about hybrid and virtual events is that they can be scaled up or down depending on your organization's abilities and needs. Planning virtual and hybrid events does not need to be scary and stressful! Check out the Virtual Event Planner and The Big Book of Virtual and Hybrid Event Ideas to make planning your next virtual event a breeze!
Learn more
Receive your copy of the Sustainable Giving Report today to learn more about fundraising events and current giving trends!    
Other key takeaways from Qgiv's Sustainable Giving Report