When launching the Sustainable Giving Report, Qgiv aimed to find solutions to many of the challenges fundraisers are facing. Since 2020, fundraisers have confronted many obstacles that affect them and their nonprofit teammates, including the Great Resignation, burnout, and limited resources to meet their goals.
Our previous blog, the Economy's Impact on Philanthropy, detailed how economic instability has changed fundraising. We explored the patterns fundraisers have noticed in the last three years and the strategies implemented to overcome the challenges. Our first blog outlined how donors are also being impacted by inflation and what their donation habits look like during such a period.
An area that the Sustainable Giving Report explored was the overall wellness of nonprofit teams. For fundraiser respondents, questions were asked with the intention of gauging the overall job satisfaction of development staff, their workload, and whether they plan to remain in the profession long term. Donors were asked to share whether they are noticing staff turnover, their level of concern with transitioning staff, and their willingness to potentially contribute towards administrative costs.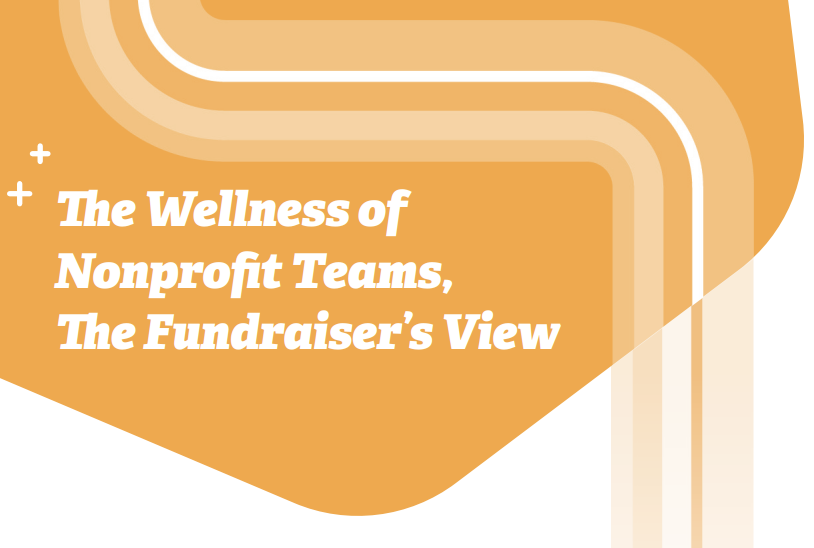 Fundraiser Findings
The average fundraising respondent for Sustainable Giving Report has worked in the nonprofit sector for five to ten years and has held between one and three positions.
Over half of nonprofit respondents plan to remain in the fundraising profession.
We found that over half of fundraisers plan to remain in the fundraising profession long term. Almost 25% were unsure if they would stay in a development role long term, and over 16% are not planning to remain in the profession. Fundraisers are leaving the profession for other career aspirations, increased pay, and an increase in work -life balance.
Almost half of respondents are working slightly more than their scheduled work time. Fifty percent are occasionally working nights or weekends, and over 60% of fundraisers are not receiving overtime compensation.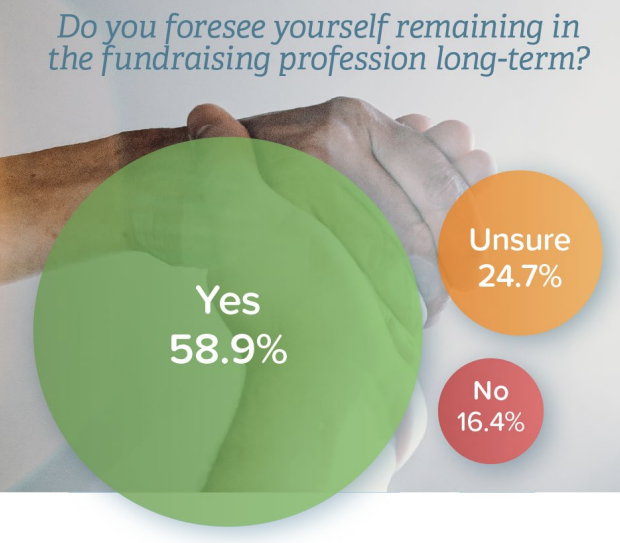 Fundraisers love the impact they are making with their organizations and appreciate their relationships with peers.
Factors that contribute to a fundraiser's overall job satisfaction are the mission and impact they are having on their organization and their relationship with their coworkers and peers.
Fundraisers need more resources and support.
Most respondents feel overwhelmed with their workload and are working more hours than their scheduled time with no overtime compensation. Eighty-five percent of respondents are in need of additional fundraising resources, which can vary from technology, staff, professional development, and more.
Donor findings
Donors that are noticing staff turnover are concerned.
Over a third of donors have noticed staff turnover at the organizations they support, and of those that responded yes, over 60% were strongly or slightly concerned with the staff turnover. Fundraisers are the stewards of the donor experience within an organization, and with staff turning over regularly, the donor journey can be bumpy and confusing.
Trust for nonprofits varies based on the relationship the donor has with the organization.
Over 80% of donors believe the organizations they support are trustworthy, and 75% believe that their donation is used responsibly by the nonprofits they donate to. However, donor trust in the nonprofit sector as a whole dropped to 58%. Suggestions to increase donor trust can be found in the takeaway section!
Donors are open to covering administrative costs.
Only 10% of donors are not willing to cover administrative costs. That means 90% of donors would be willing and open to the idea of donating if a portion went to administrative dues!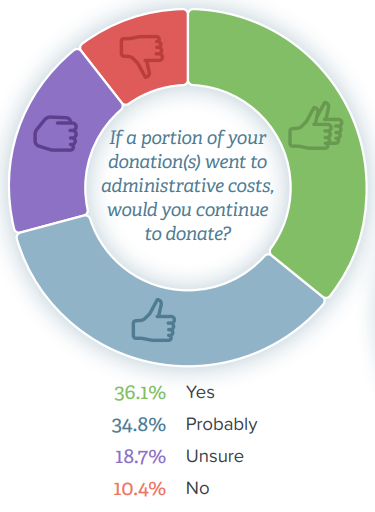 Final thoughts and takeaways for your organization
Educate your supporters on the roles and responsibilities of different staff at your nonprofit.
Showing your donors who the doers are behind the work they support will bring your donors closer to your organization and build trust.
Consider asking your donors to contribute to the cost of administrative dues and salary.
This can be a scary idea for fundraisers and nonprofit leaders to consider and should only be implemented with A/B testing over an extended period of time. One of the top reasons that fundraisers are leaving the profession is for increased compensation. Implementing more competitive wages will boost staff retention and satisfaction. The Sustainable Giving report found that most donors would be open to the concept of continuing to donate if a portion went to administrative costs.
Promote a mission-forward culture.
The top factor for fundraiser job satisfaction is the impact that they are making and the connection they have to their organization's mission. For job satisfaction, it is crucial that employees feel a strong connection to the mission they are serving. Ways to implement a mission-forward culture would be to engage staff with strategic planning initiatives and to have a set of shared goals for the mission's future.
Allow time and resources for team-building opportunities that will foster connection among staff.
Nonprofit employees greatly value the relationship they hold with their coworkers and peers. Allowing for professional development opportunities and staff retreats fosters team-building opportunities.
Advocate for additional fundraising resources and staff.
Fundraisers are changing the world every day! However, being a changemaker without the resources necessary and staff to support is a serious challenge! Fundraisers need help to reach their goals. Fundraisers are often expected to make the impossible happen, and without the proper number of development staff or fundraising resources, raising large amounts of funds will be exhausting and lead to staff burnout quickly.
Learn more
Receive your copy of the Sustainable Giving Report today to learn more about fundraiser wellness and current giving trends!    
Other key takeaways from Qgiv's Sustainable Giving Report