As we fall into the end of the year, it's time to start thinking about your year-end giving strategy. The last three months of the year are often the most important for nonprofits because of the rise in donations compared to the rest of the year. During this time, two of the biggest days for fundraising are Giving Tuesday and December 31, and both days require dedicated strategies from your organization to maximize the amount of money you can raise!
End-of-year giving trends
Giving has been declining since 2022, so year-end fundraising can be a great opportunity to raise more for your organization and hopefully recover some lapsed donors! According to the Giving USA 2023 Annual Report, individuals, as opposed to foundations, corporations, and bequests, gave 64% of the $499.33 billion given in 2022, making your individual donors your largest group to target during your end-of-year giving strategy. 
With 37% of giving occurring in the last three months of the year and 12% of all giving in the last three days of the year, the last week of December is one of the best times of the year for fundraising. Even though December sees the majority of giving, it's best to start your end-of-year campaign early enough to include Giving Tuesday as well.
Giving Tuesday vs December 31
With both Giving Tuesday and December 31 accounting for a large percentage of yearly revenue from fundraising, knowing the difference between the two days can help your nonprofit decide on the best approach for each. As always, make sure you account for your organization's unique history by taking any giving trends found in your donor database into consideration alongside this industry comparison.
Best time of day for giving
Donations skyrocket on both major "end-of-year" giving days, but there are certain times of each day that are best to schedule your donation appeals around because more people are giving online. On Giving Tuesday 2022, Qgiv's platform saw the largest amount of donations occur between 10 a.m. and 1 p.m. ET, making the morning and early afternoon the best time to schedule appeals on your different marketing channels.
However, on December 31, the largest number of donations made on the Qgiv platform occurred between 7 a.m. and 10 a.m. ET, which means your marketing strategy for donation appeals should start a bit earlier compared to Giving Tuesday.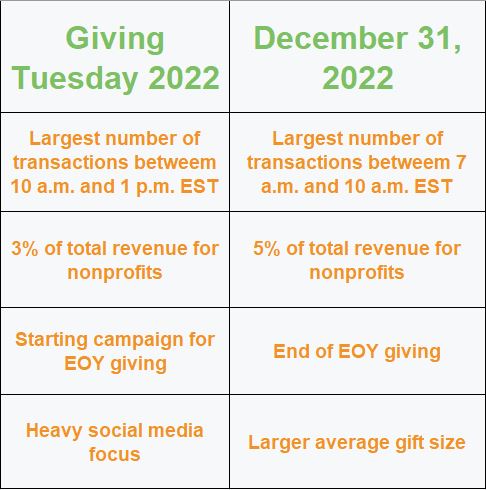 Which day earns more
As December sees the largest percentage of donations throughout the year, December 31 is more profitable for nonprofits than Giving Tuesday, but not as much as it used to be. According to MR Benchmarks 2023, both Giving Tuesday and December 31 saw a 13% decline in overall revenue compared to 2021. Three percent of all online donations in 2022 were attributed to Giving Tuesday 2022, earning $3.1 billion for nonprofits alone.
Comparatively, December 31, 2022, accounted for 5% of nonprofits' total revenue for 2022, making it a bit more profitable than Giving Tuesday. Despite this, your organization should absolutely celebrate both days with your donors rather than choosing one or the other!
Number of donors vs. average gift size
One reason December 31 earns more than Giving Tuesday involves the average gift size for individual donations on each day. While both days have a similar number of donors participating, according to data collected from Qgiv's platform the average gift size ($277.63) on December 31 is almost $100 more than the amount of the gift size on Giving Tuesday ($182.40). This makes December a great time to promote matching gift options to your donors.
Maximizing both Giving Tuesday and December 31
While there'll be differences in how you celebrate Giving Tuesday and December 31, there are some best practices you can apply to both days to maximize the amount you can raise during your end-of-year campaign.
Multi-channel marketing
Marketing is a huge part of any year-end strategy because it's how you connect with new and recurring donors alike. Throughout the year, social media is vital for reaching out to potential donors for your different campaigns, but how you use social media for year-end giving is a little different from other campaigns as you'll typically post a little more than usual. This is especially true for Giving Tuesday, which is traditionally focused on social media.
Similarly, email and text campaigns can also ramp up towards the end of the year because you can schedule them to reach your donors at the best times for giving. While you don't want to spam your supporters, it's important to keep your organization top of mind when everyone is in the giving spirit.
Early planning
Just because you're fundraising for the end of the year doesn't mean you should wait to start planning your campaign. A great way to kick off your year-end campaign is by using Giving Tuesday, and you can start raising awareness for your Giving Tuesday campaign early in October before the giving day commences.
Once your Giving Tuesday campaign closes, it's important to thank everyone who donated before you start appealing for donations leading up to December 31! A timely thank you is key in retaining your Giving Tuesday and year end donors.
After you've carried out your donor stewardship efforts for Giving Tuesday, boost any awareness ads for the end of the year you might be running to keep people in a giving mood. Your messaging for both your ads and your acknowledgements should focus on what your donors' gifts will be used for and how their generosity makes an impact on your cause.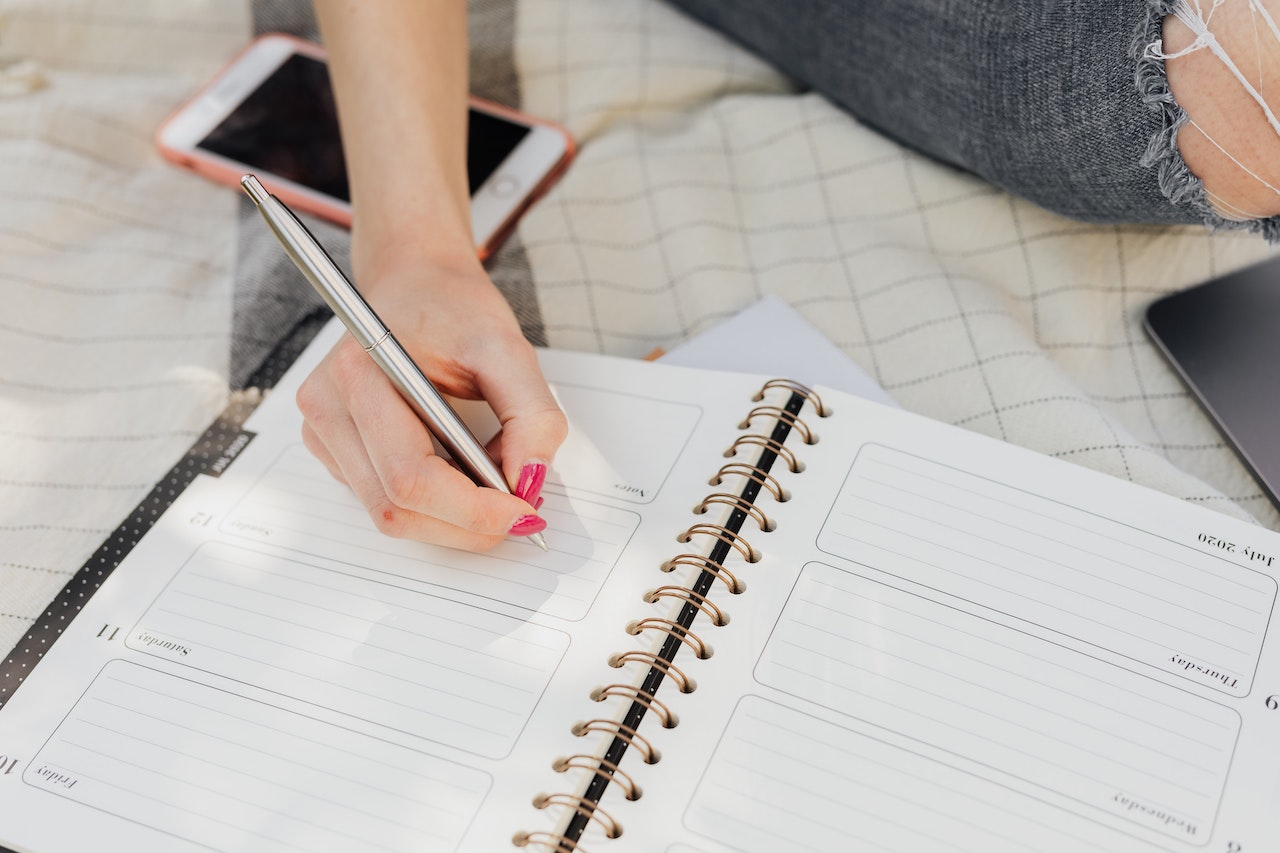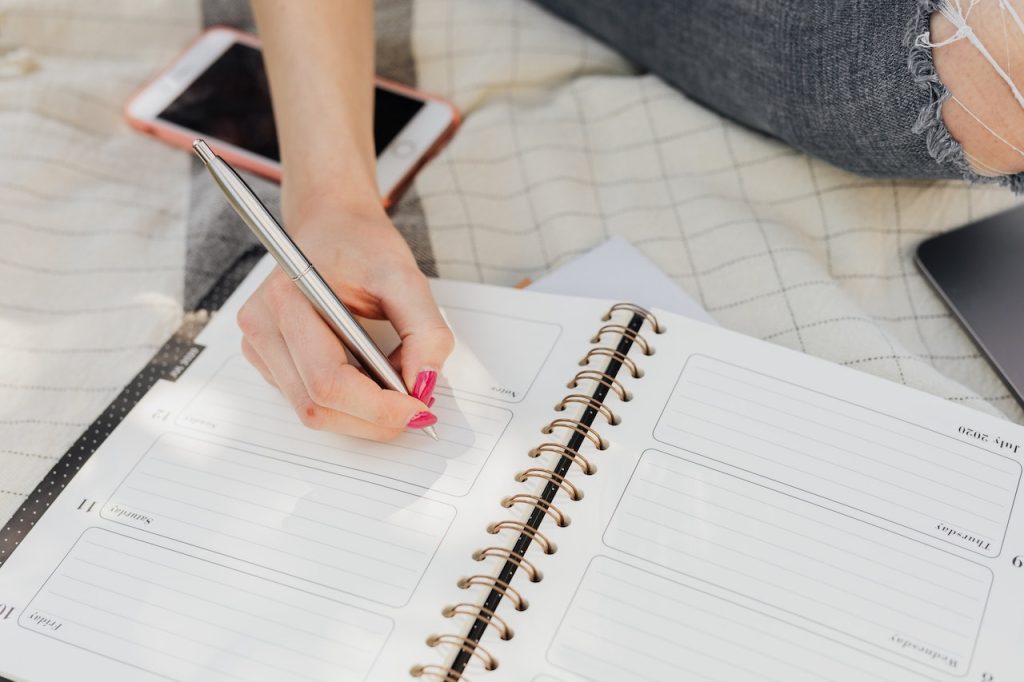 Donor engagement
With how important end-of-year giving is for nonprofits, you need to stand out among the many organizations that will be advertising to potential donors. One easy way to engage donors through your campaign is to employ a sense of urgency by setting deadlines, explaining what you need funds for, and utilizing fundraising thermometers on your donation forms.
Another option for engaging your donors is to host a live event or text-a-thon alongside the giving days. This season is a great opportunity for themed events. Whether it's in-person, online, or hybrid, events help you make personal connections with your donors, which can encourage them to give again in the future.
Donor retention
After you've gained new donors throughout the end-of-year giving season, it's important to retain their support for your nonprofit. Retaining your donors costs less than acquiring more new donors! Plus, the lifetime value of retained donors is higher than new donors.
If you strengthen your stewardship efforts for your new year-end givers, they can help you grow your organization with their future support. Highlight what's already been accomplished with their support and what else you can do with more support.
Final thoughts
Your year-end strategy is a key part of your fundraising efforts for the year. With major giving days like Giving Tuesday and December 31, a large percentage of your organization's revenue will be raised during those last three months. Raise more money for your cause by making the most of end-of-year giving plans!