Hybrid events describe an experience composed of both in-person and virtual elements. This could be an event that occurs face-to-face for one part and online for another part. Or it can be a regular in-person event with some type of digital component, like a live-streamed version to an online audience.
Nonprofit hybrid events have been on the rise for some time now. Offering virtual engagements can expand your audience beyond those who are in the local area. There are tons of new tools and online platforms that allow for novel ways of connecting with others. Video chat features even offer a way to interact face-to-face from a distance.
We've written about both virtual events and traditional events before. In this guide, we'll be discussing hybrid event opportunities by diving deep into these topics:
With fundraising and event management technology continually improving, it only makes sense that hybrid events will become even more prevalent in the future. Let's begin!

Top Hybrid Fundraising Ideas
Hybrid fundraising takes the best from both in-person fundraising and virtual fundraising, using key tools to support each of those engagements. It encourages your supporters to engage with your organization while still providing the convenience and capabilities that virtual experiences offer.
To better understand how this works, let's explore some of our favorite hybrid fundraising ideas:

Hybrid Fundraising Events
Fundraising events are invaluable to a nonprofit organization. They offer opportunities to connect with supporters in unique ways and raise money for their mission.
However, traditional events usually take place face-to-face. It's hard to mimic the excitement and connections that an in-person event brings, but there are some tools and online platforms that can help. Many nonprofit organizations have found success using video conferencing and live streaming software to pivot their regular events to virtual.
What does a hybrid fundraising event look like? Let's walk through an example. Many nonprofits put on a ticketed dinner and show where their supporters can purchase entry, dress up, and enjoy a night of entertainment. Some further fundraising might also take place during the event.
How do you turn this into a hybrid event? Do you want this event to be half in-person and half online? Should you offer live attendance along with virtual components to expand your audience? For your hybrid dinner and show event, we recommend taking the latter approach.
To incorporate virtual elements, you're going to have to be a little creative. For this hybrid event, you might:
Send your virtual attendees a gift card to a restaurant or food delivery service instead of the in-person dinner.
Livestream the concert so your attendees can enjoy the show at home.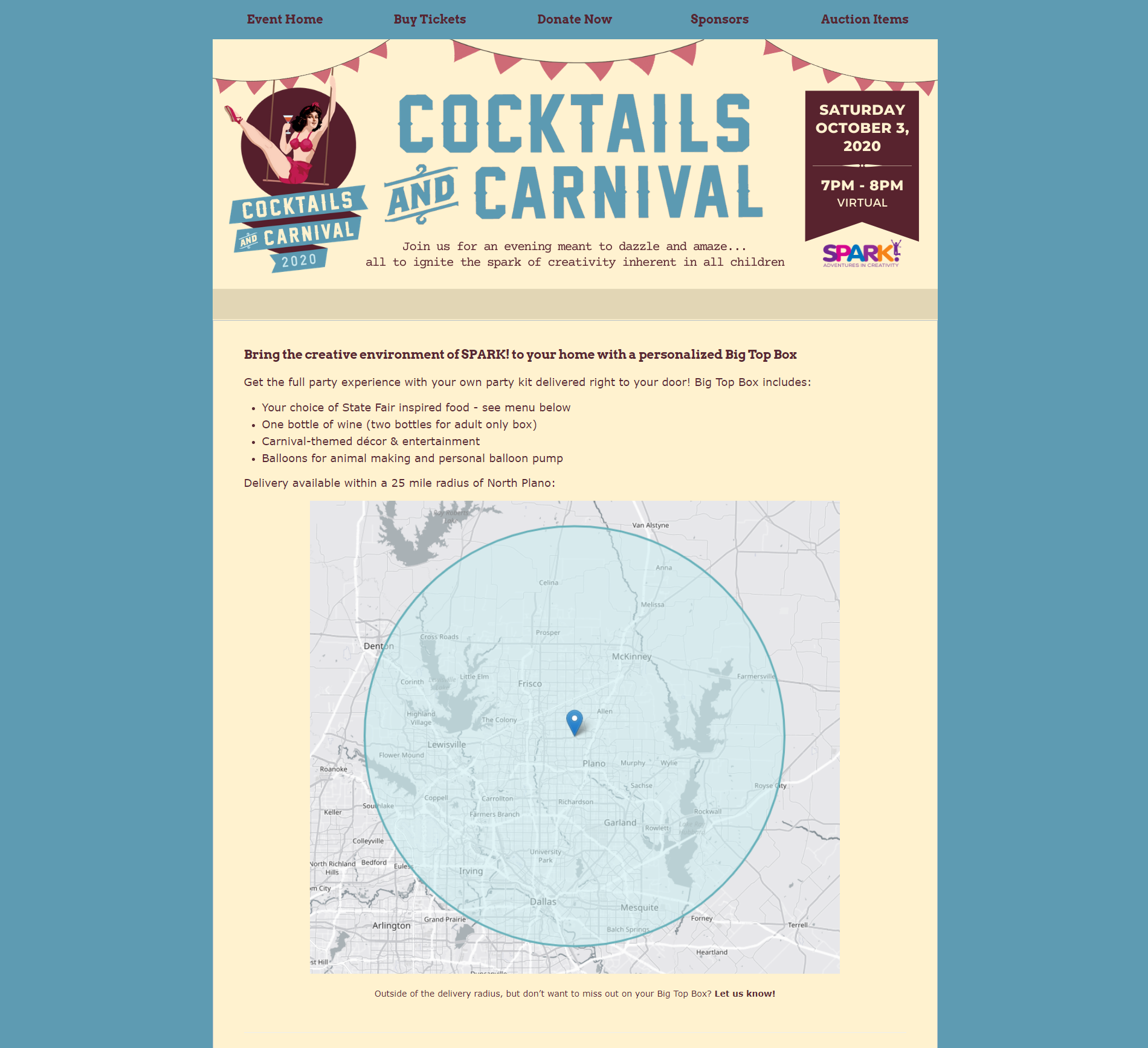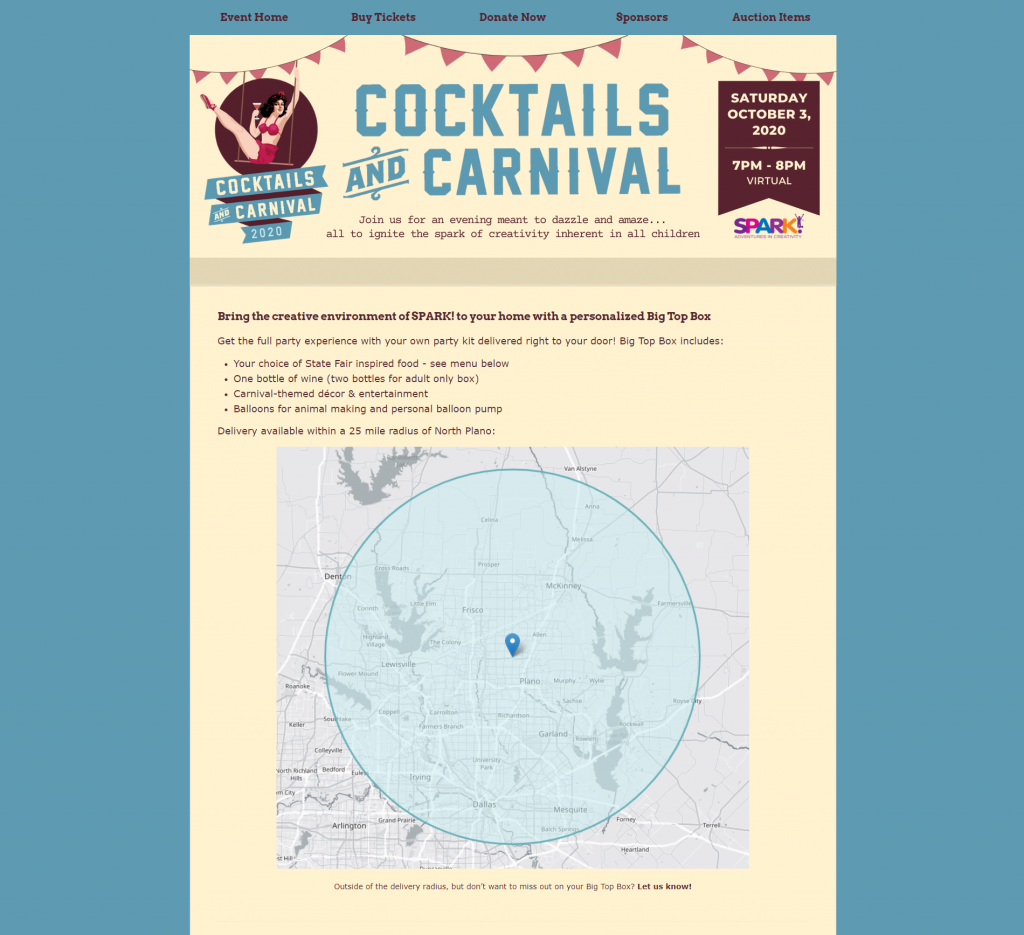 Check out the above example of SPARK! incorporating a remote dinner option for guests who were participating in their event virtually. They provided a party kit full of food, drinks, and other fun items for those within the delivery range so that event guests could have the full experience while at home!
Whichever digital element you incorporate, make sure to encourage users to take pictures and post them on social media, like within a dedicated Facebook event page or group.
This way, people can still dress up for the at-home dinner or put on their favorite band t-shirt for the concert. This also brings a social aspect to the virtual side of the hybrid event. Make sure you assign a moderator to monitor pictures and comments to ensure everything stays civil and safe.

Hybrid Peer-to-Peer Events
Peer-to-peer fundraising is not only a tried-and-true method of raising money in a short amount of time, but it's also a great way to expand your supporter audience and meet new prospects. All you need is to recruit passionate supporters to volunteer on your organization's behalf. These peer-to-peer participants then fundraise for your organization on social media to their friends and family.
Traditionally, peer-to-peer events are paired with some sort of in-person component. A popular choice is a peer-to-peer walkathon, bikeathon, or runathon.
Typically, participants raise money on your organization's behalf in the weeks leading up to the event. The money they raise comes from their peers and family who give to your organization in support of the participant's involvement in the event. For example, if you're hosting a 10-mile walkathon, your peer-to-peer participants will receive donations from friends, family, and/or coworkers toward an event, personal, or team fundraising goal.
In a sense, a peer-to-peer "-athon" event is already hybrid. Most of the peer-to-peer fundraising and outreach happens online while the race is in person. Let's say you also want to incorporate additional virtual elements, like for the race itself. This encourages off-site participation and can increase the number of participants. A key way to successfully shift the race to virtual is by using an activity tracking app that keeps tabs on everyone's progress.
For instance, BHCare Foundation hosted A Chance to Shine, a successful virtual charity walk/ride. With the help of Ride with GPS, a smartphone app, participants were able to view and follow along a specific route during their ride.

Hybrid Silent Auction Events
Silent auctions are an engaging way to gather your supporters and have them donate to your organization in exchange for an item or an experience. This is especially enticing to your supporters because not only do they get to give to your cause, but they get something exciting in return!
For a traditional silent auction, your supporters will likely be gathered in a room to bid on a variety of items. Since this is all done silently and anonymously, your attendees will mark their bid on a piece of paper or on a tablet and move on—that is until they're outbid and have to decide whether to increase their bid.
At first glance, silent auctions might seem impossible to host virtually. However, if you want to make your auction hybrid, there are plenty of virtual opportunities you can take advantage of. For example:
Facilitate bidding entirely through a mobile bidding app. Qgiv's app, Givi, is a great example and offers attendees a way to bid from their phones, receive outbid notifications, and complete the checkout process.
Live stream silent auction entertainment, whether this is a speaker or live music. Want to see this in action? Explore how Big Brothers Big Sisters of Southern Minnesota live-streamed their virtual auction in this case study.
Offer food through online delivery or gift cards.
Ship silent auction items to winners or offer a pick-up option at the convenience of the participant.
Incorporating virtual elements into your silent auction is much easier than one would think. Start brainstorming some great auction items and begin planning!

How to Host a Nonprofit Hybrid Event
Now that you have a general idea of some top hybrid fundraising events and how they work, it's time to start planning your own.
Your hybrid event and the steps you take to plan it will likely be unique to your organization, mission, and goals. The tools and engagement methods you use might differ on a case-by-case basis, but there are some basic steps that all fundraising leaders will generally follow. We discuss them below, breaking the steps up into before, during, and after the event.

Before the Hybrid Event:
The first step is always going to be deciding on the type of event you want to host. This is the time to carefully review your mission and past successful events, and determine what makes sense for your upcoming goals.
To help with brainstorming ideas, consider any popular in-person events you already host and if some component of that can be hosted online. You can also explore our list of top virtual fundraising ideas to gain inspiration.
Once you decide on your event idea, consider the following questions:
What aspects will be held in person?
What aspects will be held virtually?
What aspects will be available for both experiences?
The above questions will help you figure out the logistics of your upcoming hybrid event. List out all the different possibilities you have using the resources that your organization owns. For example, you can have in-person entertainment at the event while also live-streaming it to an online audience.
During the Hybrid Event:
Because your hybrid event is utilizing both virtual and in-person engagement methods, you're going to need staff members or volunteers both on and off-site.
For your in-person offerings, make sure you:
Determine who is going to be onsite, whether this includes volunteers, nonprofit staff, caterers, or entertainment.
Test out any virtual streaming equipment if you decide to stream content to an online audience.
For your off-site coordination, dedicate a staff member or team to run the virtual component, such as hosting the livestream. It's not uncommon for technical issues to arise, so having a dedicated moderator to watch comments, emails, or direct messages is crucial in case your attendees are having any problems.

After the Hybrid Event:
Once your hybrid event comes to a close, it doesn't mean your job is over.
An important engagement point you can't forget about is following up after the event. This can come in the form of a thank-you email or letter showing your appreciation to participants for attending and supporting your event.
This is also an opportunity to ask for feedback. Even the most experienced fundraisers could gain some insight from their supporters, so take this opportunity to ask for ideas or areas of improvement.

Hybrid Event Best Practices
To pull off a successful event, you're going to need to put some careful planning and thought into the choices you make. Read on to explore some of our additional best practices when it comes to hosting a nonprofit hybrid event:
Make event registration clear. You don't want supporters signing up for your event without fully realizing what it entails. If part of the experience happens entirely online, make this clear beforehand. Further, if you have any special requirements, like wearing masks for in-person guests, this should be clearly stated on the event page.
Provide a quick and easy way to give. Your hybrid fundraising event is not only there to offer your supporters a good time. It's a key opportunity to raise money and funds for your mission. Make sure both your in-person and virtual attendees know how to give. For instance, ask your in-person guests to give through text messaging and prominently advertise the text-to-donate number and keyword on screens/event signage. For virtual guests, display that same number or keyword in the virtual cast.
Put yourself in your audience's shoes. You likely have multiple audiences interacting with your organization in different ways, from on and off-site attendees, to your staff and volunteers. During the planning process, imagine yourself in each audience role and ask yourself what questions may arise. How can you properly set expectations to eliminate those questions, and what do you want those roles to do or who do you want them to interact with? These questions can help put the right communications and calls-to-action in place to set you up for success and minimize the support needed during the live event.
Merge the in-person and virtual experience. Many successful hybrid events are those that completely merge the in-person and virtual experience. To do so, make sure your virtual attendees aren't missing out on key engagement opportunities:

Before the event starts, try and build a sense of community with your attendees online, like with a Facebook group, to bridge that gap between in-person and virtual. This online community is not only a great place to post about event details, but can encourage attendees to engage with each other.
During the event, you can implement a live X feed that displays all donations from both in-person and virtual attendees. This can show up on a screen at the event or on the cast that people are enjoying at home. This is another way to bridge that gap between your in-person and virtual offerings.
No matter what, you should be taking your attendees' experience into account, ensuring that your hybrid event is as engaging as possible. This is a surefire way to increase registrations and even retention afterward.

The Best Software for Nonprofit Hybrid Events
Due to the nature of your nonprofit hybrid event, it's going to be necessary that you use tools and software to pull it off. Outside of the virtual engagement methods, these key solutions will improve how your nonprofit manages fundraising events for all traditional, virtual, and hybrid ideas.
Here are the best types of software that nonprofits should utilize for their hybrid events:
Event management software. This is essential for both your on and off-site attendees. Having a dedicated event registration and management tool can organize your attendee information and provide capabilities for you to better communicate with them. Qgiv's event management solution caters to all of these needs, and more.
Streaming software. If you're going to be offering a live-streamed version of your event then you'll need dependable and capable software to do so. Try and do your research with this, though. Lots of social media platforms also have live streaming capability that you can easily leverage. A great example of livestreaming software is OBS. OBS software is free to use, offers organizations custom graphics, and provides the ability to add and move elements to the display.
Text message donations. Allowing your attendees to give via text is a convenient method for both in-person and virtual supporters. All they need is a phone number and keyword, and they can be directed to the appropriate online donation page. Explore our text fundraising options here.
The nonprofit tech solutions that you'll need will depend on your organization's unique goals and event types. Throughout it all, it's recommended to invest in a scalable solution with a variety of fundraising and data tools instead of finding standalone tools for each of your processes.
Qgiv's all-in-one fundraising platform offers comprehensive solutions for your nonprofit's needs. Explore our various pricing plans here.
Additional Resources
Want to continue your research when it comes to hosting in-person, virtual, or hybrid events? Explore our other articles and guides below: