Silent auctions are a staple fundraising event in the nonprofit industry and they often bring in big fundraising dollars. They offer direct engagement with supporters and incentivize guests to donate. However, a glaring issue in the nonprofit space is the inefficient, frustrating, and stressful aspect of running an auction the traditional way. Paper bids are messy, disruptive, and hard to keep track of. Long check-in and checkout lines make guests unhappy. Manually entering bidding data is time consuming.
So why do nonprofits rely on such an outdated auction system? Mostly it's the organization's aversion to technology, not wanting to take time to learn new software, or the misguided assumption that donors won't want to use other bidding methods. A good bidder experience is the key to a successful silent auction, and mobile bidding technology is the future!
Silent auction software uses event management and bidding technology to eliminate the stress of traditional auctions. Organizations can simplify event setup and management; accept registrations; streamline check-in and checkout processes; and give bidders a way to view, bid, and purchase auction items—all online. After the event, organizations can see their auction's performance with detailed information about bids, including bidding history, all without entering any bid information manually! As the popularity and adoption of smartphones increased, auction platforms needed a solution that delivered the same functionality to mobile devices. Enter mobile bidding!
Silent auction software makes event management easier!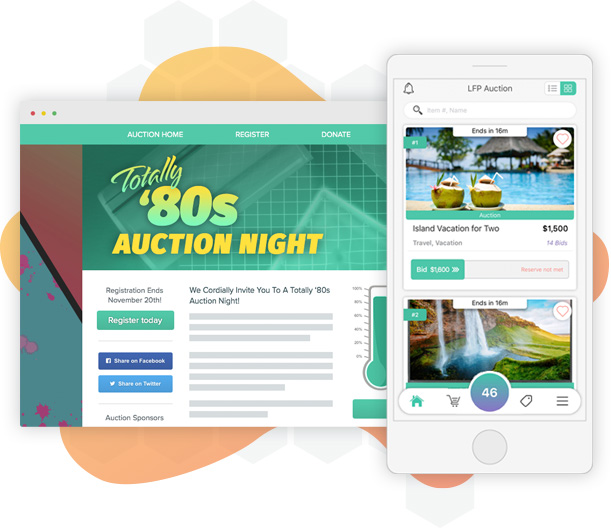 Mobile bidding is an interactive technology that enables silent auction guests to view and bid on items from their smartphones via a web browser (browser-based) or a downloadable app (app-based). Mobile bidding technology is designed for mobile devices, making the auction experience more enjoyable for bidders from check-in to checkout.
Two mobile bidding technologies have emerged over the years: browser-based and app-based. Both platforms offer a mobile-optimized solution that features similar front-end usability: online registration, streamlined check-in/checkout, mobile bidding, event purchases (raffle tickets, drinks, etc.), fund-a-need, and event reporting. The difference is in the details—the little things that add up to whether auction guests have a good experience or a great experience.
App-based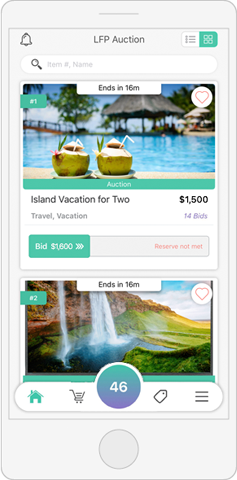 Browser-based platforms combine online and mobile bidding technology to deliver auctions to desktop, tablet, and mobile devices through web browsers (think Google Chrome, Microsoft Edge, etc.). Guests register online (through any device) and, once they check in at the event, receive a link to the auction. That link takes them to a page where they can view, bid, and purchase items. Event updates are sent via email or text message and (typically) include a link back to the auction item.
App-based auction platforms optimize the mobile experience by running everything through a downloadable app. Guests register online and can check in, check out, bid, purchase event items (raffle tickets, drink tickets, etc.), purchase fund-a-need items, and donate through the app. Event updates are sent directly to the user's phone via push notifications which link directly to the auction item.

What's the Best Silent Auction Software?
App-based or Browser-Based
In the modern age where mobile devices dominate, the easy answer is app-based. You may think that's biased… but keep reading. We have proof! The answer is 3-fold. Apps provide a better user experience, are easier to use, and are more engaging.
Mobile Apps provide a better User Experience
Apps load faster and more consistently across all mobile devices, which provides a better user experience for guests that download the app. Guests can enter the auction, view an item, and place a bid with minimal effort. That allows them to return to their conversation and the event much more quickly.
Not convinced? Here are some other reasons we think app-based auction software wins:
Apps work in tandem with a mobile device's operating system to function, delivering the best performance every time. Notifications are delivered more quickly, too.
Apps store data locally for easier access. This reduces the total amount of data needed to be transferred over an internet connection. Less data transfer means your bidders won't have to deal with slow-to-load web pages, lags, and other frustrating delays.
Apps are built using programming language designed for mobile devices. App developers can optimize speed without sacrificing functionality! Browser-based options have to function on many different kinds of devices, which makes bugs and delays more likely
Apps are designed for a user's specific device (Android, iOS, Windows) which delivers a consistent experience across all mobile devices.
Mobile Apps are Intuitive and Easier to Use
Apps tap into device features such as the camera, fingerprint technology, and phone gestures (i.e. swipe, tap, drag, pinch, etc.) to reduce the overall effort needed to participate in the auction. These features are small enhancements that make a huge difference to guests because it makes the event feel more integrated and less frustrating!
Apps are a great option for silent auctions because:
Apps tap into device features to provide an integrated auction experience between online and offline event spaces.
User flow is more natural and familiar, making the user experience far superior on an app.
Mobile Apps are More Engaging
A fast, intuitive, and easy-to-use platform equals a more engaging auction. Why? Because guests enjoy using user-friendly technology! Platforms that are not user-friendly frustrate guests and discourage bidding. That's why a lot of organizations are averse to technology—they're afraid of frustrating their guests.
What if there was a platform that offers a superior bidder experience that will make guests want to engage and compete for items?
That's what an app-based auction platform provides: a user-friendly experience that will encourage guests to bid and compete.
When you offer an app-based silent auction experience, you give your bidders:
A fast, intuitive, user-friendly platform that encourages bidding and increases competition and engagement.
An option that uses push notifications to instantly update guests that they've been outbid on an item. Push notifications are sent directly to the user's phone and have the highest engagement rate (compared to text and email notifications).
But My Guests Won't Download an App!
It's understandable to worry about your guests' willingness to download an app. However, it's important to remember that downloading and using apps is a very familiar process to the majority of Americans. These stats may put your mind more at ease!
96% of Americans own a cell phone. 81% of those Americans use smartphones!

Americans of all ages use smart phones—even a majority of your donors over the age of 65 have one!

90% between the ages of 18-49
79% between the ages of 50-64
53% above 65 years old

99% of smartphone owners have downloaded at least one app

Research shows that there are between 60 and 90 apps installed on the average smartphone.
The average smartphone user spends 2 hours and 15 minutes each day using apps.
81% of your donors own a smartphone, are familiar with downloading and using apps, and will enjoy using an app designed to improve the auction experience.
When it comes to technology-averse guests, app-based and browser-based auction platforms face similar issues. If a guest isn't willing to download an app, they won't be willing to visit your auction on their mobile device. For those 10-20% of guests, they will be able to participate in your auction by placing bids, making purchases, and donating through an auction worker set up with a virtual terminal. But for the majority of your guests, app-based auction platforms or browser-based platforms are better than the manual entry of paper bidding.
When Should You Use Browser-based Auction Software?
If you have a substantial number of bidders who want to bring laptops to your auction and participate that way, a browser-based auction tool may be a good fit.
Why You Should Use App-based Auction Software
App-based Auctions Improve Upon Browser-based Auctions
App-based auction platforms provide a seamless, enjoyable mobile experience for guests. Navigation is simple, the text is always legible, and images are properly sized. Apps have full functionality on mobile devices, leveraging breakthrough technology to simplify auctions for guests. Guests will enjoy the ability to build item watch lists, see real-time updates on bids (no need to refresh a browser), and receive push notifications when outbid!
Bidding Is Simpler on an App
App-based auctions simplify the bidding process by making it easy for guests to bid with just the swipe of a finger! In the time it takes an online bidder to refresh their browser, enter a new bid, and click "submit," the app user will have already swiped to bid and continued their conversation. Simpler bidding means bidding happens quickly, keeping guests engaged and competing for their favorite items!
Using an App Makes Check-in and Checkout Easier for Everyone Involved
App-based auctions let guests register for the event, download and learn the app, set up a profile, check in to the event, place bids, and pay for day-of-event purchases all in one place. Check-in/Check-out is handled through the app, eliminating manual data entry, long lines, and headaches for everyone involved.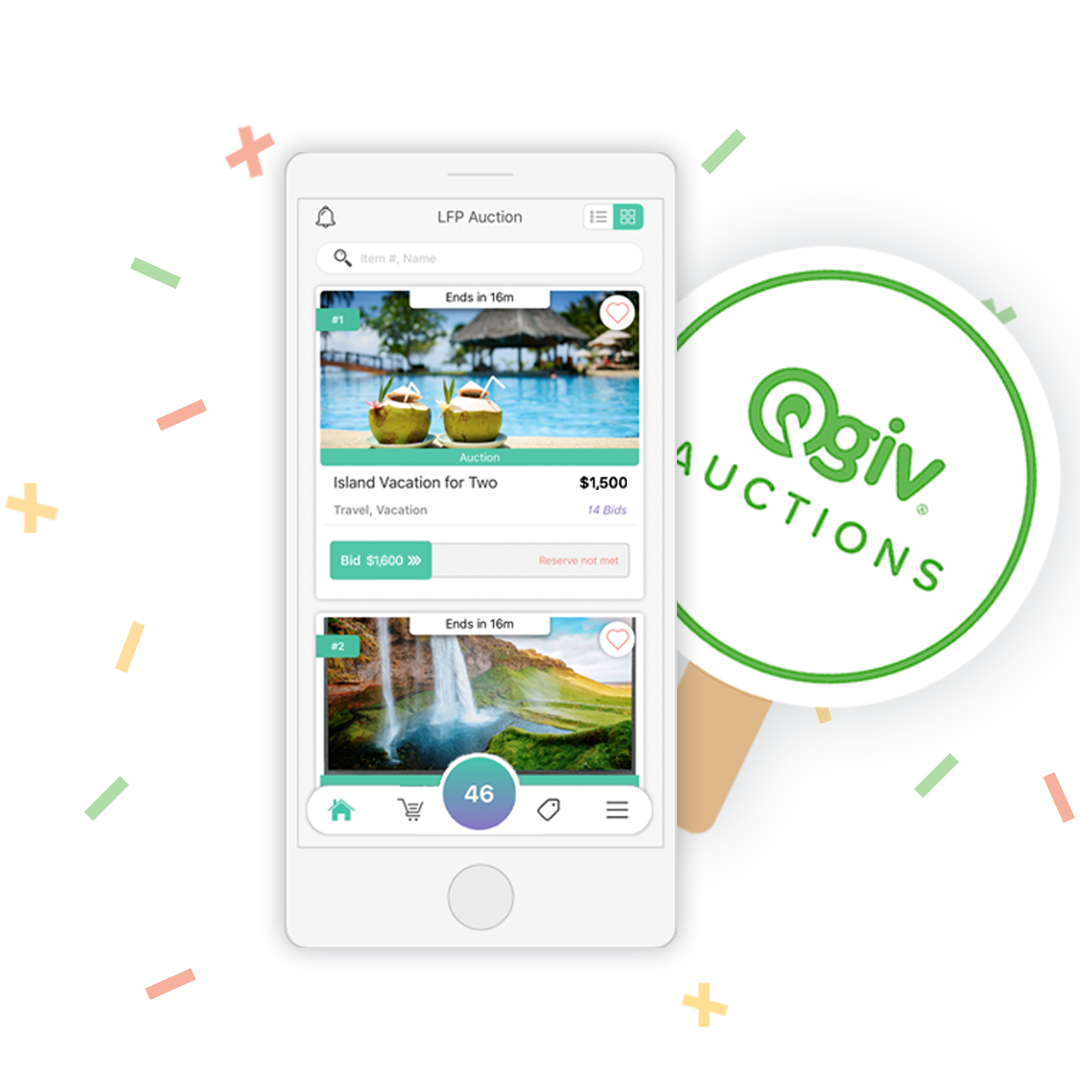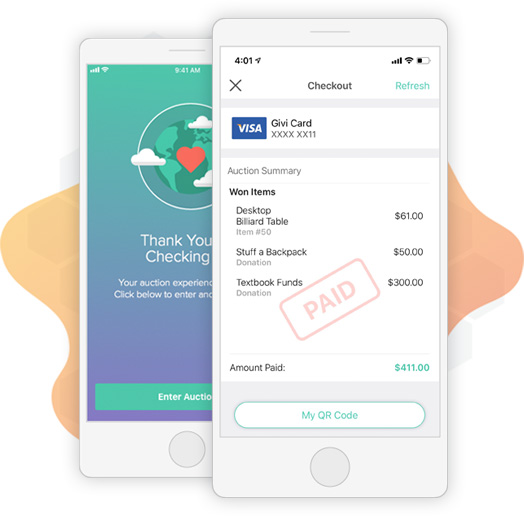 Qgiv's App-based Auction Platform
Qgiv's brand new auction and event management platform is a convenient, all-in-one app designed to help you raise more money by giving your donors an amazing auction experience. Everything from registration to bidding to checking out will be an enjoyable, engaging, and rewarding experience for your guests.
With Qgiv's auction platform, guests can:
Check in by presenting their bidding number or QR code on the app
Learn how to use the app with an interactive tour
Search, bid, and purchase items with just a swipe of a finger
Bid in real time, build a watch list, and set a maximum bid
Receive important auction updates automatically on their phone via push notifications
Check out with the press of a button; no more frustrated donors waiting in long lines!
And much more!
Organizations will enjoy:
A fully integrated event management system to streamline registrations with multi-guest ticketing
Virtual invitation system so registered guests can invite their friends
Easy item setup so they can create new items, add descriptions, and categorize them for easy browsing. You can even import all items from a spreadsheet!
Tracking bidder activity and funds raised in real time at your event
On- and offsite bids. Busy donors will love being able to bid on their favorite items in real time—even if they can't attend the actual event.
Simple checkout that lets donors pay on the app so you can dedicate more staff to retrieving items and thanking donors
Time-saving features like automatically generated personalized bid numbers and unique QR codes that make it easy for your donors and staff to manage payments
And much more!