Keeping track of bids during a silent auction can get complicated. From starting bids to bid increments, keeping all of your auction bids in order can be a monumental task, especially when the bidding gets heated. Luckily, with a well-organized bid sheet, you can ensure that the bidding and checkout process is a good experience for your donors and volunteers.
What is a bid sheet?
A bid sheet allows auction guests to place bids on items during an auction. Once your auction commences, guests can walk around the room to peruse your collection of auction items. When they see something they're interested in bidding on, they can write down their information and their bid on a bidding sheet. When other guests want to bid on that same item, they can consult the bid sheet to determine how much higher their bid needs to be to potentially win the item.
Traditional bid sheets vs. online bidding technology
Another way to keep your bid sheets simple is to use silent auction software to keep track of your guests' bids. With mobile and web-based bidding, guests can place bids on their phones and online, making bidding convenient for everyone, no matter if you're hosting an in-person, hybrid, or fully virtual auction.
With mobile bidding, you won't need to keep track of your bid sheets or worry about losing sheets with important bidder information. Instead, mobile and online bidding streamlines the bidding process for everyone. Bidders don't need to constantly check and stand near the items they're most interested in to ensure they don't get outbid. Instead, they can walk around and socialize, enjoying your event. When they've been outbid, they'll get notifications on their phone, letting them know it's time to place a new bid from wherever they are, instead of interrupting what they're doing.
Mobile bidding also makes the check-out process a lot simpler for your organization. Guests can register for your auction with their credit cards, making payment collection easy and painless. They can pay online, and then come to you to verify that they've paid and pick up their prizes, saving your volunteers time and effort.
How to design a bid sheet
When you're planning a silent auction, make sure to keep designing a bid sheet as a part of your planning process. While a bid sheet can technically just be a blank sheet of paper, it's best to include certain pieces of information on your bid sheets and keep your bid sheets organized to ensure your auction runs smoothly.
Give bidders information on the item
There are a few essential categories you should include on all of your bid sheets to give your bidders important information about the items they're bidding on.
Item information. At the top of every bid sheet, make sure you describe your auction item to your bidders. Provide an item title and write a thorough description of what your auction guests are bidding on. If you're auctioning off a basket, list out all the items that come in the basket. If you're auctioning off tickets to an experience or a vacation package, get descriptive about what the item includes.
Approximate item value. Be transparent about how much your auction item is worth, but don't underestimate how much anything is worth. Items with a higher value can make your guests feel like they have the opportunity to take home something unique. Valuing your items accurately will entice more of your auction guests to place a bid and will garner more interest.
Starting bid. Once you've established your items' values, set a starting bid for your items. Your first bidder needs to meet or exceed the starting bid in order to be eligible to win the item.
Bidding increment. Setting a bidding increment for your auction items provides guidance to your donors about how much higher each subsequent bid on an item must be.
Item donor. In addition to listing them in your event materials, make sure to add who donated or provided each of your auction items on their respective bid sheets. It's important to acknowledge the people who have helped to make your auction successful. By showing your gratitude, you can cultivate strong relationships with your donors.
Buy-it-now price. Set a "buy-it-now" price for your most coveted items. If a donor knows they want one of your auction items for sure, set a price that they can pay to take the item off the auction block. Set your buy now price at 100% or 200% of the item's value to ensure that you get the most from your most invested bidders.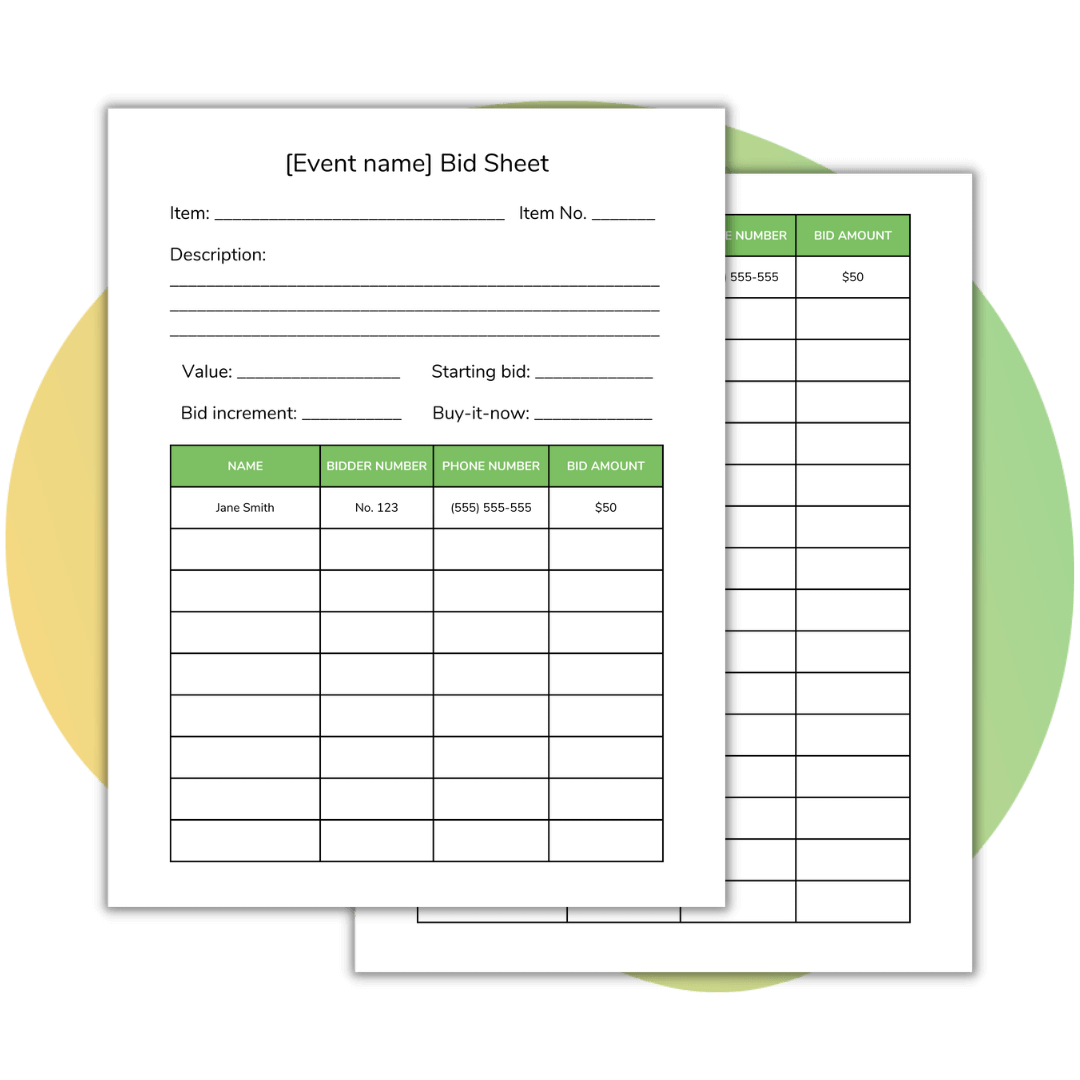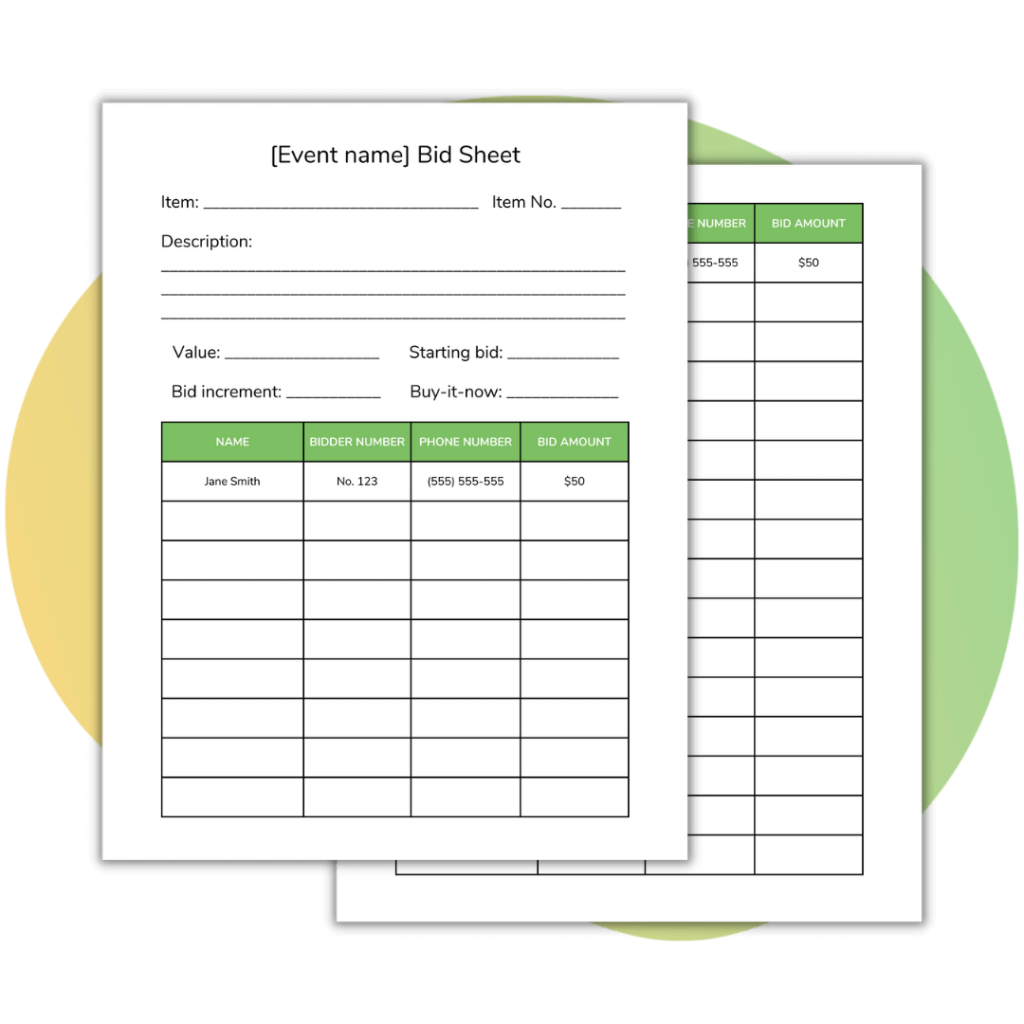 Ask for bidder information
Once you've provided all of your item information, you'll need to leave room on your bid sheets for your auction guests to make their bids. Use the rest of your bid sheet to collect your bidders' information after your auction begins.
If you're assigning bidder numbers, add a column where they can write down their bidder number. A bidder number allows your guests to keep their anonymity when they're making bids which can make them feel more comfortable. Your guests will provide all of their information at registration and are assigned a random number so they won't need to put down any personal information on bid sheets. If you won't be assigning numbers, adding columns for your bidders' names and contact information on your bid sheets can help you keep track of your auction winners and get items to the right people once your auction has closed.
You'll also need to reserve a column for your guests to write down their bid amounts. If you're using pre-set bidding increments, it may be helpful to fill out bid amounts ahead of time so your guests don't need to do calculations to figure out what their bidding amount should be. No matter what you choose to do, make sure you have multiple pages attached to your bid sheets in case bidding gets heated and any of your items garner a lot of bids from your guests.
Keep it simple
Your bid sheets shouldn't be a complicated piece of paperwork. Keep the information you're collecting from your bidders simple and don't go overboard with asking your bidders for too much information. Your bid sheets should be easy to use without extensive explanation. You also don't need to overcomplicate your own job when the auction closes and your guests are checking out with their items.
How to use a bid sheet
Once you've created your bid sheets, it's time to set up your auction and put those sheets to good use!
Place bid sheets next to your items
In order to collect bids from your auction guests, place each of your bid sheets next to their respective items as you're setting up your auction. While you could keep all of your bid sheets in one place to ensure you don't lose anything, it's best to keep all bid sheets next to the items they belong with to reduce confusion and make bidding easier for everyone. When your guests are ready to bid on items, they can walk around to each item they're interested in and make a bid from there.
Instruct your bidders on how to place a bid
While some of your guests may have been to an auction before, for some, this could be their first silent auction and they may not understand how bidding works. Before the bidding wars commence, give a brief overview of what they can expect from the bidding process. Explain what information they'll need to provide on the bid sheets and what starting bids, bidding increments, and buy-it-now prices are. To avoid having to give explanations multiple times, try adding a sample bid to the top of all of your bid sheets that your guests can follow when placing their own bids. Remind your bidders to keep checking back on the items they're interested in throughout the night to keep their place as the top bid.
Monitor the bid sheets
Throughout your auction, make sure to monitor your bid sheets to ensure that everyone is filling out their information correctly. It's also important to keep an eye out for any unqualified bids that don't meet the starting bid, aren't higher than the previous bid, or don't follow the bidding increments. By proactively checking bid sheets, you'll avoid any confusion throughout the night from competing bidders and once you collect bid sheets at the conclusion of your auction.
Final thoughts
Bid sheets are an essential tool for any silent auction. Staying organized during your auction is important and will make the experience enjoyable for everyone. By creating a well-designed bid sheet, you can give your guests a fun, memorable night.