Qgiv's auction platform helps nonprofit organizations grow their silent auctions. Want to learn how you can use Qgiv's tools to host more profitable fundraising auction events? This blog post will walk you through how to host a profitable auction event using Qgiv's auction tools.
Start with a good plan
Before you start putting your auction event page together, start with a solid plan for your fundraising auction event. Whether your event is going to be held in person, virtually, or in a hybrid format, you'll want to give yourself time to nail down the crucial details that go into running the event.
Some important things you'll need to consider are:
Where you'll solicit auction items from
Who is providing entertainment for the event
What software you'll need
If you're feeding your guests
It helps to start with an event timeline for when tasks need to be completed before, during, and after the auction. Qgiv's auction planners go into great detail about the event planning timeline, useful things to consider, and more.
Make use of sub-events
Not every auction guest is going to find a must-have item. That doesn't mean they shouldn't have fun at your event. Instead of limiting your auction to bidding, incorporate sub-events that keep guests entertained even when they aren't bidding.
Sub-events can range in complexity, but add further fun (and profitability!) to your auction fundraiser event. Here are some sub-event ideas you can use to earn more donations the night of your auction:
Sell raffle tickets as a store item and announce raffle winner(s) at the end of the night
Announce fund-a-need campaigns and livestream the ask for support
Incorporate other events and activities participants want to take part in
A casino fundraiser could include table games donors can play to win prizes
Guests can also pay to enter a costume contest if your event has a theme
The possibilities for unique sub-events are limited only by your event theme and your creativity!
Qgiv's tools make it possible to host sub-events alongside your auction. You can easily sell raffle tickets on the auction event page and fund-a-need campaigns are already included with Qgiv's auction tools. For other sub-events, you can create sign-up forms for participation in contests and experiences with a standard donation form and link to that form right on your auction event page! With the intuitive auction event builder, you can create custom pages to showcase sub-event images and invite guests to participate, which makes auction sub-events a snap!
That said, auctions also make great sub-events themselves! A silent auction can raise more funds at your peer-to-peer fundraisers, galas, and other fundraisers.
The guest experience is everything
Your auction can only be successful if your guests are having a good time. That means their experience will determine your outcome. Whether the event is taking place in person or 100% virtually, the goal is for guests to have a good time while giving to your cause. There are a few ways you can ensure your guests are taken care of.
Provide choices for how guests participate
First, let your bidders choose how they participate in the bidding process. Some auction platforms are strictly web-based and others require downloading an app. Neither method is perfect for all of your guests. Instead, give guests a choice for how they can participate. Qgiv's auction events work with both web-based bidding from the event page and app-based bidders through the Givi app.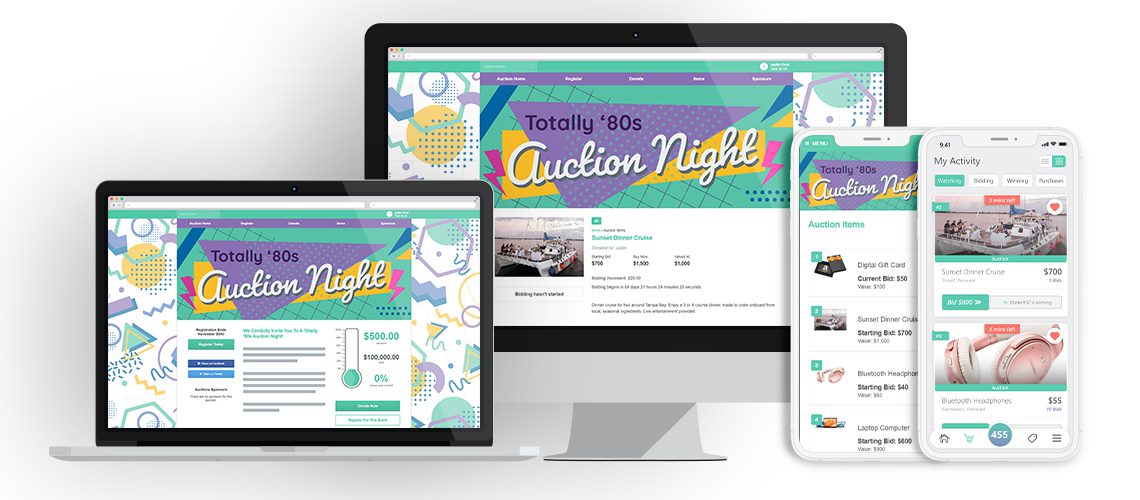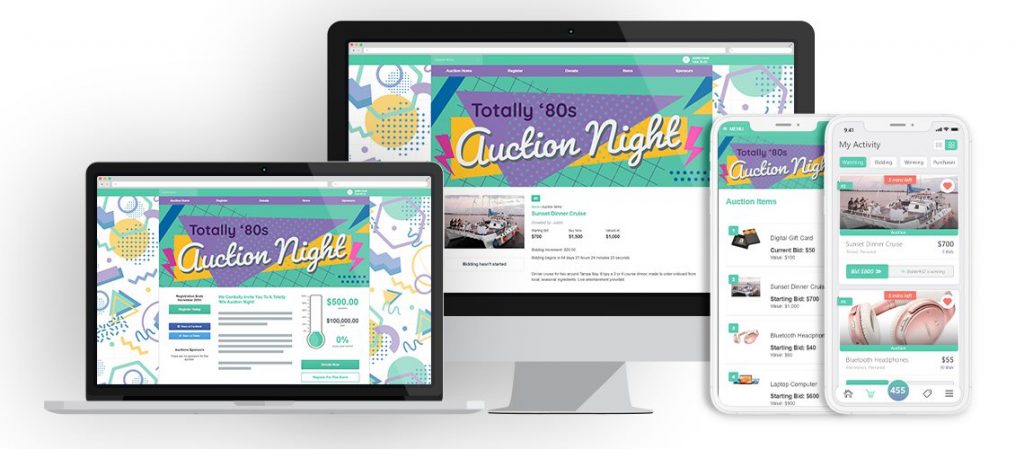 Secondly, if your event is a hybrid model, it should be possible for guests to participate from home like they could if they were there in person. They can bid at your auction from home, but what about the rest of their event experience? It can be boring waiting around to make sure you're not outbid. Instead, entertain virtual guests by offering a livestream feed of what's happening on site. Livestreaming resources are more accessible now than ever. With Zoom, Facebook Live, and OBS providing free or inexpensive services for nonprofit organizations.
Lend a helping hand
Additionally, you may have guests who need extra help placing bids. They may have forgotten their phones or aren't tech savvy. Give guests of all tech comfort levels a good experience by incorporating a concierge service into your event. Assign volunteers to assist with placing bids for guests who need or want the help.
You can have concierge stations with a table full of laptops open to the Qgiv virtual terminal, or a mobile concierge crew with Qgiv's Virtual Terminal App. The app is available for both Apple and Android devices, so any volunteer with a smart phone can input bids for tech-averse bidders. Either way, ensuring all of your guests can place bids confidently will make you more profitable and boost their event experience.
Other ways to provide a great guest experience are to make the process of checking in and out of the event easy, offer catered meals if it's in your budget, and provide entertainment outside of bidding on items. By making your guests a top priority, you're setting your auction up for greater success.
Manage your fundraising auction items
While the guest experience should be your top priority, you also need to drive bids to your auction items and make sales in your auction store. Read on for tips to promote your items and encourage bidding.
Item promotion
Showing guests what's available and encouraging them to bid is imperative. Make a plan to promote your auction items. With Qgiv you can write and send push notifications highlighting fundraising auction items to your app-based bidders. If you're hosting a livestreamed bidding experience, have your emcee talk about each of the items up for bid. Using video to promote auction items can generate a lot of interest, especially if bidders can watch in real time.
Additionally, promote your auction items ahead of your event. Teasing auction packages on social media or in event communication emails can get your supporters excited about bidding at your event.
Earning bids on items
You may wonder how auctioneers set the starting price and bid increments on auction items. There's actually a bid of science behind it. With auctions, the bidders often want to think they're getting an item for a great price. Otherwise, why buy at auction when you can buy from a store? To make items profitable while providing value for auction-goers, auctioneers figured out a way to make bidding attractive for all sorts of items.
We researched auctions a great deal when developing our tools and found 4 tips to help nonprofits set auction starting bids and bid increments. Use these tips when adding your items to you Qgiv auctions to drive bids and make more money at your event.
Store items
Your store items can be a source of additional revenue during your auction. Sell items like drink tickets, exclusive event merchandise, and more to guests. They'll have a good time and won't go home empty handed and you'll have raised more funds for your organization. But bidders can't purchase items if they don't know you're selling them. Like your auction items, be sure to promote your store items before and during the event.
Conclusion
Qgiv's auction tools are designed for greater profitability. With a solid plan, attractive auction items, and an inclusive suite of tools that make it easy for bidders to take part from anywhere, your next fundraising auction will be set up for success.
Want to learn more about how you can use Qgiv auctions to raise more money? Request a Demo.