Silent auctions are a classic go-to fundraising event—and for good reason. Guests bid on items, have an exciting time, and go home with a valuable prize. And, this type of fundraiser can be applied to all types of organizations and their audiences!
From large in-person events to a more casual virtual gathering, a fundraising silent auction can bring in much-needed revenue and provide supporters with a fun-filled night.
To run a silent auction, you'll need to plan many logistical pieces and discuss different considerations, such as how guests will bid on items, what the items you're procuring are, and how you'll process donations.
If this seems like a tall order, don't fret! You've come to the right place to learn more about how to plan a silent auction for fundraising.
In this guide, we will walk through:
Are you ready to explore how silent auction fundraising can benefit your mission and learn the essential planning steps? Let's dive in!
How Nonprofits Use Silent Auction Fundraising
One of the most valuable benefits of silent auction fundraising is how versatile it can be. This type of fundraising event can support a multitude of campaigns, acting as an additional revenue source.
Here are examples of the types of campaigns silent auctions can help with:
Annual giving campaign
Giving Tuesday or another giving day campaign
Large fundraising events, like a gala or banquet
Online fundraising campaigns with a virtual auction element
As you can see, silent auctions are versatile events suitable for all audience types. With giving projected to increase 5.1% in the next year, silent auctions are a dependable option to bolster your existing fundraising efforts. This is because:
Modern auction fundraising technology makes set up and management much easier.
Silent auctions can be hosted in-person or virtually, meaning participants can bid for prized items from the comfort of their homes.
Virtual or hybrid elements can expand the reach of your fundraiser and allow supporters who cannot attend in-person to participate.
However, silent auctions are likely not the best for time-sensitive campaigns like an emergency fundraising appeal.
Because of the auction logistics, from where it'll be hosted to what items need to be procured, it is more difficult to host a successful silent auction fundraiser on a whim.
Let's dive into the essential planning steps now.
Essential Steps to Planning a Fundraising Silent Auction
1. Create a planning committee
Before you dive into the nitty-gritty of auction planning, you need to gather a dedicated group of team members. These individuals will be your planning committee.
Your silent auction planning committee is responsible for:
Setting goals for the auction. This includes both revenue goals and performance goals. To determine these target metrics, look to past events and other similar experiences from competitive organizations. Some common key performance indicators (KPIs) to look out for when analyzing past events are an increase in attendees/donors, the percentage increase of new donors, and the percentage increase of donors attained.
Deciding whether the event will be in-person, virtual, or hybrid. While in-person events are the most engaging experience you can offer, incorporating virtual or hybrid elements is a great way to increase convenience and expand your auction audience. Virtual options can even be necessary under certain circumstances. For instance, with a global pandemic that advises against face-to-face interactions, hosting a purely virtual auction is your best bet.
Determining the auction budget. While silent fundraising auctions can raise a great deal of money for your organization, they can also be costly to host. On top of your fundraising tools, in-person venue, and auction entertainment, you need to consider the price of procuring items and staff payment.

To set accurate budgets for this event, look to other similar experiences and the amount of money needed to support them. If you find yourself needing to budget more conservatively, using volunteers instead of staff or receiving auction items as donations is a good idea.
Depending on the size of your organization, the characteristics of your planning committee will vary. Larger organizations might have a team dedicated to silent auction planning with one or two staff members assigned to each specific task. On the other hand, smaller organizations will have a more limited committee, with sometimes just only one or two people in charge.
Ready to host your best auction ever? Download the Qgiv Auction Planner to get started!
2. Plan for your venue
Now that you have your planning committee, it's time to figure out where and how exactly your fundraising silent auction will take place. This is where venue planning comes in.
It's important to find the right venue for your event style, whether it's in person, virtual, or hybrid. For instance, if you're planning an in-person fundraising event during the COVID-19 pandemic, you'll probably seek a large or outdoor venue to suit your needs.
Here are additional venue considerations you'll need to think about:
What equipment requirements are needed for the event?
If the event is virtual, where will you set up the livestream?
If the event is hybrid, how will you bridge the gap between virtual/in-person participants?
Besides determining logistics for where your silent auction will take place, you might also need to plan catering and entertainment.
If you're going to hire a caterer, you'll likely need to consider COVID-19 safety protocols like social distancing, masking, and frequent hand washing. Depending on your event type, you might also have virtual auction participants. You could have your caterers provide pick-up meals for those virtual attendees or provide a delivery service gift card.
Similarly, you'll need to find entertainment that matches your event needs. Some options that work for both in-person and virtual events are concerts, stand-up comedy shows, speeches, and other experiences that can easily be livestreamed. Remember, you need to ensure that the experience is just as engaging for your virtual attendees as it is for your in-person ones.
3. Procure auction items
One of the most important steps when planning your silent auction fundraiser is gathering the auction items. There are a variety of elements to consider in this process, from determining which items will excite supporters, procuring these items, and finalizing your budget.
Here are some tips to consider:
Reach out to sponsors or partners for auction prizes. These items can span from physical items to experiences. For instance, you might partner with a local restaurant to auction off a free meal. Along with reaching out to past sponsors, you should also set a goal to find new sponsors. It's important to cultivate new relationships to not only support your current auction but also boost future fundraising efforts.
Choose auction items that relate to your event theme. Let's say your auction is dedicated to increasing educational opportunities for students in need. You might auction off laptops, school supplies, and other similar items. For instance, the American Herbalists Guild hosted a virtual auction with items like an herbology 101 course and a gift card for botanical medicine.
Create a plan for storing and cataloging auction items. For instance, you and your planning committee should photograph or videotape each of the items you're planning on auctioning off and write a description. This is helpful for organizational reasons, but can also aid your event if you're incorporating virtual elements. Plus, you can use these photos in your social media posts promoting the event to entice your followers to get involved.
Set auction item starting bids at around 25-30% of the fair market value. This gives participants the chance to win the item below its value and incentivizes them to place a bid. However, there are always exceptions to the rule. For more advice, we recommend exploring our dedicated article.
The auction items and prizes you choose are what will motivate your supporters to bid, so it's imperative that you gather a good collection that sparks participants' interests.
4. Choose your auction platform
These days, it's rare to see an auction rely on the old-school method of paper bids.
A fundraising auction platform will not only automate many of your planning tasks and increase convenience for your auction attendees, but it also organizes your participant information and stores all event data.
In fact, to have any successful modern fundraising event, some type of management software or platform is not just recommended, but essential.
When investing in an auction platform, here are some key features to look out for:
Mobile app-based and web-based bidding options so guests can choose how they want to participate
Integrations with your existing nonprofit tech and constituent relationship management (CRM) system to enable seamless data transfers
Unlimited auction participants so that your future auctions can grow as your organization does
Our Qgiv fundraising platform has a dedicated solution for auction planners. Leverage the mobile-bidding app and keep all of your attendee data in one place!
See how Qgiv can make your next auction simpler for you and your supporters! Request a Demo
5. Build your auction website
No matter if your silent auction fundraiser is virtual or in person, you're going to need a dedicated website.
Your auction website is the first place prospective supporters will go to learn more about the event and where current supporters will go to register. As one of your most valuable marketing tools, you need to ensure that your auction website is effectively branded and can handle the necessary functions.
For instance, your website should have a dedicated logo or banner that both reflects the goals of your specific auction and illustrates your organization's core mission. Also, use impact statements! Describing the fundraiser's expected impact not only showcases your organization's worth but also incentivizes donors to give more.
Along with effective branding, here are the core functions that your silent auction fundraiser website should perform:
GiftAssist to cover the online processing fee
Dedications so that donors can dedicate their gift to a specific person
Recurring donation prompts
Mobile responsiveness so that supporters can engage on-the-go
In addition to showcasing your auction items and facilitating registrations, make sure that your website can host "fund-a-need" items.
"Fund-a-need" items are widely popular for silent auction attendees who want to support the cause but can't necessarily afford to bid on one of the more lavish items. These aren't prizes that participants take home, but are smaller-dollar donations that provide tangible items to a good cause.
6. Put together a detailed action plan
Now that your planning committee has most of the logistics down, it's time to start putting your plan in action.
To ensure everything stays organized and that your silent auction goes smoothly, it's recommended to have a detailed schedule written out 2-3 months in advance. This includes staff assignments and determining the number of volunteers you might need.
Your action plan also needs dedicated guidance detailing team member responsibilities on the day before, the day of, and the day after your silent auction fundraiser. This includes basic details for everything from who is responsible for checking attendees in, to what your follow-up thank-you strategy is for attendees and donors.
Don't forget to also create a contingency plan in case of any kind of emergency. For instance, let's say your in-person silent auction event has to shut down because of increased COVID-19 cases. Or, let's say your virtual event has some unexpected technical difficulties. Walk through different scenarios for your own event and ensure you have contingency plans for worst-case outcomes.
7. Invite guests
It's finally time to announce your silent auction fundraiser and get registrations rolling in. Before you launch any dedicated marketing or event promotion strategy, start inviting guests from your existing supporter base or past event attendees.
When your auction platform integrates with your other nonprofit tools, you can leverage your CRM to:
Find and send invites to attendees of past events.
Send specific invitations to those who are on your email list but haven't attended an event or donated in the past.
Separate those who will receive email invites from those who will receive direct mail invites. Remember, your supporters may have a communication preference or you might want to send physical mail (perhaps even a handwritten note) to your major gift donors.
With your auction platform, CRM, and marketing tools working together, you can create targeted messaging and ensure that your message resonates with supporters.
In all of these invites, make sure there is a clear, direct connection to how to register. This can be a URL, link, or even a QR code.
8. Promote your event
Besides emailing past attendees and creating a dedicated silent auction event website, there are other steps you can take and channels you can leverage to promote this event effectively.
The first channel we'll talk about is social media. Your planning committee needs to consider what kind of posts create engagement and how you can further your reach online. Explore the following ideas:
Consider new creative social media ideas like short-form videos on TikTok.
Look at past social media engagement and determine which posts and strategies got the most responses.
Ask sponsors to promote your event on their social media channels. To make this easier, you might provide graphics or dedicated videos for sponsors and partners to share themselves.
Engage your guests on social media and encourage them to post their own content. Make your posts shareable so that supporters can easily repost them to their personal networks. You might even create a dedicated event hashtag for them to use.
Let's see how social media can support your silent auction with a real-life example. Art & History Museums Maitland is planning a virtual 3-day online art auction for summer 2021. To both promote their event and advertise specific pieces, A&H Maitland has an active Instagram where they engage with supporters and answer their questions. Check out their Instagram homepage: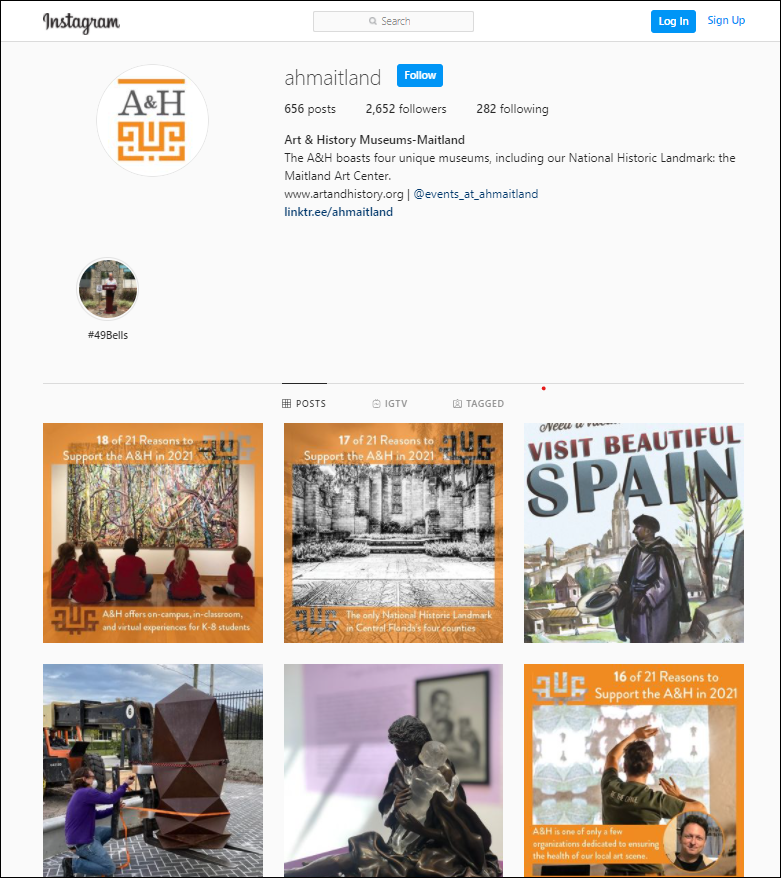 Along with leveraging social media to promote your silent auction, consider these other marketing tactics:
Reach out to the press. Consider advertising your event in the weekly event lists within local newspapers. Contact local blogs or even the Chamber of Commerce to promote your event. They might do this for free if it fits certain criteria!
Continue to use email. Besides inviting past attendees, you can send a broad email to promote your upcoming event. You might even ask sponsors to send emails to their own contact lists. Provide text and graphics so sponsors know exactly what they should send.
Go old school. Not everyone who wants to attend your silent auction is tech savvy. You can bolster your digital promotions with physical flyers and posters in key areas around your community. You can even ask local businesses to hang these flyers for you.
How you market your fundraiser can make or break your event's overall success. Make sure you use multiple channels and take insight from past data and metrics for guidance.
9. Have a rehearsal or walkthrough
Remember how we mentioned the importance of contingency plans? While you must have one, you should be doing all you can not to actually have to use it.
This is where rehearsals and walkthroughs come in. This is especially crucial if you're hosting a virtual or hybrid silent auction for the first time. When you walk through the event over and over again, you can better pinpoint common areas that need improvement and troubleshoot problems before they happen during the actual auction.
After your rehearsals and walkthroughs:
Create a FAQ sheet for staff/volunteers based on common points of confusion.
Determine the guest check-in and item check-out process.
Ensure that all staff and volunteers are fully familiar with the auction platform and mobile tools so that they can safely check guests out and take online payments.
Come up with a list of "VIP" attendees such as your major donors. Your staff and volunteers should treat these participants with even greater care during the actual event.
You never know what can happen during an event, so walking through various scenarios is the best way to ensure that your team is prepared for whatever may come.
10. After your event
Did you know that the average donor retention rate hovers around 40-45% across the nonprofit sector? In fact, 70% of new donors will only give once.
If your silent auction fundraiser attracts new supporters and introduces them to your mission, you should do everything in your power to keep them around. One of the best (and easiest) ways to retain new donors is to simply follow up after the campaign.
Once the event is over, you should send thank-yous to each of your participants. This appreciation message should not only explain how much their participation was valued, but also demonstrate the donors' impacts on your mission. Often, the reason why people don't give again is simply that they don't know what happened to their previous gift.
Along with increasing donor retention and starting new relationships on the right foot, following up with participants after your silent auction fundraiser can:
Explain how people can pick up their winnings if they participated virtually or left the event early
Share the plans for items that didn't sell, like saving them for a future auction or selling them online
Review wins/losses/growth opportunities to supporters in a transparent way
Provide an opportunity for participants to give feedback with a survey or optional questionnaire
In the end, following up after the event is simply a great way to continue the relationship with both current and new donors.
Additional Resources for Silent Auction Fundraising
Planning your silent auction fundraiser is more than just collecting fun items and presenting them to your supporters. The right auction platform can make this process much easier and keep an accurate record of all your engagements and efforts.
Want to learn more? Explore these other resources to jumpstart your auction planning:
Ready to host your best auction ever? Download the Qgiv Auction Planner to get started!