From 5Ks to galas, fundraising events are a great way to raise both awareness and donations for your nonprofit. However, creating an event that's engaging from beginning to end can be a challenge, even for the most experienced fundraisers. And in this day and age, you also have to plan ways for in-person guests and virtual attendees to all have a great experience, especially until the vaccine rollout is further along.
Enter the silent auction.
Once only thought of as a key component of a high-end event like a fundraising gala, fundraising auctions are a great way to add fun and engagement to a variety of fundraising events, ranging from marathons to bowl-a-thons.
They also help nonprofits to expand their fundraiser's reach, as participants don't have to live nearby to participate in an online auction. You can also encourage pre-event fundraising by opening the bidding windows up to a week before your event.
In-person vs. virtual fundraising events
The first thing you need to think about when planning a fundraising event is whether you're going to go for an in-person or virtual (or hybrid!) event! While some of this decision will be based on current COVID-19 safety precautions, there are additional things to keep in mind:
What elements of your event translate well to a virtual environment? We've all gotten really creative with transitioning in-person events to virtual events, so it may seem that even the fanciest events can be converted to a virtual format (hello, Golden Globes and all the celebs getting fancy to sit on their couches!)

We've even seen everything from amazing virtual game nights to virtual 5Ks in the past year. To say the least, we've been amazed at the creativity we've seen from the nonprofit community!

At the end of the day, some events just don't translate as well virtually, such as grown- up field days and swap shops. And that's okay. Even if you decide to go for an in-person event, adding a silent auction allows those who may not be comfortable with in-person events yet to participate.


How much time do you have to plan your event? If you've had delays in planning due to the uncertain nature of the pandemic, never fear! Virtual events can be great for shorter time frames because you don't have to worry about reserving a physical venue far in advance.


How many staff members and volunteers do you have available? If you're going to need a lot of volunteers for an in-person event, do you have enough volunteers who would be comfortable interacting in close quarters? Do you have tools you can use—such as an auction platform that eliminates the need for paper bids—to reduce the number of volunteers needed, or the in-person interaction your volunteers need to have with guests?

Even if you can safely hold an in-person event, you can use tools like live-streaming technology and online bidding to remove risk (and create a more immersive experience) for staff, volunteers, and guests alike.

Are you trying to raise awareness for your organization outside of your local community? The wonderful thing about virtual events and silent auctions is that you can reach potential donors well outside of your immediate community. Many nonprofits have found that the expanded reach of virtual events has allowed them to not only meet but exceed their fundraising goals!
Incorporate a silent auction into your fundraising events with ease
The first thing you want to do if you're looking to add a silent auction to your event is … form a planning committee! Silent auctions can help your organization raise big bucks in support of your mission, so you don't want it to be an afterthought. Even if this is one of your nonprofit's smaller fundraising events, you'll want to designate at least one person to do everything from procuring auction items to making your donors can easily pay for and pick up items at the end of your event.
Obtain auction items
And speaking of auction items, make sure the items you offer fit your event. A package that includes dinner to an upscale local restaurant and tickets to the theater is perfect for a gala, while 5K participants would be stoked to win a gift certificate to a local running store. A high-end, custom bike would be the perfect auction item for a cycling event!
Find an auction platform
You can even use custom fields to collect food and drink orders in advance, and to create packages for different table sizes.
No matter your auction platform, we highly recommend that you use videos and images to highlight your auction items in advance. If you have enough time before your event, you can make teaser images and videos to reveal one auction item at a time between now and your event!
Fun ways to keep attendees engaged
Adding an auction to your fundraising event is a great way to keep your attendees engaged! However, there are things you can do on top of that to make your event even more engaging.
Use video to show off your best auction items
Video is a really powerful tool for this, and you can have some fun with it. For example, you can post a video with some sort of teaser (a simple riddle, the item behind a translucent screen, etc.) on social media around lunchtime, and then come back with the big reveal in the evening!
You can even send out the teasers to past attendees via text or email (the Qgiv fundraising integrates with some of the best CRMs to help you get the most out of your donor data!).
And the best part is you can start teasing out your big items in advance of your event to build engagement! For smaller events with smaller auctions, up to a week before is fine.
If you have really big items—like an exclusive and exciting vacation package, you can start teasing out those big items up to a month before your event.
Build excitement and engage guests with text fundraising tools
Text-to-give and/or text-to-donate fundraising is also a great way raise more and encourage engagement throughout your event. Quick and simple to set up, all you need to do is create an easy-to-remember keyword and make sure that it (and the number to text it to) are prominently displayed throughout your venue.
If you're running a live stream at a virtual event, you can make sure that information is displayed directly below your live stream so your supporters can't miss it!
Raise more with competitive bidding options
If you're encouraging bidders to participate via a mobile app, you can set up push notifications to let users know when the bidding starts or ends, or when a donor has been outbid. Qgiv's auction platform offers both app-based and web-based bidding, for your guests' preference.
While it's good to set the notifications you know you'll need up in advance, you can also stir up extra excitement by using the silent auction platform to send notifications out on the fly for items caught in a bidding war.
Use FundHub Live to show off performance and celebrate supporters
Whether you're running a virtual or in-person event, it's always a fun idea to have your FundHub displayed for your guests to see. Then, your guests can stay excited about the amount of money they're helping you raise through the fundraising thermometer, and you can gamify your event by showing off recent donations. Your FundHub is also a great place to celebrate your sponsors and make sure your impact statement is front and center.
You can also use your FundHub display to add other fun elements to your event, like polls for attendees to vote in!
After your event
Finally, once your event is over, it doesn't mean the fun has to be over. Encourage auction winners to show off what they won on social media to raise more awareness for your organization. You can make this easy at an in-person event by placing your photo booth right by the auction pick-up station. Once your winners have picked up their items, you can direct them straight over to the photo booth so they can score a photo for Instagram.
Nonprofit auctions we love
As we mentioned earlier in this post, we have been so impressed by the creativity that's come out of the nonprofit community in the past year! While impossible to choose a favorite, here are just a few of the awesome fundraising events we've seen making great use of auctions!
Junior Achievement of Northern California

While Junior Achievement of Northern California has a history of putting on amazing events, they were no more prepared than the rest of us when they had to quickly transition to a virtual format for their 2020 gala. But by incorporating a variety of engaging elements—including a silent auction and a $50,000 matching gift campaign—they were able to surpass their $300,000 fundraising goal by almost $40,000! 
The entire event serves as great inspiration, but one of our favorite parts was their silent auction site, which showcased their auction items and had clear, simple instructions to tell attendees how they could take part in the silent auction. They even added "Virtual Classroom Sponsorships" to their auction, giving bidders who didn't find an auction package that tickled their fancy to participate.
Big Brothers Big Sisters of Southern Minnesota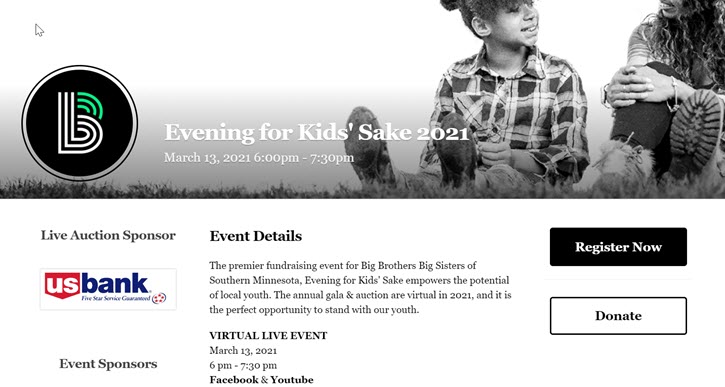 Another organization that had to pivot quickly at the beginning of the COVID-19 pandemic was Big Brothers Big Sisters of Southern Minnesota. Every year, they host a spring fundraiser called Evening For Kids' Sake, and with their event just weeks away when the pandemic struck, they had no choice but to switch to a virtual fundraising event with an auction. 
To make bidding easier for their guests, they made good use of the Givi app. Qgiv's auction platform includes mobile and web-based bidding options so your guests can bid how they prefer. They also included several fund-a-need options so guests who didn't find an item to bid on could still participate.
They were able to raise over $100,000 through their event … and are planning on using a virtual auction format in 2021 as well.
St. John Center for Homeless Men

The St. John Center for Homeless Men recently held their Raisin' the Rent 2021 virtual event … and it's no surprise that they were able to raise over 150% of their fundraising goal! They not only gave their virtual house party attendees clear instructions, but they also added fun auction and raffle prizes like a pot of gold and some sweet vacation packages, which they teased with video on social media. After all, who wouldn't want to attend an event when they have a chance to win such amazing once-in-a-lifetime prizes?!  
Video content was already something viewers craved before COVID-19, and most internet users said their video consumption has only increased since the start of the pandemic. Give the people what they want and use videos to tease auction items, entertainment, and other fun elements you have planned for your event!
Final thoughts
Adding a silent auction to any fundraising event is a great way to add excitement for your supporters while raising the funds your organization needs to fulfill your mission. If you're looking to add an auction to your next fundraising event—whether it's a fancy gala or an adorable human/dog 5K—we hope these resources will help you on your way:
If you're at the beginning stages of planning an auction event, check out our free auction planner that you can take with you as you plan!