Figuring out how to run a silent auction can seem like a daunting task. There are many moving pieces and people to organize, and your nonprofit may not have all of the resources you need to make sure everything runs smoothly.
That's why we've compiled this list of simple steps you can take to make your silent auction a success. These steps include:
Want to make your next silent auction a success? Jump to the section you need help with the most, or start reading from the top!
Silent Auction Planning
A large part of running a silent auction occurs in the planning stage. There is a wide array of tasks that needs to be checked off before your silent auction starts, and many of these tasks can be streamlined using silent auction software.
These tasks include: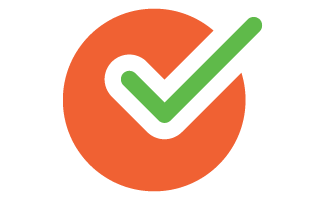 Procuring the right items. Start securing your donations first. Reach out to local businesses to see if they would be willing to donate a gift certificate, for example, or even sponsor part of the event. Choose items that will appeal to a wide variety of guests, such as gift baskets, travel packages, and event tickets.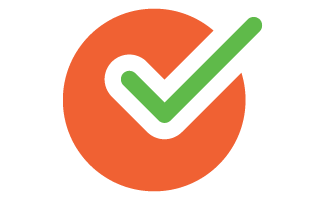 Securing volunteers and event staff. Secure the volunteers and staff members you'll need to run the event. Make sure each one can offer guests assistance with your silent auction software, if you're using it.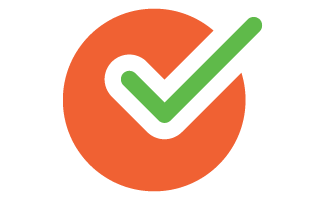 Choosing the right venue. Select a venue that meets your organization's needs and budget and offers enough capacity to accommodate your guest list. Be sure to book this space as far in advance as possible.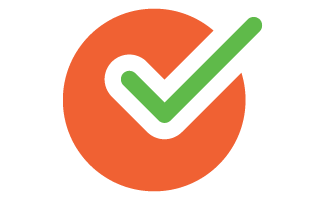 Spreading the word. Promote your event via email, social media, direct mail, and other communication platforms. Encourage your guests to register early so they can view the items through your mobile bidding app, if you're using one, and get them ready to go on the day of the event.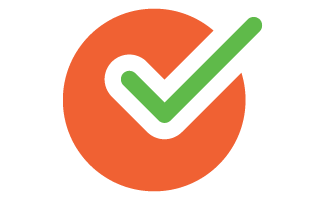 Planning add-ons. Give your guests the opportunity to purchase items like raffle tickets within your mobile bidding app, allowing them to add these items to their running tab.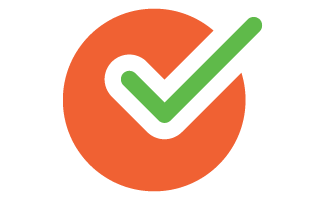 Incorporating fund-a-need. Incorporate fund-a-need options into your silent auction. Decide on a need you'll share with your supporters during your event and allow them to make a donation through your event website.
With silent auction software, you can streamline much of the planning process. But there's even more you can do once the event has already kicked off!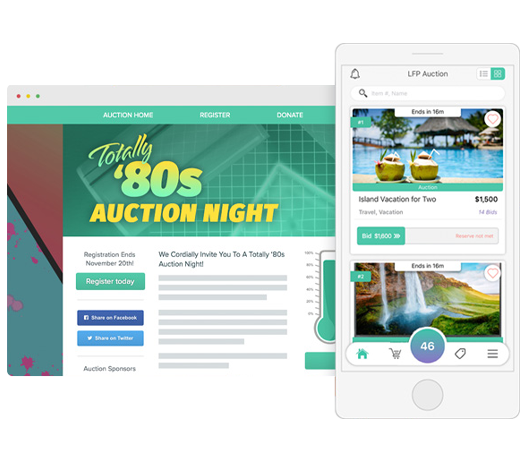 Take advantage of features that make the actual event run smoothly
, such as:
Event Management
Rather than manually tracking registrations and sorting through long lists to check in your guests, use a fully-integrated event management system. Take advantage of multi-guest ticketing, collect guest information through custom fields, create add-on purchases, and track bidder activity.
Bidding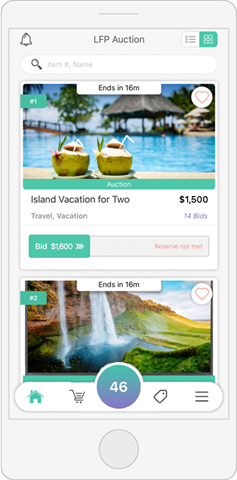 App-based platforms help your guests manage their entire bidding experience from their mobile devices. Allow them to become familiar with the app, search for items and place bids, and receive outbid notifications that help them quickly increase their bids.
With app-based platforms, you can optimize the mobile experience by running everything through a downloadable app. App-based platforms provide a positive user experience, are easy to use, and boost engagement. Push notifications will alert guests when they have been outbid, allowing them to increase their bids with the swipe of a finger.
App-based mobile bidding platforms also outperform other types of bidding platforms, including browser-based and paper-based methods.
Paper-based platforms are the more traditional method for silent auctions. Bids are written on a sheet of paper, but don't drive as much revenue. After all, bidders aren't going to get up from their seats just to add a few more dollars to their bids.
Browser-based platforms combine online and mobile bidding technology for use on desktops, tablets, and mobile devices through web browsers. Event updates are sent via text message or email and include links back to the auction items.
Checkout Features
Avoid overly complicated checkouts, illegible payment information, and long lines. By using silent auction software, you can check guests into the event on the app or on a laptop, rather than forcing them to wait in endless lines. You can also let guests set up a payment method on your auction website, which is faster and more secure and allows guests to quickly complete their payment and collect their items as they leave.
The Basics of Silent Auction Rules
Learning how to run a silent auction means understanding the rules and common guidelines. Silent auction rules are important—after all, your auction won't run smoothly without implementing them! Different organizations will have different rules for their events, but using silent auction software can help you manage any kind of process.
Common silent auction rules and guidelines include:
Bidders must be registered.
Try to get your guests registered before the event. Encourage them to register in advance with early-bird discounts and other incentives, like early access to bidding. At the actual event, create multiple check-in lines. For example, you can create a VIP line, a line for those who pre-registered, and a line for walk-ins.
Determine the fair market value of an auction item.
In order to determine the fair market value (FMV) of your auction items, be sure to conduct extensive research. Check the internet for similar items and see if you can get an expert opinion (or two) and list the FMV based on your research. The more accurately these items are assessed, the more value you'll give your guests.
Set minimum bids.
In order to set a reasonable starting bid for your auction items, you must first determine its FMV and decide on your minimum bid as a percentage of that. If the starting bid is too high, you might not attract enough bidders. On the other hand, if it's too low, you may leave money on the table. Think about what bidders would be willing to pay for the item in a typical setting and go from there.
Consider bid increments.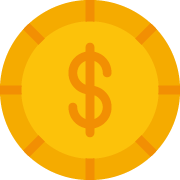 A good general practice? Keep bid increments as low as possible. This is because higher bid increments will dissuade more people from placing a higher bid. Additionally, when you incorporate a mobile bidding app, it'll be easier for bidders to place a higher bid because they can do so from their phone with a few taps, which will increase the amount of bids you receive anyway!
Properly display items.
Avoid small and overcrowded silent auction item displays, as well as poor lighting or handwriting on display sheets. Instead, display everything like you would in a retail shop, keeping it well-lit, with detailed display cards. Make sure every item can be found in your mobile bidding system, as well, and keep items out of their packaging for a better view, if possible.
Set your auction time frame.
Open your auction as early as possible, even days in advance. This gives guests more time to familiarize themselves with your items, get familiar with your auction tools, and get ready to bid once the auction starts. Then, close the auction as late as possible on the day of the event.
Communicate deadlines for making a bid.
Be sure to have a system in place to communicate the amount of time left for guests to place their bids. Announce the time remaining prior to closing times so that guests remain informed. This is easily done if you're using an app-based auction product; you can create and send push notifications! This helps boost engagement and encourage more friendly competition in the minutes leading up to the conclusion of the auction.
Set deadlines for final payments and item pickup.
Make the deadlines clear when it comes to making final payments and picking up items. This can be streamlined with your silent auction software, as guests will be able to easily pay and checkout at the conclusion of the evening. However, in the event where a guest chooses not to pick up the item, you'll have the data you need to identify the second highest bidder.
Getting Silent Auction Checkout Right
Long checkout lines can be enough to frustrate any guest at a silent auction event. After the excitement of the event, guests want to be able to quickly claim the items they won and head home to enjoy them.
However, the typical silent auction checkout process doesn't move as efficiently as it could. Between deciphering handwriting on paper bid sheets and slow payment processing on computers or registers, the process could be significantly delayed, leading to long lines and agitated guests.
By incorporating silent auction software into your event, your checkout process can look more like this:
The auction ends.
The organization opens checkout.
Guests who have already entered their payment method can easily pay for their transactions, such as bidding items, event purchases, and fund-a-need items.
Guests will get a paid receipt and the organization can scan their QR code to see a list of won items, which are then retrieved and handed to the guests.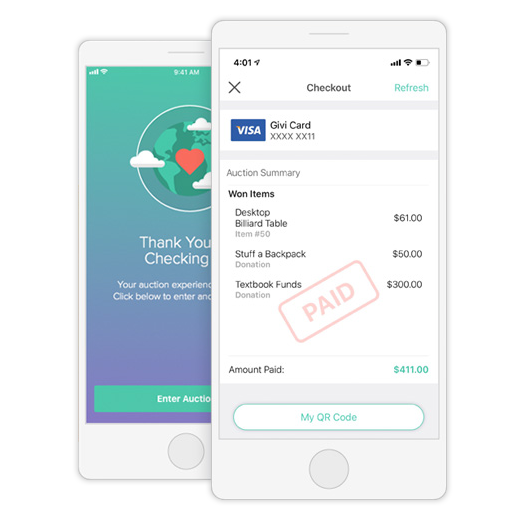 Using silent auction software reduces checkout lines, speeds up the checkout times, and gives your staff and volunteers more time to dedicate to retrieving the items for bidders.
After the Event
After the event, it's important to thank and recognize the guests who donated and bid on items. Offer a survey to your guests so you can learn how your event performed and identify areas for improvement. This will also re-engage your guests and encourage them to stay connected to your organization or give again in the future.
Following the event, send a personalized thank-you message to the vendors and businesses who donated goods and services, as well as sponsors. Follow up with your guests, as well, providing information about future events and thanking them again for their participation and generosity.
---
Running a silent auction can sound like a challenge, but with silent auction software, helpful staff and volunteers, and a solid plan in place, you'll be able to get your event up and running!
If you're looking for additional insight into running an auction, check out the resources below: