With Giving Tuesday right around the corner, it's time to start thinking about your marketing strategy for the holiday. While your marketing campaign for Giving Tuesday should start a couple months before the day, it's important to plan out your day-of schedule for donor communications, and knowing when donors give can help you know when to send out your appeals for donations. These key times to ask for donations on Giving Tuesday can help you increase your organization's visibility throughout the day.
When donors give on Giving Tuesday
Giving Tuesday is one of the most prolific days for donations during the year, but some hours of the day see more donations than others. According to data collected from Qgiv's platform, 10 a.m. to 1 p.m. ET has the highest donor rate in both value and number of transactions. The second highest time is from 4:00 p.m. to 8:00 p.m. ET, followed by a slight uptick in the number of transactions from 12:00 a.m. to 2:00 a.m. ET the morning after Giving Tuesday.
Most organizations don't see a large number of donations come in before 6:00 a.m. ET the morning of Giving Tuesday, and while not as low as the morning, the volume of donations dips from 9:00 p.m. to 12:00 a.m. ET the evening of the holiday. It's important to note that these times do vary based on the organization and the time zone you're in.
By knowing when your donors are most likely to give, you can remind them throughout the day at peak giving hours to increase your chances of receiving a donation. During slower donation hours, you can interact with your donors to motivate them and raise awareness of your organization.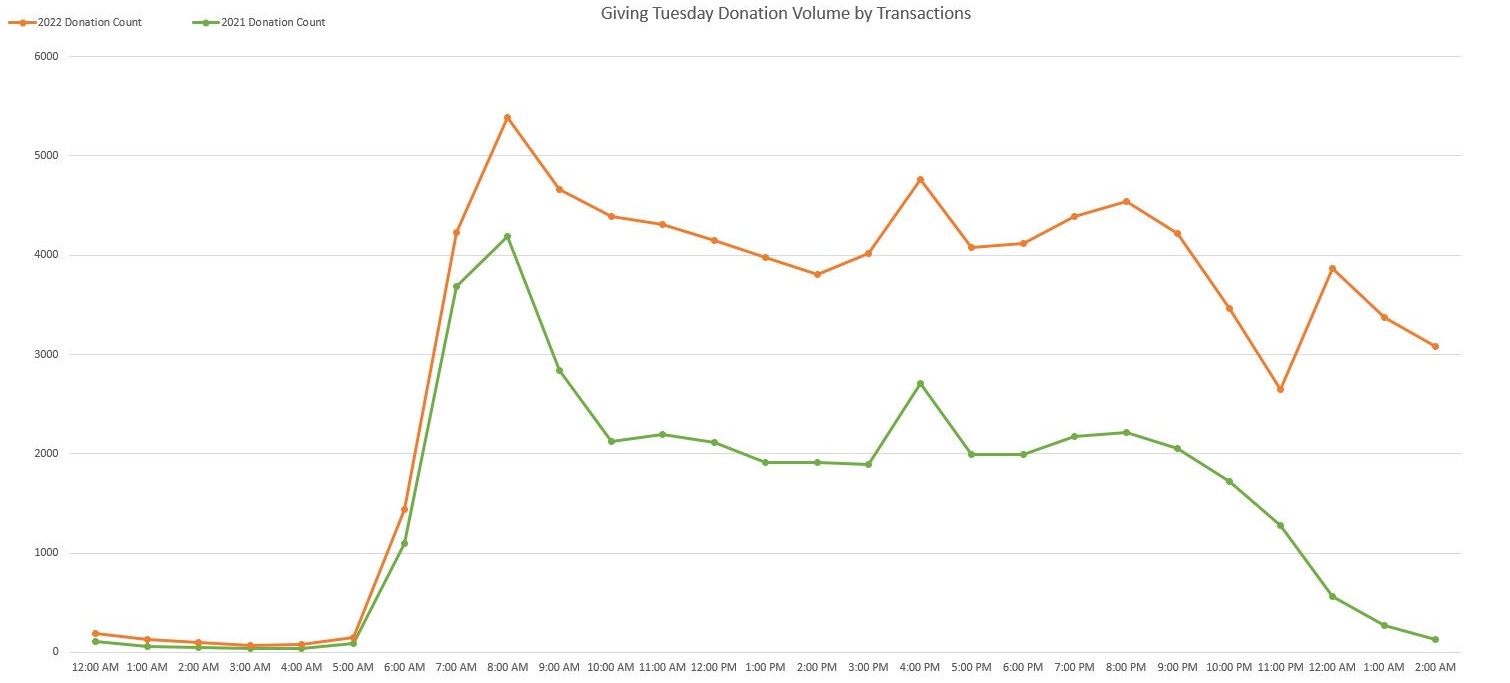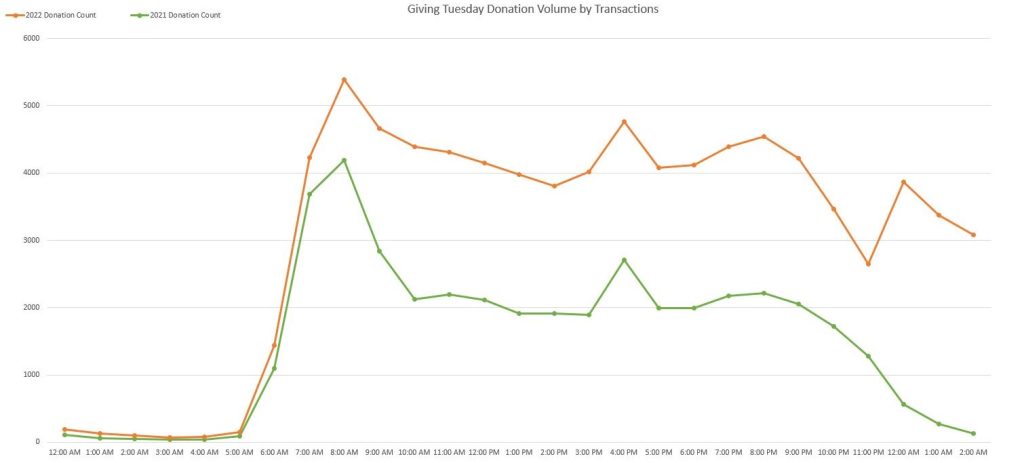 Best times to send Giving Tuesday appeals
There are many ways to appeal for donations on Giving Tuesday, including emails, texts, and phone calls. You want to be careful not to spam your supporters. Sending too many appeals might make them feel overwhelmed or annoyed and less likely to donate. To avoid this, segment your donors by communication preferences and donor type.
For your day-of Giving Tuesday email and text appeals, send your first message between 8:00 a.m. and 10:00 a.m. ET to remind your donors of the holiday. Schedule your second appeal to be sent between 12:00 p.m. and 2:00 p.m. ET for your supporters checking their phones during lunch, and send your last message between 6:00 p.m. and 8:00 p.m. ET as a last call for donations for the day.
For phone calls, reach out to major and long-time donors throughout the day to add a personal touch to your donation appeal. Use your donor data to determine the best time to call your major donors or call outside of business hours for a better chance to have your call picked up.
Best times to post on social media on Giving Tuesday
Social media is one of the key components of Giving Tuesday, and using the Giving Tuesday hashtag can help your nonprofit expand past your normal reach. Just like during the rest of the year, each platform has best practices for when and how often your organization should post to boost engagement. The key times to ask for donations on Giving Tuesday on social media will vary based on when you see the most engagement with your posts based on your organization's analytics, but there are some general times that are ideal for posting throughout the day.
Facebook
For Facebook, ramp up to three to five posts on Giving Tuesday. Your first post should be early in the morning from 7:00 a.m. to 9:00 a.m. ET. Your midday update should go public between 11:00 a.m. and 1:00 p.m. ET, and your last post of the day should go out between 7:00 p.m. and 9:00 p.m. ET. You can add optional updates on your campaign about two hours after your first post and your midday update.
Instagram
For Instagram, limit the posts to your Instagram feed to two or three posts, focusing on a morning reminder between 8:00 a.m. and 10:00 a.m. ET and an evening update between 8:00 p.m. and 10:00 p.m. ET. However, you can post updates and thank yous throughout the day on your Instagram story or share posts from your donors about donating to your nonprofit.
TikTok
For TikTok, use Giving Tuesday to repost content from your supporters about your organization and share videos about your cause from experts. You can post more frequently, pushing out around five to seven posts throughout the day. Content ideas can include duetting or stitching videos from other users or posting compilations of your nonprofit's work. Post your first video around 9:00 a.m. ET and continue to post at regular intervals, with your last video going live around 10:00 p.m. ET.
LinkedIn
For LinkedIn, you only need to post a few times during Giving Tuesday. Schedule your first post to go live between 6:00 a.m. and 8:00 a.m. ET, your midday update for 10:00 a.m. to 12:00 p.m. ET, and your last post between 5:00 p.m. and 7:00 p.m. ET.
X
For X, post around four to six times throughout Giving Tuesday. Start posting between 7:00 a.m. and 9:00 a.m. ET, post an update from 11:00 a.m. to 1:00 p.m. ET, post another update between 3:00 p.m. and 5:00 p.m. ET, and publish your end-of-day from 8:00 p.m. to 10:00 p.m. ET.
Threads
For Threads, post four to six times, similar to how you use X or TikTok, as the audience on Threads tends to be around the same age groups.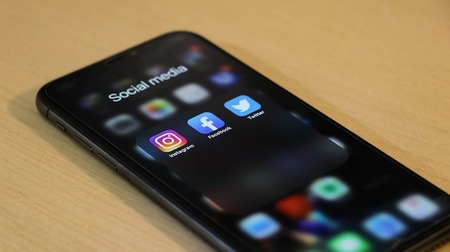 Paid Ads
Because organic traffic on social media is decreasing, using paid ads leading up to and on Giving Tuesday can help give your nonprofit a better chance at being seen. Schedule an ad for your Giving Tuesday campaign towards the morning or afternoon, or pay to boost your regular post to a wider audience.
Livestreaming
Social media offers you a great tool to make Giving Tuesday more engaging for your supporters: livestreaming. Livestreaming lets you interact with your donors and entertain them throughout the day while also sending them notifications about the livestream to keep your organization at the top of their minds. Either host an all-day livestream on Giving Tuesday or do smaller livestreams throughout the day at key giving times to provide updates and answer questions. Include your fundraising thermometer on your livestream to show your supporters how close you are to your Giving Tuesday goal.
Types of messaging throughout Giving Tuesday
When you're planning out your Giving Tuesday marketing, it's important to consider the type of messaging to include throughout the day. Use morning and midday posts to focus on asking for donations. For posts throughout the day, give your donors updates on your goal to motivate them to give and thank those who have already donated to your cause. For your last post of the day, focus on thanking your donors with a quick reminder of when donations stop counting towards the Giving Tuesday campaign.
Final Thoughts
Giving Tuesday is a crucial day of fundraising for many nonprofits, and knowing the key times to ask for donations on Giving Tuesday can help you increase your engagement with your donors. Analyze both your donor data and your social media data to determine when to schedule your donor communications throughout the day to boost your donations on Giving Tuesday.