Mobile fundraising empowers people to give on the go!
Whether supporters are donating through text or accessing your online donation page on their smartphones, it's imperative that your organization has the tools, resources, and best practices to conduct a successful mobile fundraising campaign.
We at Qgiv are experts in nonprofit software and have seen firsthand how mobile fundraisers can further a mission and engage donors. In this guide, you'll be exploring the following topics:
These days, it's all about convenience. Ensuring you not only can accept mobile gifts but also leverage this channel smartly to increase fundraising is essential. Ready to learn more? Let's get started.

What Is Mobile Fundraising?
Mobile fundraising helps nonprofits raise money by connecting with supporters via a mobile device, like a smartphone. This type of fundraising allows you to reach supporters wherever they are as soon as they're inspired, also known as contextual giving,
Contextual giving is an integral fundraising concept that can reduce donation abandonment rates. It does this by keeping donors in the same context that inspired them in the first place—this can be a fundraising event, a social media post, or your website.
Mobile fundraising is the perfect way to leverage contextual giving, and it comes in many different forms:
Text fundraising – This is a form of mobile giving that enables supporters to give via text. There are two types of text fundraising, text-to-give and text-to-donate. To learn more about the differences between them, check out our dedicated text-to-give vs text-to-donate guide.
Mobile giving apps – Churches and other similar institutions often use mobile giving apps to regulate any donations or receive consistent gifts like tithes. There are also dedicated mobile apps to help fundraisers accept auction bids, another form of giving!
Mobile donation page – Your entire website should already be mobile-optimized, but your donation page is one of the most critical areas to remember. This ensures that people can give to your organization no matter where they are or which device they're using.
Mobile kiosk – Mobile giving kiosks are portable tablets that your nonprofit can use to accept on-site card donations. While this doesn't always involve smartphones, it does make it easy for supporters to give in the moment.
With 72.7% of people in the U.S now using smartphones and the average text message open rate around 98%, taking your fundraising mobile is essential.
Don't fall into the trap of thinking, "Well, my supporters are older and prefer the traditional way of giving." According to the Pew Research Center, 53% of people 65 and older actually own smartphones as well!
Mobile fundraising is convenient and user friendly for all ages. Meet your supporters where they already are and empower them to give in the way they want to.
See how Qgiv can support your text-to-donate and text-to-give efforts! Request a Demo

5 Mobile Fundraising Best Practices
You can't reap the benefits of mobile fundraising without following some best practices and using comprehensive mobile fundraising tools.
Whether you're using text fundraising or a mobile-optimized giving page, here are a couple of tips that we've seen take a nonprofit's mobile fundraising efforts to the next level.
Create a simple keyword
For text fundraising, an important component you'll have to determine is the keyword you choose.
Your text keyword is the phrase that supporters will send to start the text giving process. It's recommended that your keyword is memorable and simple, but also unique to your mission and goals.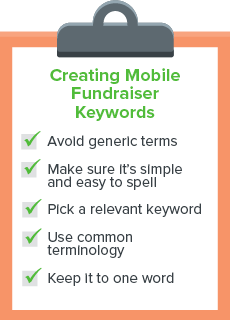 Here are some tips we recommend:
Avoid generic terms like "Donate" or "Gift." While these keywords are easy to remember, it's more than likely that other organizations have used them in the past.
Make sure the keyword is simple and easy to spell. This way you don't risk autocorrect adjusting the phrase or the donors mistyping it. It's helpful to test whether your word will be autocorrected by typing it in various phones.
Pick a word that is relevant to your mission or specific campaign. This can help forge an emotional tie and further connect your donors to your goals.
Use common terminology. If you're using abbreviations or acronyms, make sure they're already widely used. You don't want supporters typing in the wrong letter combination!
Try to keep it to one word. Some organizations fall into the trap of using an entire phrase as their text keyword, which is likely much harder to remember than just a single word. If you do want to use a phrase, it's recommended to keep it below 10 characters.
Choosing a good keyword for your text-to-give campaign can be critical to your mobile fundraiser's success. It can connect donors to your cause and explain your mission. Plus, if the keyword is hard to remember or will be autocorrected, you risk missing out on key gifts.
Segment your messages
One feature of mobile fundraising is the ability to send outbound texts. When it comes to text communications, crafting targeted messages to a specific audience is the most sure-fire way to ensure the recipient will respond positively. This is called segmentation.
Common mobile fundraising segments you might create are new donors, existing donors, and mid-size or major donors:
You wouldn't send the same gift appeal to new donors and existing donors. The former will likely need more explanation on your mission, while the latter already knows exactly what your goals are.
Mid-size and major donors are some of your most important supporters. When you message this segment, be sure to not overwhelm them with too many texts and to show ample appreciation for their support.
When you segment your mobile fundraising recipients by common traits, you also reduce opt-outs from those who decide they no longer want texts. This is because you know that the texts you're sending are relevant to the specific audience.
Plus, if your text giving platform charges you per text (or you have a messaging cap), segmenting your recipients can even save you money!
Craft engaging (but concise) stories
Storytelling is an essential component of fundraising, and especially so when it comes to mobile fundraising. A good story can be the deciding factor in contextual giving and connect donors closer to your cause.
So, how exactly can your mobile fundraising affect and support your nonprofit storytelling?
Impact statements – Use your text giving tool to show impact to current and potential donors. This not only shows supporters the value of your work, but lets them know just how much their gifts can impact your mission!
Event promotions – Let's say you have an exciting event coming up. Teasing the event with a couple of text messages is an engaging way to not only promote your event but continue relationships with supporters. Let recipients choose whether they want to keep receiving texts about this event with an easy opt-out text.
Increase engagement and keep fundraising campaigns on track – If you have an ongoing fundraising campaign, use texts to engage with donors, like quick updates whenever you reach new fundraising goals. This keeps them involved with your progress and can even inspire them to give again!
When it comes to storytelling with mobile fundraising, make sure to put your donors at the center of the story. This way, you're most likely to capitalize on contextual giving and inspiring your supporters.
Have an opt-in policy
Do you have an opt-in policy? The Telephone Consumer Protection Act specifically bans businesses from texting customers without their consent. However, nonprofit organizations don't require written consent.
To give consent, all people have to do is provide their phone numbers with the knowledge that they'll be receiving communications. This can be as simple as filling out a form on your website.
Make opting in easy by incorporating the opt-in form to key parts of your supporter engagements. Embedding it in your online donation page, volunteer sign up page, event registrations, and other areas of your website are valuable places where donors are most likely to opt in.
Want more advice on creating a mobile fundraising opt-in policy? Check out our recommended best practices.
Make sure your donation page is mobile friendly
According to our fundraising statistics, 75% of young donors are turned off by out-of-date websites (not being mobile responsive is an outdated website red flag) and mobile-responsive donation pages yield 34% more donations.
When you're conducting a mobile fundraising campaign, there's a good chance that people will be accessing your donation form and page on a mobile device. It's imperative that this page, and your other pages, are designed with mobile users in mind.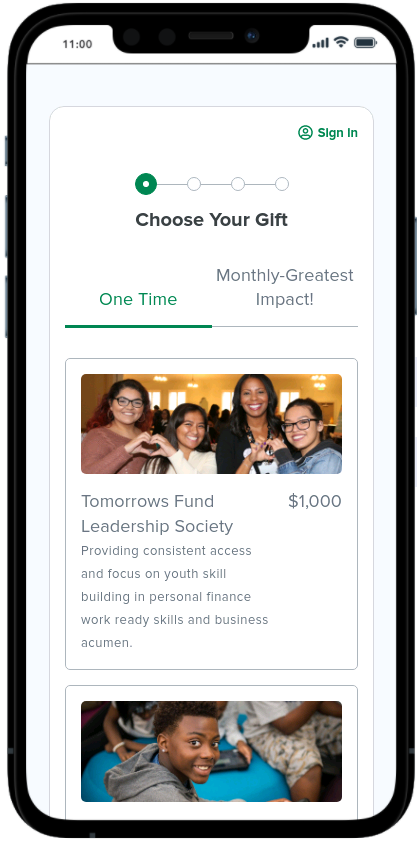 We recommend:
Keeping the form as short as possible by minimizing required fields.
Embedding the form right into your donation page.
Using large text to help mobile users avoid pinching and zooming.
Avoiding cramming your page with too many design elements.
Using portrait mode instead of landscape mode so that it fits easily on devices of any size.
Most content management systems (CMS) make it pretty easy to design mobile-responsive pages. To test out if your donation page is mobile friendly, use this free Google tool.

10 Mobile Fundraiser Campaign Ideas
1. Supply drive
While mobile fundraising can't exactly deliver in-kind items to an organization, it can still be used to drive funds for a much-needed supply drive. All you'll need is a mobile-responsive donation page, a creative keyword, and a shortcode that donors can text.
Mobile fundraisers are great for supply drives because these types of campaigns usually support an urgent need. And, as soon as donors know that they can give where they are, it's more likely that they will.
To drive donations, make sure to explain just exactly how a gift will provide for your community.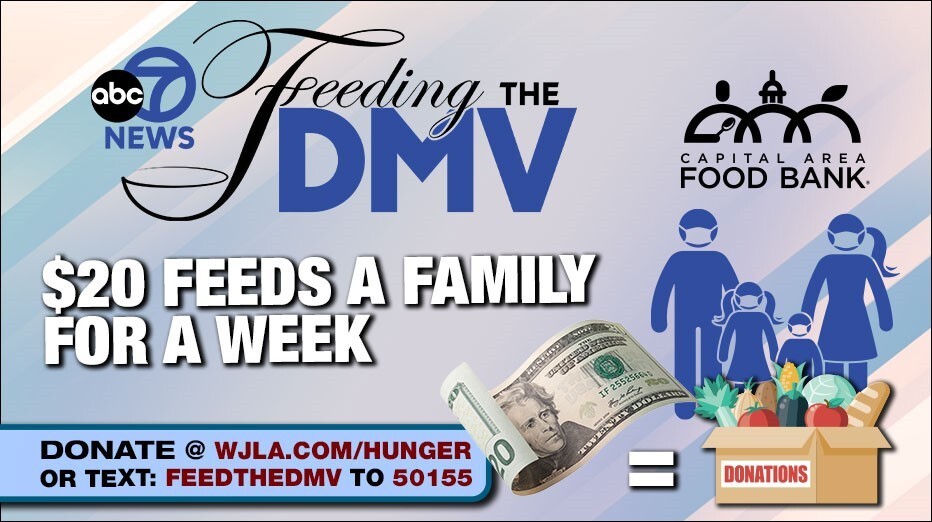 For instance, Capital Area Food Bank's "Feeding the DMV" campaign shows all the ways that supporters can give (including text fundraising) and how exactly that gift impacts your mission— $20 feeds a family for a week!
2. Emergency campaigns
Because mobile fundraising enables people to give wherever they are and from whatever device they'd like, it's the perfect channel for emergency campaigns that need funds very quickly.
Whether you're raising money to clean up a community after a natural disaster or you need it for animals with life-threatening issues at an animal shelter, mobile fundraisers meet donors where they are and capitalizes on that contextual giving.
To drive more donations, it's a good idea to set a specific fundraising goal. This way, your supporters have a specific number to work towards! And once you're closer to this goal, it can incentivize people to give again.
3. Holiday campaigns
Leverage the good and charitable feelings of the holidays to conduct a mobile fundraising holiday campaign!
The end of the year tends to be some of the most fruitful months for organizations, especially from Giving Tuesday to the new year.
Use your mobile fundraising tools to conduct a holiday giving campaign and choose a dedicated holiday keyword.
It's also pretty easy to add a mobile fundraising channel to an existing year-end campaign that you may already host. For example, despite being pivoted to virtual in 2020, Big Love Cancer Care's annual Santa Dash was driven further with text giving and even reached its goal of $150,000.
4. Small donation & grassroots campaigns
If your organization is smaller or at the grassroots level, a mobile fundraising campaign is the perfect way to further your mission without investing a huge chunk of money upfront.
This is because you only need to invest in mobile fundraising tools once, and then it's pretty easy to add this channel to any other campaigns or events. Plus, the best platforms make it easy for organizations to create unlimited keywords so you have a unique one for each campaign or event.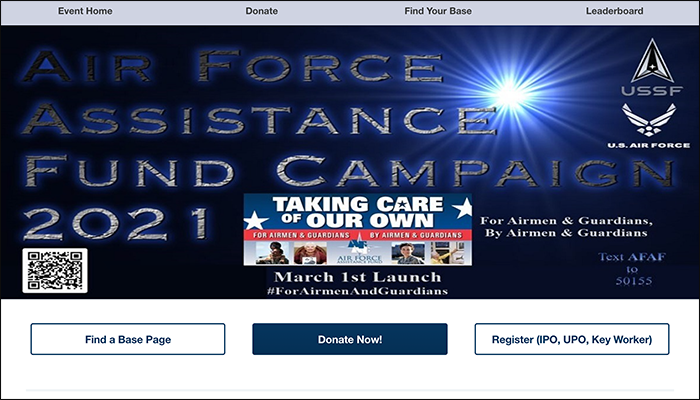 Take a look at the Air Force Assistance Fund Campaign of 2021! Using the text keyword "AFAF," they're able to collect mobile gifts to support their grassroots efforts.
5. User-generated social media campaign
Another great way to utilize mobile fundraising is to recruit your own supporters for help with a user-generated social media campaign.
For instance, Pilgrim Pines Camp and Retreat Center asked their campers and attendees to record a quick video talking about how their organization impacted their lives and post it online. And the video testimonials worked, as this social media campaign raised more than $150,000!
On your own social media accounts, send out a call-to-action inviting followers to create their own images, graphics, or videos to promote your campaign and spread awareness for your mission.
Make sure that your supporters' content clearly displays your mobile-donation page or text keyword—after all, you want donors to be able to give as soon as they're inspired to.
6. Text-a-thon
Replace your old-school phone-a-thon with a modern and easy text-a-thon!
After all, it's way more likely for someone to read a text than pick up their phone these days. Plus, you'll no longer need to recruit volunteers to run a phone bank!
To host a text-a-thon, use your mobile fundraising tools to send mass outbound texts to supporters with an appeal to give. In the message, make sure to clearly describe the purpose of the campaign and be specific as to the type of gift you need.
7. Giving Days
A giving day, whether it's the classic Giving Tuesday or another dedicated day unique to your mission, is a 24-hour digitally driven fundraising challenge that can help you reach fundraising goals in a short amount of time.
Because giving days are limited in time, they do a good job at incentivizing your supporters to give. Use your outbound text tool to send updates on the campaign progress—the closer you are to your goal the more your supporters will be scrambling to give.
If you're unsure of which day to choose for your own dedicated Day of Giving, consider any holidays or months that are relevant to your mission. For instance, if you raise money to fund cancer research, May is National Cancer Research Month. Choose a day in May to host your own Giving Day!
8. Influencer or celebrity campaigns
If you want to take your mobile fundraising campaign to the next level, getting some star quality couldn't hurt.
For instance, Alicia Keys, a co-founder of the Keep A Child Alive foundation, leveraged her celebrity status in 2008 to help families and orphans affected by the AIDS crisis. All she did was ask those at her concerts to text "ALIVE" to a dedicated number and donate micro-donations of $5-$10.
This not only incentivized attendees to give, but also spread the word of her mission to those who weren't even at the concert. In just a few short months, the campaign raised over $40,000.
You don't need to have partnerships with A-list celebs for this to work. Reaching out to a few influencers on social media can be enough to drive immense support to your mission.
9. Scavenger hunt
For a creative mobile fundraising campaign, consider hosting a fun and engaging scavenger hunt!
Scavenger hunt fundraisers will usually collect an admission fee as a gift and then provide a fun activity for supporters to participate in. You might even include prizes for individuals or teams who complete the scavenger hunt at record time.
To incorporate your mobile fundraising tools, use your outbound text tool to provide your participants with the next clue or give any hints. And, if the supporter wants to, they can easily give another gift if they're inspired!
10. Restaurant table tent campaign
A unique way to get your mobile fundraisers to a wide number of people without having to send an outbound text is to use restaurant table tents.
The UNICEF Tap Project has done this type of campaign well in the past. In 2007 they started a campaign in which they partnered with diners and restaurants to advertise their campaign on table tents. These signs asked diners to donate $1 for the usually free tap water they received to support UNICEF programs.
Restaurant table tents aren't too in your face that diners can't ignore them but still are present enough for someone to see and quickly give if they'd like. Because mobile fundraising will usually ask for small donation amounts, it is a very approachable campaign idea for supporters.
Remember to include your mobile fundraising keyword and text shortcode! You can even create a QR code supporters can scan with a smartphone that sends users straight to your online donation page.

Get More Out Of Mobile Fundraising: 10 Tips
1. Event reminders
You can do more with your mobile fundraising solution and strategies than just collect gifts. In fact, your outbound text message tool can help promote events and send timely event reminders to your supporters.
First, you can send a general text to all of your supporters (who have opted in!) announcing that you have an upcoming event. Make sure to include important details like event name, date, and a mobile-responsive link where supporters can register.
Once someone has signed up, you can segment them into a group of registrants. Then, send targeted outbound messages to this segment with additional details more pertinent to the event (like things to bring) and other relevant event reminders (like signing a waiver beforehand).
2. Push notifications for bidding at auctions
Along with outbound texts, you can use your mobile fundraising software to engage with auction participants.
Auction bidding apps are a type of mobile giving that allows supporters to browse auction items online, place a bid, and check out all from one convenient platform.
The right app should also have the ability to send push notifications straight to your supporters' mobile devices. Use these real-time notifications to:
Let users know when bidding begins.
Provide a warning when the auction bidding time is almost over so that people can make any last-minute bids.
Notify donors when they've been outbid so that they can quickly raise their own.
To enable push notifications, make sure to tell your attendees how to turn them on before the event. You can also post the suggestion on signage throughout the event.
3. Recruit volunteers
Did you know you can also use your mobile fundraising solution to recruit volunteers?
While not every volunteer can give a gift, volunteers are still some of your most valuable supporters. Independent Sector with the Do Good Institute recently announced that the latest value of a volunteer hour is now $27.20.
Besides turning to volunteer recruitment platforms, reaching out to schools, or sending recruitment emails, you can quickly reach out to previous volunteers who have opted in by text.
Use outbound texts to introduce volunteer opportunities and determine if anyone is interested in helping out. In your messages, describe the impact of volunteer support, as well as show appreciation for those who do sign up.
Then, follow up with a text linking to your mobile-friendly volunteer registration forms so that users can fill them out right from their phones.
4. Motivate peer-to-peer fundraisers
Peer-to-peer campaigns are some of the best ways to spread the word of your mission, engage with supporters, and reach your fundraising goals.
But to run a peer-to-peer event successfully, you need to consistently engage your volunteer fundraisers, provide them with the tools to fundraise on your behalf, and offer guidance whenever they're stuck. After all, these aren't professional fundraisers, just passionate supporters willing to volunteer their time.
Your mobile fundraising tool is a perfect vehicle to send texts regarding updates on the campaign and show appreciation to your participants! Send a series of texts including tips on how to make fundraising asks, customize peer-to-peer pages, offer campaign progress updates, and more.
5. Ask people to take action on urgent campaigns or petitions
We touched on the use of mobile fundraisers for emergency campaigns earlier in this guide, but we wanted to dive deeper into how exactly you can use outbound texts to send "Take Action" Alerts to your supporters.
Action alerts should only be used for extremely time sensitive or urgent campaigns. Within the alert, be sure to provide all the information needed. This means links to the donation page, a specific donation goal, and the donation deadline.
6. During an event
What's one of the best moments to leverage contextual giving? During a fundraising event! Your supporters are already gathered together and inspired by your mission.
Here are some easy ways you can encourage mobile fundraising during these common event types:
Marathons – Post your text fundraising keyword and shortcode along the path for supporters to see as they're running.
Golf fundraising event – Strategically place signage along the course advertising how people can give on the go.
Fundraising gala and/or auctions – Display all the necessary information (as well as fundraising progress) on a digital screen using a FundHub.
During your events, there are multiple forms of mobile fundraising that you can offer, whether it's a text gift or a mobile giving app. Make sure to advertise all of the details to make it as easy as possible for attendees.
7. Make virtual events work
Virtual events have skyrocketed in popularity in the past year, all thanks to the amazing digital fundraising tools and solutions we have access to.
Plus, with mobile fundraising, your virtual attendees can give from wherever they are.
The perk of a virtual event is that people can participate from home, a hotel, or even at a park, as long as they have access to the internet. Mobile fundraising allows anyone to give whenever they're inspired.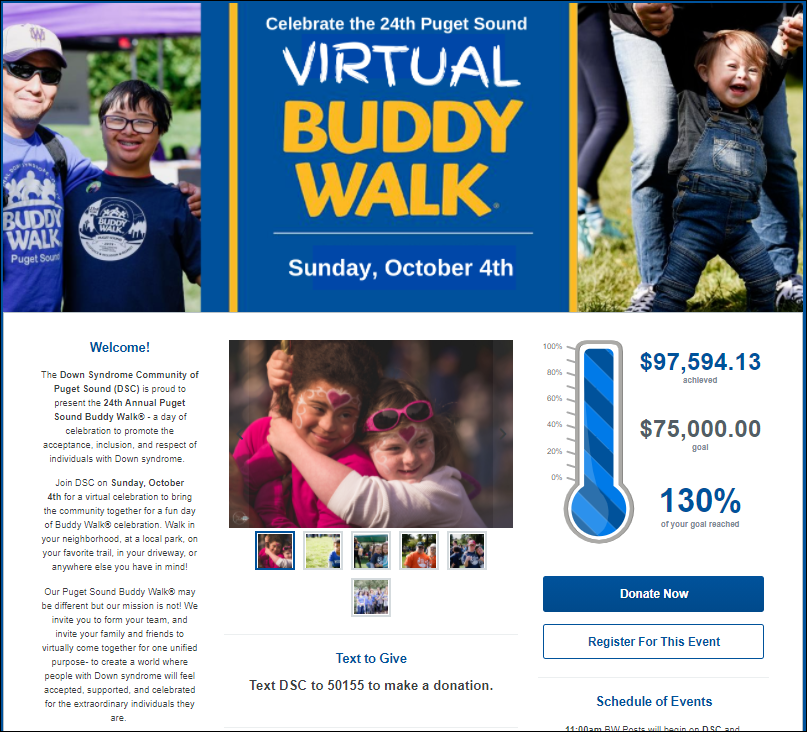 Check out the Virtual Buddy Walk hosted by the Down Syndrome Community of Puget Sound! Even though all of its walkers were doing so on their own or virtually, they were still able to raise 130% of their original goal thanks to the option of mobile fundraising.
8. In place of (or in addition to) the church offering plate
Churches and other religious institutions often collect gifts from their supporters and followers. However, it can be difficult to grow and track gifts from the congregation and connect to members without the right technology.
This is where mobile fundraising comes in. Text giving has stepped up to help churches collect tithes from their members in an easy format that doesn't involve running to the ATM to get cash.
Plus, texting isn't the only mobile fundraising method out there that can help churches.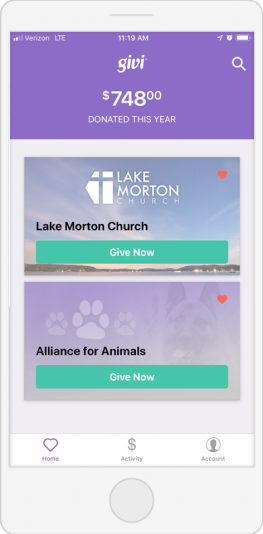 Givi is a dedicated mobile donation app that empowers organizations, like churches, to streamline their gift collecting from the palm of their hands.
9. During talent shows/film festivals
Fundraising events like talent shows or film festivals are exciting for attendees and participants alike. In the end, there is often an audience vote given with a small donation to determine who was the "winner."
However, these events can be a little hectic, especially if you want to gain the attention of your entire audience all at once.
Letting people vote and give by text message is much more efficient, not only for you but for your supporters as well. All they need is the right mobile donation link or text fundraising keyword and shortcode.
10. Post-event impact statements
Retaining existing donors is much more cost-effective and beneficial than constantly acquiring new ones. One of the most valuable times to retain new supporters is after a fundraising event!
With your text fundraising tool, you can:
Send a quick thank-you for their support
Provide additional updates on the fundraising progress
Put out one more final call for donations
Send a post-event survey to gather feedback
At the end of an event, your mission is still fresh in attendees' minds— if you wait too long to reach out, it's less likely they'll support your organization again. Use mobile fundraising to keep that momentum going!

How To Choose a Mobile Fundraising Platform
We've talked at length about how mobile fundraising can empower your supporters, let them give on the go, send urgent fundraising communications, and help you reach your fundraising goals. But you can't do this without the right mobile fundraising platform.
But not all mobile fundraising platforms are built equal. When choosing the right solution, look for these essential features:
Flexible options – Having the ability to offer both text-to-give and text-to-donate is critical. Make sure the platform you invest in allows supporters to give in the way they want when they want to. Along with text giving, you should have mobile-responsive donation forms, mobile giving apps, auction bidding solutions, and more.
Custom keywords to fit your mission – Make sure that your mobile fundraising platform allows you to create unlimited keywords so that you have the perfect one for your mission and all of your various campaigns.
Subscription lists to help you segment messages – With subscription lists, your supporters can opt-in to the communications that they want. This is especially useful when segmenting your recipients and sending targeted messages, ensuring that all of your donors are getting information meant for them.
Outbound messaging – It's essential that your mobile fundraising platform can send outbound messaging, especially for campaign updates, donation appeals, and event announcements. Make sure you can also pre-schedule these text messages so that you can send handy reminders and other useful information.
Screencasting with FundHub Live to share progress – With a FundHub, you have a centralized look at all of your campaigns' progress in real-time. Make sure you have the ability to screencast this information with your mobile fundraising platform so that supporters can see it as well. This is especially useful for both live and virtual events, as seeing a fundraising goal reached in real time can inspire supporters to give even more!
Qgiv's mobile fundraising platform has all of the features above and more. Leverage our auction, mobile suite, giving app, customizable donation forms, and reporting data analytic abilities to ensure your mobile fundraising efforts go off without a hitch.
See how Qgiv's mobile fundraising suite can empower your supporters and help you reach fundraising goals! Request a Demo
Final Thoughts
When it comes to mobile fundraising, it's all about how you can make your supporters' lives easier by streamlining the giving process. However, you can't do so without a comprehensive mobile suite solution and the right strategies to support your efforts.
Further your research with these additional resources: