Virtual events have skyrocketed in popularity, with more and more nonprofits moving to the digital space to facilitate traditional face-to-face engagement efforts like auctions, galas, and walkathons.
To bring your virtual event to life and provide an experience that's just as enriching as an in-person one, you need the right fundraising event software.
You likely already have some of the basic tools you use for regular fundraising events. But there are also specific solutions that directly support virtual efforts, like livestreaming platforms.
In this guide, we'll dive into the different types of fundraising event software that nonprofit leaders have successfully leveraged for virtual events. These are:
Investing in top-quality solutions now also makes it easy to pivot future in-person events to virtual or to incorporate hybrid elements. This is helpful if an emergency occurs that prevents face-to-face meetings (like bad weather or a global pandemic) or if you simply want to increase participation with digital attendees.
Let's dive in!
Need virtual fundraising ideas? Download PDF
Types of Fundraising Event Software
1. Event Registration
To host a successful fundraising event, whether it's virtual or in-person, you'll need a reliable method of registering attendees. For starters, it's imperative that your event registration can take place online. This may seem like a no-brainer, but it's worth spelling it out.
With the right event registration tool, your supporters should be able to access your event registration page from your nonprofit website, gain all the necessary details, and successfully complete the form.
Along with the basic functionality of online registration, your event registration tool should:
Offer customized registration forms so you collect the right donor data and only ask the essential questions.
Offer custom ticket prices or registration levels.
Integrate the ticket payment process.
Ensure your form is branded to your nonprofit organization.
Make it easy to register multiple guests.
Here's what your event registration tool might look in action:
As soon as you land on this event registration page, you're immediately met with the organization's colors and branding. The Turning Point Ranch logo is large and it's clear exactly what the event is, where it's taking place, and other essential details.
The Turning Point Ranch also made use of a tiered registration system with multiple ticket levels to choose from. Essential fields are clearly labeled "required," making the sign-up process quick and easy.
Auction Event Registration
Registration for your auction event won't look that much different than your regular fundraising experiences. However, there are additional aspects specific to this event type that you'll need to consider.
Along with your regular essential registration capabilities, an auction event registration tool might provide a preview of all the items and prizes, and offer details on how participants will bid and check out items.
For instance, for virtual auctions you'll likely need to use some sort of bidding software, whether app-based or web-based. Make sure supporters know how bidding will work as they're registering.
Peer-to-Peer Fundraising Registration
Peer-to-peer fundraising is one of the most unique event types you need to consider. This is because those who are registering are actually signing up to fundraise on behalf of your organization.
A dedicated peer-to-peer virtual fundraiser can raise a lot of money and thrives on your supporters' personal networks. But your participants need to be properly prepared and supported in order to maximize their fundraising capacity.
As users register for this type of campaign, specific peer-to-peer event software can:
Provide a custom welcome quest to introduce registrants to the fundraising dashboard, host communication templates, and help them make their first donation appeal.
Create a beautiful peer-to-peer event page that not only introduces new users to your mission with key branding but also hosts information like a fundraising tracker and leaderboard.
Offer participant engagement tools once they've registered, like gamification and badges.
BEACON for Adult Literacy's peer-to-peer page draws users in with a branded banner image showcasing what this event is and the core mission—adult literacy. The fundraiser leaderboard and thermometer are testaments to the success of the event. And, there's a clear button leading to the donation form and event registration, making it easy for users to choose their mode of participation.
Master peer-to-peer fundraising by connecting with your incredible supporters. Download eBook
2. Bidding Software
One of the most engaging parts of a traditional in-person auction is the excitement of bidding in real-time. This sense of competition is what motivates donors to give even more to your mission. How might you imitate this sense of urgency for a virtual auction?
Mobile bidding is a solution that enables auction guests to view and bid on items from their smartphones by either a web browser (web-based) or a mobile app (app-based). Not only is this tool beneficial for your virtual participants, but it can help your in-person auctions as well.
This technology can:
Send outbid notifications
Set maximum bids for users
Allow users to build a list of "favorite items"
Streamline the item checkout process
Facilitate the online registration process with multi-guest capability
Allow event purchases like raffle tickets
Collect data for key reporting
As mentioned earlier, there are two mobile bidding types—web-based and app-based. Both platforms are mobile-optimized solutions with the features listed above. Here are some of the differences:
App-based bidding. App-based auction platforms are downloaded with an app. This way, all event updates are sent via push notifications on users' phones which link directly to auction items. App-based bidding also has features such as swipe-to-bid and integrated QR item scanners, making for a fun and competitive bidding experience for guests!
Web-based bidding. Web-based bidding uses features from both online and mobile bidding technology to deliver a virtual auction experience via a web browser on a desktop, tablet, or mobile device (like Google Chrome or Safari). Guests simply need to register online and check in to the event. Then, they'll receive a link that takes them to the dedicated web page where they can view, bid, and purchase items.
Both app-based and web-based bidding are helpful for virtual events and your attendees will likely have a preference. Look for an auction platform that offers both of these capabilities to appeal to the widest audience possible and set your organization up for the most success.
3. Text Fundraising
There are 5.27 billion mobile phone users in the world today, with this number growing at a steady rate of around 1.9% each year. If you're not already offering text fundraising, now is the time to do it.
For virtual events, text fundraising has shown to be a convenient way to let digital guests give during the actual event. The two types of text fundraising are text-to-give and text-to-donate. While these methods are different, for both you'll need a dedicated phone number or short code (shortened phone number) and campaign keyword.
Text-to-Donate
Text-to-donate is a form-based mobile fundraising method that is initiated through text message from either the organization or the supporter. The supporter then receives a text link to the mobile giving form which they can fill out on their smartphone.
Here's what the text-to-donate process looks like:
The organization sets up a short code, campaign keyword, and mobile giving page.
When a supporter feels inspired, they text the campaign keyword to the short code. Or, the nonprofit can make the first move and prompt supporters to text back that keyword.
Supporters receive a text with the link to the mobile-friendly donation form.
Supporters complete the process by entering their information on the appropriate donation form.
While text-to-donate has one or two extra steps over text-to-give, it is much easier (and cheaper) for your organization to set up. This is because there are no requirements or application processes, meaning organizations of all sizes and missions can use text fundraising.
Text-to-donate also enables custom donation amounts, recurring donations, and offset processing fees.
Text-to-Give
Text-to-give is a carrier-based mobile fundraising method that charges the donor a predetermined amount to their phone bill. For this to work, your organization must first meet a few requirements and apply. The guidelines are based on each organization's size and mission.
Here's what happens once the organization qualifies for text-to-give:
The organization sets up a short code, campaign keyword, and predetermined donation amount – This is usually limited to $5, $10, $15, $20, $25, $30, $40 or $50. Sometimes donors can also set up a recurring donation.
Supporters text the campaign keyword to the short code.
The donation amount is billed to the supporter's cell phone bill by their carrier.
The phone carrier processes the donations and transfers the total donations to the organization.
Text-to-give is beneficial because it's extremely simple for donors to complete a gift with a couple of texts. However, there is an application process, which can be timely and even deem you unqualified.
Texting During Events
One of the biggest benefits of text fundraisers is how they empower your event attendees. If your event is particularly inspiring and the content resonates with your audience, your supporters are going to want to donate. Leverage this passion in real-time by offering text fundraising!
This way, donors can give as soon as the idea comes to fruition. To ensure your virtual event attendees take advantage of this feature, you'll need to advertise it with digital signage. Make sure to clearly display your short code and keyword for your inspired supporters on your event livestream and website page.
4. Livestreaming Platforms
A popular way to pivot traditional in-person fundraising events to virtual is to use livestreaming.
Livestreaming is the transmission of live video to a virtual audience through an online platform.
Anything that might draw a crowd at an in-person event, like a professional speaker, live music, or a series of performances, would likely make great livestreaming content. The new venue is just the internet!
While livestreaming is largely focused on showing content to a mass audience, modern platforms can now:
Allow one-on-one video chats
Facilitate text chat for quick questions
Create breakout rooms
Screen record event content
Hide or display video/audio
Interested in livestreaming your next virtual event? Here are the popular tools you might look into:
OBS is a free and open-source software that can be used for video recording and livestreaming. OBS users can create live scenes made up of different windows, images, webcams, capture cards, and more.
Zoom is a video conferencing platform that you can use to facilitate digital meetings, create breakout rooms, and stream webinars, and other types of events.
Facebook Live has over 2 billion monthly active users, making it a great choice for a livestreaming platform. It's extremely easy to set up and your supporters are likely already familiar with Facebook's features.
Livestreaming doesn't just bring another level of engagement to your virtual events. It can also easily be used to add a digital element to your in-person events, paving the way for more hybrid event capability.
5. Volunteer and Staff Management
To host a successful event, whether in-person or virtual, you're likely going to need the help of volunteers and staff members. These are the people who will promote your event online, help answer any guest questions, assist with check in and checkout, and otherwise facilitate the event processes.
Dedicated volunteer and staff management tools can help leaders like you recruit and lead your passionate helpers. Look for software that can:
Store volunteer and staff data.
Track hours and compensation (if needed).
Assign volunteers and staff to different tasks.
Compile reports using engagement data collected.
Offer training and orientation online.
There's a wide range of volunteer and staff management tools available. Here are two solutions specifically for nonprofit organizations:
Neon One has specific CRM software dedicated to managing your event and its volunteers. Use Neon One to track volunteer signups, track time, and communicate with your team.
DonorPerfect is a management solution for nonprofits with dedicated tools to recruit, oversee, and communicate with volunteers.
Bloomerang is donor management software that helps thousands of nonprofits organize their essential data and increase revenue. They also have specific features for volunteer management, keeping your donors and volunteers in the same database.
Having your volunteer and staff management systems working alongside your donor and event tools makes scheduling and communication much easier as all of your data is in one place.
6. Online Shop
An easy way to add another level of engagement to your virtual fundraising event is to incorporate an online shop!
Not only is it fun for supporters to buy merchandise or other trendy and useful items, online shops are also a great way for them to further promote your mission. Supporters wearing your merch are basically free advertising!
When looking for a platform for your nonprofit's online shop, make sure you find a solution that can display items seamlessly and integrate the payment process right into the page.
Here are some online shop solutions to look into:
Bonfire is a site dedicated to crowdfunding through selling merchandise, such as t-shirts. Organizations create a design and a Bonfire campaign page. Then, Bonfire creates and ships the merchandise for you.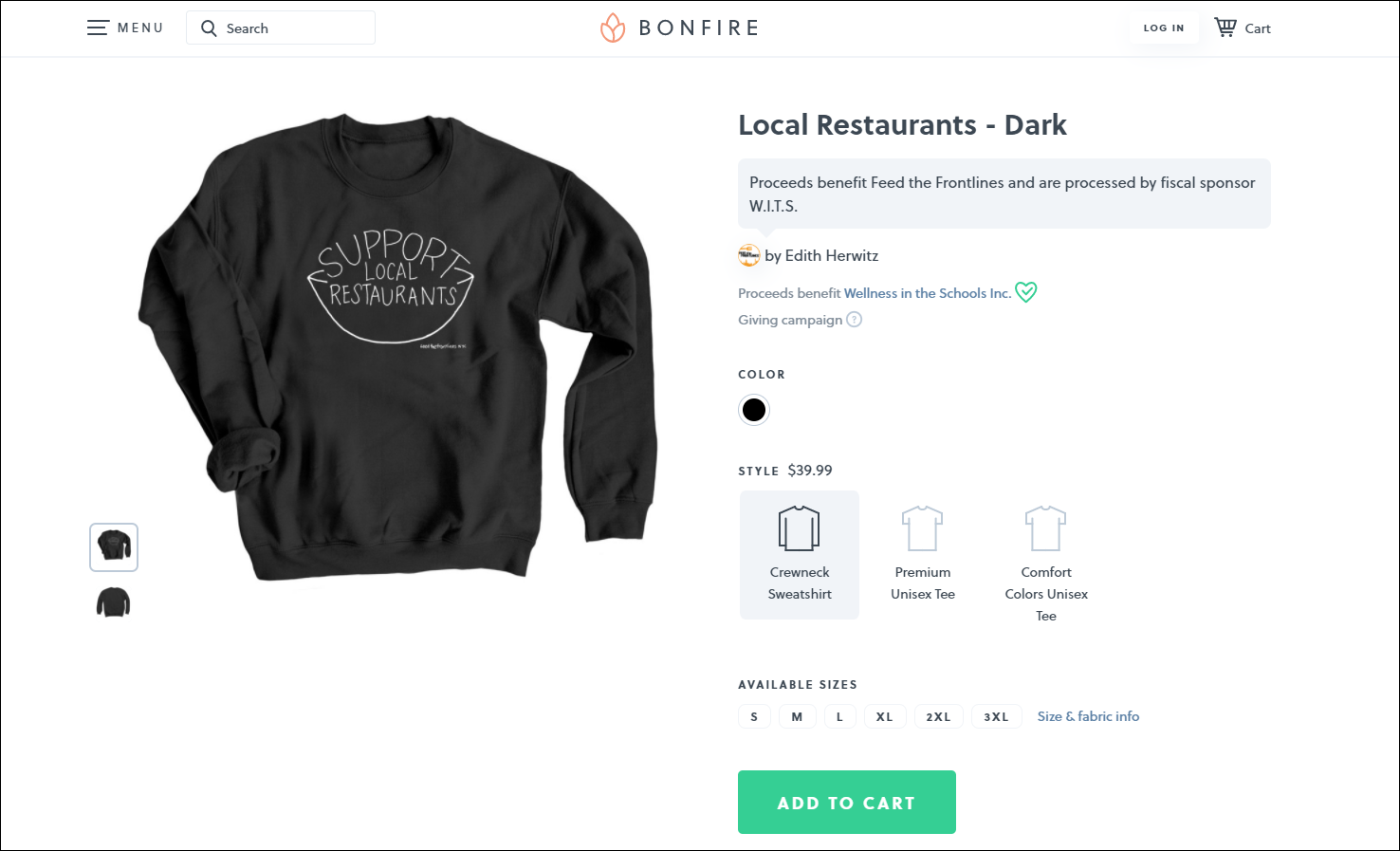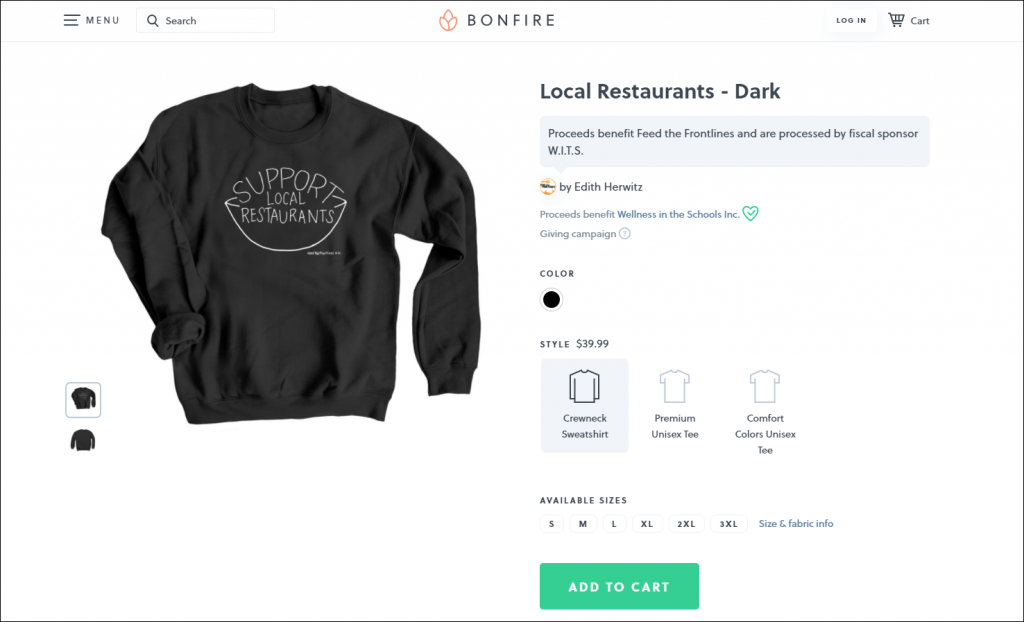 Let's say you're hosting a virtual peer-to-peer event. Setting up an online shop to sell merchandise that your digital participants can wear during the event day is a fun and easy way to connect them to the virtual event without them actually being there. Participants can even post a fun selfie with your designated event hashtag!
7. Video Editing Software
As you're planning a virtual experience, it's likely that you'll need to create different media content to keep your attendees engaged and encourage participation in the event. Many organizations turn to video content since it's a highly engaging visual medium that can be used to illustrate complex concepts or deliver valuable information.
Specifically, videos can be used to:
Create tutorials to introduce supporters to your larger virtual event platform.
Promote your event and explain the campaign details and goals. This can be posted on social media, your website, and sent through email.
Thank your virtual attendees and even allow you to shout out top donors by name (with permission) in the video.
Summarize your virtual event results using images from the event itself and displaying visually interesting and descriptive reports.
Having dedicated video editing software is essential if you want to create quality content. Here are some popular options:
iMovie is a software platform that's included in most Apple products. It offers simple movie editing tools where you can piece together different video clips, experiment with transitions, and more.
Movie Maker is video editing software that's included in Windows products and also provides simple editing tools. Movie Maker users can create videos for free without registration or watermarks.
Video Toolbox is a free video editing solution that can process video files up to 1500 MB. Easily convert files between popular formats, crop videos with a few clicks, and merge multiple files into one video stack.
Adobe Spark Video is a platform where you can create video stories in minutes. You can use your own content or choose from thousands of free graphics and icons that you can use to design your videos. It even provides pre-formatted video templates. There's multiple price levels, with the starter plan being free.
Wondershare FilmoraGo provides easy-to-use video editing features like trimming and splitting clips, and fun transitions. This platform also has fun effects and stickers that you can use to give your content a personal touch. It's available to download for Windows, Mac, and iPhones.
If you want to make your virtual event as engaging as possible, video is a great tool. It captures your audience's attention and conveys a lot of information in a digestible way.
8. Graphics Software
To effectively promote your virtual event, you must use high quality images and graphics.
There's an overabundance of content on digital platforms, so ensure your message stands out. Eye-catching design and compelling imagery can captivate your audience and encourage them to learn more about your cause.
In particular, you can use graphics in conjunction with your virtual event to:
Brand your online donation form and other content to your organization
Create letterheads for sponsorship letters to companies and local businesses
Create beautiful digital flyers and posters to promote the event
Post unique and engaging content on social media
Design merchandise ideas to go on t-shirts and other relevant items
Provide supporters with content that they can share themselves to their personal social networks
There is a seemingly unending list of options for graphic software. Here are a few of the most commonly used platforms:
There's numerous ways you can leverage graphics for your virtual events. Make sure you have a dependable platform that you can rely on for consistent branding.
9. Event Day Logistics
Along with tools to help you promote, plan, and facilitate your virtual event, it might be helpful to also invest in a tool for specific event day logistics.
Instead of being overwhelmed with spreadsheets and paper notes during the event itself, have a dedicated tool to organize your event day data and digitize processes.
With a solution organizing your event day logistics, you can:
Digitize check in and checkout
Capture real-time data as soon as it happens
Provide a mobile event day app for attendees
For instance, Grassroots Unwired has a specific 4EventDayMobileApp to help nonprofit leaders like you stay on top of events as they happen. This app can fundraise and sell merchandise to guests, and even works offline if the signal goes out.
10. Liability Waivers
Liability waivers are essential to many virtual events. For instance, you might provide a waiver if your event involves physical activity like a virtual walkathon.
These days, waivers can now be signed online!
Here are some online waiver platforms we recommend:
If your virtual event requires some sort of waiver, using an online waiver platform is your best bet. Explore the options above to see which one best fits your budget and needs.
Additional Resources
Virtual events are becoming the norm, with hybrid events likely to take over the fundraising sector. Choosing your fundraising event software now will help your efforts and set your nonprofit up for success in future fundraising campaigns.
Want to learn more about the future of fundraising? Here are some additional resources for you to explore:
Looking to plan a virtual event? Download our Virtual Event Planner