With fundraising technology constantly evolving, you don't want your church to fall behind. Online tithing is a great way to make giving easier for your congregants and using a church-giving app makes it even simpler. The Givi app helps your members give to your church directly from their phone, no matter where they are—without needing to keep cash on hand.
Learn more about how church-giving apps can help your congregation: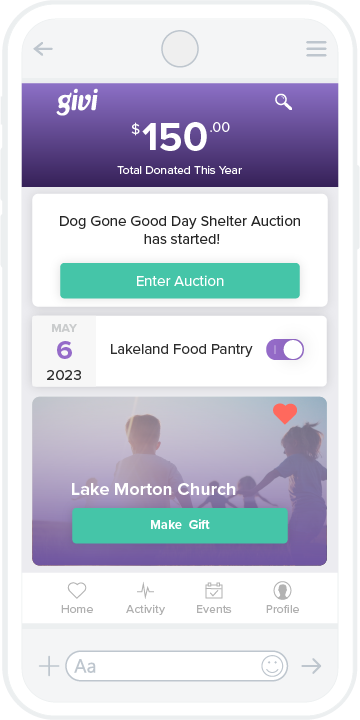 What's Givi?
Givi is a mobile giving app designed to make supporting your church easy for your congregants.
With Givi, you can set up a customized giving page that lists the different ways your congregants can support your church. Then, your members can use the Givi app to make online tithes, offerings, and other gifts.
Why do churches love Givi?
Churches love Givi because it makes it easy for their members to give in a way that's convenient to them. Most of your congregants don't carry cash or checks any more, but they do carry smart phones. Think of Givi as a digital collection plate. With Givi, your congregation can give instantly from their seat, set up recurring gifts, or give whenever they feel inspired to do so.
Key features for your congregants
Give anytime, anywhere
Whether it's in the pew on Sunday or at home, church giving apps offer your congregants the tools they need to support your work wherever and whenever they're inspired.
Create personal accounts
Your church members can set up personal accounts to manage gifts to your church. These accounts can save payment information, collect giving data, track one-time and recurring gifts, and provide gift receipts.
Enable custom gift levels
Make it easy for members to choose a gift amount by creating gift suggestion buttons on your mobile giving form. Be sure to also include a custom gift amount field so your members can give any amount they wish.
Offer recurring gifts
With Givi, your congregants can opt to schedule recurring gifts to your church. They can set their preferred gift amount, update their giving schedule, and manage payment methods through their individual profiles. Plus, you can offer different scheduling frequencies for your members to give at the best times for them.
Provide simple multi-restriction giving
Allow your congregants to choose which project in the church they want their gift to go to by enabling Givi's simple multi-restriction giving options.
Offer GiftAssist
By toggling on GiftAssist, your members can cover the cost of processing fees to ensure their entire offering is going to your church.
Key features for churches
Accept offerings and tithes online
With Givi, your church can introduce your congregation to online tithing, offering them the freedom to give however they like: via cash, check, or online gift.
Customize your profile page
Create a customized profile page for your church. Include photos, location information, and an "About Us" description that reminds users of what your congregation stands for and the work their gifts support.
Track gifts to your church
You can track your church's digital gifts quickly and easily with Givi's interactive dashboards and built-in reporting tools that make managing your congregants' gifts easier than ever.
Unlimited admin accounts
Help your bookkeeping and accounting staff manage your operations with user accounts. Your church can create an unlimited number of user accounts with customizable data access levels.
Access online giving tools
Not only will your church have access to Givi, but you'll also be able to tap into the power of Qgiv's wide range of online giving tools. Create custom giving pages, build event pages, or explore add-ons like text-to-give.
Create fundraising campaigns
In addition to accepting gifts through Givi, you can use the Qgiv platform to create an unlimited number of donation forms for specific causes, events, or groups in your community.
Set up Givi notifications
Add recipients to receive admin Givi notifications when gifts are made from your congregation through the Givi app. You can also manage which Givi notifications you'd like a recipient to receive.
Utilize Qgiv's integrations
Donations made on the Givi app can be tracked on the Qgiv platform and synced with your chosen integrations, helping you streamline your administrative tasks.
Setting up Givi
Setting up Givi is easy to do from your church's Qgiv account.
Click the Givi link in your Qgiv control panel.
Add your church's profile information, including your address, phone number, website, social links, and a brief "About" section.
Upload a photo to represent your church in the Organization Card Background area.
Choose your Givi form settings.
Sign up for Givi notifications.
Finally, click "Save Givi Settings" at the bottom of the page.
Once your Givi settings have been saved, your congregants will be able to search for your church in the Givi app, save your church to their favorites, and start giving!
Why choose Qgiv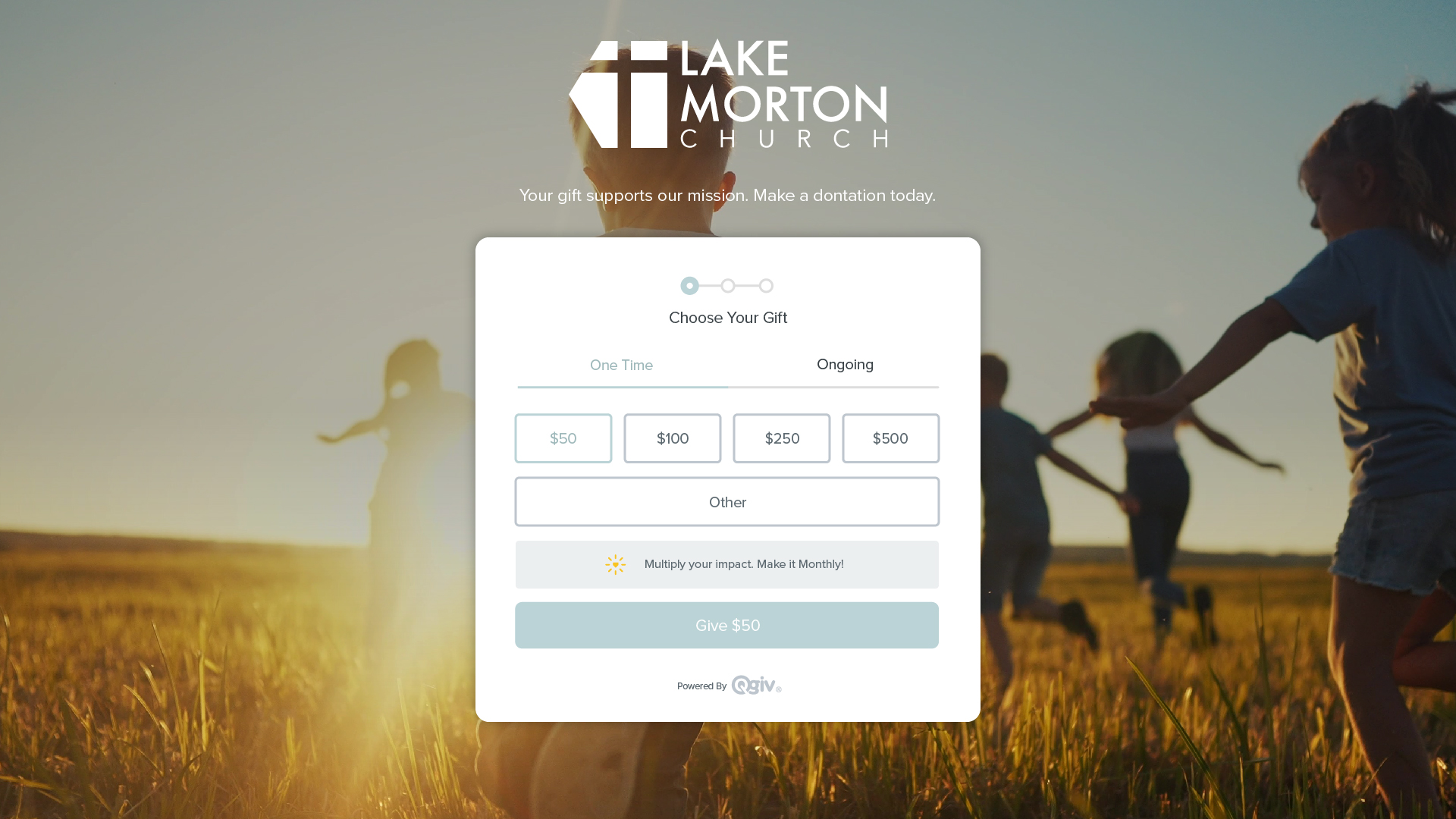 Qgiv is the perfect partner for churches like yours. Not only does our intuitive platform provide your congregation with a robust giving app, it also offers your members a variety of ways to engage with your mission online. 
With Qgiv, your church will have access to:
Unlimited giving forms
Unlimited event registrations
Unlimited training and support
And much more!
When your church chooses Qgiv, you'll never need to worry about hidden fees. Getting started with Qgiv is quick and easy, and you won't have to wait weeks or months to start accepting tithes, offerings, and other gifts.
Your church can depend on Qgiv.
We're PCI complaint. Don't worry about your members' personal information! We maintain the highest level of Payment Card Industry (PCI) security standards. We take security seriously, so your church never has to worry about putting your community at risk.
We're more than just giving forms. The Qgiv platform provides more than giving forms for your church. Our platform offers add-ons such as peer-to-peer fundraising, text-to-give, and auction software all in one place. Use the Givi app for auctions or other events on top of giving!
We're compatible. Qgiv works well on its own, but our platform integrates with all of your church's favorite management and accounting tools. Whether you use FellowshipOne, QuickBooks, or a different tool, Qgiv will fit right in with your current software ecosystem.
We're here to help. As a Qgiv user, you can expect top-notch support when you need help navigating or using our tools. Whether you contact our live-answer customer support team, send an email asking for support, or read our how-to articles, we're always available to give your team a helping hand!
Hear what these churches have to say about Qgiv.
Catholic Charities of Central Colorado
"We changed [donation platforms] because we were able to save some money … We also had the capability of allowing donors to schedule recurring gifts, and we had more flexibility being able to change our online form as needed."
– Janet Hutchinson, Chief Development Officer, Catholic Charities of Central Colorado
Catholic Charities of the Archdiocese of Denver
"We're really trying to reach out and try new things … And sometimes new things work, and sometimes they don't. Qgiv worked."
– Vanessa Chavez, Marketing Coordinator, Catholic Charities of the Archdiocese of Denver
Final thoughts
With online tithing on the rise, church-giving apps are a great way to make giving easy for you and your congregation. The Givi app allows your members to give from anywhere and manage their giving profiles from the palm of their hand, while Qgiv's comprehensive platform provides your church with custom data tracking and integrations with your favorite tools. Pass around your digital collection plate with Givi for a better online tithing experience!