Online giving for churches is a convenient option that makes it easier for congregants to contribute gifts and tithes without the hassle of carrying cash or checks. With the right software, your church can increase contributions by providing congregants with tools to make one-time gifts or set up a recurring gift whether they're on-site during service or at home. Online giving for churches provides many different tools and strategies to maximize effectiveness, and we'll help you explore those below!
Collect more gifts by learning about online giving for churches:
What are common challenges churches face?
Giving is in decline
According to recent statistics, giving has gone down, and even charitable causes with an increase in gifts have actually seen a decrease in impact due to inflation. This is a common issue that is causing many churches to struggle financially.
Traditional giving practices are going by the wayside
Fewer and fewer individuals are inclined to participate in traditional giving practices. For churches raising under one million a year, online giving made up 12% of all giving and according to Giving USA's Giving by Generation report, every generation prefers to give online.
Lack of mobile giving
With technology on the rise, congregants often look for the most convenient option when it comes to gifting, and mobile giving fits the bill. With over 90% of Americans using smartphones, it's easier for congregants to give from their phone because they can give no matter where they are. Without mobile giving options, you miss out on contributions from congregation members who are unable to attend your service in person.
Insufficient investment
Churches have a tendency to avoid investing in online giving tools, as they face several budgetary challenges similar to those of nonprofits. Most of their revenue goes toward operational costs and projects, which can make the decision a tough one.
Inefficient fundraising strategy
It's easier to raise money if you have a strategy in place. Many churches rely on traditional methods to convince church members to give, but developing a long-term plan for fundraising addresses how your church can cultivate and steward new contributors.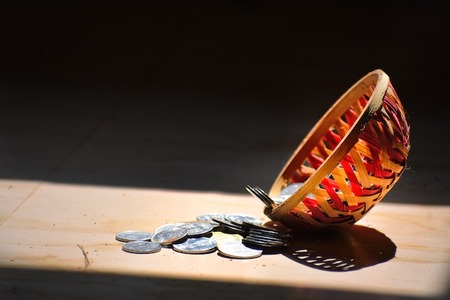 How to increase church giving
Go paperless. By going paperless and offering online giving options for your church, you'll provide your congregants with other ways to give a gift without the need to carry cash or checks. Using a fundraising platform provides your church with the ability to create custom online giving forms so your congregation can give quickly and securely.
Host giving events. Giving shouldn't be confined to traditional tithing. One way to increase church giving is by hosting a fundraising event. An event not only provides another opportunity for your church to raise money, but also offers your community a chance to gather and build stronger relationships with the church.
Set up special project campaigns with a goal thermometer. Churches grow with their congregations, and as your church grows larger, you'll inevitably need to raise money for community buildings and other special projects. Create special campaigns for each project that comes up and use a goal thermometer to show your members the progress they've made.
Host family peer-to-peer fundraisers. Make raising money fun for the whole family by hosting a peer-to-peer fundraiser that even young children can participate in. Peer-to-peer fundraising is one of the best ways to bring your community together.
Use social media to connect with members. Social media continues to grow larger with more people joining and more platforms being created constantly. Once you know which platform your audience is on, social media is the perfect place to create long-lasting relationships with your congregation while giving online.
Integrate with a CRM for better communication. Communication is key when it comes to increasing online giving for churches. Integrate your online giving platform with a CRM to automate thank-you letters and email updates to your congregants while keeping your member information in one centralized location.
Make it easy. Give your congregation the tools to give within the context of their experience. For example, at Sunday services, rather than only passing around the collection plate, allow members to give via a church giving app.
Offer multiple, convenient options. Offer onsite tools, giving forms, and mobile tools. For example, if your church is holding an event, offer a giving kiosk on site for individuals to use to contribute. Online giving forms and text fundraising tools are also great options for your church members to contribute easily.
Provide automatic giving options. Providing automatic giving options can inspire individuals to contribute to your church on a continued basis. For instance, with recurring giving, members can set a gift amount on a schedule to automatically give for them and makes it possible for them to manage their contributions with an account online.
Promote your tools. Advertise these easy and convenient tools to your church members and show them how to use these tools during services. Designate one or two tech-savvy members to help others.
Offer GiftAssist. Your members believe in your mission and want to help your church as much as they can. Offering GiftAssist allows your congregation to cover the processing fees of their gifts for you.
Show your members their impact. Retention is crucial to increasing your funds, and showing your congregation how their gifts help you make a difference is a great way to retain them. Knowing what you've accomplished encourages your community to give more.
Keep your congregation updated on church needs. Your community wants to help your church, and to do that, they need to know what you need. For example, if your church has a special project or needs supplies, send out a notice to your congregation and tell them how they can help.
Thank your congregation. Everyone enjoys feeling appreciated for their contributions. Share your gratitude with your members every time they give to your church and find opportunities to publicly thank them for their support.
Provide automatic receipts. Receipts help both your organization and your congregants keep track of financial history, and automating your receipt process for online giving quickly shows your members that you've received and appreciate their gift to your church.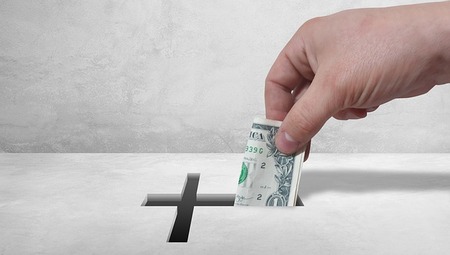 Church giving software
Online giving platforms
As your church prepares to ask for gifts from your congregants, provide them with the tools to give gifts easily by using church giving software.
Pass around the "digital collection plate" during services, events, and other instances when your congregation is gathered together. With the tools they need to give whenever and wherever they are, your contributors will be encouraged to give more frequently.
There are several types of church giving software solutions to consider. These include:
Tithing software
Tithing software can collect gifts via your church's website. This software allows you to create custom giving forms for your church to gather the information you need and match the look of your form to your church's colors and logo.
Another great feature of tithing software is recurring gifts. Recurring gifts provide your congregants the option to choose to give on a regular basis, which they can manage through their own accounts. Tithing software helps grow your revenue stream and retains more support from your members due to its ease and convenience.
Fundraising platforms
Fundraising platforms are similar to tithing software in what they offer to ministries such as yours. The main difference between fundraising platforms and tithing software is that tithing software is specifically designed for churches, but fundraising platforms are created for nonprofits in general.
One of the biggest advantages of using a fundraising platform over tithing software is that fundraising platforms are often all-in-one solutions that include the ability to accept gifts and event registration and integrate with CRMs and other software.
Digital wallets
If your church is new to online giving, digital wallets are a great place to start. Digital wallets, such as PayPal or Cash App, are easy options for online giving for churches because anyone can use them. Set up an account on your preferred platform and advertise the online option to your church members.
While many of your members may already be familiar with using a digital wallet, they might not have experience using it to make a gift. Send out a flier with instructions on how your congregation can set up their own digital wallets and how they can send gifts to your church.
Onsite giving for churches
Have you missed out on contributions from your congregation because they didn't carry cash or checks? By offering a giving kiosk at services, your members who wouldn't have been able to give can now do so.
Giving kiosks allow you to create a custom interface to accept credit or debit cards. While you'll need to pay a monthly fee and cover the transaction fees, the number of gifts you receive through your giving kiosk will grow due to the convenience with which anyone can use it.
Mobile giving for churches
Through mobile giving, congregants don't have to be at services or at your events in order to give. In fact, they can give whenever or wherever inspiration strikes! Two ways to provide mobile giving to your church members include text giving and mobile-optimized giving forms.
Text giving provides congregants with a keyword to text to give directly via their phone bill. Additionally, mobile-optimized giving forms appeal to a wider range of your congregants, who are likely on their phones all the time.
Mobile giving tools like text giving will typically have a monthly fee, as well as a transaction fee, but because your members can give so easily, you'll make up the costs of the initial investment in a flash.
Church giving apps
As your church explores mobile giving platforms, consider leveraging a church giving app so your church members can give as soon as they're inspired to do so. Your congregants can download the app, set up giving accounts, and use it as a digital collection plate rather than expecting congregants to remember to bring cash or a check to Sunday services. Plus, they can also set up recurring gifts or give any time they feel like showing support.
Church event platforms
While making giving easy for your congregants is important, you should also consider how you can structure giving at your church events. Raising money for your church through events is essential, so make giving during these events as seamless as possible.
Here are a few event platform tools to help:
Church event registration
Research easy-to-use tools that provide a smooth registration process to boost attendance for your events. Create custom registration forms that track the data you need to learn more about your congregation by using this church event management software. These forms include custom fields like food and beverage preferences, special requests, and more.
Cater your event to your church members to make them feel valued and to forge deeper connections with your members.
Automated event management
Rather than spending time manually tracking event data, automated event management lets you track registration, attendance, and other metrics to plan your next event automatically. For example, access real-time registration data with standard reports and export event data into your church management software.
Peer-to-peer fundraising
Peer-to-peer fundraising helps you raise more for your church by leveraging your congregants' personal networks to raise money on your behalf via personal online fundraising pages.
Peer-to-peer fundraising tools make it easy to create custom campaigns for different fundraisers, such as walk-a-thons, family days, and other types of fundraisers. From there, your community can promote their pages and your big fundraiser to raise the money your church needs!
Church auction software
Has your church considered hosting an auction? Whether you've hosted several or are just starting out, consider using church auction software to manage your event.
Incorporating church auction software into your event helps you get rid of messy paper bids, confusing registration, and long checkout lines. Your congregants will be able to easily keep an eye on their bids via a mobile app and make additional gifts.
Collect popular auction items for churches from local businesses and church members to help support the event.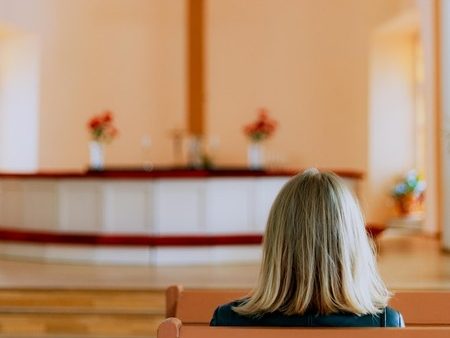 How your church can succeed
Case study #1: Catholic Charities Archdiocese of Denver
The Catholic Charities Archdiocese of Denver facilitates several programs and services, such as providing meals to the hungry and serving senior citizens. They were using PayPal to accept gifts from their supporters but then turned to Qgiv as a solution that could do more.
Not only have they saved their resource development team time and effort, but their online forms have raised a lot of funds from the start. During their first year using the platform, the Catholic Charities Archdiocese of Denver raised more than $1,150,000.
Case study #2: Catholic Charities of Central Colorado
The Catholic Charities of Central Colorado offers services to the poor and vulnerable, providing programs such as adoption services, soup kitchens, and immigration aid. Because online giving has grown in popularity, they teamed up with Qgiv to build branded giving forms as an easy way for individuals to give online.
In addition to facilitating recurring gifts, the Catholic Charities of Central Colorado has been able to manage the growing number of people moving toward online giving. As a result, their online giving has steadily increased 170% in their first 3 years on the platform.
Case study #3: Love at Work Ministries
Love at Work Ministries aids children with breaking the cycle of poverty in Costa Rica as an international Christian ministry. As Love at Work helps over 2,000 people, communication is key to helping the ministry help others.
Love at Work updates their Qgiv email receipts every month to show their supporters the people they are helping. They also use Qgiv's integration with MatchMaker Fundraising Software to manage their contributors online.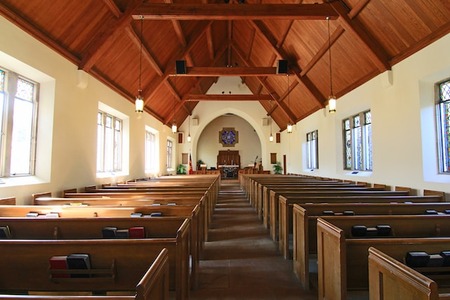 Why choose Qgiv?
Qgiv offers easy-to-use faith-based giving tools to help you reach your church's goals. With Qgiv's church giving software, you get an excellent customer support team that will help you get settled with the platform and optimize it for your needs.
Recurring giving options
Provide your congregation with multiple recurring giving options so that they can give to your church frequently without the hassle of continuously going through a giving form.
Text-to-give
Create a keyword for your church members to text to give directly to your ministry from their phones from anywhere and at any time.
Personalized receipts
Use personalized receipts to thank your church members and explain the specific programs they will fund.
Multi-restriction giving
Allow this type of giving for members who want to support more than one program or fund within a single transaction.
Event registration
Offer easy online event registration for events like Wednesday night dinners, youth group trips, and more. Use the Virtual Terminal for onsite payments at events and programs.
Giving summaries
Giving summaries are useful for church bookkeepers who need to send statements to their congregants.
Final thoughts
Online giving for churches benefits both you and your congregation by making tithing as easy and convenient as possible. Once you have the right online giving software for your church, provide your church members with the best tools and stay connected with them through the giving process. With the right software in place at your church, your congregation will be able to give whenever they feel inspired.