Success is the predictable result of hard work, patience, sacrifice, and learning put into practice. And CROS Ministries' (CROS) hard work and business decisions in 2020 helped pave the way to their incredible fundraising successes.
In late 2019, CROS found themselves looking for new vendors to host their website and to provide a fundraising platform to process online donations. Their search for a vendor came at a very difficult time, as the pandemic and its effects were just beginning.


The Story
CROS Ministries has helped serve the hungry in Palm Beach and Martin Counties since 1978. Their programs include six community food pantries, one mobile pop-up pantry distributing food in six different locations, a program called Gleaning that partners with local farmers to recover food that would otherwise go to waste, a hot meal program, and a summer camp program.
Like other nonprofits, they support their community with strategically aligned business partners, whose resources bring expertise to the organization's philanthropic efforts.
However, not all partners are equal, which CROS discovered when they hired someone to build a new website for them. After months of unresponsiveness and no progress, they realized they'd placed their trust in the wrong people.
As if the new website project wasn't enough, CROS also realized they needed a new online fundraising platform. They had already tried several online donation platforms, including PayPal, Classy, and EmpowerGiving, but found them to be costly and not at all user friendly.
These two initiatives would have been a huge undertaking under normal circumstances, and the pandemic made it even more stressful!
But CROS was determined to identify both vendors and have them working alongside their team quickly. Time was of the essence, as they had an annual event and email and social media campaigns that needed both the website and donation platform in place to succeed.
The Solution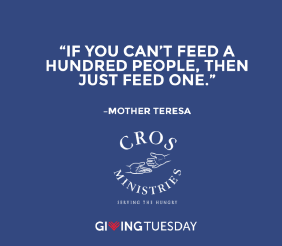 It's great when the stars align. And that's exactly what happened for CROS. They identified Achieve, a digital agency, as their website provider. Achieve got to work quickly to build a strategic plan and rebuild the website.
As for donation platforms, they received some great feedback about Qgiv from several nonprofit peers. In addition, Achieve and Qgiv had been working together for years, sharing many clients who successfully used Achieve as their digital agency and Qgiv as their digital fundraising solution.
The Outcome

With their strategic partners in place and working for them, CROS was ready to tackle their fundraising strategy goals.
CROS saw their normal giving pattern with matching donations shift from summertime to the end of year. So, they shifted their fundraising efforts to focus on Hunger Action Month and their "Stand in the Gap End-of-Year Match Appeal."
Hunger Action Month
Hunger Action Month was established by Feeding America in 2008 as part of a nationwide, month-long campaign to raise awareness of hunger in our country and promote ways for individuals everywhere to get involved with the effort to fight it.
CROS asked everyone to get involved and go "orange" for the month of September in support of Hunger Action Month. Supporters could donate, volunteer at the CROS food pantries, or hold a food drive to help keep the pantries stocked.
They raised $5,711 online during the month of September.
2. Stand in the Gap
CROS Ministries invited their supporters to join them in Standing in the Gap for their neighbors who are hungry. Donations up to $45,000 as part of this Giving Tuesday campaign would be matched dollar for dollar.
They saw an influx of support, raising $109,484 of which 35 donations were from first- time donors, and $40,036 came from online donations.
---
Moral of the Story
The food crisis was severe even before the COVID-19 pandemic, with millions of people living in households without sufficient resources to ensure consistent access to food for active and healthy lives.
CROS Ministries successfully met the needs of their community when they were needed the most. They navigated the onset of the pandemic, while simultaneously onboarding two new strategic partners.
Their efforts were rewarded with overwhelming support in 2020:
71,986 community members fed
778,803 pounds of food distributed to families and individuals
631,430 pounds of fresh produce recovered from local farms and distributed to local food programs.
32,866 individuals received meals through The Caring Kitchen
16,320 weekend bagged lunches provided with community partner Cason UMC
1,423 snacks provided to children at two afterschool programs in Delray Beach
"At the beginning of the pandemic, not having a fully functional fundraising platform to process online donations was extremely stressful," Gibbie Nauman, Director of Development and Community Relations said. Qgiv made it so easy to get set up and integrate their technology into our new website. Seeing all the donations coming in was a huge relief and confirmed that we had made the right choice to go with both Achieve and Qgiv."
Read more about this success story and see some other ways Qgiv can help with your mission!