Food insecurity has long been a problem throughout the United States. Defined by Feeding America as lacking "access to enough food for an active, healthy life for all household members," food insecurity had reached a 20-year low, and it seemed the tide was turning. Then the COVID-19 pandemic started. 
A year into the pandemic, food insecurity doubled across the country. It tripled in households with children. 
One great way for nonprofits to help bridge the expected 8 million meal supply gap is by setting up a virtual food drive. With a virtual food drive, nonprofits can raise funds to meet specific food and household supply needs without requiring drop-off locations or as many volunteers to sort through the assortment of goods dropped off during traditional food drives. In many cases, nonprofits can also make their food dollars go further with a virtual supply drive because they can buy needed items in bulk instead of paying retail prices.
Here are a few things to keep in mind when setting up your own virtual food drive:
1. Pick your fundraiser type 
When it comes to setting up a virtual food drive, there are multiple routes you can take. For instance, you can choose a simple, standard donation form, or you can get your supporters more involved by going with a peer-to-peer campaign.
Some things to consider when choosing are:
How much time do you have to organize your event and gather participants?
Do you have a pre-existing pool of peer-to-peer participants to reach out to?
How big is your fundraising goal?
Do you have staff available to guide peer-to-peer participants?
Is your fundraising campaign tied to an event?
Peer-to-peer events can help you raise large dollar amounts, but they also require more resources. If you're looking to quickly meet immediate needs in your community, using a standard donation form could be a better bet for your organization!
2. Create your donation page  
Once you've decided on the right format for your fundraiser, it's time to set up your online donation page.
No matter which type of fundraiser you've settled on, you'll want to make sure to brand your page using your organization's logo, photos, and color scheme. Why, you ask? Because your audience will not only donate more the first time, but they're also 70% more likely to make a second donation if your donation page is branded!
And speaking of second donations, did you know you're more likely to raise additional donations if you use nudges to ask donors to make their gift a monthly contribution? It's true! Recurring donors give 42% more over the course of a year than one-time donors do.
Similarly, Qgiv's donation platform makes it easy for you to enable GiftAssist, which offers donors a way to offset processing fees by donating just a little more. Qgiv forms are also always optimized for mobile phones because we know over half of the people who visit a nonprofit's website do so from their cell phones!
3. Use your form to paint a picture 
The phrase "a picture is worth a thousand words" is a cliché for a reason. If you want to make an impact on your donors and encourage them to give more, then show them exactly how their donations will help.
There are a variety of ways you can do this, including showing your donors pictures of exactly what their donation will buy. The Sharing Center recently did a great job of this in their virtual food drive, and it helped them raise over $350,000!

The Sharing Center illustrated this in two ways. First, they created store items for their peer-to-peer event that told donors how many eggs or how much cheese they could buy for a certain amount. Second, they also broke down how much it would cost to feed a family of two or a family of four for a week. Both options give donors a great way to see how their donations will help!
This can also be a great way to highlight why someone should donate to your organization. For example, if you know it costs $50 to buy 10 5-lb. bags of baking potatoes at the grocery store in your area, but your organization can buy them in bulk at $3/bag, highlight how much further a donor's dollars can go through your organization.
Greater Pittsburgh Community Food Bank recently did this to great effect when they let donors know that even a $1 donation can provide five meals in their local community. With such a compelling impact statement, it's not hard to see why they surpassed their goal!

Last but not least, don't forget about using video for your impact statement! Over half of your viewers want to see more video from you, and it's an ideal way to tell a compelling story. You can do everything from showing exactly what food your organization can provide a family for say, $50, to highlighting how donations have made a difference for specific families that your organization serves.
4. Promote your fundraiser  
Not only does a solid marketing plan help you reach new potential donors, but it also helps to get your services in front of the people who may need them.
Given that about 40% of people currently visiting food banks have not received food assistance before the pandemic, it's important to keep both aspects in mind when formulating your marketing plan.
For example, if you're sending out an email blast to ask for donations for your latest campaign, include a brief line or a graphic that gives the address and operating hours for the food bank. If you've organized a peer-to-peer fundraising event where you're asking donors to send emails to their personal networks, make sure to include the image/text you used so they can get the word out about the food pantry while raising funds for your organization!
Similarly, you can use outbound text messages to both promote your fundraiser and your food bank.
For example, you can create a text message series that highlights one fact per designated period throughout the campaign, followed by a donation request. One example using a statistic from Feeding America might be "Did you know that 50 million people may experience food security due to COVID-19? Can you donate $10 to help provide 100 meals in our community?" The text would then link to a landing page that not only makes it easy for people to donate, but also highlights food pantry details.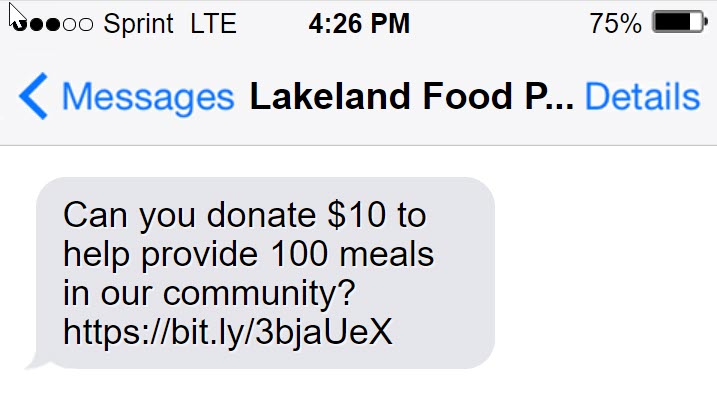 Finally, it's very important to have a plan to promote your virtual food drive on social media. Keep in mind that images and videos (especially videos!) tend to be favored by social media algorithms, so you'll want to include a variety of content to make the most impact.
For instance, you might use a video to push for urgent donations if your area was impacted by a round of layoffs from a large company. Then, you can follow that up a week later with a video telling donors how many people their donations have helped, or how you've been able to increase the number of people you helped year over year.
Client testimonials are another powerful tool, but if your client doesn't want to be on camera, there are other options, such as using a quote image from your client that only uses their first name. Canva has several great layouts to help you do this, and you can even consider images that just don't show the client's face.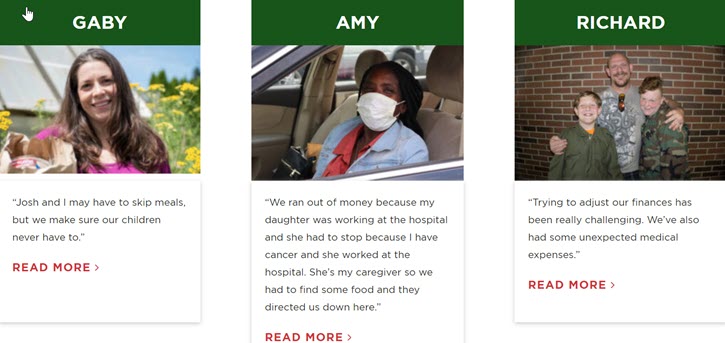 Another great twist on this is asking for user-generated content, such as asking people to post videos telling others how they've needed help from a food bank at one point in their lives. Such videos can serve the dual purpose of encouraging donors and giving those currently going through a rough time a sense of hope that things will get better.
You'll also want to make sure you enable social sharing on your donations pages themselves, which is easy to do using the Qgiv fundraising platform!
5. Make good use of your thank-you pages and emails 
Your thank-you pages and emails are prime real estate, yet many nonprofits don't take full advantage of them..
However, your thank-you pages are the perfect place to not only make your donors feel appreciated, but you can also ask for additional help! If you need your donors to share your campaign far and wide, then ask them to. If you have another fundraiser of a different strain going—for example, if you're asking for winter coats for the homeless—you can include information and a link.
Your goal for your thank-you pages should be to both thank you donors and help them take the next step in their donor/volunteer journey.
Your thank-you emails are another great place to do this. For one-time donors, you can have a general email that goes out and thanks them for their donation and asks them to share the campaign on social media.
For recurring donors, you can create a series of email templates that you update at the beginning of every month (it's super easy to do this using Qgiv's software). Each month can be dedicated to a different action step, and you can make some fun and holiday-themed too.
And whatever you do, don't forget to set up custom thank-you emails for those who dedicated their gift, or chose to donate a little extra with GiftAssist. Qgiv's conditional content tool makes this a breeze!
Final Thoughts on Virtual Food Drives
While our communities are experiencing unprecedented need due to the COVID-19 pandemic, virtual food drives can be a great way for your organization to bridge that gap. Not only can you directly ask for donations, but it's also the perfect time to let donors know about changes to your program.
For example, if you're accepting extra produce from all the new garden aficionados out there, let people know where they can drop off produce. Conversely, if you've had to suspend receiving canned goods or any non-monetary donations due to the pandemic, let donors know that as well, before they drop off the remnants of COVID panic-buying outside your door!
Ready to get started setting up your own virtual food drive in your community? Reach out to schedule a demo of Qgiv's fundraising platform. We'll walk you through the available tools to help you see which type of virtual food drive will work best for your organization!