Looking for fundraisers that will work for your faith-based organization? Look no further than peer-to-peer fundraising! Peer-to-peer fundraising is a powerful fundraising style that harnesses the momentum of your faith-based nonprofit's most loyal supporters.
If you're raising money for a building expansion, mission-focused campaign, missionary sponsorship, or more, a peer-to-peer fundraising campaign can help you achieve your goal! To show you how, we rounded up some of our own clients' peer-to-peer campaigns. Take a look at the different ways faith-based organizations just like yours were able to host peer-to-peer fundraisers that work!
Raising Funds for a Campaign
Peninsula Jewish Community Center (PJCC) provides programs and services designed to meet the wellness needs of everyone in their community. Since their founding, PJCC has grown quite a bit (expanding into a 12-acre campus!). As they've grown, their fundraising needs have grown as well. To raise additional funds for a construction project, PJCC created a peer-to-peer fundraising campaign with Qgiv's tools.
What we love:
By turning their construction fundraising campaign into a peer-to-peer fundraiser, PJCC has been able to encourage members to fundraise on their behalf! The progress thermometer shows the campaign's overall goal and serves as a great visual to motivate Center members to give more. Information about the construction and what it will provide for the Center is included, the project's committee members are given special recognition, and PJCC even includes a message about employer matching gifts! Everything a potential donor could want to know is located right on this central campaign page.
During the pandemic, The Sharing Center decided to transition their annual fundraiser into a virtual event. Participants could create their own fundraising pages and were encouraged to bike, walk, or run 3.4 miles in honor of The Sharing Center's 34-year anniversary. The fundraiser was a great success and gave The Sharing Center's biggest supporters an opportunity to virtually connect and aid the organization.
What we love:
The fundraising leaderboard is a great visual that inspires a bit of friendly competition. Friendly competition encourages fundraisers to raise even more money for The Sharing Center! Gamification elements, like this leaderboard, are an effective fundraising tactic that keep participants engaged in their own fundraising progress. We love that in addition to a general description, The Sharing Center added a video that visitors can watch. The video helps visitors learn more about the Center's incredible impact and this special 34-year anniversary fundraiser.
Pantry Drives
When the COVID-19 pandemic hit, organizations that offered food bank services had to rethink their drop-off processes. The Sharing Center didn't let a little social distancing hold them back from fully stocking their food pantry! With Qgiv's peer-to-peer tools The Sharing Center was able to create an interactive and visual fundraising campaign for their food pantry.
What we love:
Although this isn't a traditional peer-to-peer campaign (no individual fundraising pages) this campaign retains its interactive nature by showing what groceries different donation amounts can provide. Different images next to individual donation amounts help donors visualize the impact their gift will have.
Sponsoring a Missionary
Hard as Nails is a Catholic nonprofit whose focus is on direct missions and youth empowerment. Like most faith-based organizations, the organization's missionaries need financial assistance to travel and live away from home. Hard as Nails puts the power in their missionaries' hands by providing youth accepted into their program tools to create their own peer-to-peer fundraising pages!
What we love:
The peer-to-peer campaign style is perfect for organizations sponsoring missionaries because missionaries can customize their own campaigns while remaining connected to the organization they're representing! Missionaries can directly ask their friends and family to give to their campaign. They can also add their own message of appreciation, or a message describing their calling into missionary work.
Hard as Nails' campaign homepage provides a general overview of the organization's work and includes a preview of the organization's newest peer-to-peer participants. From the homepage you can easily find and navigate to individual missionary fundraising pages.
Mission Trip Fundraising
FishHawk Fellowship Church uses peer-to-peer fundraising campaigns to fundraise for global and local mission trips. Similar to sponsoring a missionary, this fundraising style is effective because missionaries can personalize their own fundraising page while staying connected to the church they'll be representing. By creating peer-to-peer fundraising campaigns for their mission trips, FishHawk Church empowers those who go on their mission trips to fundraise for themselves.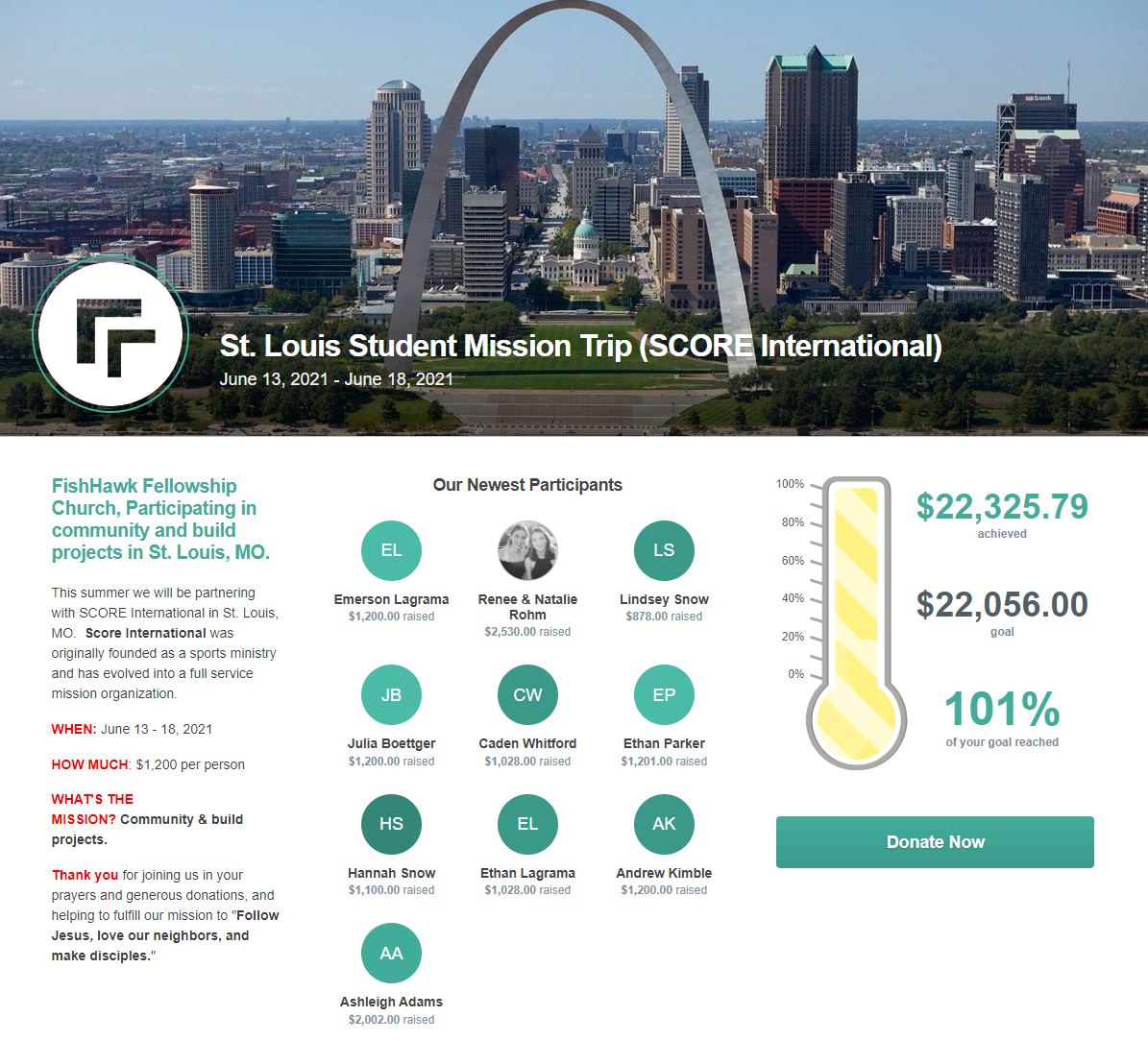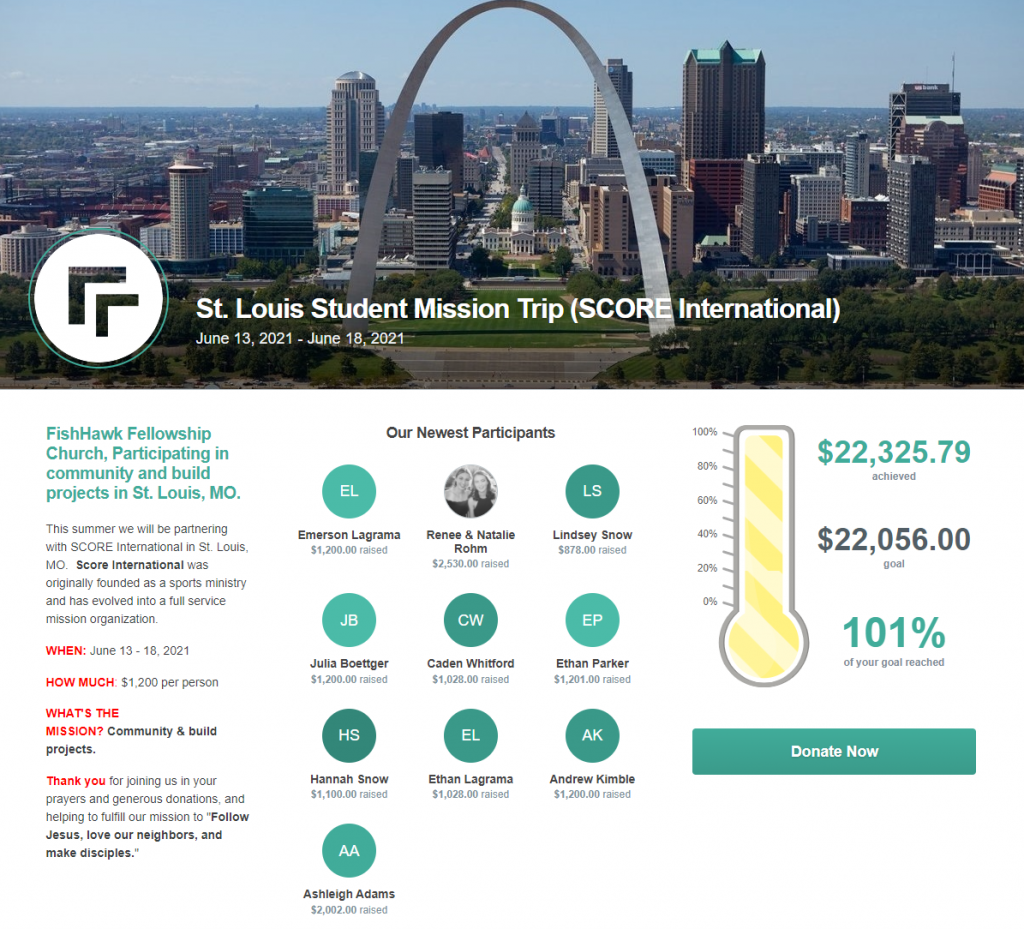 What we love:
Donors can easily learn more about the mission trip on the campaign homepage. If they're looking to support a friend or family member specifically, they can simply search for that individual! Seeing who you can send on a mission trip adds a layer of personal connection to the fundraiser.
Conclusion
Simply put, peer-to-peer fundraisers are fundraisers that work. They're a great way to raise money for a variety of initiatives at your faith-based organization! When volunteer fundraisers reach out to their friends and family members, they're building on established relationships. Donors are more likely to give when they know the person who's doing the asking. This social aspect makes it a powerful way to boost visibility and raise money for your work!
Additional Resources: