Whether your nonprofit is just starting out or is more established, the process of researching and choosing online fundraising software is still one that bears considerable thought.
There are a variety of different fundraising software solutions out there, each with its own set of strengths. So how do you go about picking the right one for your organization?
Luckily for you, we've done the heavy lifting for you! We've reviewed everything from peer-to-peer fundraising platforms to online donation tools and put together a list of our favorites.
Check out our list of the best online fundraising software platforms for nonprofits:
Let's get started!
---

1. Qgiv | Top Online Fundraising Software
Fundraising Software Overview
Qgiv's comprehensive fundraising software platform offers a variety of robust features. These include:
Online giving tools
Event registration
Peer-to-peer fundraising and gamification
Mobile fundraising
Reporting and tracking tools
Auction software and a mobile bidding app
Mobile giving kiosks for on-site giving
Integrated merchandise sales
Additionally, Qgiv's software easily integrates with a variety of other software platforms. This way, your organization can build a comprehensive fundraising solution while still staying organized, streamlined, and efficient.
Qgiv's simple, user-friendly interface works great for organizations of all shapes and sizes. Easily engage your donors, plan effective campaigns, and increase fundraising!
Plus, with their responsive and friendly customer service team, you'll be set up for success from the very beginning.
Why This Fundraising Software Stands Out
Qgiv's fundraising options offer nonprofits a large degree of flexibility and customization. For instance, Qgiv provides:
Peer-to-peer and crowdfunding features that are easy to set up and personalized to match any nonprofit's look. This platform also offers a variety of interactive and social sharing tools to augment your fundraising efforts. To increase fundraising even further, gamification tools like a fundraising thermometer and badges are available.
A powerful text-to-give program that easily streamlines mobile donation collection. Let donors give with a simple text, perfect for any fundraising effort. Qgiv also provides a unique opportunity to collect in-person donations with their giving kiosks. During live events, equip fundraising staff with user-friendly tablets that allow donors to give in-person using a credit or debit card.
Expand your reach no matter what campaign you're hosting. Qgiv provides plentiful options to supplement all fundraising efforts.
How Much Does This Platform Cost?
Qgiv offers a variety of different packages based on your organization's needs. You can check out our full product set and prices right here.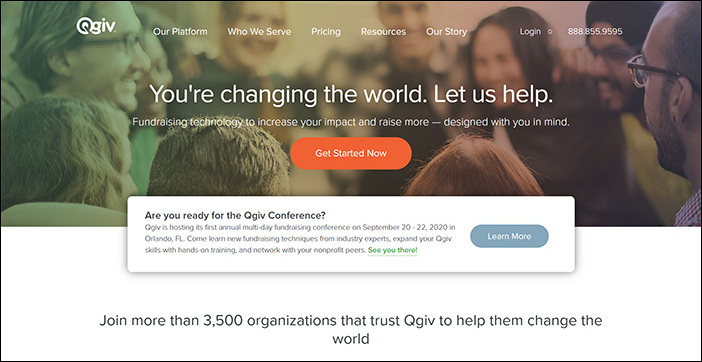 ---

2. Bloomerang | Top Nonprofit CRM Software
Fundraising Software Overview
Bloomerang's nonprofit CRM is designed to help nonprofits raise more funds by developing deep, meaningful relationships with their supporters. This software is equipped with features allowing fundraisers to:
View the entire engagement history of supporters.
Create smart segments for efficient donor outreach.
Identify potential lapses before they occur.
This comprehensive CRM system provides both at-a-glance views of important metrics from their interactive donor database as well as customizable reports, helping nonprofits track and improve the fundraising metrics most important for growth.
Why This Fundraising Software Stands Out
Bloomerang was designed by fundraising experts who understand the importance of donor retention for sustainable organizational growth. The solution comes equipped with engagement tracking tools like an engagement timeline for each donor profile and their giving history, providing an in-depth view of the history for fundraisers to analyze.
Built-in features of Bloomerang's software include helpful tools like payment processing, robust profiles, custom reports, social media listening tools, and segmentation tools. In addition to being the top donation management system in the space, Bloomerang also integrates with other top solutions, including Qgiv, DonorSearch, and QuickBooks. Plus, with Zapier, they've expanded their integration network even further.
How Much Does This Platform Cost?
Bloomerang's pricing is designed to be affordable for nonprofits of any size. They have specialized pricing for small shops, starting from free to $79 per month. Nonprofits with fewer than 750 records in the CRM can take advantage of this discounted rate.
Their standard pricing then starts at an affordable $99 per month for up to 1,000 records and increases on a sliding scale as your nonprofit continues to grow.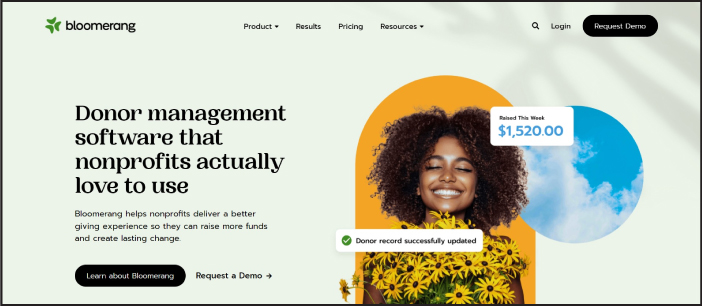 ---

3. DonorPerfect | Top Donor Management Software
Fundraising Software Overview
DonorPerfect is a fundraising software solution that helps nonprofits engage donors and cultivate relationships for maximum success. With DonorPerfect, your fundraising team can:
Create branded online forms
Manage engaging fundraising events
Compile comprehensive reports
Secure finances with an integrated payment processing
Engage donors in meaningful ways
Your donors are the most important people to your organization and DonorPerfect knows that.
Why This Fundraising Software Stands Out
DonorPerfect is known for its donor engagement and management capabilities. If you invest in DonorPerfect, better reach your donors through:
Personalized communications
Task assignments and alerts
Donor targeting and filtering
Keep all your donor data in one place and engage your supporters!
How Much Does This Platform Cost?
Depending on how large your donor base is and your nonprofit's budget, DonorPerfect offers payment plans to meet your needs. Their pricing plan can be found here!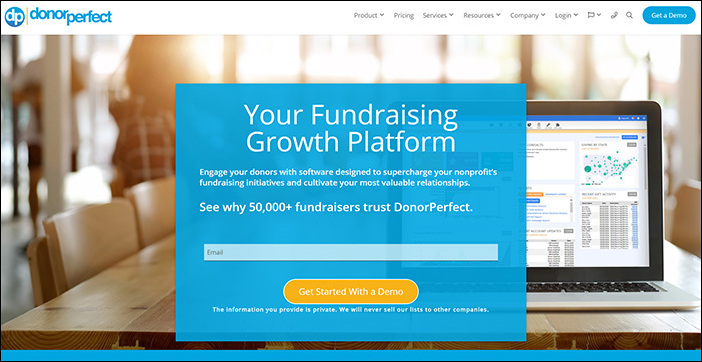 ---

Fundraising Software Overview
MatchMaker is a fundraising tool that has now been acquired by Arreva. Arreva is another fundraising solution, and together the two can help your nonprofit manage its donor relationships.
From one central location, Arreva's MatchMaker lets you:
Manage your peer-to-peer campaign
Optimize the event registration process
Oversee your volunteers
Communicate with your donors
The better you treat your donor relationships, the more effective your fundraising efforts will be!
Why This Fundraising Software Stands Out
MatchMaker, an Arreva software, can improve your donor relationships with its flexible online donation options. Add recurring donation options, present fixed donation options, and even let your donors pick where their money is going.
How Much Does This Platform Cost?
MatchMaker, an Arreva software, has multiple pricing plans. Contact them on their website to learn more.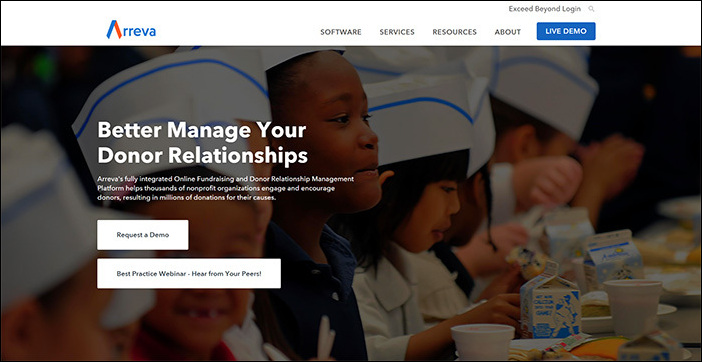 ---

5. NeonCRM | Top Cloud-Based Fundraising Solution
Fundraising Software Overview
NeonCRM is designed for growing nonprofits to help raise more money. As a cloud-based nonprofit solution, NeonCRM assists you in all your donor engagement efforts by tracking all necessary donor data from one place.
Consider these ways NeonCRM can help you:
Communications tools
Event planning management and registration
Reporting tools
Customized and flexible donor profiles
Target the right donors and fundraise effectively with NeonCRM.
Why This Software Stands Out
Not only can NeonCRM track and manage donor data, but it can also tell your organization's story with its nonprofit web design tools.
Because most of Neon's staff come from nonprofit backgrounds, they understand exactly what your nonprofit needs. Create a website that will grow your supporter base, solidify branding, and inspire your website visitors.
How Much Does This Platform Cost?
NeonCRM has a range of packages for you to peruse. Check out their pricing page here.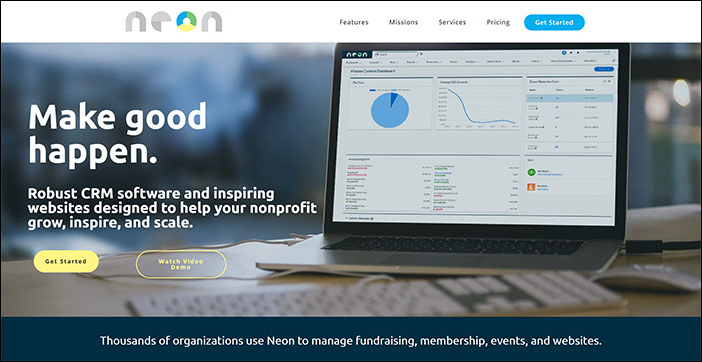 ---

6. Kindful | Top Donor Data Fundraising Software
Fundraising Software Overview
Kindful is a popular solution for nonprofits that want to organize their donor data and manage their donors better. Kindful is built for relationships and understands how important donors are to your cause.
Easily track all data from your dashboard, such as:
Communications metrics
Donation history and tracking
Individual donor records
Wealth data
With the insights you get from Kindful, build your donor relationships with confidence.
Why This Fundraising Software Stands Out
Kindful ensures that you track all the essential data and gives you the tools to understand that data. Kindful's easy-to-use and intuitive design displays all the information in an understandable format.
You can even compile this data into readable reports and create a story that your entire staff can understand.
How Much Does This Platform Cost?
As your nonprofit grows, Kindful's pricing plan does as well. Use this convenient scale to determine the best price for you.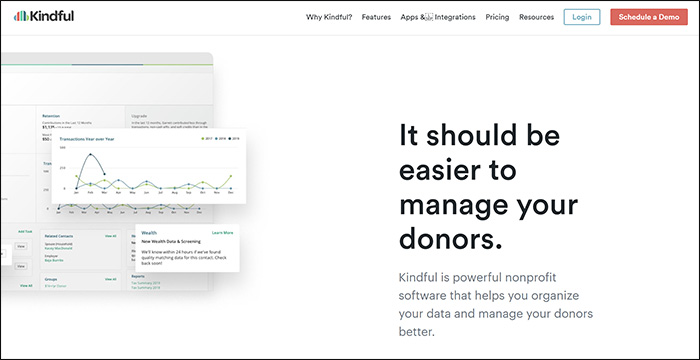 ---

Fundraising Software Overview
Double the Donation is a leading matching gift software that takes advantage of corporate philanthropy programs to help your nonprofit raise your fundraising revenue.
In a nutshell, Double the Donation provides an embeddable searchable database that allows donors to check if their company offers matching gift programs. With Double the Donation's easy-to-use tool prominently displayed on a donation form, donors are more likely to put in a matching gift request— meaning your organization is more likely to receive more funds.
Double the Donation's base program is a great service for small to medium nonprofits. Larger nonprofits could benefit from their other tool, 360MatchPro, an automated matching gift software.
360MatchPro will automatically identify matching gift eligible donors and send them the appropriate educational materials to initiate the match process. This is done through automated messages and follow-up emails.
Why This Fundraising Software Stands Out
Many of Double the Donation's features are easily embedded in your nonprofit's website so donors can quickly check their eligibility. With 360MatchPro, you do even less work and the tool initiates the conversation on your behalf.
How Much Does This Platform Cost?
Depending on if you just want Double the Donation's search tool or the more comprehensive 360MatchPro, the pricing plan will differ. Check out their pricing page to learn more.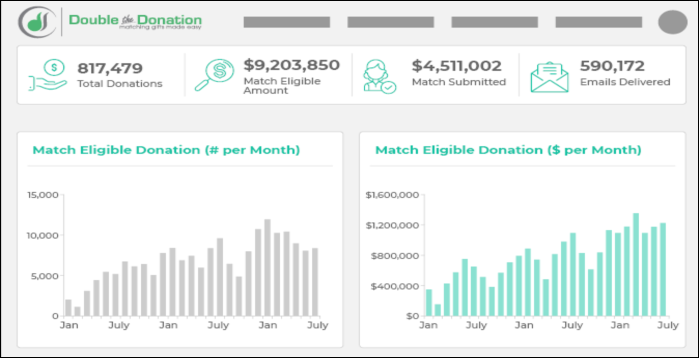 ---
Though all of these fundraising software options offer slightly different features and services, you won't go wrong with any of them. Now get out there and start fundraising!
Additional Fundraising Software Resources
Peer-to-Peer Fundraising Guide. Empower your donors and learn more about peer-to-peer fundraising in our comprehensive guide.
Text-to-Give vs Text-to-Donate Guide. Text Fundraising is a unique and convenient way to raise money during events and all other sorts of fundraising occasions. Learn which platform is right for you in our complete guide.
Donation Receipts. No matter how you collect donations online, it's important to give donors receipts. This way, they can claim deductions on their tax returns. We answer 6 common donation receipt questions in this article.