The fundraising landscape changes all the time. With new software solutions and the accessibility of the internet, online fundraising is now quite a popular method. While traditional face-to-face efforts are still some of the most engaging ways to reach donors, online fundraising has proven to be an additional convenient and easy way to raise funds.
Whether you've been fundraising for a while or just begun your charitable endeavors, there are a couple of key ideas and considerations to keep in mind for your online efforts. From the tools and platform you work with to the types of campaigns you host, it can be confusing to figure out the best solution for your organization. 
This guide will walk you through the basics of online fundraising as well as how your specific nonprofit can plan and execute a successful campaign based on your mission and needs. Here's what you'll be learning:
You'll soon learn that a solid foundation of tools and resources is crucial to building your online fundraising efforts. Ready to start taking your fundraising efforts to the online sphere? Let's begin.

Online Fundraising Ideas
With dedicated fundraising tools and the widespread use of the internet, there's an abundance of online fundraising ideas that your nonprofit can tackle. As we review some popular online fundraising options, consider the resources you have already as well as your core mission.
1. Peer-to-peer fundraising campaign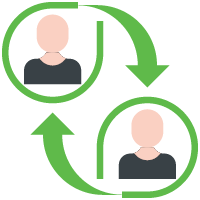 Overview
Peer-to-peer fundraising depends on a group of volunteers fundraising on your behalf and their social networks. First, you have to recruit a group of supporters. Each volunteer fundraiser has their own campaign page which they promote on various social media platforms to their friends and families.
Depending on the number of participants you have, a peer-to-peer fundraiser has the power to impact a wide number of people in a very short amount of time. Because you're leveraging each volunteer's social network, there's a great chance that you'll encounter first time givers. This is a great way to raise funds while also spreading the word of your mission. 
How You Can Use This Online Fundraising Idea
Before you start a peer-to-peer fundraiser, it's a good idea to invest in capable and dedicated tools. This way, each of your volunteers has their own branded campaign page that they can customize to share their unique connection to your mission.
As the online fundraiser goes on, their friends and family can see why this campaign is so important to that volunteer. There's a greater chance of people giving when they encounter a fundraising page depicting their close friend and loved one's connection to your mission instead of a general fundraising ask. 
2. Online Auction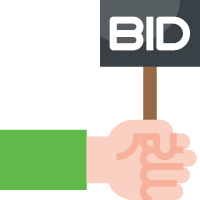 Overview
Auction fundraising is a popular way to engage your donors while also providing something enjoyable and valuable in return. All you need is a group of items or experiences to auction off to your supporters for the highest bid! Donors get to take home the prize while your mission can reap the funds.
Online auctions have a similar concept, but instead of in-person engagement, the whole process takes place online. Make sure to showcase all of your auction items online and give your digital guests an easy way to bid! 
How You Can Use This Online Fundraising Idea
If you're thinking of hosting an online auction, consider investing in auction software with both app-based and web-based bidding tools. This way, guests can experience the whole auction in a convenient and easy-to-use interface no matter if they prefer to bid from their smartphone or desktop.
3. Email Drip Fundraising Campaign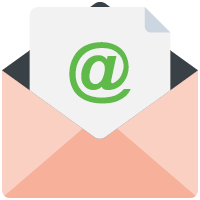 Overview
Email is likely already one of the main ways that you communicate with supporters. Whether it's to thank them for a gift or to let them know of an upcoming event, email provides a space for you to share meaningful content about your mission.
Consider starting an email drip fundraising campaign to further engage donors and solicit gifts! A drip campaign consists of multiple emails sent out at specific dates and times based on users' interactions with it.
Each email encourages a potential donor to make a gift through different calls to actions. For example, your first email could be purely educational and feature a link to your website. If the reader opens that link, another email might be sent out with a video explaining a specific campaign you're hosting that relates to the first email. However, if the reader never opens the link, the drip campaign could stop right there to avoid overwhelming uninterested recipients.
How You Can Use This Online Fundraising Idea
In order to have an effective email drip campaign, you need to make use of your marketing automation tools. This includes setting up triggers to automate certain content and scheduling emails in advance.
You can also automate personal details like names and gift amounts into email content. This not only saves you time, but it also incentivizes users to engage with your emails more. According to one study, personalized emails deliver six times higher transaction rates.
4. Text-to-Donate Campaign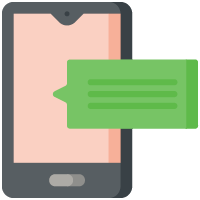 Overview
With over 96% of Americans owning a mobile device, it makes sense to incorporate text fundraising into your next campaign. Text-to-donate campaigns may seem complicated but are actually very simple. All you need is a dedicated phone number (or shortcode), campaign keyword, and online mobile giving page. 
Supporters simply text the campaign keyword to your shortcode and through a series of prompts will be led to your online giving form. It's imperative that these forms are mobile-optimized so that people who want to give through their phones easily can do so!
How You Can Use This Online Fundraising Idea
Text fundraising is a great way to supplement any of your fundraising efforts, as well as act as the main campaign. Because of its convenience, many organizations like to use text fundraising in addition to live-events or during time-sensitive situations. It's a great way to provide giving opportunities in an accessible and intuitive manner during moments of inspiration.
5. Virtual Fundraising Event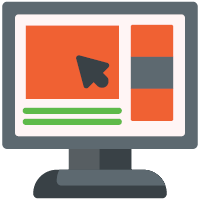 Overview
Virtual fundraising events have been rising in popularity. This is likely due to the accessibility of the core tools that virtual events utilize. For instance, many virtual events take advantage of video conferencing tools and chat rooms. These are both tools that your nonprofit and just about any individual can utilize.
Additionally, virtual fundraising events can be a lot easier and cheaper to plan than traditional ones. You don't have to worry about renting a venue, hiring caterers, or putting together staff members! Simply ensure all of your digital guests have the right tools and you can start engaging online.
How You Can Use This Online Fundraising Idea
Virtual fundraising events can take a lot of shapes and sizes. For instance, you can host a virtual run-a-thon where each participant exercises in their dedicated space. Or, you can host a virtual fundraising conference that brings together many of the thought leaders in your space.
Throughout it all, make sure that the virtual tools you use works with your event registration platform. This ensures that all important data is streamlined and centralized in one place.
6. Pledge Campaign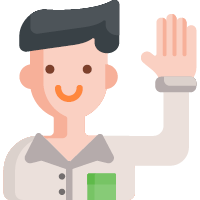 Overview
A pledge campaign is one of the most effective ways to leverage your current supporters. Put simply, a pledge campaign is when you solicit gifts from supporters but the funds are not processed unless you meet your target fundraising goal. This way, you don't collect any gifts if you don't meet your target.
Donors love pledging because they know for sure that if their gift is processed, it is being put to good use. 
How You Can Use This Online Fundraising Idea
Pledge campaigns are a great way to raise money when you have a very specific goal in mind. For instance, say you're raising money to purchase new equipment for a research lab. Because you know the exact price of the equipment, there is a specific goal you have to reach. Use that as your fundraising target, and you can start engaging supporters!
6. Online Giving Day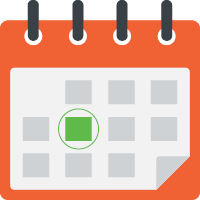 Overview
As evidence from past #GivingTuesdays, a dedicated day to charitable giving is a great way to inspire supporters and gain fundraising momentum. If you want to boost your funds, consider hosting a specific online giving day!
Determine a fundraising goal and make sure to advertise this event well before the fact. This way, supporters know exactly when their gift will count to your online giving day campaign.
How You Can Use This Online Fundraising Idea
Dedicated giving days are successful because they're often held on specific dates that inspire charitable giving in your donors. Consider hosting an online giving day on your nonprofit's anniversary or another momentous occasion. This feeling of celebration combined with the urgency of a 24-hour deadline might encourage your supporters to give even more!
8. Matching Gift Drive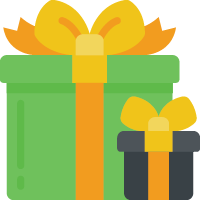 Overview
Corporate philanthropy has been on the rise for the while now, with matching gifts being one of the most popular methods. With corporate matching gift programs, certain businesses agree to match a charitable gift that one of their employees makes based on a list of guidelines. These guidelines consist of a deadline to submit the matching gift request, gift size, and list of eligible charities.
A matching gift drive is when you partner up with a corporation that is willing to match all the gifts you raise for a certain campaign. However, don't worry if you can't find a willing business participant. You can still host a matching gift drive by leveraging your donor's existing business affiliations and ask eligible donors to submit matching gift requests to their employers after making a gift.
How You Can Use This Online Fundraising Idea
Matching gift drives are a great way to raise a lot of money in a short amount of time. That's because, with just one corporate partner, you can double (or even triple!) a fundraising gift or even your entire fundraising revenue. It's a good idea to create relationships with corporations whenever you can in case you want to embark on this online fundraising idea in the future.
9. T-shirt Fundraising
Overview
Does your nonprofit have any recognizable logos or an especially catchy mission statement? If so, these could be great ideas for nonprofit merchandise! All you have to do is design a t-shirt (or whatever type of merchandise you prefer) and ask your supporters to buy it as a gift to your mission.
This is a great idea because many people love sporting the causes that they are passionate about. Plus, whenever a donor wears one of your t-shirts, they're also advertising your mission on your behalf!
How You Can Use This Online Fundraising Idea
T-shirt fundraising is a great way to raise money while encouraging supporters to help spread the word of your organization. You might even consider hosting a design contest where supporters or staff members can submit a unique design for your t-shirt. This creates a fun competitive edge while also ensuring you have some great products to choose from.
10. Social Media Viral Campaign
Overview
If you're an active social media user, you know that viral trends can happen quickly and seemingly out of nowhere.
For example, the ALS ice bucket challenge is probably one of the most famous viral fundraising campaigns. All it consisted of was people filming themselves dumping an ice bucket on their head and then "tagging" their friends and family to continue the challenge on social media. While not every participant donated, this viral campaign definitely promoted awareness of what it was fundraising for— amyotrophic lateral sclerosis. 
How You Can Use This Online Fundraising Idea
In order to make something go viral, you need a genuine and unique vision for your fundraiser. Since humans are very visual creatures, make sure you incorporate photos or videos in some way. For instance, you could ask your supporters to post photos or videos of themselves doing a "challenge" with a specific hashtag that you create.
Make sure that overall the challenge and trend somehow relates to your cause, and that the connection is clear. While creating viral content is cool, it won't be effective if no one understands the correlation to your nonprofit's campaign.
11. Livestream Fundraising Event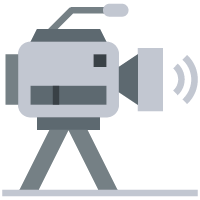 Overview
Live streaming has been a popular pastime for years, with professional video gamers or Youtubers broadcasting their content in real-time for fans.
Your nonprofit can utilize live streaming as well! With free tools like Instagram Live or Facebook Live, you can easily start live broadcasting whatever you're doing. This is a great way to engage donors and solicit donations.
How You Can Use This Online Fundraising Idea
To take advantage of a livestream fundraising event, consider hosting "challenges" where if a donation goal is met, you promise to do a specific action. These can consist of "eating fire ramen on live camera" or "jumping into a pool of water with all your clothes on." People love to see outrageous content and you can use that to raise money!
12. Virtual Raffle Fundraiser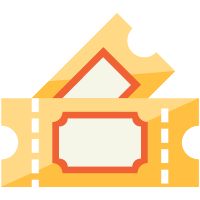 Overview
If you've ever hosted a raffle, you know that it can be a quick and easy way to raise a lot of money. All you need is a grand prize and a group of supporters willing to participate. Make sure to advertise your raffle well and set a clear deadline.
To conduct a virtual raffle, ask your donors to give certain amounts equal to one ticket. For instance, a $5 dollar gift could equal one raffle ticket with a $10 gift being two, and so on. The more a person gives, the bigger the chance they win the prize! In the end, you'll have a collection of funds and can choose a winner using a random generator.
How You Can Use This Online Fundraising Idea
If you want your virtual raffle to gain lots of momentum, make sure that you have an enticing prize for your supporters. Whether it's a physical item or an experience, advertise it early on so that donors get excited! Who knows, maybe they'll even buy multiple raffle tickets for it.

Online Fundraising Best Practices
As you fundraise more and more, you learn some best practices along the way, whether it's always showing donor appreciation or offering multiple ways to give. These are key tactics that can help increase donor engagement and raise your overall revenue.
Similarly, there are some best practices specific to online fundraising as well. While most best practices are similar to your more traditional fundraising efforts, there are a some key points to keep in mind:
Frequently communicate with supporters/donors. Using your marketing tools, it's crucial that you send emails and other communications to your supporters. This is a great way to engage your donors while keeping them updated on your latest online efforts and campaigns.
Offer a recurring gifts option. Within your online donation form, make sure you offer a recurring gifts option. This is great for those who want to give more but can't at this time. Instead, they can choose to opt for a recurring gift of a smaller amount. This not only sets up the stage for future engagement, but also provides more stable support for your mission.
Encourage matching gifts. Using a matching gifts tool, determine if you're able to embed a corporate philanthropy search tool within your online donation form. This way, donors can quickly check to see if they're eligible and be presented with the appropriate guidelines.
Maintain consistent branding. Depending on your online fundraising campaign, you're likely engaging supporters on multiple channels and platforms. It's important to maintain consistent branding throughout all of your efforts. This way, supporters can instantly recognize one of your campaigns as soon as they see it.
Host an event alongside it. One of the best ways to maximize your online fundraising efforts is to host an event alongside it. For instance, you can host an online campaign that leads up to an in-person event. This way, donors know that there is something to look forward to, and you can even solicit more gifts during the event.
With these best practices, you should be able to plan and host a successful online fundraising campaign. Read on to learn more about how to get this type of campaign started.
How to create an online fundraising campaign

Months before it starts, plan out your campaign timeline with SMART goals, deadlines, and tasks. A successful online fundraising campaign will take time to plan for. You need to ensure that you have an achievable yet ambitious goal to inspire your supporters. The most effective goals are specific, measurable, attainable, relevant, and time-based (or SMART). It's a good idea to look at past campaign data to see what is feasible. From there, lay out the rest of your campaign timeline and assign tasks to team members to stay on track.
Promote your online fundraising campaign on multiple channels for maximum exposure. In order to reach as many donors and supporters as possible, try to take advantage of multiple engagement channels. Look at where your audience is already active, whether on social media or through emails, and make those channels a priority,
Encourage online gifts through your website and online donation form. In order to have an online fundraising campaign, donors need a dedicated place where they can give. Make sure you set up a specific online donation page for this campaign that explains your goals and how it will help your mission. From there, supporters should input their financial details and make a gift.
Continue fundraising momentum by keeping up communication and expressing the impact of each donation. A great way to motivate your donors is to let them know how your current campaign is going. As soon as they make a gift or a milestone is reached, send out an email letting your supporters know of the impact. For example, if you're raising money for your school, specify that donations of a certain amount provide books for a classroom. This way, donors know they're truly making a difference and can visualize it.
Wrap up your event with donor appreciation letters and evaluate your success. Once your online fundraising campaign wraps up, it's important to summarize it and express donor appreciation. After all, without your donors you wouldn't be able to accomplish half as much as you have.
Many of these online fundraising best practices and steps depend on the tools and software that your nonprofit has. Without a stable and dedicated foundation, it's hard to fundraise and continue growing. Read on to learn the types of tools and solutions your nonprofit will need.

Online Fundraising Platforms
There is an abundance of online fundraising tools and software that your nonprofit can invest in depending on the type of campaigns you want to host and your unique mission. What are some of the top fundraising tools you definitely need? Consider the following: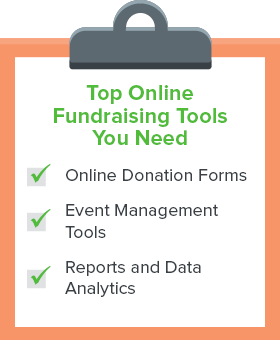 Customizable online donation forms. It's imperative to have online donation forms for your online fundraising campaign. After all, it's one of the easiest ways for your donors to give! Ensure that you're able to customize each of your online donation forms to your unique campaign. This way, you know you're asking the right questions and collecting key data on your supporters!
Event management tools. Your organization probably hosts fundraising events, whether in-person or virtual, to engage your supporters and raise money. To ensure everything goes to plan, you need capable event management and registration tools. Host your event registration on your main website, create a compelling event page, and watch your supporters get excited!
Report and data analytics. Because online fundraising campaigns happen on the internet, it's a great way to get rich and valuable fundraising data, whether it's from your registration forms or digital engagements you have with supporters. Make sure you have the tools to collect that data and compile reports in order to make insights.
While it is possible to find separate tools that perform these basic online fundraising functions, putting together a piecemeal solution isn't always the best move, especially if your organization is growing. You'll likely have to keep finding additions to your system and go through lengthy integration processes to ensure your data is accessible and centralized in one place.
That's why we recommend investing in a comprehensive online fundraising platform that can meet all of your nonprofit's needs. Here at Qgiv, we know that nonprofits value their donors and have developed a system of tools that will sustain as you grow.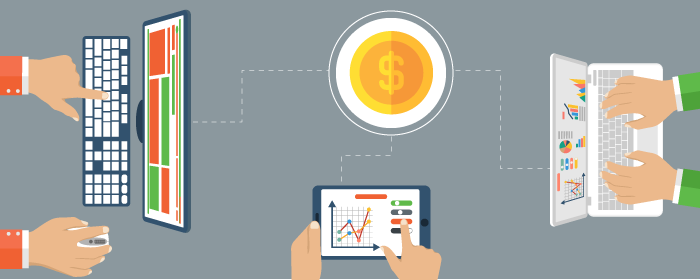 Along with the core tools we mentioned earlier, here are some of Qgiv's key offerings:
Recurring donation options to increase overall retention rates and encourage more stable support.
GiftAssist which enables donors to easily offset the processing costs that comes with an online gift. This means more of their original donation goes to your mission. As soon as this gift with GiftAssist is made, you can even send a special thank-you to that individual.
Fundraising thermometer that helps show real-time progress towards your fundraising goal. Post this on your online fundraising page to motivate your donors and cultivate some excitement!
Text fundraising tools so that supporters can give whenever they want. Whether your organization wants to use text-to-give or text-to-donate, Qgiv can help.
Peer-to-peer fundraising tools to facilitate a successful social campaign. This way, each participant can create their own unique P2P page and you can easily track everyone's progress towards your ultimate goal!
Auction platform with multiple bidding options to increase convenience and enjoyment for your auction attendees. With all important processes accessible from whatever device your donors choose, the entire experience is streamlined and guests can check-out with their prize immediately.
Integrations with key CRMs like Salesforce, Raiser's Edge, Bloomerang, and more! This way you know that all your key fundraising data is collected in a secure and safe place. From there, you have a comprehensive view of all your data and can make insights and better decisions.
With a dedicated and comprehensive fundraising platform like Qgiv, all of your online fundraising efforts will go off without a hitch.

Online Fundraising: Frequently Asked Questions
To wrap up this guide, we've also compiled a list of frequently asked questions that many fundraisers have when they first begin:
1. How do I start fundraising online?
In order to start fundraising online, you need the necessary tools that allow your donors to give. For the basics, make sure you invest in an online donation form as a way to process online gifts! We recommend that you invest in a comprehensive and scalable solution like a full fundraising platform.
2. How can my nonprofit accept donations online?
To start accepting donations online you need an online merchant account, payment processor, and an online donation form. Supporters simply fill out the form, input their financial information, and the funds will end up in your account.
3. How can I ask for online gifts from supporters?
If you want to start asking for online gifts, you need to effectively advertise and promote this new channel of engagement. For instance, promote your online donation page throughout your website, in your email announcements, and in social media posts.
4. What kinds of online fundraising campaigns can I host?
The type of online fundraising campaigns you host is dependent on the type of organization you are and the tools and resources you have. Consider what your main mission is and the online strategy that will bring the most success. For instance, if you're trying to raise money for your university, it's important to think about where your audience is already active. Many students are big on social media and would love a social fundraising campaign.
5. How can online fundraising help my annual fund?
As you already know, your annual fund is the money you raise throughout the year in order to cover your nonprofit's day-to-day functions and support the campaigns you host. You can even dedicate a yearly online fundraising campaign to your annual fund, providing your nonprofit a way to have consistent support.
6. How successful is online fundraising?
It's clear that online fundraising is only growing in popularity each year. According to one study, online giving has grown by 12.1% over the past year. The more we depend on technology, the more that this will become a main form of engagement.
7. What is a fundraising platform?
A fundraising platform is where you'll conduct all of your fundraising efforts and hosts the tools and software that you'll use for them. It should include capabilities like customizable online donation forms, a communications marketing tool, and even a place to compile and view reports.
8. How can I track my online fundraising progress?
In order to track your online fundraising progress, you need to have a dedicated way to manage and collect key data in real-time. This is dependent on the fundraising platform and CRM you decide to invest in. Make sure all your data is centralized within your CRM, giving you a comprehensive look as to how your campaign is doing. Using reports and data trends, you can easily pinpoint your weaknesses and your strengths.
Additional Resources
Online fundraising can seem daunting at first, but with the right tools and resources, your nonprofit can start collecting gifts immediately! If you want to do some additional research before you get started, here are some of our other helpful articles: